Our team has been hard at work crafting an entirely new experience for our thousands of hosting customers. If you're interested in the winding road that got us here, you can catch up with this post recently I wrote explaining our process.
Exciting times are ahead. We've got an extensive roadmap of new releases scheduled for the next 7 months with the first going live within a few short days. We'll be pushing the all-new Atomic hosting dashboard into production for use by our clients this week. This is the first public beta release and users will be moving between the old and new interfaces as they go about the various tasks of working with Pagely. We're psyched!
Included in this initial release are 2 primary tools; Profile Management and SSL with Let's Encrypt Support.
We will begin a gradual rollout of ARES, which primes your Pagely account to be eligible for the new release, by contacting customers to arrange an upgrade window for their servers. Current customers who want to upgrade to ARES sooner, feel free to open a ticket for us to arrange this (NOTE: there will be a small period of downtime).
How to Activate ARES on your Pagely Account. First thing to do? Wait for our email saying your sites are ARES ready:
For a VPS Plan
Step 1: Contact support and schedule a 30-minute window for the ARES upgrade.
Step 2: Activate ARES using the CNAME/IP or PressDNS.*
Step 3: Turn on https and other features available with the new Atomic beta release.
*Note: If you're on a shared legacy account, you can activate ARES on each WordPress application by activating PressDNS, or using ARES CNAME/IP Records. You'll then need to contact support to activate our new interface.
For more details on how to do this bookmark this support page where we will update frequently based on common questions our users are asking.
Basic Profile Management now lives here.
We've updated the profile management experience with a focus on clarity and security.
Account profile editing
Easily edit and save your account profile information and change the email address associated with your account with one click.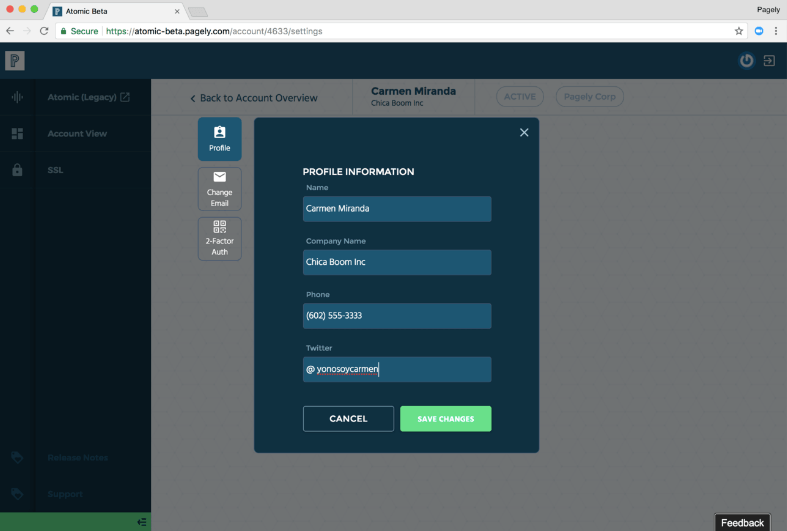 Password and 2FA management
Set up two-factor authentication and manage your passwords more efficiently in just a few easy steps.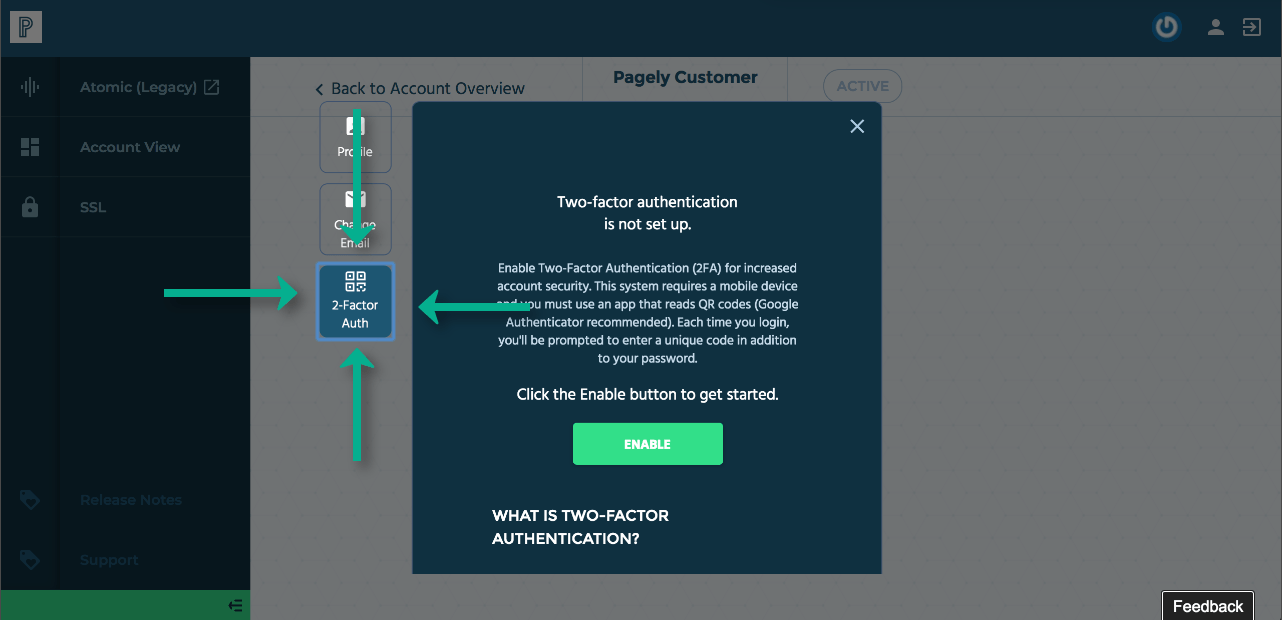 Collaborator Switching
Along with the granular access provided through collaborator's, Pagely's new Atomic provides even easier access to all accounts you have permissions for.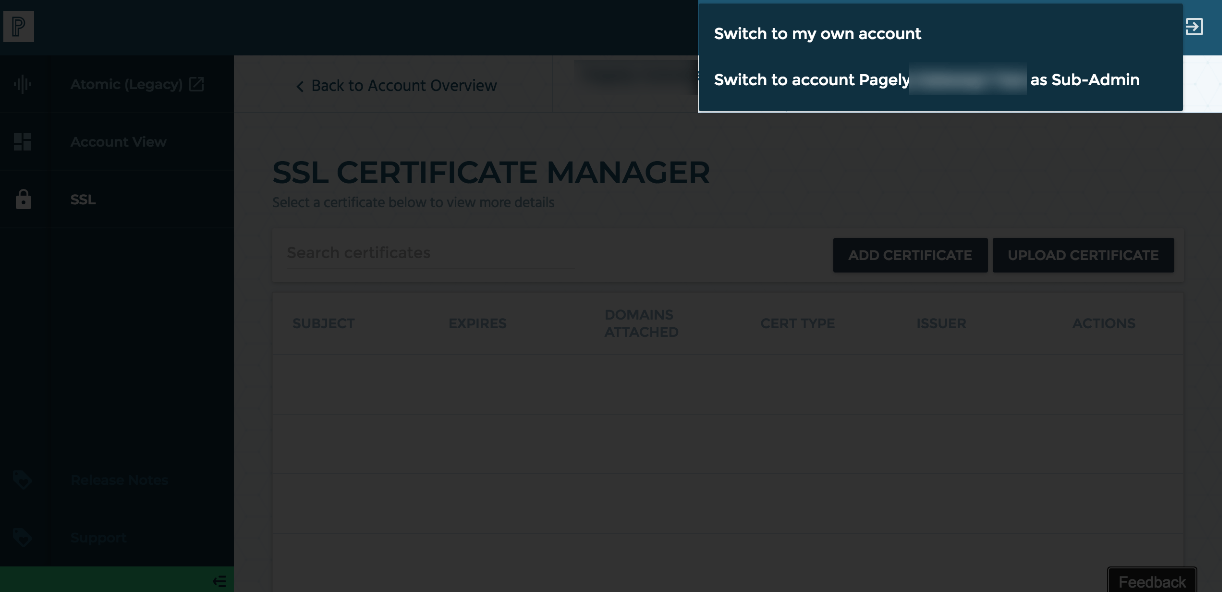 Self Serve SSL with Let's Encrypt Support
Self Serve SSL Management is our number 1 most requested feature and we're happy to push a useful and powerful new tool to our customers. Here's what it includes: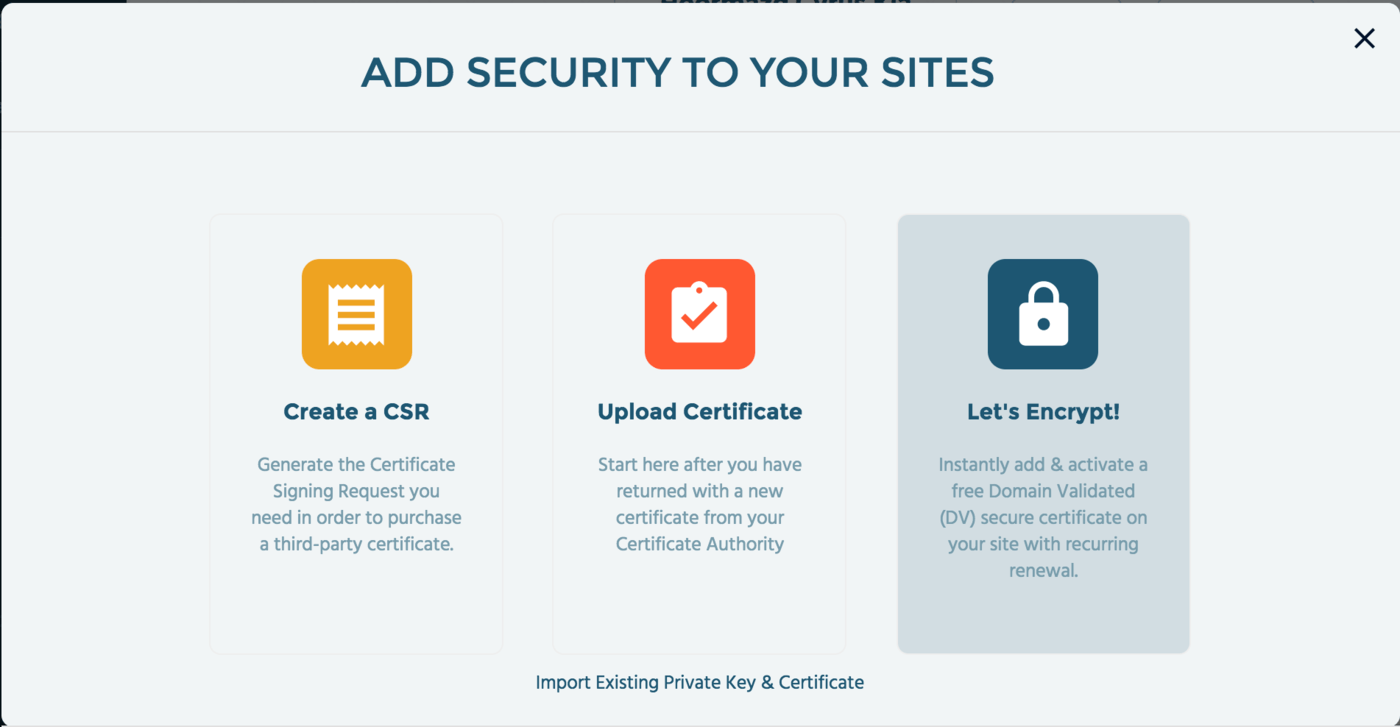 Easily secure any of your sites.
You asked for this, now we're delivering. Follow these steps for set up.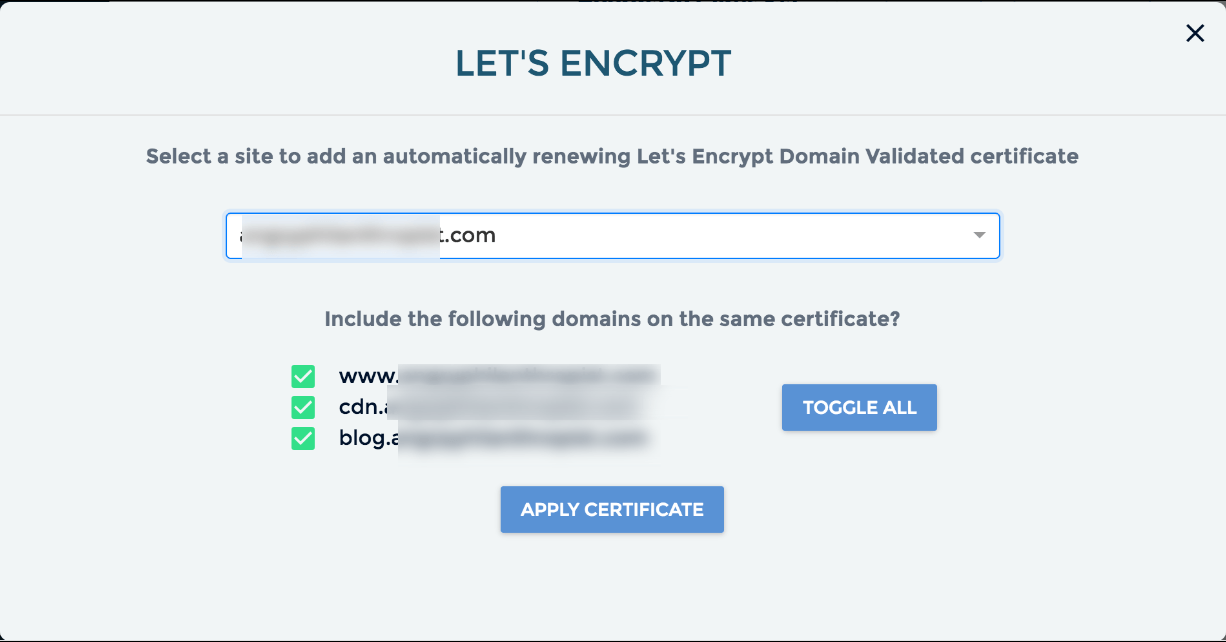 Generate CSR
You may need to generate a Certificate Signing Request that you will submit to your Certificate Authority (CA) when acquiring your own SSL certificate. We provide an easy-to-use interface for this process, here's how it's done.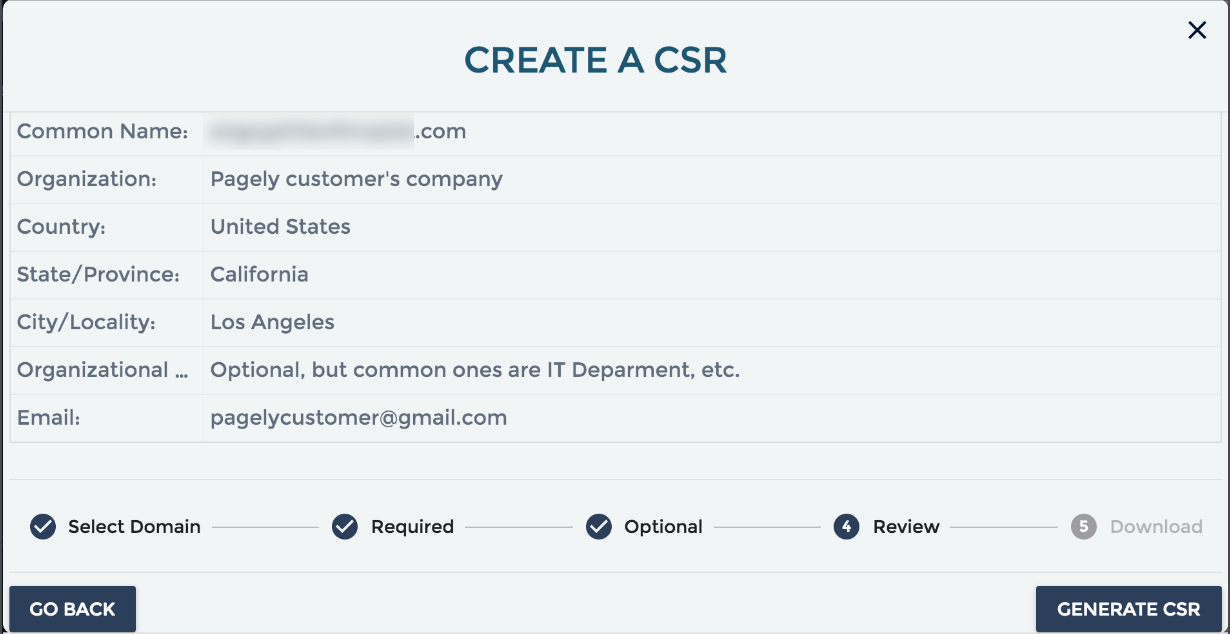 Upload/Import Certificate
If you have a certificate you have already been using, or create a new one using the CSR creating from Atomic Beta you can upload and apply it to the app of your choice by following these steps.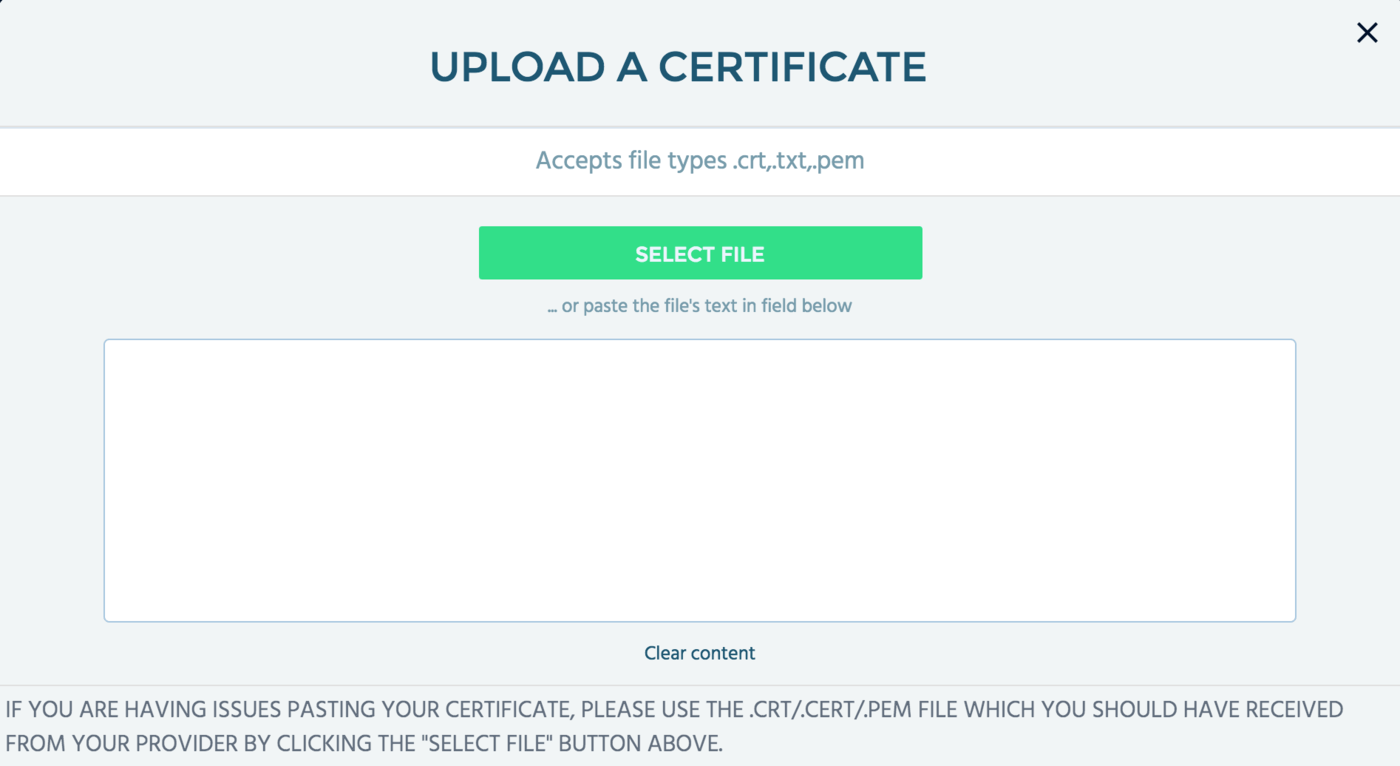 Configure Certificate
We provide some additional configuration, a few of the options are: auto-redirects to HTTPS, enable HTTP2, and setting TLS version. Here's how to configure all of that.

Enable an auto-renewing Let's Encrypt Certificate on a per-site basis
Let's Encrypt Certificates need to be renewed every 90 days, but we take care of the renewal automatically (and seamlessly!)
In the coming months, you can expect to see more releases, and we'll publish a post like this with full descriptions of each release. Our roadmap looks like this:
Atomic Beta Release 2
What: New User Signup Flow
When: March 1 2018
Atomic Beta Release 3
What: Application Configuration & Management (Create/Destroy, SFTP/SSH, Git, Staging/Cloning, CDN, etc.)
When: April 1 2018
Atomic Version 2
What: PressDNS v2 Interface
When: May 1 2018
Atomic Version 2.1
What: Billing/Invoice Management
When: June 1 2018
Atomic Version 2.2
What: Total Parity of old Atomic, End of Life for old Atomic.
When: July 1 2018
Atomic Version 2.3
What: New Backup/Restore tooling
When: August 1 2018
As always our skilled and knowledgeable support staff are only a click away. Please do not hesitate to ping us with any questions about these new features, or what may be coming next. We are here to serve!