In a recent post we covered a way to make it easier for your visitors to find more of your content by improving the WordPress search tool. Today we are going to take a look at another plugin which can help improve another aspect of WordPress which is sometimes considered a weakness of this software.
The plugin we are going to be looking at is the free WordPress Front-end Editor plugin which allows you to edit your post content directly from the front-end of your website. This is opposed to doing so through the WordPress post editor.
If you've ever created a post in the WordPress editor then previewed your work, only to discover that it doesn't look how you imaged it would, or you've ever wished you could just click on your post and make changes when proofreading your content on the front-end, then this plugin is for you.
While this feature is expected to be a part of WordPress in the future, by using this plugin you can start creating and editing your posts on the front-end today. The WordPress Front-end Editor plugin is currently in beta mode, so it's not the finished product. However, it does appear to be working well for many users.
Benefits of Using the WordPress Front-end Editor Plugin
The main benefit of adding front-end, inline content editing to your WordPress site is that it removes the disconnect between the WordPress post editor, and how your content actually looks when it's published.
If you want to create visually pleasing content, in terms of both text and image arrangement, not being able to accurately determine how your post will look when its published can involve plenty of switching back and forth between the post editor and the preview of your post. Front-end editing eliminates this as you are creating content as your visitors will see it.
Another huge time saving benefit of adding the ability to edit content inline, through the front-end, is related to proofreading your content. Now you can quickly make changes to the content and formatting, without having to switch back to the editor window. Just click on the text and start typing.
Hopefully you are now sold on the benefits of front-end editing for WordPress, so let's take a look at how easy it is to add this feature to your site using the free WordPress Front-end Editor plugin.
How to Add Front-end Editing to WordPress
As the WordPress Front-end Editor plugin is free to use, it can be installed on your site directly from the WordPress plugin directory
To do so, log into your site's admin area (http://yoursite.com/wp-login.php) and then navigate to Plugins > Add New using the sidebar menu.
From the Add Plugins screen, enter 'WordPress Front-end Editor' in the search field and then install the first item listed in the results.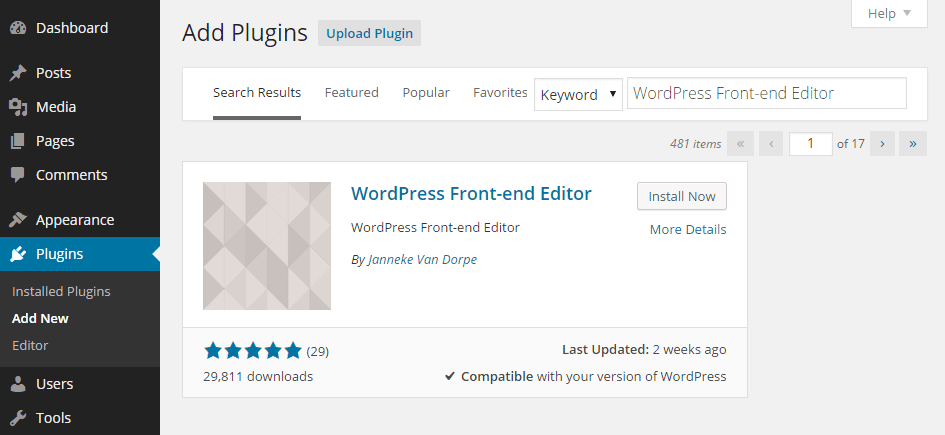 Once the plugin has been installed and activated there is nothing more to do to start editing your posts on the front-end of your site.
You can still use the traditional back-end WordPress post editor, but now when you preview a post, or view a published page, you can make change to them inline. This is done by simply clicking on the post content and typing — don't worry only logged in users with the appropriate WordPress user role can make changes to your content.

To start editing your content, simply view the post you'd like to edit and then click on the Edit Post button at the top of the page. You can now click on your post content to start adding content or making changes.

When you are finished, you can move your mouse to the bottom of the screen to reveal the publishing controls.

That about covers the features and functionality of this plugin. It's a pretty basic tool, but it's one that will hopefully make creating content in WordPress a little bit more intuitive.
More Stable Front-end Editing Plugins for WordPress
As mentioned earlier, the WordPress Front-end Editor plugin is in beta release. This means it might not be something you personally would want to install on your mission critical, income and lead generating website.
However, if you like the sound of being able to edit your posts from the front-end, then the Barely inline content editor plugin for WordPress is a premium alternative that has had a full release and contains a few more features to make front-end editing even more useful.
Conclusion
Front-end, inline content editing is one feature that has really been lacking from WordPress. While it will probably be rolled into WordPress core, this has happened yet. So if you would like to start editing your content on the front-end of your site, using the WordPress Front-end Editor plugin is one way to go about doing so.
If you have any questions about front-end editing in WordPress or recommendations for other similar tools, please leave a comment below.