If you want to sell products online, whether physical items or digital downloads, there are plenty of plugins available for WordPress that can help you do just that.
However, if you want to sell services through your website, such as those you offer as a freelancer, then the options are less obvious. However, by using the excellent and free Easy Digital Downloads (EDD) ecommerce plugin and one of its equally free extensions, you can quickly and easily start giving your visitors the opportunity to hire your services online, without showing any redundant information regarding their purchase at checkout.
While you could simply use the core EDD plugin to list and sell your services online, by also using the free Downloads As Services add-on, you can remove and references to file downloads, in order to give your website a more professional look and feel.

If you want a quick way to start selling your freelance or agency services from your WordPress website in a professional manner, with the ability to collect payments at checkout, read on for our guide to using the EDD Downloads As Services plugin.
How to Use EDD Downloads As Services on Your Website
As the EDD Downloads As Services plugin is free to use, it can be installed on your site directly from the WordPress plugin directory. However, as this is an add-on for Easy Digital Downloads, that plugin must be installed first (find out how here).
Once EDD is up and running, it's time to install this add-on by logging into the admin area of your site (http://yoursite.com/wp-login.php) and then navigating to the Plugins > Add New page, using the sidebar menu.
From the Add Plugins screen, enter 'EDD Downloads As Services' in the search field, and then install the first item listed in the results.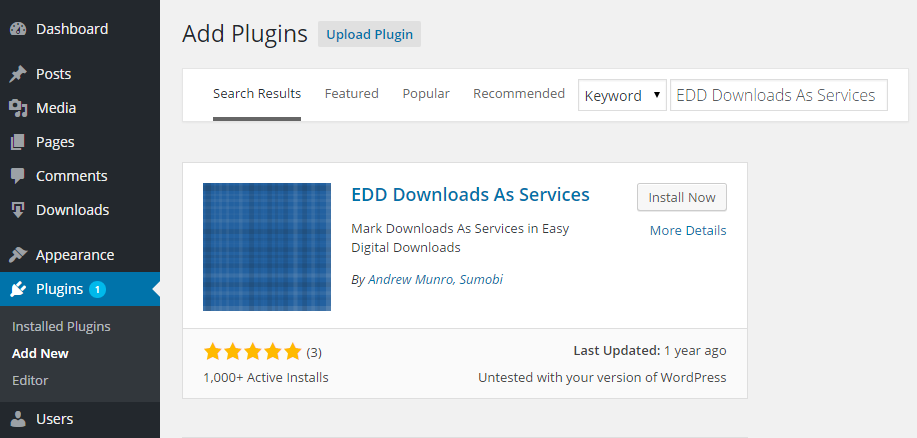 After you've activated the plugin, you can select a category from your Easy Digital Downloads store which will contain all your services. The takes place under the Extensions tab, on the EDD Settings page.

Alternatively, you can mark individual EDD downloads as a service when creating them. To do so, simply locate the Download Settings options box on the individual download screen, and then check the Download As Service box.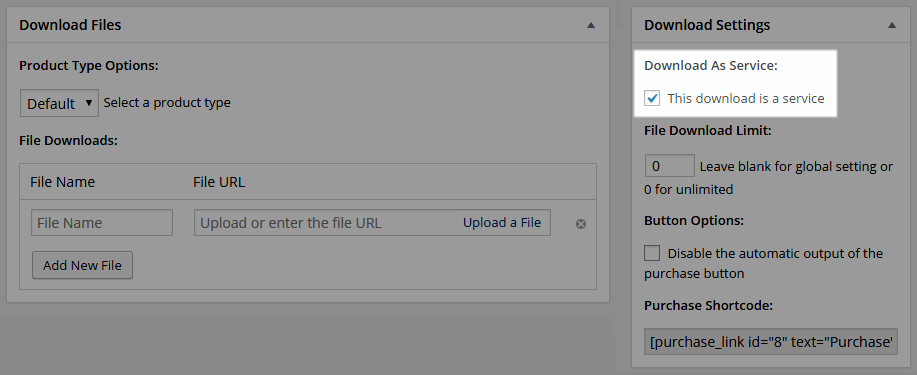 Now when a customer purchases a download that is marked as a service, the potentially confusing 'No downloadable files found' message is no longer displayed.

If your service does include a downloadable file, such as instructions or promotional material, the download be will made available after checkout.
Conclusion
While this plugin doesn't really change the core functionality of the EDD plugin in order to give you the ability to sell services online, it does clean up the customer facing messages enough to give your website that professional appearance it needs to promote your brand and services.
For more useful tips and advice on selling services via your WordPress website, this great article from Sell with WP comes highly recommended.
If you have any questions about this plugin, or working with WordPress in general, please leave a comment below.