Best Social Media Plugins for WordPress
Did you know that more than a quarter of the world's population is using Facebook? That's, well…a lot of people on social media. And though Facebook may be the biggest social network, it's still just one social network in a sea of many.
All that adds up to the fact that you probably don't want to ignore social media when it comes to your WordPress site.
But, by its default nature, WordPress isn't an especially "social" content management system – so if you want to make your WordPress site a little more socially friendly, you're going to need some social media plugins.
And to help you find those plugins, I'm going to dig into some of the best social media plugins out there for 2018.
4 Helpful Social Share Button Plugins
When it comes to social media and WordPress, the most common type of plugins you'll encounter are social share button plugins, so let's dig into those first…
All these plugins help you create buttons that your visitors can click to quickly share your content on various social networks.
1. ShareThis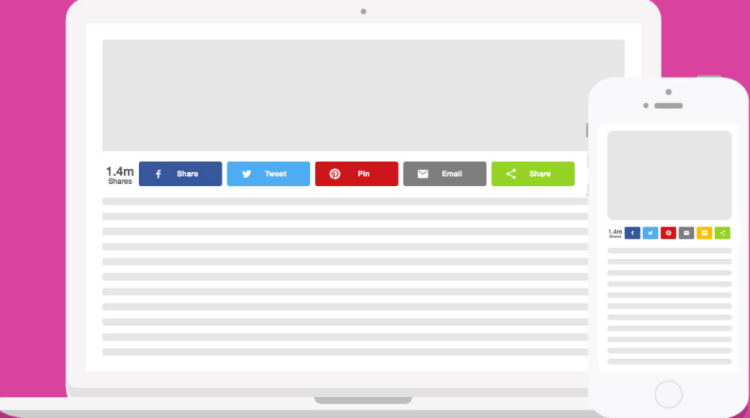 ShareThis is a popular social sharing service that's used by big entities like USA Today and the Ellen show. As part of its suite of tools, ShareThis has a dedicated WordPress plugin that lets you add share buttons for a huge variety of networks, including unique options like WhatsApp and SMS.
ShareThis lets you add these buttons to a couple different locations:
Inline buttons that appear at a specific spot in your content (usually the bottom or top).
Sticky buttons that appear on the right or left side (for desktop) and the bottom of a user's screen (for mobile).
Beyond those two locations, other helpful features include:
Gorgeous designs.
Ability to enable/disable share buttons on your homepage, post types, or taxonomy archives.
Option to override default settings to enable/disable share buttons for individual posts/pages.
Ability to display total share count, including an optional minimum share count.
While the old ShareThis plugin had over 90,000 active installs, ShareThis recently completely relaunched the plugin, which is why the current active install count is a bit lower.
Price: Free
2. Social Warfare

Social Warfare is a popular premium social share button plugin.
The main reason to consider Social Warfare over something free like ShareThis is that, in addition to beautiful social share buttons, you also get above-and-beyond features like:
The option to set a Pinterest-specific image and description.
Click-to-Tweet functionality.
Individual share counts, including Twitter.
Share count recovery to keep your old share counts if you move to HTTPS or change your permalink structure.
Automatic UTM tracking to help with analytics.
If all you're looking for is stylish social share buttons, you should probably just use ShareThis because it's a quality free solution. But if any of those extra features intrigue you, give Social Warfare a look.
Price: $29 for a single site license
3. Easy Social Share Buttons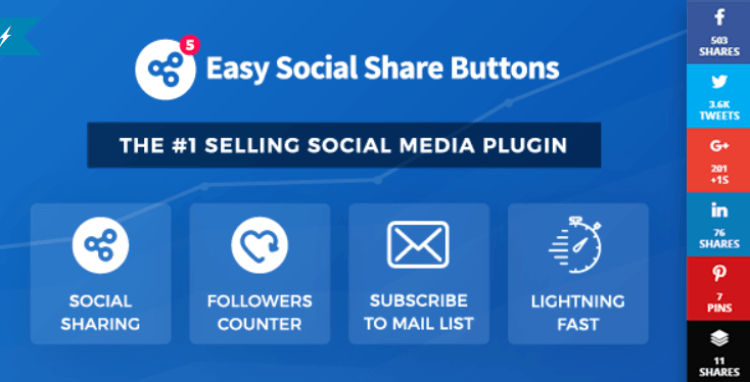 With over 22,500 sales and a stellar 4.66-star rating, Easy Social Share Buttons is the most popular social share button plugin at Code Canyon.
Like Social Warfare, Easy Social Share Buttons' unique selling proposition is all the extra features it adds beyond stylish social share buttons.
Some of those features include:
After share actions – display social follow buttons, email opt-in forms, or anything else after a visitor shares one of your posts.
On media sharing – display share buttons on individual images rather than just the entire post.
Top social posts – display a list of your top posts by share count.
A/B testing – A/B test different share button configurations to find which ones get you the most shares.
Pinterest-specific images – just like Social Warfare.
Lots, lots more.
Again like Social Warfare, the main reason to pay for Easy Social Share Buttons is if you like those premium features – the actual share buttons themselves aren't any more stylish than you'd get with ShareThis.
Price: $18
4. MashShare

Like ShareThis, MashShare is a free social share buttons plugin. But where it differs from ShareThis is in the style of those share buttons.
As the name suggests, MashShare helps you add Mashable-style share buttons to your WordPress site (see screenshot above for what that means).
Beyond its unique button styling, here are some of the other things that MashShare can do:
Display total share count.
Show "virtual" (fake) share counts for new articles to increase social proof (the ethics of this are a bit iffy).
Use object caching for improved performance.
A variety of premium add-ons for things like additional social networks, Google Analytics, and more.
While it does have some unique features, the main reason to choose MashShare over something more generalized like ShareThis is still aesthetics.
Price: Free with premium add-ons
4 Miscellaneous Social Media Plugins For Automatic Posting, Metadata + More
While the bulk of the social media plugins that you'll find are built to help you create social share buttons, you can also find plugins that help you work with social media in other ways. This mish-mash of a section includes plugins that help you do things like:
Automatically post content on social media
Add helpful metadata like Facebook Open Graph Tags
Let your users log in with their social profiles
1. Revive Old Post

Revive Old Post is a freemium plugin that helps you accomplish two core tasks:
Automatically share new posts to your social media profiles.
Automatically reshare old posts to your social media profiles.
While the first task is easy enough to accomplish with something like IFTTT, the ability to reshare old content is what makes Revive Old Post so helpful.
In the free version, you can:
Share new and old posts to a single account at each major social media network.
Choose how many posts to share.
Add hashtags to get more attention.
Exclude certain categories and/or individual posts.
And if you pay for the premium plugin, you can:
Use multiple social accounts for each network.
Share custom post types.
Create your own custom schedule.
Share posts with an image.
Price: Free or Pro starts at $75
2. Facebook Open Graph, Google+ and Twitter Card Tags
If you want to control how your content looks when it gets shared on social media networks like Facebook and Twitter, you need to add specific metadata to your WordPress site.
The only problem?
WordPress doesn't let you do that by default.
While some SEO plugins like Yoast SEO and others give you the ability to add this metadata, the Facebook Open Graph, Google+ and Twitter Card Tags plugin is a more standalone solution that's dedicated specifically to social media metadata – nothing more.
With it, you can add:
Facebook Open Graph Tags
Twitter Card Tags
Meta Description + Schema.org tags for Google +
What's neat is that the plugin also includes specific integrations so that it plays nice with:
Yoast SEO
Business Directory Plugin
If you do decide to use this plugin with Yoast SEO, just make sure to disable Yoast SEO's social metadata functionality to avoid a conflict.
Price: Free
3. Super Socializer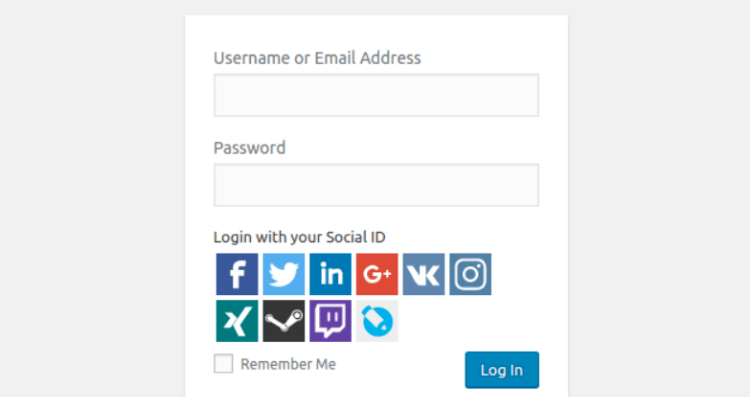 Super Socializer is one feature-packed social media plugin. In addition to its social share buttons (which could warrant its inclusion in the previous section), Super Socializer also includes two other helpful social media features:
Social login for both the WordPress login page and the WooCommerce checkout page.
Social commenting for Facebook, Google Plus, and Disqus.
If you want to go all in with social media at your website, Super Socializer is one of the most popular and highest-rated options.
Price: Free
4. Flow-Flow – WordPress Social Stream Plugin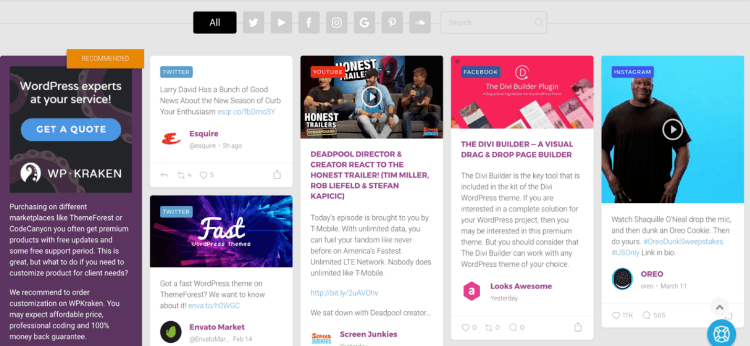 Flow-Flow is a premium plugin that helps you display social media streams on your website. These could be streams from:
Your own accounts.
Other people's accounts.
Keywords or hashtags.
In total, Flow-Flow supports 16 different feed sources, including all the big networks like:
Facebook
Twitter
Instagram
YouTube
Pinterest
What's neat is that you're free to mix and match these different networks into one unified stream. And you can also add keyword filters and content moderation to make sure you don't accidentally import the wrong type of content.
Finally, to avoid performance issues, Flow-Flow uses caching (based on a time interval that you can specify) to limit resource and API usage.
If you need to showcase social streams on your WordPress site, Flow-Flow's 10,000+ sales and 4.71-star rating make it a pretty good option.
Price: $35
Wrapping Things Up
It's hard to narrow the field down to just 8 social media plugins because there are so many quality options, especially when it comes to social media share buttons.
I tried my hardest to give you only the best of the best, but if you think there's a great plugin that didn't make the list, be sure to leave a comment and let us (and everyone else) know about it!