Communication between agencies and clients is what keeps a project moving forward smoothly and efficiently. However, it can be difficult to juggle the assignments within your agency while staying up to date with your clients.
Thankfully, there are a number of collaboration tools available for managing communication with your agency's clients. This makes your company look more professional, while setting the project up so that it's more difficult for critical details to fall through the cracks.
In this article, we will explore in-depth the benefits of dedicated communication tools for agencies. Then, we will show you two great options (Project Huddle and InVision) that could be ideal for you. Let's get started!
The Benefits of Dedicated Communication Tools

It's a given that any agency will need to be in constant communication with clients. Whether it's the discovery, creation, or delivery phase, staying in touch with the client is important to ensure that the final product meets their needs.
Email is a powerful tool, and has clearly revolutionized the way we communicate and do business all over the world. However, it does have limitations. Managing email communications between a large team and multiple client contact points could cause a lot of unnecessary back-and-forth. What's more, if a crucial conversation thread is missed, the whole project can be thrown in disarray. In short, email communication requires tight organization and attention to detail at all times to be effective.
This is where dedicated communication tools come in. They take your discussions and turn them into dynamic interactions, enabling many people to participate at every step of the way. There are even dedicated apps to help you manage specific tasks such as website prototyping, mockup approvals, collaborative comments, bug tracking, and much more.
By streamlining your agency's communication channels, you can reduce the time and money spent administering to any given project. You can offload tasks easily, and provide a dedicated, dynamic interface for everyone involved in a project. Here are a few other benefits:
Communication is always ongoing and current, with everyone having access to the same information.
Project histories are tracked, enabling team members to get up to speed quickly.
Collaborative comments mean there's no chance of missed emails, or private conversations being lost in the fray.
Project assets are collated in one location, reducing the time it takes to search for a particular element.
In a nutshell, dedicated communication tools enable you to look and act more professionally, while also making your internal processes more efficient.
2 Tools for Collaborating With Your Agency's Clients
Technology is always evolving, with new products and services constantly becoming available. While there are a myriad of collaboration tools to choose from, the two below are industry-proven, and offer the features you'll need. Let's take a look!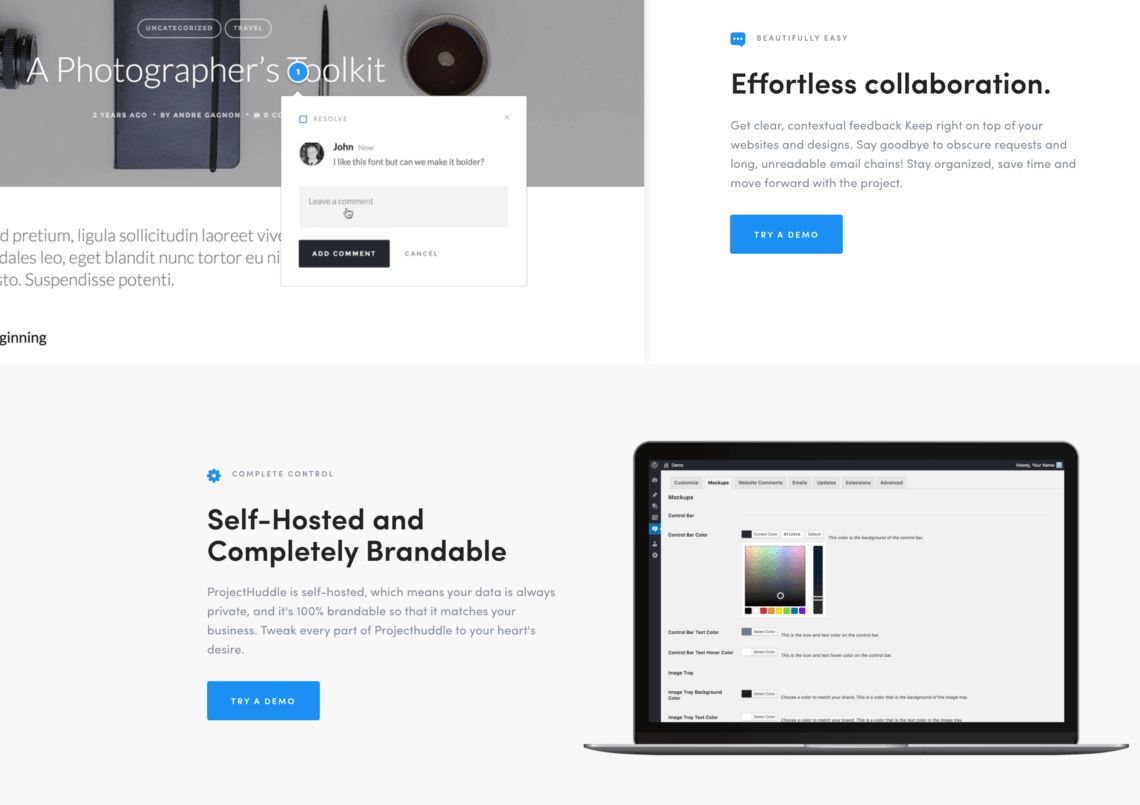 Project Huddle is a self-hosted WordPress plugin for creating mockups and websites. Once installed, you'll receive a JavaScript snippet that can be added to practically any website. It offers unlimited projects and users, and even supports multisite WordPress installations. Project Huddle is designed for self-hosted WordPress, so you can install it on your own agency website, ultimately enabling you to control and own the data you accrue. It also means the tool is incredibly portable, so can be used wherever you can access your website.
There are two considerations you'll want to make when ascertaining whether Project Huddle is right for you:
You'll be able to quickly integrate it into your existing workflow and immediately speed up feedback and iterations of your projects.
On the other hand, if most of your collaborations involving elements such as mood boards and brand research, Project Huddle will not be as useful. It's more suited to collaborating on mockups and interactive website prototypes closer to final delivery.
Project Huddle can be installed like any other WordPress plugin, and when complete, you can easily share both mockups and websites with clients. They'll be able to click on any given area and leave a comment, which lets everyone quickly understand any pain points the client has.
Project Huddle is sold with a single site annual license for $89. However, you can use it to manage as many projects as you want, and there are no restrictions on the number of projects you can run.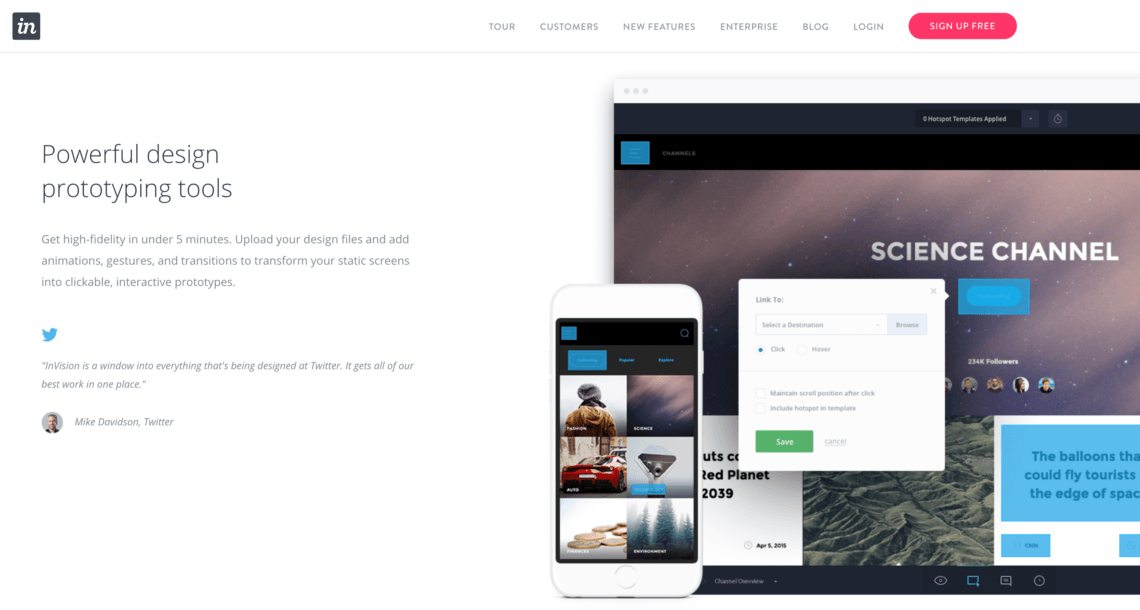 InVision is a hosted service where you can use prototypes and boards to communicate with your clients. You can sync designs directly with industry standard design programs such as Sketch and Photoshop. You can then turn your designs into interactive prototypes, so your client can get a feel for the desired end results.
This is ideal for agencies who don't want to deal with hosting their own design resources, which can be server intensive. It works particularly well for design-heavy work that may eventually be handed off to another development team. For example, HTML and CSS snippets can be generated to help build the final project, which makes it ideal for development from scratch.
One of its more notable features is integration with major sites like Basecamp, Slack, GitHub, and Trello. This means you can quickly pass along important updates to everyone else involved with the project for higher connectivity.
Let's break down the considerations you'll need to make when looking at InVision:
If your agency focuses heavily on design, and less on final development, you'll like InVision. You'll be able to organize and collate a cohesive set of resources to pass down the chain accordingly.
However, if your agency focuses more on-site development and delivery, InVision may fall a bit short. In this case, we recommend you stick to Project Huddle, which has more developer-friendly features.
The good news is that InVision offers a free pricing tier. This way, you can discover whether it's a good fit for your agency before spending the cash. However, to support teams you'll need to pay $99 per month for unlimited prototypes and up to five team members.
Conclusion
Managing client communications can be difficult, particularly for in-depth projects. Tools such as Project Huddle and InVision take much of that away by providing a central place to manage updates, feedback, and other vital communication.
In this article, we've discussed the importance of ongoing client communication within a project. Then, we looked at some solutions. Let's quickly recap the two apps:
Project Huddle: This premium-only solution is great for development-focused projects.
InVision: Given the free tier and focus on project design, InVision will suit smaller teams less focused on research and development.
What questions do you have about using software to collaborate with your agency's clients? Ask us in the comments section below!