While there are many Twitter plugins for WordPress, including the excellent JM Twitter Cards that we reviewed a while back, it's only recently that the social media giant released their own official extension for the publishing software that powers close to 25% of all websites.
Since its release, you can now you can add many of the best Twitter features to your website, via the official plugin. This can help ensure that your integrations are working in the best possible way.
So if you are yet to add Twitter share and follow buttons to your site, or start taking advantage of Twitter Cards, then now is the time to do so with the official Twitter plugin for WordPress.
Features of the Official Twitter Plugin for WordPress
Although this is a newly released plugin, it still manages to include some useful features for integrating Twitter with your website. So far the list includes the ability to embed tweets in your posts and choose a theme to customize their appearance, embed Twitter video, add a Twitter share button, display a Twitter follow button, integrate Twitter analytics, and enable Twitter Cards for your content.
Perhaps the best feature of the plugin is the ability to create custom tweet messages for each post. These messages are then used as the content for the tweet whenever you or your readers share one of your posts.
This gives you the ability to ensure that certain Twitter users are mentioned when your content is shared, or that specific hashtags are included whenever a post is tweeted. This can all help the tweets sharing your posts garner more views and retweets, in turn helping to drive more visitors to your website.
If adding the above features to your website, all wrapped up in an easy to use interface, sounds appealing, then read on for our guide on setting up the official Twitter plugin on your WordPress website.
How to Use the Official Twitter Plugin on Your Website
As the Twitter plugin is free to use, it can be installed on your site directly from the WordPress plugin directory. However, this plugin requires PHP version 5.4 or above to run. If you aren't sure which version you have, you can use the free Display PHP Version plugin to find out.
To install the plugin, log into your site's admin area (http://yoursite.com/wp-login.php) and then navigate to Plugins > Add New using the sidebar menu.
From the Add Plugins screen, enter 'Twitter' in the search field and then install the official version created by Twitter.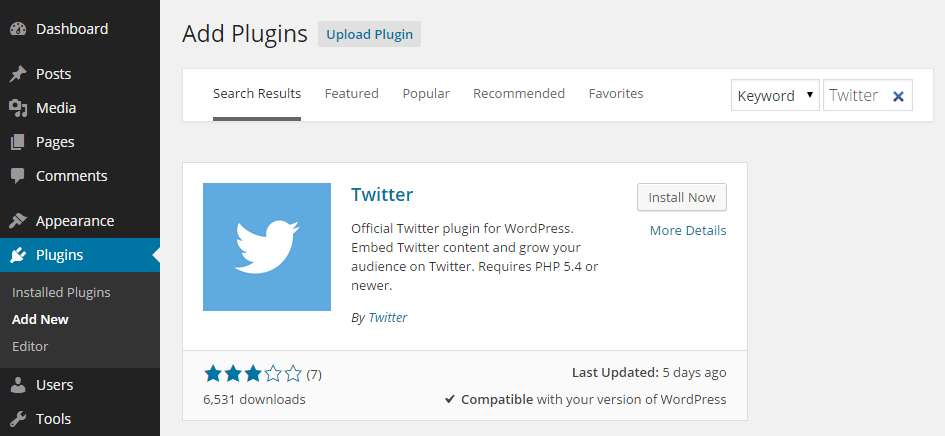 Once the plugin has been installed and activated, it can be configured from the Twitter item on the admin sidebar menu.
Configuring the Twitter Plugin
The global settings for the plugin are very straightforward. They allow you to choose a color scheme for embedded tweets to help them match the rest of your website, enter your Twitter username, and decide when and where to display the tweet button on your posts.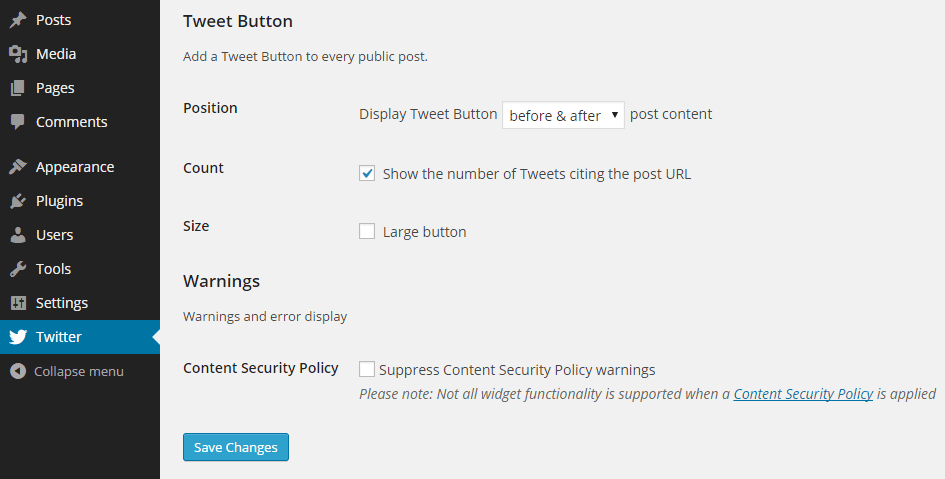 Once you've configured the plugin, click the save button to start using its features on your website.
Creating Your Custom Tweet Messages
The plugin adds a meta box to the Post Editor screen. From this meta box you can write a custom tweet message that will be used each time you or one of your readers shares that post.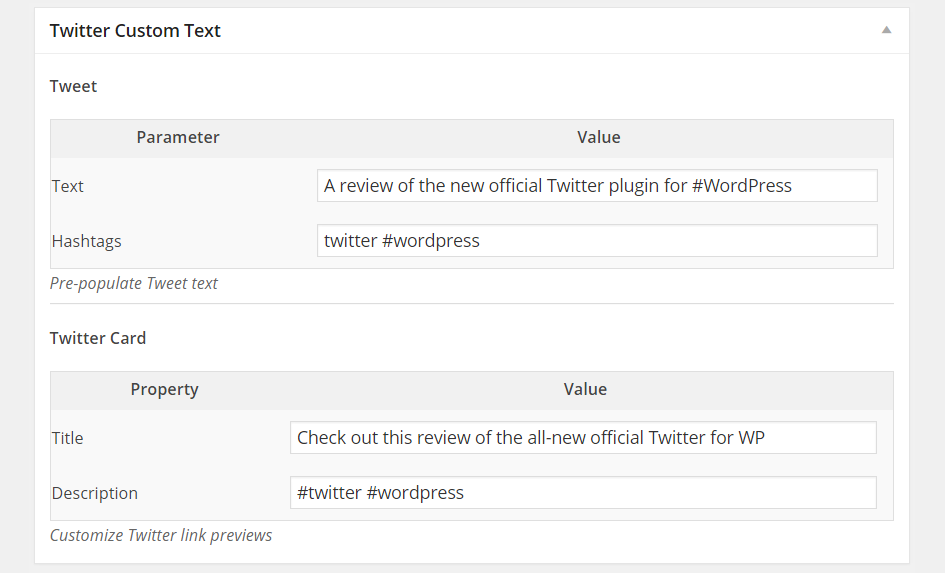 As the plugin includes support for Twitter Cards, you can also use this meta box to create a message for the Twitter Card that is generated from this post. You will need to validate your website first in order to be able to use Twitter Cards. However this process only requires you to enter the URL of a post in the form on the Twitter Card validator page. This will enable Twitter Cards for your entire site and only needs to be done once.
Now when you or your readers click the tweet button on a post, the Twitter message form will be pre-populated with your custom message and hashtags. Your readers can still edit the message, but they will also have a quick and easy way to share your content with the custom message you created.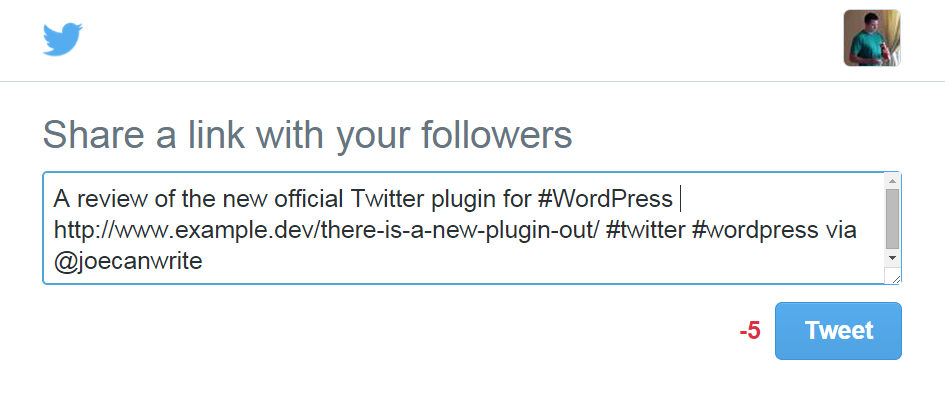 If you have enabled Twitter Cards and added a suitable image to your post, a Twitter Card will be used instead of the standard tweet format.
Another feature of this plugin is the ability to display a follow button in the sidebar or other widgetized area of your website. If you would like to add this button to your website, head over to the Widgets screen, located under the Appearance menu, and then drag and drop the Twitter Follow Button widget onto one of your widget areas.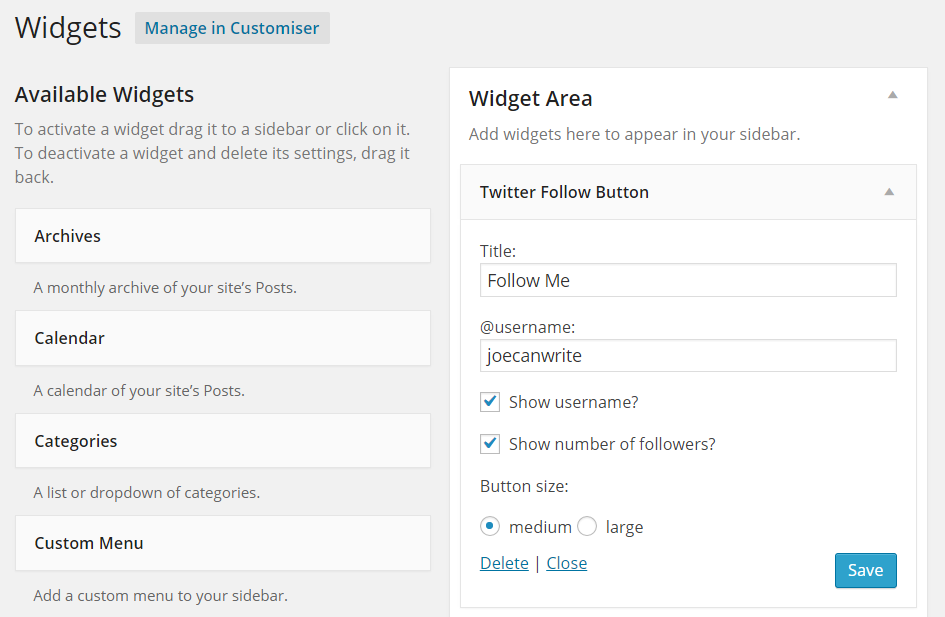 Then, simply fill in your details to display a button that makes it easy for your readers to follow you on Twitter.
If you would like to find out more about using the advanced features of this plugin, please visit the official documentation pages.
Conclusion
Although many of the features of this plugin can be found in other third-party Twitter plugins, it's nice to have an official option to turn to, especially one that is so easy to use.
Twitter Cards are a great way to make your content stand out on Twitter, when it's shared by you or your readers. As this plugin adds a nice interface for working with those cards directly from within your WordPress website, it's a great option for anyone yet to take advantage of this feature of Twitter.
While some features from my Twitter wish list haven't made it to this plugin, such as being able to create multiple tweets for a post, that are then randomly chosen when a post is tweeted, it's still got lots of useful features to make it worth installing.
The development team behind this plugin plan to add new features on an ongoing basis, so even if you don't make a switch to this add-on today, it's well worth keeping an eye on this plugin to see how its extended in the future.
If you have any questions about this plugin, or integrating Twitter with your WordPress website, please leave a comment below.