Whether you're a large digital publisher or a solo-blogger, ads are usually at least a part of what helps you keep the lights on. But WordPress, much as we may love it, doesn't provide any easy way to manage advertisements…at least out of the box.
That's where WordPress advertising plugins come in. These plugins help you manage your ad inventory, insert them at various spots on your site, and maybe even optimize and target them as well, depending on the exact plugin that you choose.
In this post, I'll get into some of the most popular WordPress advertising plugins and compare and contrast what makes each one unique. These plugins are flexible enough to support both larger media publishers and smaller webmasters with your advertising strategies.
5 Helpful WordPress Advertising Plugins
1. Ad Inserter
Ad Inserter is the most popular WordPress advertising plugin at the WordPress.org plugin directory. It's that way for a good reason, too. The plugin is regularly updated, well-rated, and receives great support from the developer (58/59 resolved support queries over the past two months).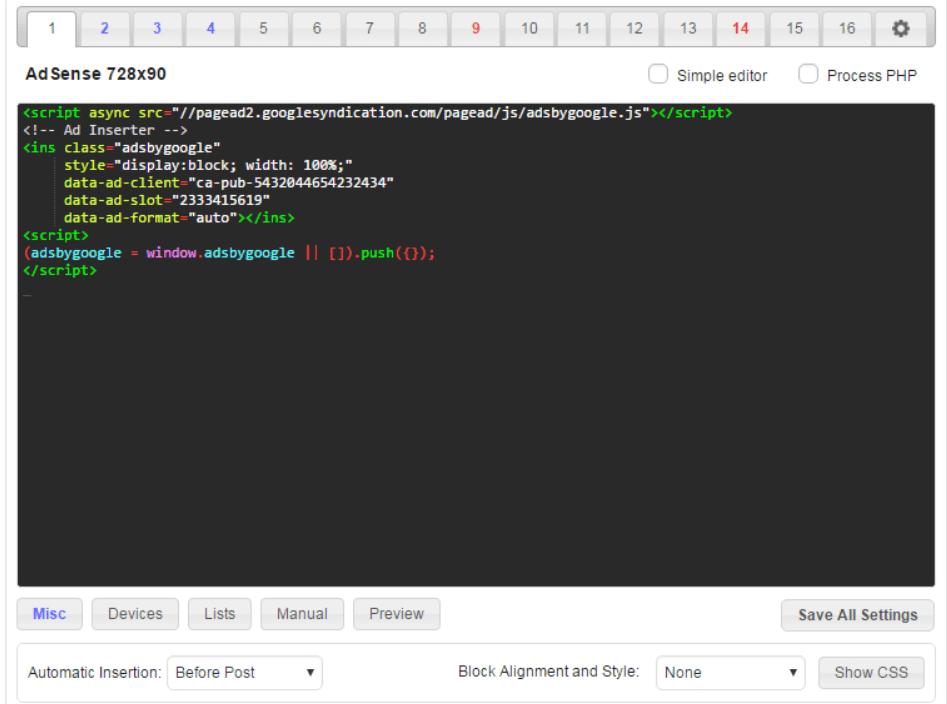 Ad Inserter gives you a great deal of flexibility over inserting ads into WordPress. First, it offers a variety of pre-set locations like:
Before/after content
Before/after X paragraph(s)
Before/after random paragraph
Plus lots more.
For every single ad, Ad Inserter also lets you insert it manually via:
Widget (including sticky widgets)
Shortcode
PHP function
Other features of the free version include:
Use up to 16 different ad blocks
Google AMP support
Ad rotation (server-side and client-side)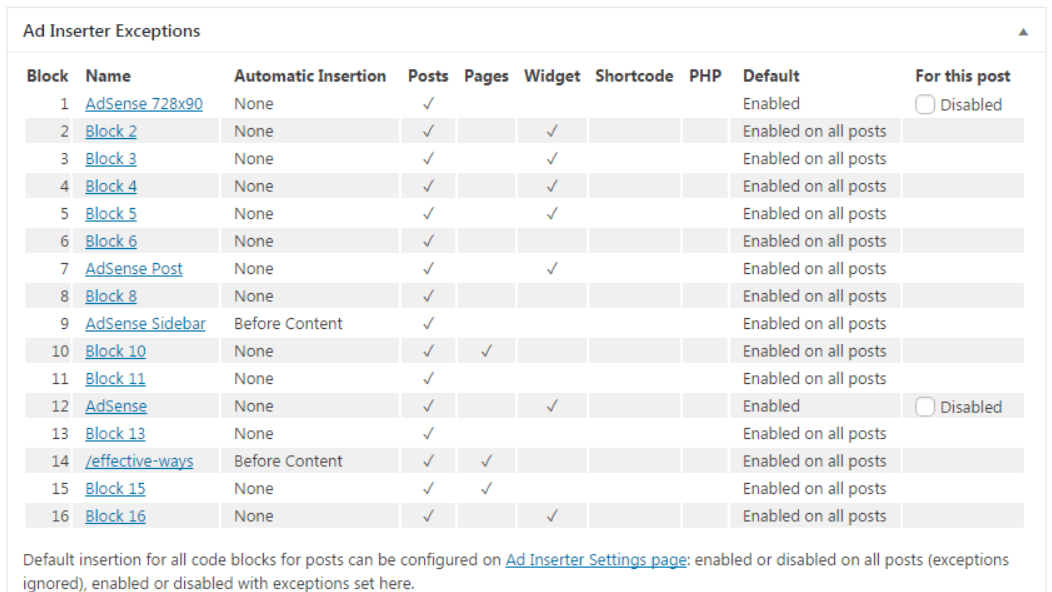 In the Pro version of the plugin, you get quadruple the number of ad blocks (64), plus several helpful targeting and optimization features like:
Geotargeting
Ad scheduling
In terms of flexibility and power, Ad Inserter is the best plugin for both digital publishers and regular WordPress users, though more casual WordPress users might be overwhelmed by the sheer number of configuration options.
The only potential downside is the limitation on the number of ad blocks.
Ad Inserter Pro starts at $20.
2. Advanced Ads
Advanced Ads is another plugin that, in terms of pure available features, can go toe-to-toe with Ad Inserter. Advanced Ads locks some features that are available in Ad Inserter behind the Advanced Ads Pro version. But, at the same time, Advanced Ads also offers some neat functionality that you can't get in the free version of Ad Inserter.
So, depending on your specific needs, these feature differences may push you in a specific direction.
Like Ad Inserter, Advance Ads is popular, well-supported, and has high ratings at WordPress.org.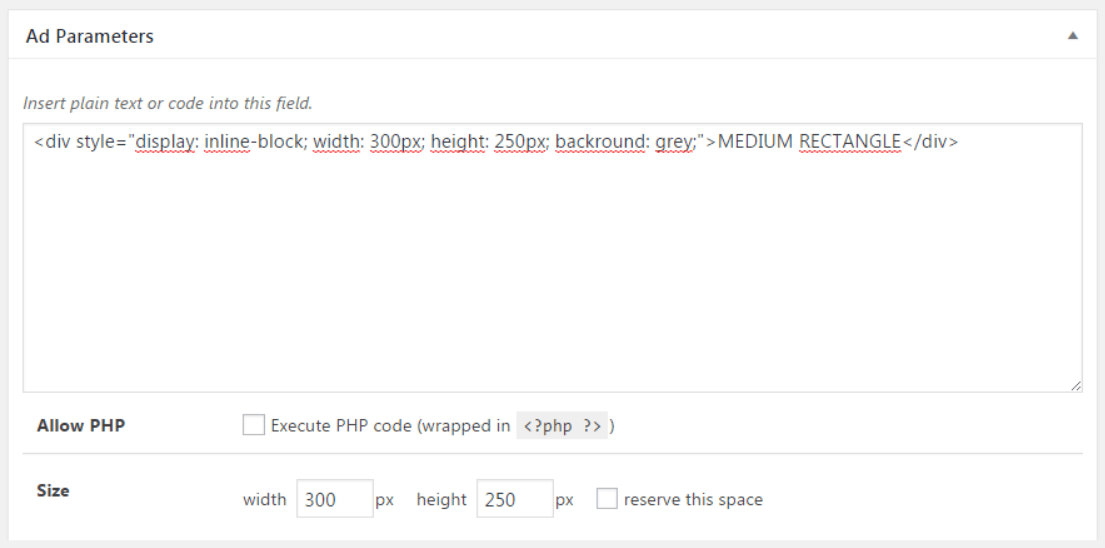 In the free version, you can:
Manage and display unlimited ads (in contrast to the 16 ad limit in Ad Inserter).
Group ads to create ad rotations
Schedule ads (again, this is only available in Ad Inserter Pro)
Insert ads via shortcode, PHP function, or widget
Where the free version of Advanced Ads falters in comparison to Ad Inserter is that:
It locks many of the more advanced pre-set ad placements behind the Pro version – e.g. "display after random paragraph"
It doesn't support Google AMP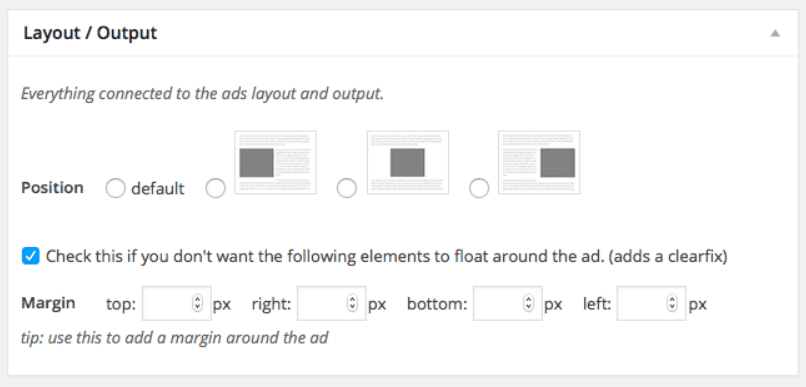 The Pro Version and Add-ons tack on a number of other helpful features. Here are some of the highlights, though this list is by no means exhaustive:
A/B testing
More ad placement options
Refresh ads without requiring a page reload
Sticky and floating ads
Deep targeting – geotargeting, user agent targeting, and lots more.
Stat tracking
Support for caching plugins
Advanced Ads is another great option for managing ads on WordPress, especially for digital publishers who need to manage large numbers of ads.
Advanced Ads Pro starts at 29 euros. Other add-ons cost extra. There's also a Pro bundle for 69 euros.
3. AdRotate
AdRotate is another freemium WordPress advertising management plugin with good reviews and a track record of developer support.
Like Advanced Ads, it lets you create and manage unlimited advertisements on your site.
One of the major selling points of AdRotate is that the premium version lets you create a front-end dashboard on your site to directly sell ad space. Advertisers can then manage their own ads without any input from you (beyond moderation, of course).
But let's stick to the free features to get started. In the free version, you can:
Use shortcodes, PHP functions, or widgets to display ads
Create one schedule per ad (ads can have unlimited schedules in the Pro version)
Set max clicks/impressions per ad
Keep basic internal statistics

If you go with AdRotate Pro, you'll get the ability to:
Create fallback ads in case AdRotate is unable to display the original ad
Set more advanced schedules
Add geotargeting
Create the previously discussed front-end advertising management dashboard
Because of the front-end dashboard and impression/click caps, AdRotate is an especially good option for publishers who intend to engage in direct advertising sales.
AdRotate Pro starts at 29 euros.
4. WP QUADS
A fork of the formerly popular Quick AdSense plugin, WP QUADS is a more lightweight approach to advertising management than the previous three plugins.
WP QUADS is also primarily dedicated towards Google AdSense, though it includes a generic ad option that lets you insert your own ads via HTML or JavaScript.
The only downside of the free version is that it only allows you to create 10 different ads.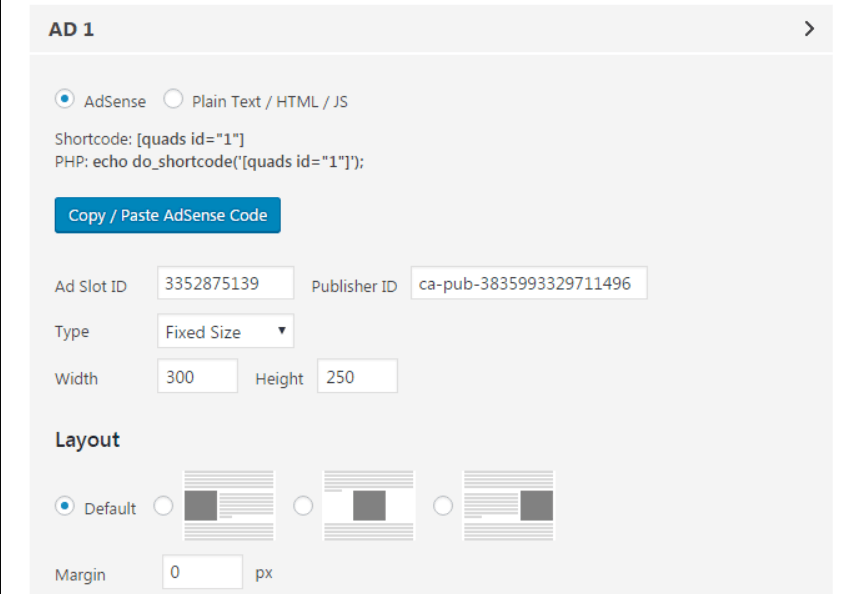 Beyond sidebar widgets, you can assign those ads to a variety of in-content areas like:
Beginning/end of post
Before last paragraph
After X paragraphs
After certain images
There's also a nice Random Ads feature that lets you rotate ads for specific placements.
Beyond inserting ads, WP QUADS also focuses on performance to ensure that it doesn't slow down your site. It does this by optimizing database storage and avoiding any external script dependencies.
All in all, WP QUADS is a good lightweight option for those who don't need the lengthy feature lists boasted by the first three plugins.
There's also a Pro version starting at 49 euros that supports unlimited ads as well as some other added features.
5. Ads Pro Plugin
Ads Pro Plugin is the best selling WordPress advertising management at Code Canyon. Like AdRotate, its key differentiating feature is that it doesn't just help you manage your own ads – it also lets you sell ad space directly to third-parties who can then manage their own ads via a front-end interface.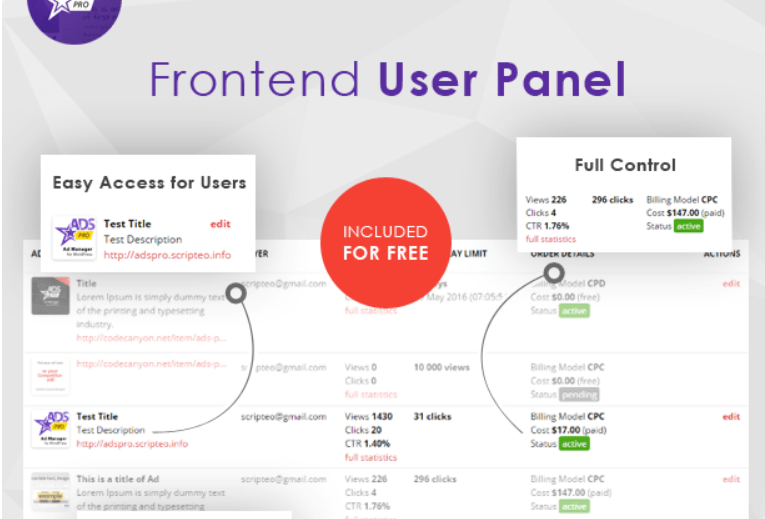 Beyond that, it also includes some unique ad placements not offered by the other WordPress advertising plugins like:
Corner peel ads
Video background ads
All in all, the plugin gives you more than 20 different ad placement options.
Ads Pro Plugin also includes plenty of targeting options that let you target by:
Geolocation
Specific devices
User sessions
WordPress categories/tags
Other neat features include:
A/B testing
Dedicated integrations for bbPress and BuddyPress
3 billing models for selling ads (CPC, CPM, CPD)
If you want the ability to sell ads directly to third-parties, give Ads Pro Plugin a look. Otherwise, you're likely better off sticking with one of the other plugins.
Ads Pro Plugin costs $37.
Wrapping Things Up
When it comes to WordPress advertising plugins, you've got a number of options.
For high-powered publishers with big readership that need a great deal of control over ads, Ad Inserter and Advanced Ads are two good options.
If you want to sell ads directly to third-parties, AdRotate and Ads Pro Plugin are two solid choices that offer front-end dashboard and ad sales.
And finally, WP QUADS is a good lightweight option for those who don't need all of the features offered by the other WordPress advertising plugins.