As more consumers choose to buy online rather than drive to physical stores, the ecommerce economy continues to grow. This year about $3.5 trillion will be spent through ecommerce websites and that number is only expected to grow year over year.
You may want to get in on the action with your own online shop. The good news is you won't need much technical knowledge to get your online business up and running and you can do it with very little expense. There are many excellent ecommerce solutions that make it easy for you to set up a storefront, list your products, process payments, manage your inventory, and many include marketing features, like email marketing, to help you grow.
Here we'll take a look at the six top ecommerce platforms getting straight to the point of pros, cons, pricing and the bottom line as well as suggestions for which to use for WordPress ecommerce. There's no one-size-fits-all solution — and each platform has its pros and cons depending on the sort of functionality you need for your online store.
While drag-and-drop website builders like Wix and Squarespace have introduced ecommerce features, if ecommerce sales are a big part of your business we recommend seeking out a solution that specializes in ecommerce functions like the ones listed below.
Market Leaders & the Top eCommerce Platforms
Popularity isn't everything — just because an ecommerce solution is popular does not mean it is the best ecommerce platform for your particular business. But, using a popular solution does have its advantages. First, it usually means there's an extensive community of users and developers creating plugins, themes, and marketing tools. It's also a safe bet that platform will continue to progress by adding new features and it's unlikely it will be discontinued any time soon. That's important because changing the software than runs your ecommerce site after you've added hundreds of products can be a costly and time-consuming hassle.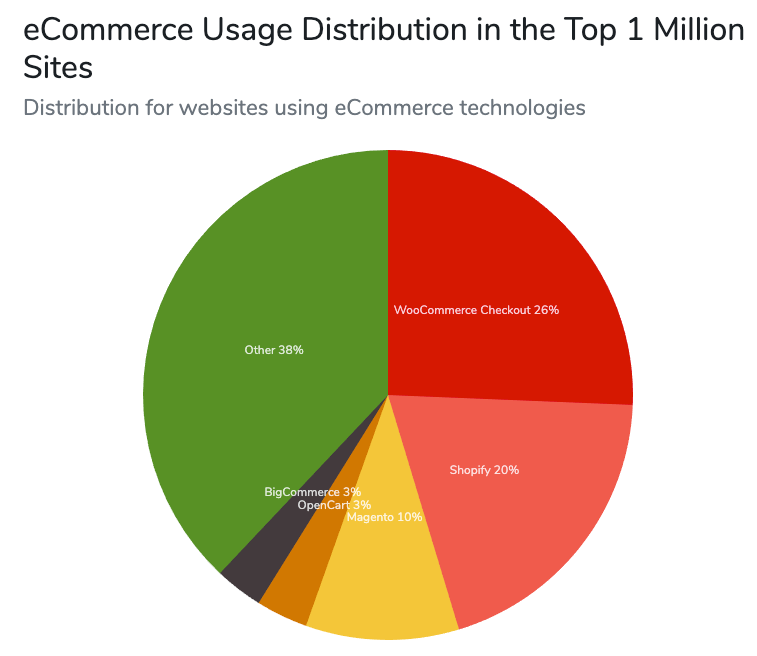 In recent years, WooCommerce, a WordPress plugin, has emerged as the most popular solution for creating an ecommerce store with approximately 26% marketshare. WooCommerce's popularity may be due to the fact that it is free and it is built on top of WordPress, the world's most popular CMS. There are no limits on the free version of WooCommerce, you can add unlimited products and connect a payment gateway like Stripe or Paypal to create a fully functional store. However, for more advanced features, you'll probably end up spending money on some of the hundreds of paid extensions available.
The second most popular ecommerce platform is Shopify at 20% marketshare. Shopify provides everything you need to build your online store from the domain name to content management. It is its own standalone ecommerce CMS so you won't need to pay additional fees for web hosting and you won't need another software solution to function as a website builder.
The third most popular ecommerce platform is Magento which has lost marketshare in recent years as Shopify and WooCommerce have become more pervasive and newer solutions like BigCommerce have entered the market.
Now that we have a snapshot of the movers and shakers in the ecommerce solution industry, let's take an in-depth look at their features and pricing to see which might be the best for your store.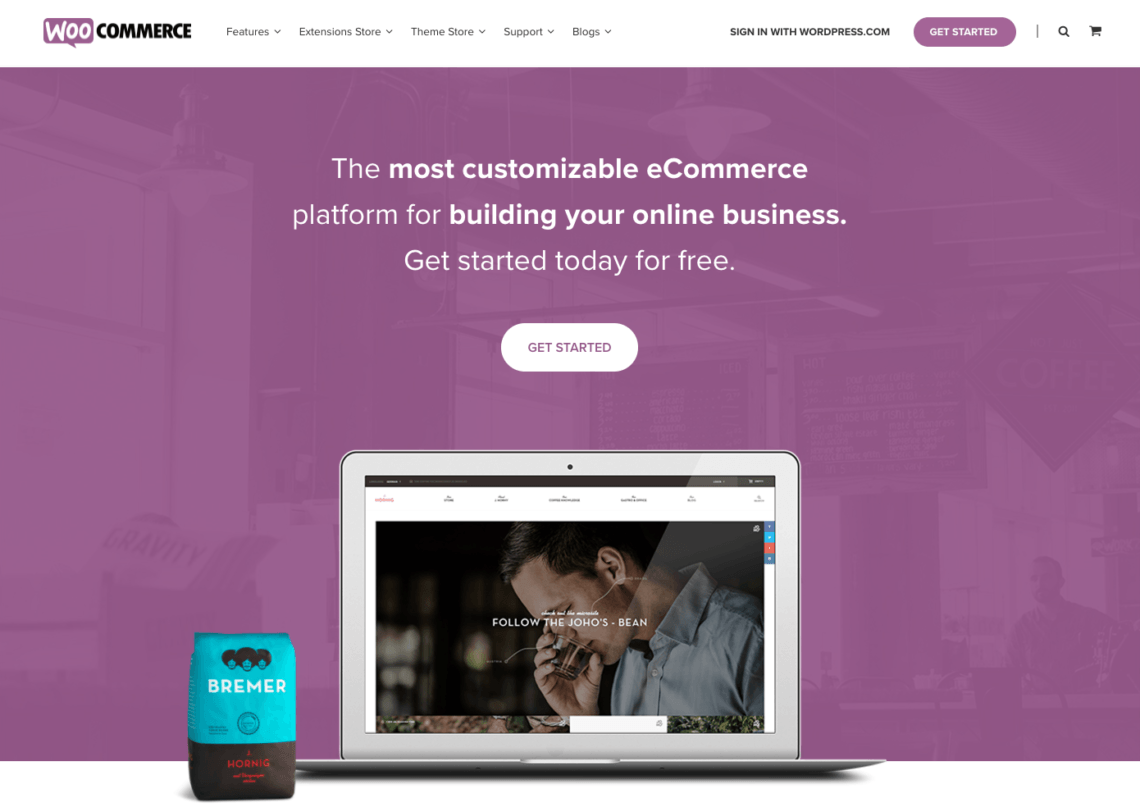 Launched in 2011 by WooThemes, WooCommerce has quickly gained prominence as the go-to ecommerce solution for WordPress websites. If you don't use WordPress you can't use it — WooCommerce is a plugin that works on top of WordPress. WooCommerce is also an open source project. In May 2015, WooThemes and WooCommerce were acquired by Automattic, the company behind WordPress.com. WooCommerce now powers 1.5 million active online stores.
WooCommerce's popularity is due to many factors but if you're already using WordPress, there probably isn't an easier or less expensive way to create an online shopping cart, product pages, checkout pages, etc. Basically, if you can use WordPress, you can use WooCommerce, and the interface will feel comfortable and familiar to you.
While WooCommerce is technically a free ecommerce platform, which can be quite appearling to small businesses on a limited budget, you should be aware that many of the more advanced ecommerce features you see, like sophisticated product filters, shopping cart abandonment capture, and some seo and social media features will probably require some paid WordPress plugins. In other words, to understand the true cost of owning and operating a WooCommerce store you should figure out what functionality you want your shop to have and then figure out how much those plugins will cost you. Then, add in your web hosting expenses (which most of the other ecommerce solutions listed here include) and you should have a much more accurate picture of the total cost of ownership.
Price
The WooCommerce plugin is free to download and use. Extensions are extra and are usually a monthly or yearly subscription.
Pros
It's free. The WooCommerceplugin is free to download from the official WordPress Plugin Directory.
Flexible and open source. Like Magento, WooCommerce has a big community of developers and agencies who build extensions.
Huge number of extensions. If there's some kind of feature or functionality you want to add to your online store, there's an extension you can buy from a WooCommerce extension developer or marketplace.
Easy setup. It's much easier to get an online store up and running — and with fewer administration costs — than Magento or Prestashop.
Easy to customize.WooCommerce is designed to work with any WordPress theme, of which there are thousands or free and paid options.
Ideal for content marketing. Since it's built on WordPress, you can leverage its customizable blogging tools to market and build your brand.
Works with WordPress. Anyone using WordPress can easily use Woo.
Many payment options available. Everyone wants to support the world's most popular ecommerce solution so you'll have no trouble finding payment gateway solutions that are compatible.
Cons
Can get expensive. The more extensions you add to your store, the more you'll be paying each month in licensing fees.
Doesn't come with web hosting. You'll need to take care of setup, hosting and maintenance yourself. Though, Pagely has made a point to make this much easier for you.
Not easy to customize for new users. While basic customizations are fairly easy, if you want to change how your online store looks you might need to hire a developer.
It's free so there isn't much customer support. WooCommerce is free which means they can't possibly provide customer support to the millions of businesses using their software. However, because the community is so large, it's likely that your issue has already been discovered and addressed on StackOverflow or similar sites.
The Bottom Line
If you're already using WordPress, you've no doubt heard about WooCommerce and may have even tried it. It's easy to install the plugin and a store up and running, whether you want to run a small shop or a large, complex store. If you want to customize your store, you'll find that there's probably an existing plugin to add those features.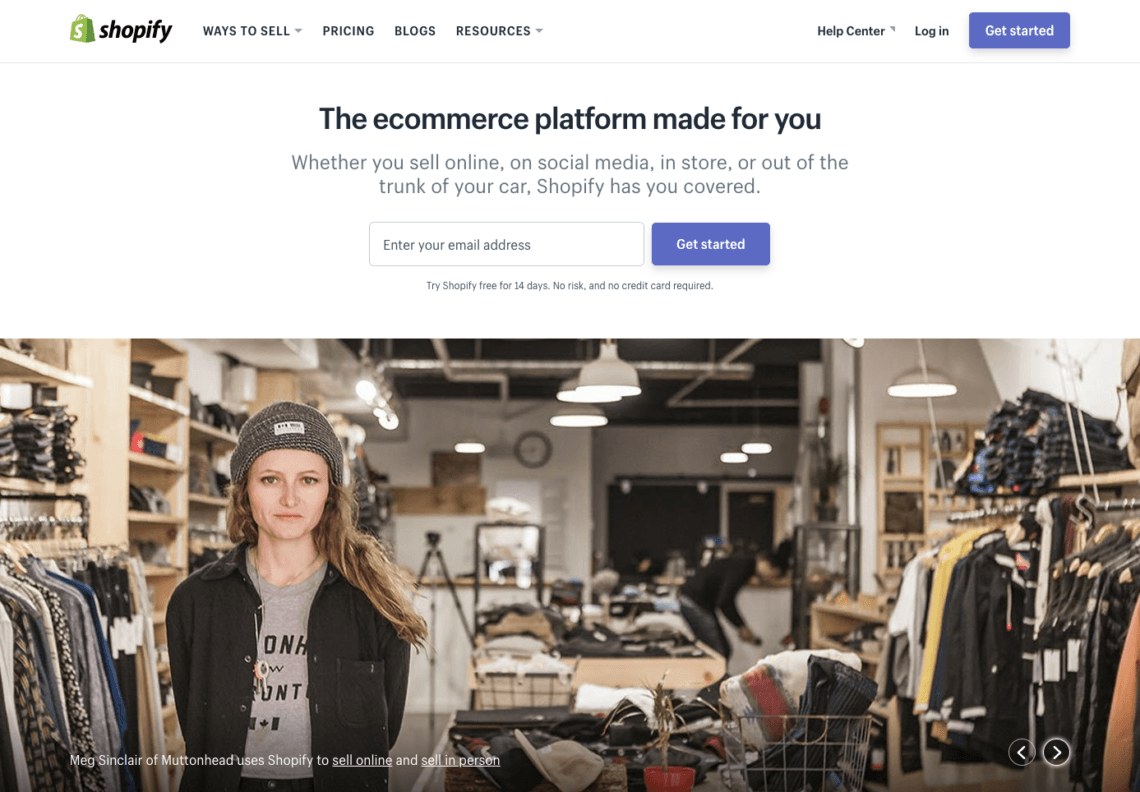 Shopify began nearly a decade ago as an online store selling snowboard gear. Unsatisfied with the existing eCommerce software on the market, one of the founders, a computer programmer, decided to build his own. The popular eCommerce platform now powers 500,000 online stores and handles a total gross merchandise volume exceeding $40 billion. The company has almost doubled annual revenues every year since 2013, which shows just how quickly Shopify is growing.
When your online store becomes more popular, you may become interested in Shopify Plus which is their Enterprise ecommerce solution. Running a successful ecommerce shop comes with some unique logistical challenges and Shopify Plus has features aimed specifically at these high-volume stores.
Price
The Basic Shopify package is $29, with the Advanced Shopify package costing $299. There are additional fees for credit cards and transactions.
Pros
100+ store templates. Shopify's Theme Store features professionally designed free and paid themes across different industries, which you can then customize to suit your branding.
Extendable and feature-rich. There's a large App Stores where you can choose from over 1400 different apps to customize the functionality of your store.
24/7 support. If you're setting up an online store for the first time or just generally need help with anything technical, this is one feature you're going to need. Shopify provides phone support, live chat, and email support.
It's hosted. Shopify is a SaaS (software as a service) so you don't have to worry about things like hosting or maintenance.
Cons
Transaction fees for every sale. In addition to the monthly service fee, Shopify charges 0.5%-2% transaction fees for their plans, unless you are using Shopify Payments, in which case all transaction fees are removed.
Monthly costs add up with Apps. While many Apps are free, some charge as much as $49 a month, which quickly adds up.
You need to know Liquid. Shopify uses its own templating language, which means if you want to hire someone to quickly make modifications, they will have to be a Shopify expert.
The Bottom Line
If your primary goal is to get an online store up and running as quickly as possible for a small-medium business, then a fully hosted solution like Shopify is for you. It's easy to set up and if you run into any trouble, the 24/7 support is convenient. Overall, Shopify can help you save time if you're not tech savvy so you can focus on other important aspects of your business.
Magento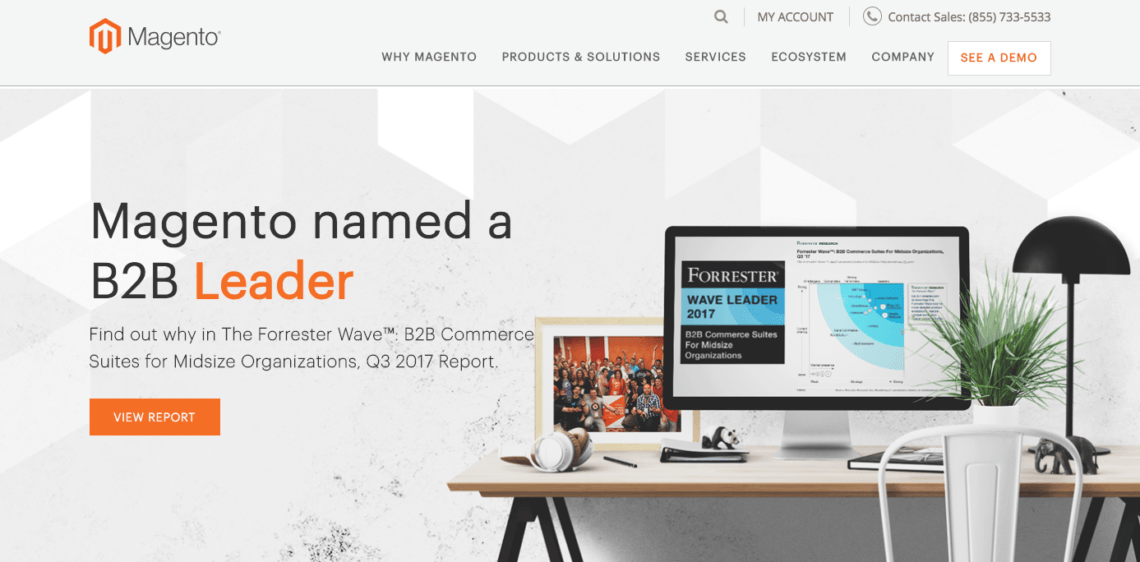 Magento was originally launched in 2008 and is now owned by the eBay group. The platform, which is based on PHP, powers more than 250,000 merchants worldwide, handling $100 billion in gross merchandise volume every year.
Due to its open source nature, it has an active community of 150,000 developers who contribute to improving the platform and building extensions.
Price
The Magento Community Edition (CE) is free for small and medium businesses, and the Magento Enterprise Edition (EE) is $18,000. Extensions cost extra.
Pros
Flexible and open source. Magento has a huge community of more than 150,000 developers and specialists at its disposal who work on the core software and extensions.
Ownership of the software. Compared to SaaS (software as a service), when you use Magento you have ownership and access to hosting.

Huge number of extensions. If there's some kind of functionality you want to add to your store, it no doubt already exists as an extension you can buy from a Magento extension marketplace.

Feature-rich. You can run multiple stores for different countries, target markets and brands with different pricing, content and payment systems from a single Magento installation.
Free community version. The Magento Community Edition (CE) is free for small and medium businesses.
Cons
Difficult and time consuming to customize. There's a steep learning curve that comes with using Magento. While it's hugely customizable, non-technical users will need help from a developer.
Enterprise version is expensive. The Magento Enterprise Edition (EE) costs $18,000.
Expensive to set up and maintain.Magento is much more expensive to run than competing eCommerce platforms.
Need to purchase hosting. Hosting is an additional cost.
The Bottom Line
There's a reason why many big brands like Nike, Ford and Samsung use Magento — it's reliable and scalable. While $18,000 might not seem like much for companies with money to burn, smaller and medium businesses will scoff at the high setup cost, so these kinds of businesses should give the CE version a go first. However, the platform is suited to big businesses that need enterprise-level software and are happy to pay for website development.
BigCommerce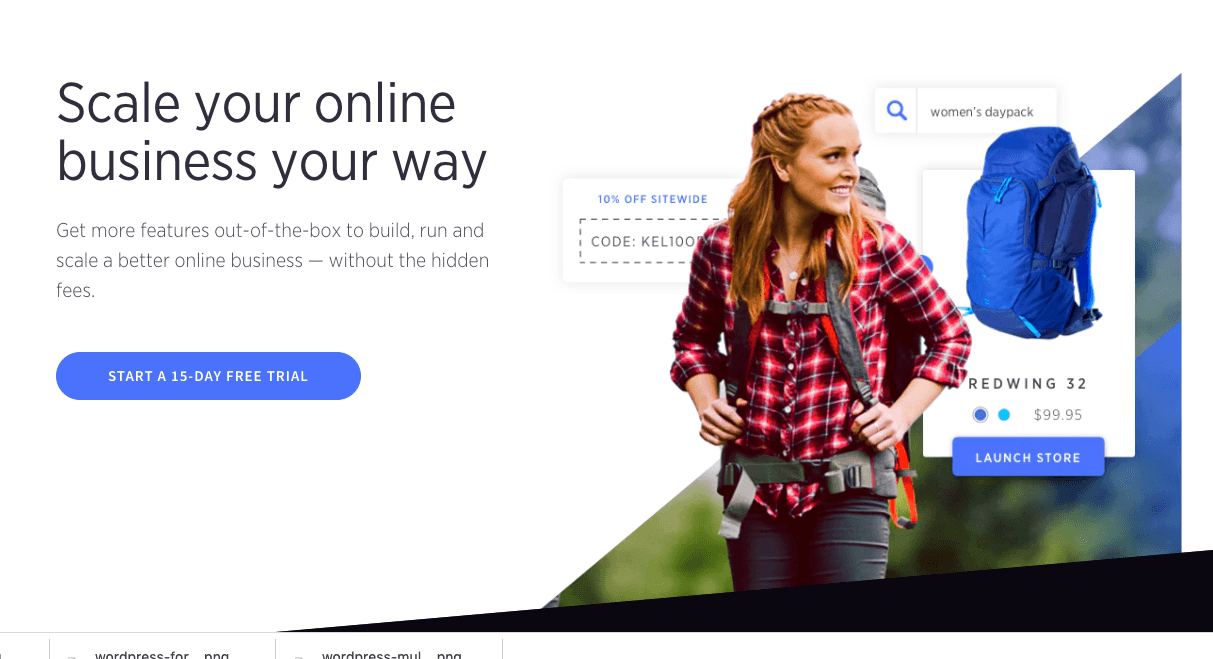 BigCommerce got its start in 2009 so they're a relatively new player in the ecommerce space. While they haven't been at it as long and this could be seen as a disadvantage, their late arrival means they were able to analyze the needs of ecommerce businesses so they could solve many of the biggest problems store owners were struggling with when it came to managing their online business day-to-day.
Price
BigCommerce starts at $29 a month.
Pros
Many advanced features. Even on entry-level plans you'll gain access to advanced features you won't get on most other solutions.
Ease of use. BigCommerce was built from the ground up to be easy to use. They have used their late entry into the ecommerce market to create superior usability.
Sell everywhere. With BigCommerce you'll be able to easily list your products on Ebay, Google Shopping, Amazon, Facebook, and Instagram. B2C stores in particular should be interested in their deep social media integration.
Cons
Less popular than some other solutions. BigCommerce doesn't have the market share of WooCommerce and Shopify so you're going to find a smaller community. That means fewer third party themes and extensions.
The Bottom Line
BigCommerce is very similar to Shopify — they both provide a hosted ecommerce solution so you don't need to worry about additional web hosting fees (like you would with Magento or WooCommerce). They both focus on making it easy to start and grow your store. If you're interested in Shopify, definitely compare it closely with BigCommerce. Just because BigCommerce is the smaller, up-and-coming competitor, doesn't mean they should be dismissed or overlooked.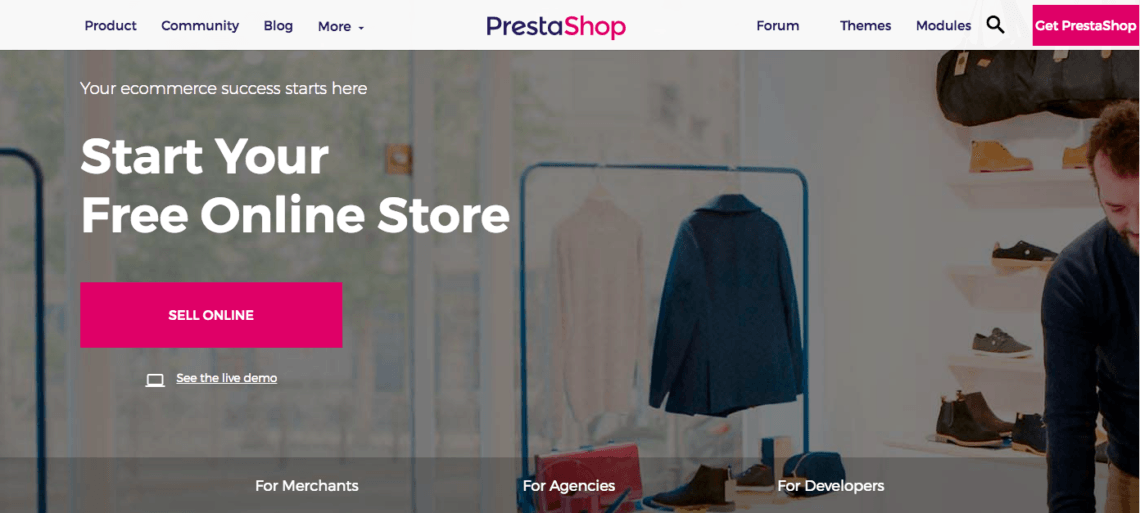 PrestaShop is a free, open source eCommerce platform, which started out as a student project in Paris in 2005. It is currently used by 250,000 online stores worldwide and is used on 0.5 % of all websites. PrestaShop is available as two free options: fully-hosted in the cloud, or self-hosted, giving you full technical control of your store.
Price
PrestaShop is free to download and use. Extensions cost extra.
Pros
Easy to install and configure. All you need to do is download the software and upload it to your host. PrestaShop also comes with a user-friendly dashboard that gives you a quick overview of your store's stats.
Available in 60 languages. Fully supports English and French.
Hundreds of add-ons. The official PrestaShop marketplace features 35000 modules and themes to enhance your online store experience.
Community and support.PrestaShop has an active user community. If you need technical help, there are FAQs, an online user guide, and a forum.
It's free. And there are no monthly or transaction fees.
Cons
Add-ons are expensive. Adding a handful of add-ons for basic functionality can cost hundreds if not thousands of dollars.
Isn't very scalable. If you're looking for a platform for a large business, look elsewhere.
Expert support is a paid add-on. If you need help setting up your store or diagnosing technical issues, you'll need to either pay for support (the basic Support Easy Plan costs $279.99 a month) or try your luck in the PrestaShop forums.
Not as slick as competitors. The default theme and basic features like stats aren't as well-polished as other eCommerce platforms.
The Bottom Line
PrestaShop is a popular platform with a highly active community of developers. While it does have its downfalls, when compared to other eCommerce solutions it comes out strong in terms of SEO, security, flexibility and low start up costs. Overall, Prestashop is best suited to those with technical know-how in setting up a website, and small-medium businesses that have the money and resources to hire developers to get their store up and running.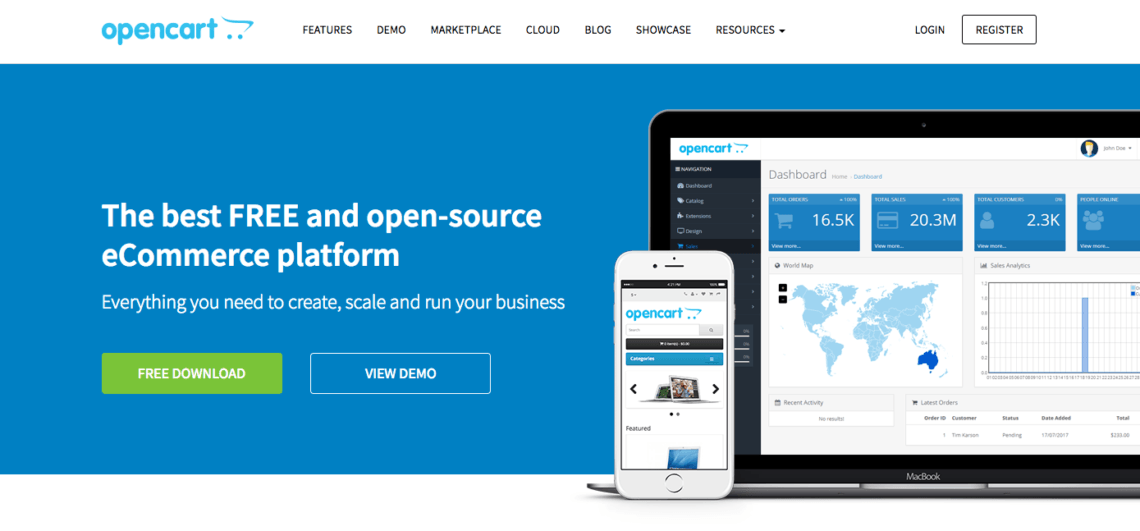 OpenCart started out as a Perl-based eCommerce tool in 1998 before the domain expired in 2005 and UK-based developer Daniel Kerr took over the project, using it as the basis for his own PHP-written eCommerce software. Kerr still runs the project, now with a small tight-knit team working out of Hong Kong and a growing community of developers. Known for its easy setup and intuitive user interface, the platform now powers 342,000 online stores.
Price
OpenCart is free to download and use. Extensions cost extra.
Pros
Lightweight and fast. It's also easy to download and install.
Simple user interface. The dashboard provides a clear overview of your store's important stats and the admin interface is easy to navigate.
It's free. And there are no monthly or transaction fees.
Loads of extensions. With more than 14,000 extensions available, if there's functionality you need for your store, there's probably an extension to help you implement it.
Cons
Difficult to customize. Compared to other platforms, OpenCart is harder to customize if you're not a developer, so if you lack technical know-how, you're are largely confined to the default theme. But with the right extensions and themes, you can make customizations, short of hiring a developer and going custom.
Not SEO-friendly.OpenCart struggles to complete on SEO terms with competing eCommerce solutions without SEOadd-ons. Audit your SEO if you're using this.
The Bottom Line
Since OpenCast is an eCommerce solution that requires hosting, it's best suited to businesses that have someone with web experience who knows their way around basic website setup and development. However, once set up, it's simple to learn and the interfaces are user-friendly. OpenCast is ideal for small-medium businesses that need a basic online store and don't anticipate the need to scale.
Conclusion
It's easy to feel overwhelmed when you start out researching the different eCommerce solutions available, but once you sit down and work out your business's needs and then compare them to the platforms available, it's actually quite straightforward figuring out what's going to work best for your business.
Here are my recommendations:
If you already have a WordPress website and/or you want to focus on drumming up business via content marketing, check out WooCommerce.
Do you run a large business, anticipate the need to scale, and have the resources to pay for developers? Then Magento is for you.
Are you a developer looking to set up an online store and anticipate making customizations to your site's code? WooCommerce, OpenCart or VirtueMart could be your best bet, though you might also want to look at Magento CE.
Lastly, solepreneurs and entrepreneurs who want an easy solution to get an online store up and running quickly should check out Shopify.