Countless entrepreneurs have written about their personal experiences — their wildly successful ventures and stunning failures. Some are so transparent that they publish their financials for others to dissect and comment upon. These 40 blogs for C-suite, executives and entrepreneurs are must-reads, so browse through and add your favorites to your morning repertoire.
This collection brings together the best business and entrepreneurial blogs. For me, they are my go-to's as a business owner. While each blog offers its own unique take on the business world, together they provide an encyclopedia of business brilliance.
No matter your niche or phase in the entrepreneurial game, this list will help point you to the right blogs to inspire and inform you as you optimize your department and build your value as a leader. Plus, read up on the leadership style of Jeff Bezos and three mental models to use with your teams.
Note: These blogs are listed in no particular order.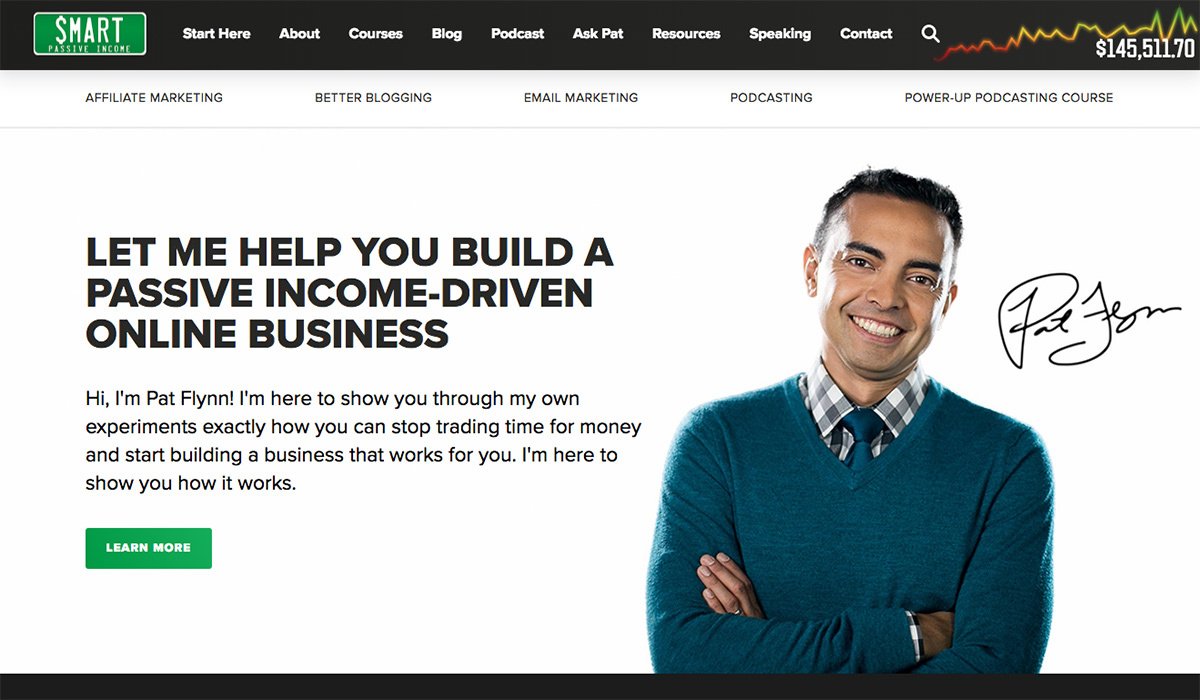 Pat Flynn calls himself the "crash test dummy of online business" but really, he's a passive income genius. Since being laid off in 2008, he has launched and grown several businesses and uses his blog to help other entrepreneurs learn from his wildly successful ventures and failures. In the top-right corner of his site, you'll see his current monthly earnings updated in real-time. He has a fantastic podcast and a YouTube channel where you can learn more about how to create sources of passive income.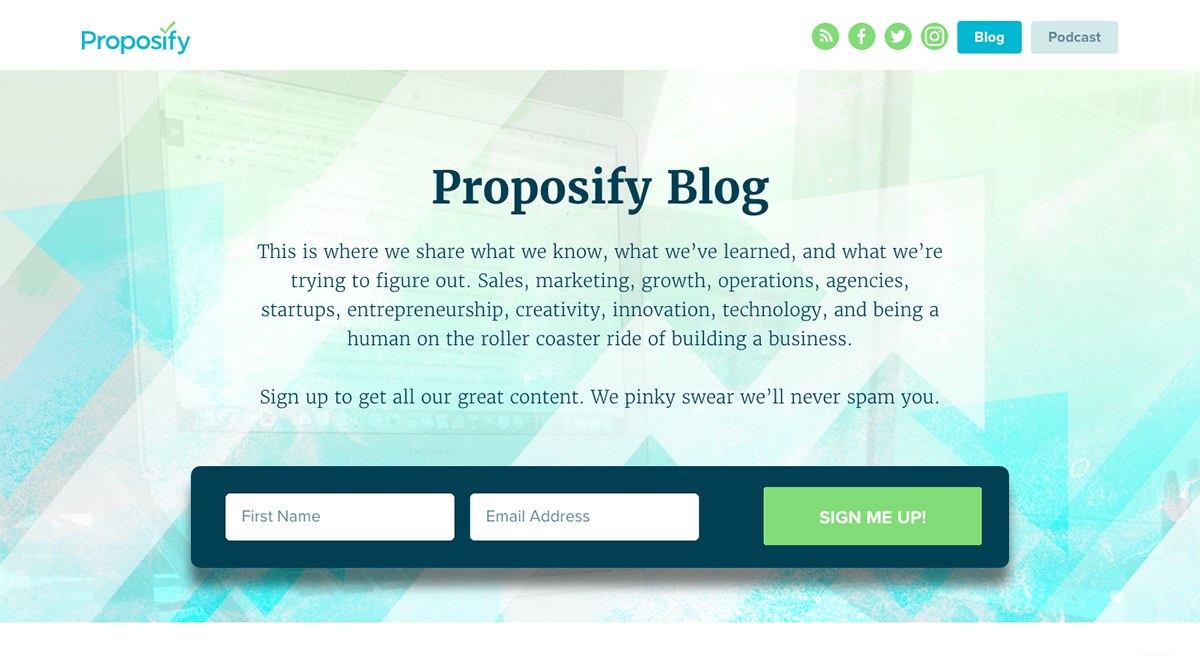 With articles like The Difference Between Business Ownership and Business Leadership, the Proposify blog is an excellent resource for business owners and leadership interested in reading about sales, marketing and "being a human on the rollercoaster of building a business." Be sure to check out Proposify's fantastic podcast — each week CEO Kyle Racki talks with other entrepreneurs and founders about how they're switching things up, figuring things out, and making their businesses grow.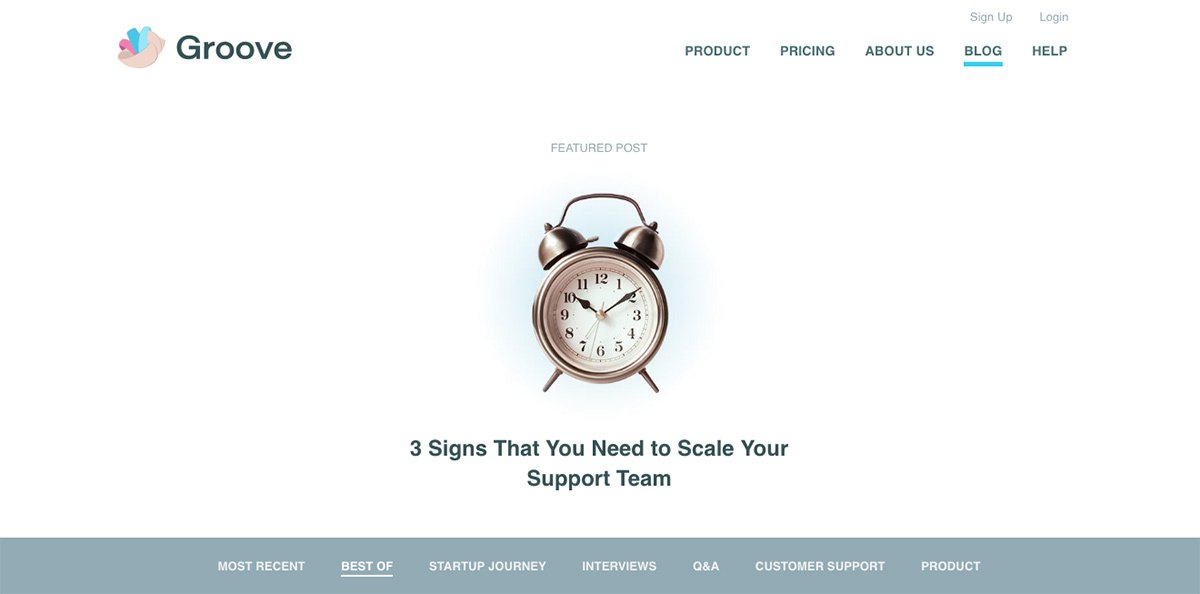 Starting at $28,525 monthly recurring revenue in 2013, Groove founder Alex Turnbull has documented his company's journey as it has grown past $5 million in annual revenue. The Groove blog is packed with detailed information and insights into Groove's marketing experiments.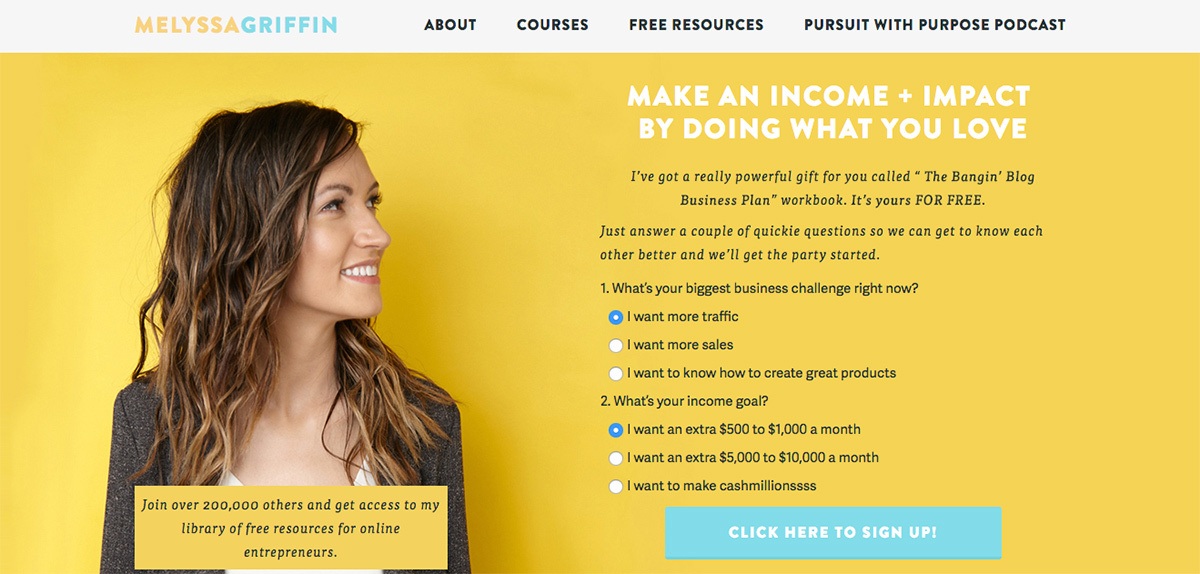 Melyssa Griffin originally started her successful blog as a creative outlet while living and working in Japan as a "stifled and underpaid" teacher. She reached the coveted "six figures" during her second year in business and has since moved into online education, teaching aspiring entrepreneurs how to start and grow their own business. Her blog mostly focuses on sharing information from her fantastic Pursuit With Purpose podcast.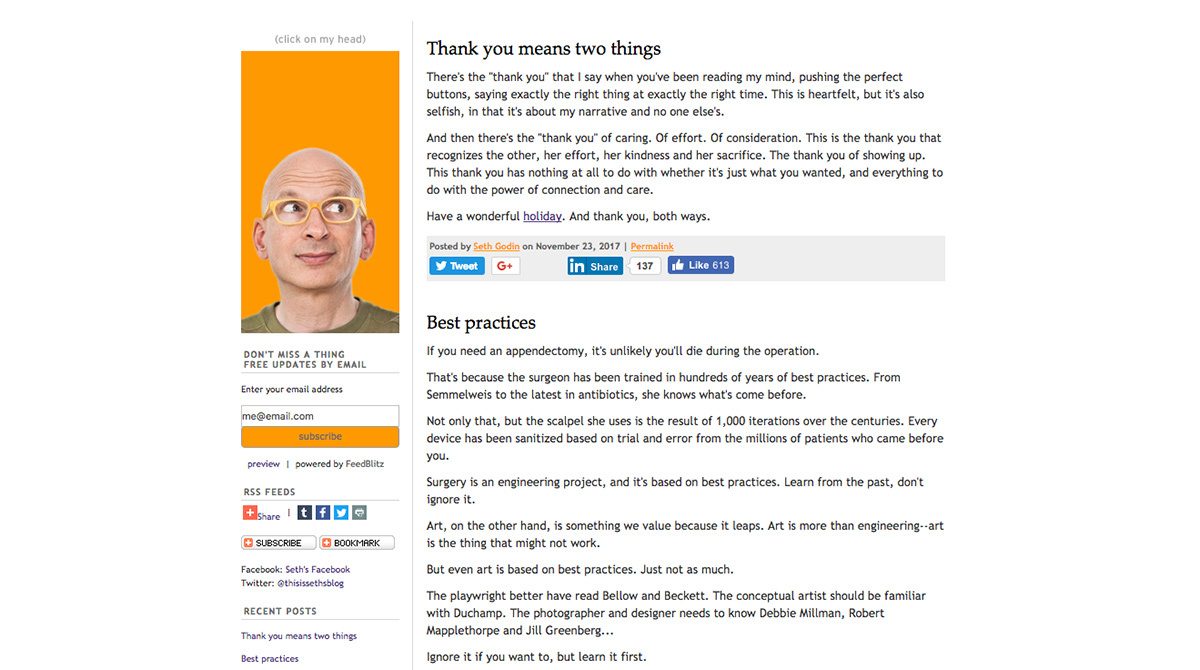 Best-selling author and entrepreneur Seth Godin has been described as "the ultimate entrepreneur for the Information Age". Godin is known for specializing in ideas and his blog reflects this, sharing business and marketing tips, but mostly delving into mindset. Every post on his blog is guaranteed to make you really think. He recently surpassed 7000 posts and his blog is so popular that you can find it by simply typing "seth" into Google search.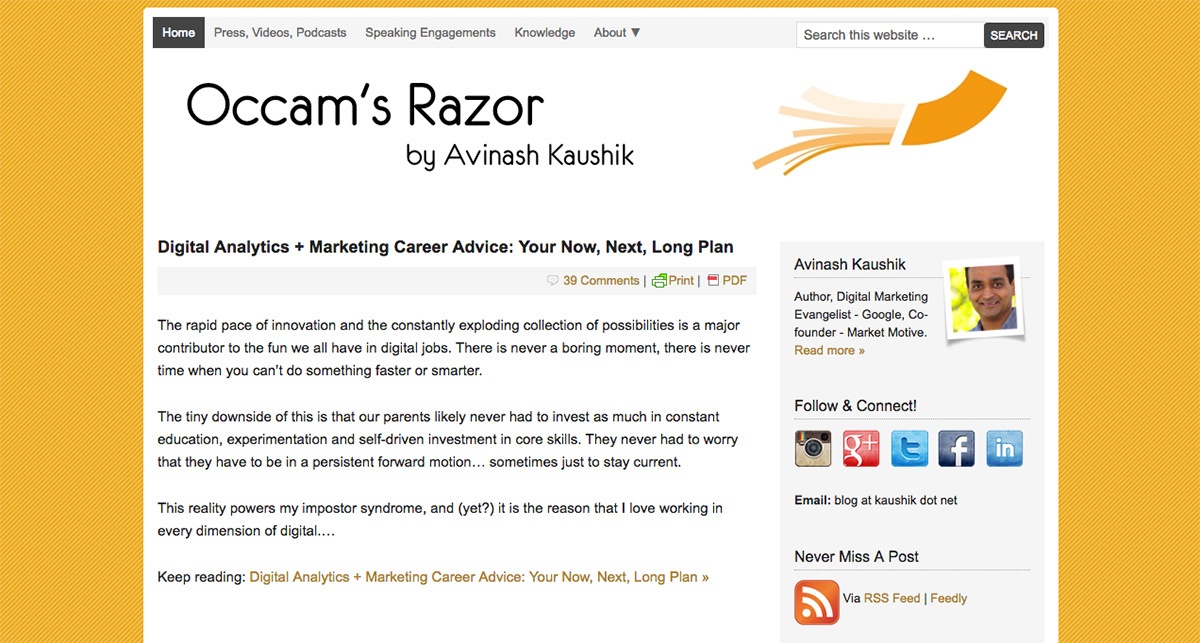 Digital Marketing Evangelist for Google and Web analytics expert Avinash Kaushik shares insights into digital and social media marketing. His posts are ridiculously comprehensive. Take his recent post The Artificial Intelligence Opportunity: A Camel to Cars Moment, for example. It's packed with data, videos, links and graphs, but is written in an easily digestible and accessible way so you don't have to be an AI expert to understand it.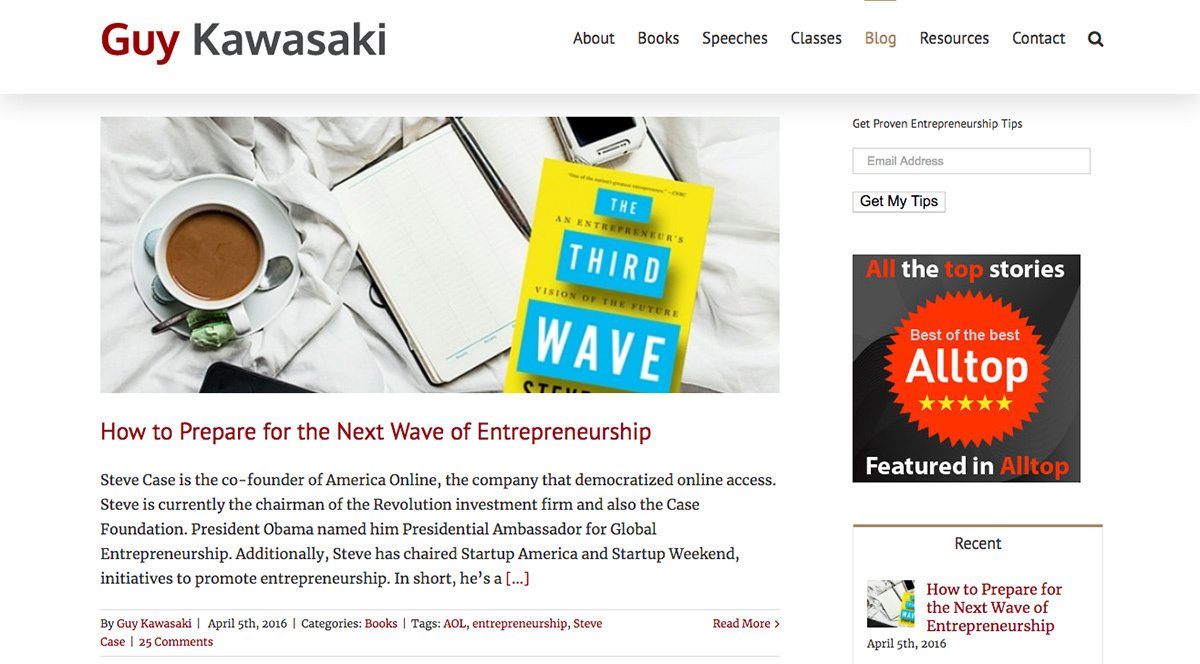 As the Chief Evangelist of Canva, former Chief Evangelist of Apple and author of The Art of the Start 2.0, Guy has an incredible wealth of knowledge to share and he does so on his hugely popular blog. With posts like How to Prepare for the Next Wave of Entrepreneurship, the venture capitalist shares his insights into startups, marketing, evangelism, social media and other topics.
Forbes is a leading new source for the latest on business, investment and marketing, with articles written by Forbes staff and contributors from the business world. While Forbes is regarded online as a rich source for business news, it originally started as a newspaper with the motto "The Capitalist Tool".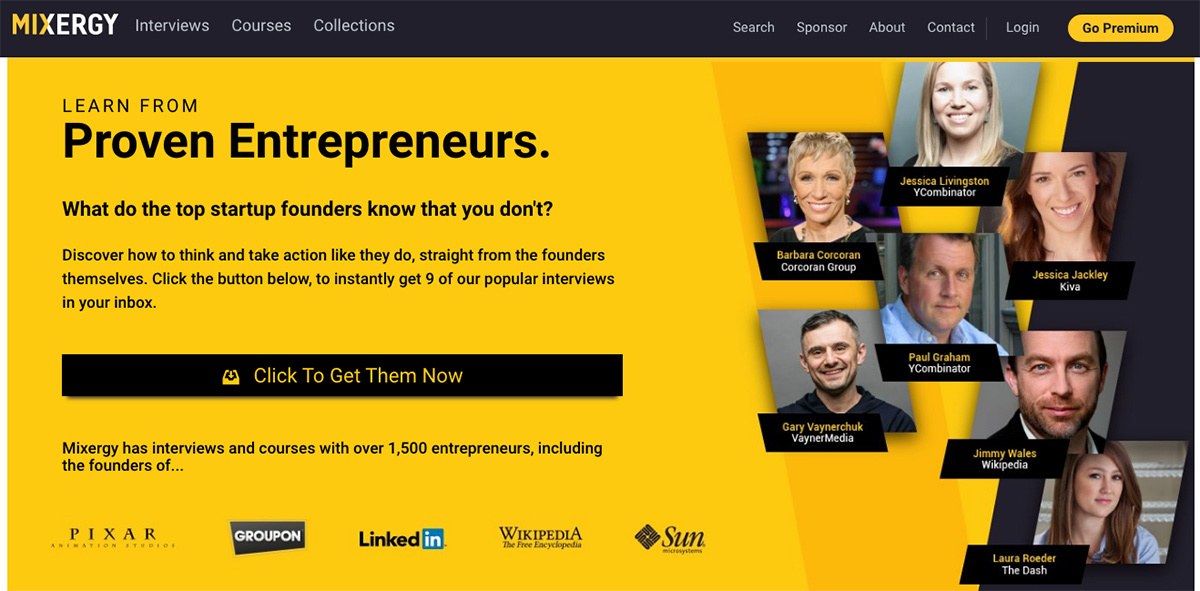 Mixergy founder Andrew Warner's blog is where "successful people teach ambitious upstarts". The site features 1500+ interviews with founders and entrepreneurs who share their stories so others can learn from their experiences. This is a great blog to help pick you up and get you inspired when your energy is low and you're feeling burnt out.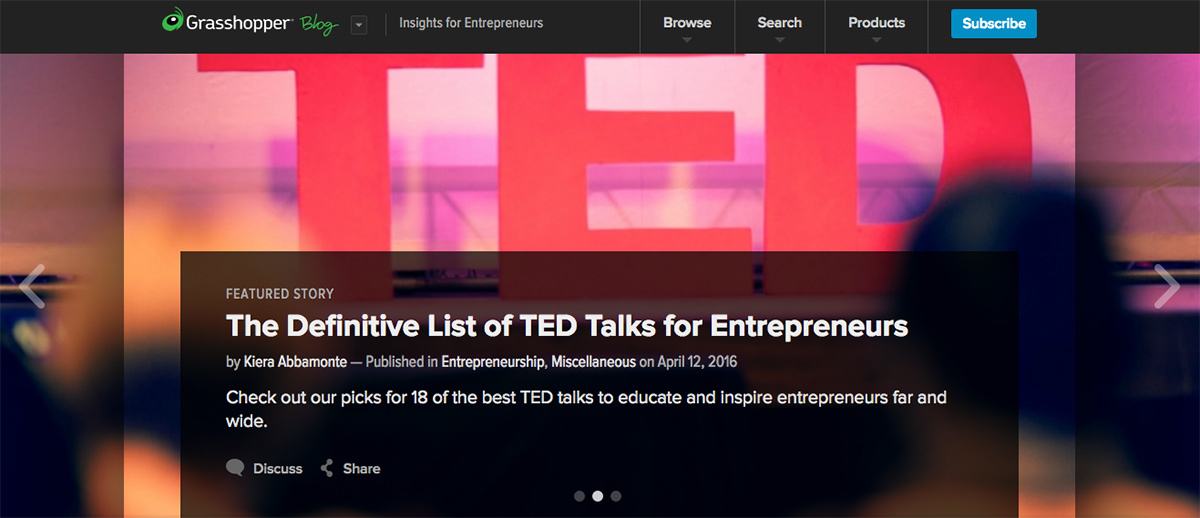 For all you small biz C-suites and founders, the Grasshopper blog features actionable marketing advice for small businesses and startups. Recent articles include 6 Ways Entrepreneurs Can Avoid Burnout Without Taking a Massive Vacation and How Small Businesses Can Save Time and Money by Repurposing Content.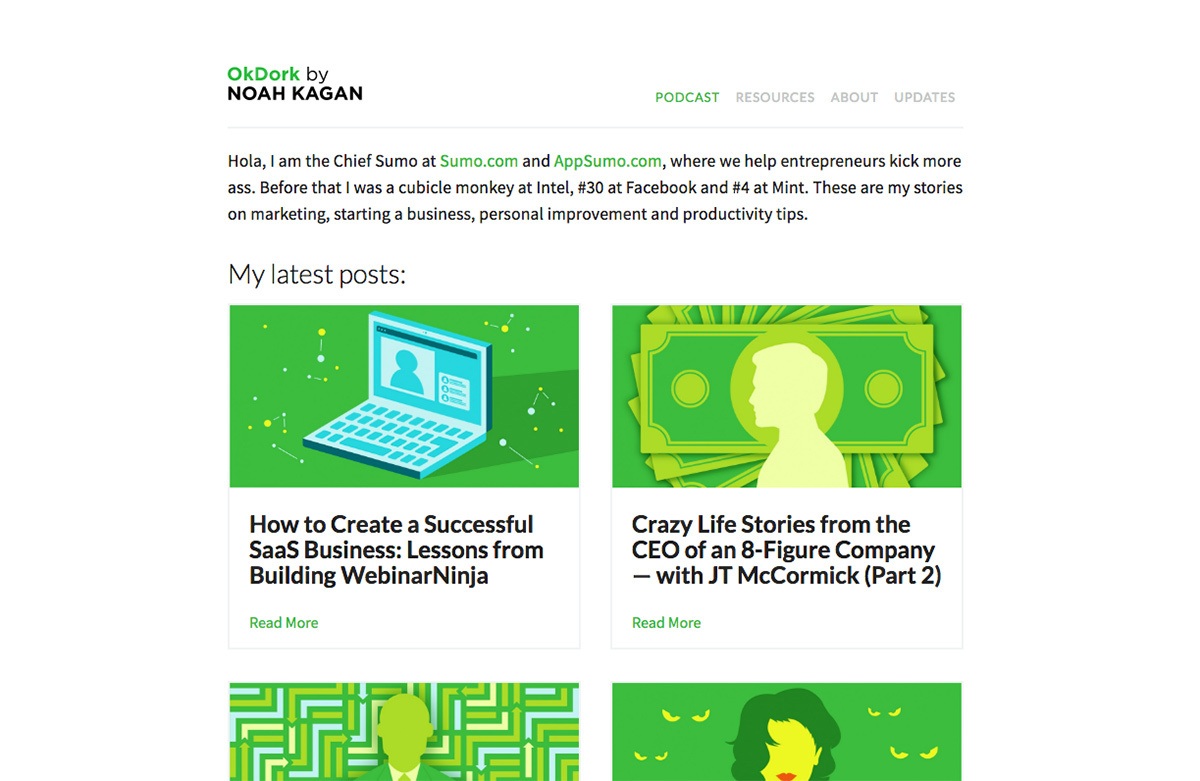 When he's not writing about tacos, AppSumo founder Noah Kagan writes about marketing, starting a business, personal improvement and productivity. His excellent podcast Noah Kagan Presents is also worth adding to your favorite podcast app. Each week he talks to entrepreneurs about how to live your best life — and make money while doing it.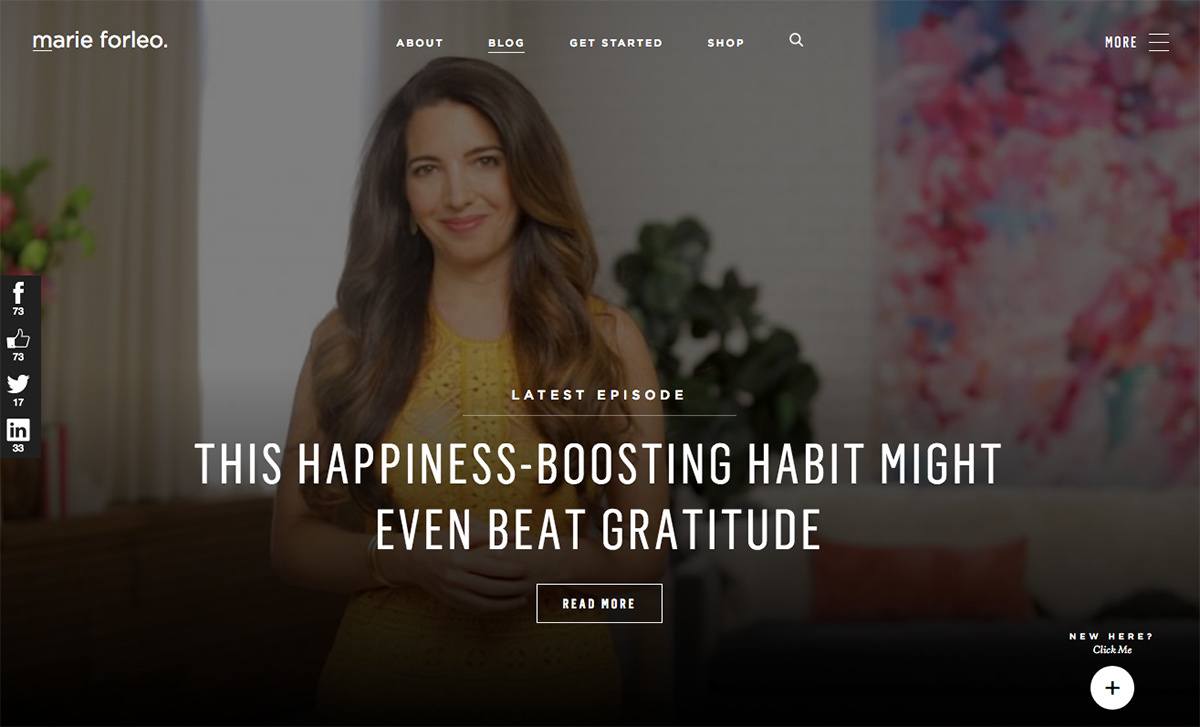 I can't get enough of Marie Forleo and you'll see why she's so damn popular when you watch one of her vlogs — her unwavering positivity is fun, infectious and dorky. The entrepreneur, writer and philanthropist helps people dream big and back it up with meaningful action to create results. She shares articles like How to Stop Your Side Hustle from Becoming a Pushed-Aside Hustle.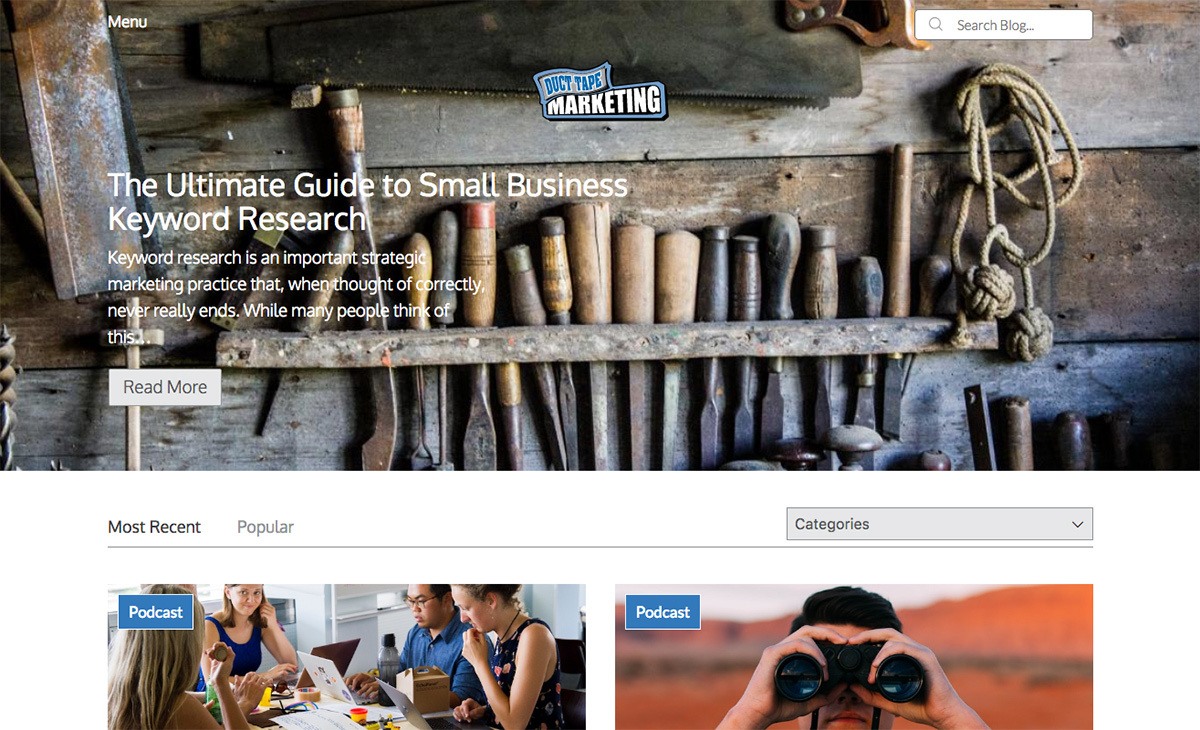 With articles like An Introvert's Guide to Putting Yourself Out There and How to Become Known In Your Field, Duct Tape Marketing's blog features a good quality range of content covering topics like marketing, SEO, lead generation and strategy.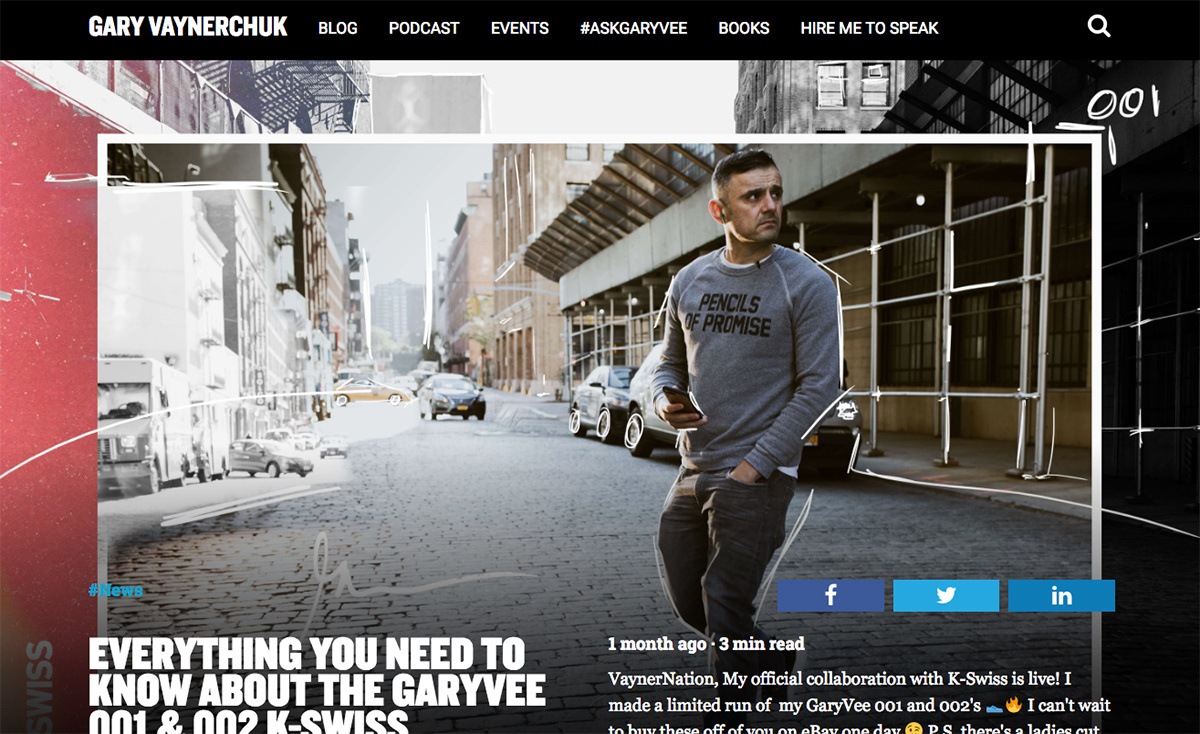 Serial entrepreneur Gary Vaynerchuk really knows his stuff. Since helping his father grow the family business — a wine website — from $4 million in revenue to a $60 million in sales, Vaynerchuk has been an early investor in Twitter, Tumbler, Snapchat and Uber. On his blog, he shares advice on digital marketing, social media and what he's learned throughout his journey to success.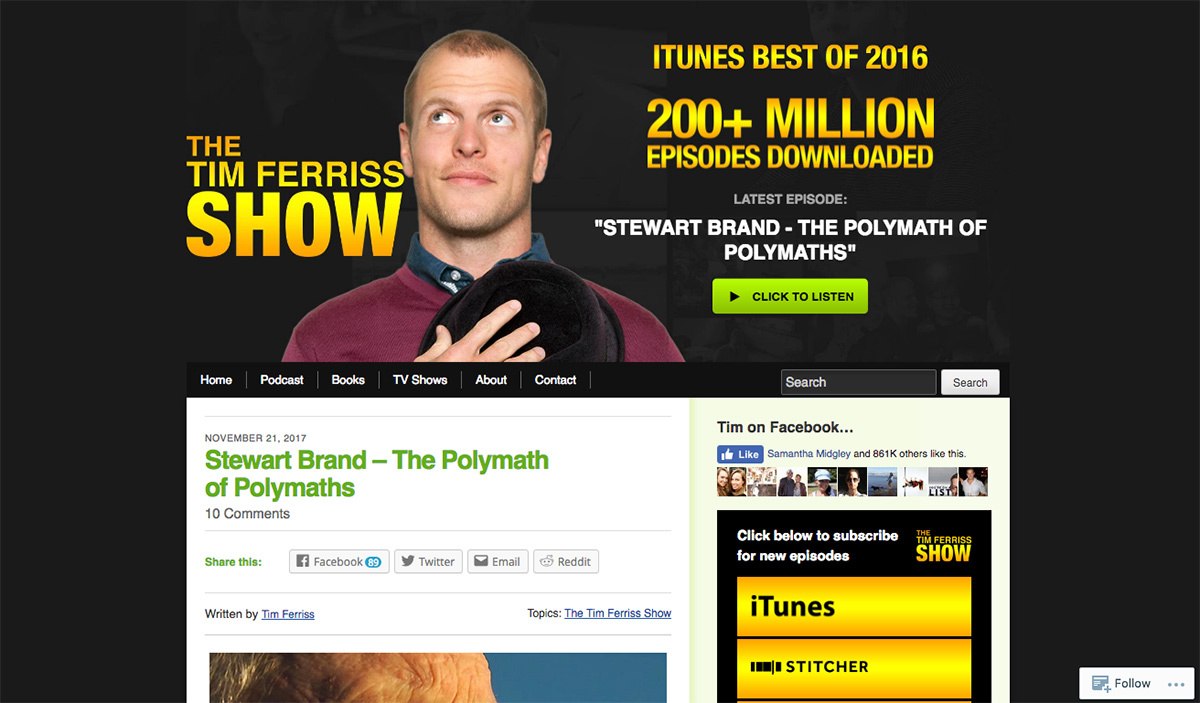 Tim Ferris, the New York Times best-selling author of 4 Hour Work Week, shares interviews with business leaders and entrepreneurs as well as his own tips on how to outsource your life and business. There is a huge — huge! — variety of content, but if you're interested in WordPress, be sure to check out Matt Mullenweg: Characteristics and Practices of Successful Entrepreneurs.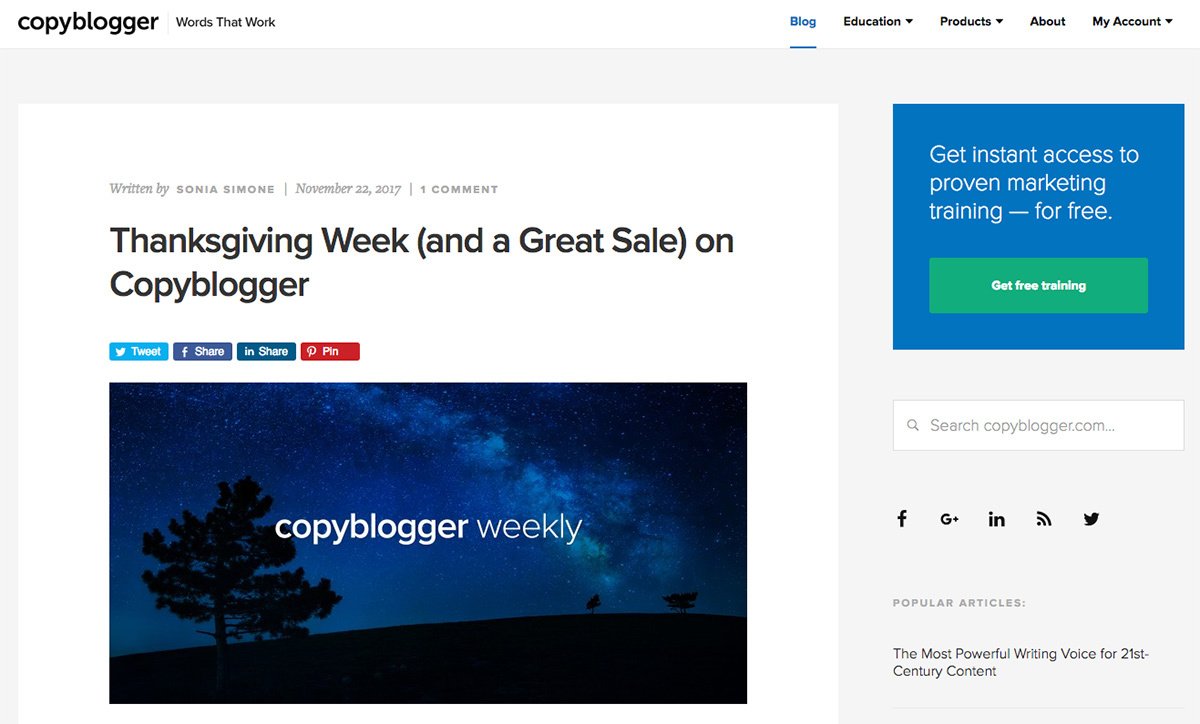 Copyblogger offers more than just content about writing killer copy. With articles like The Internet Is Not Your ATM and The Most Powerful Writing Voice for 21st-Century Content, this blog provides quality articles about content marketing, social media and SEO for savvy business owners.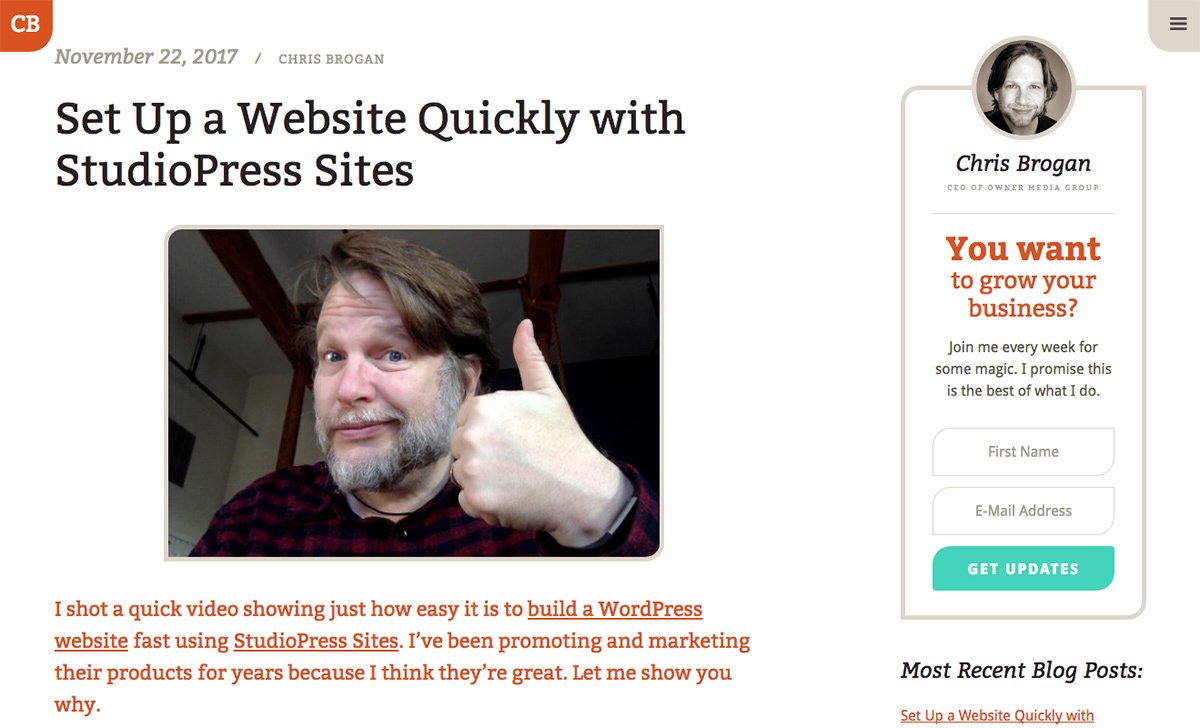 New York Times bestselling author Chris Brogan is the CEO of Owner Media Group. On his blog, he writes about social media, marketing and strategies for modern businesses.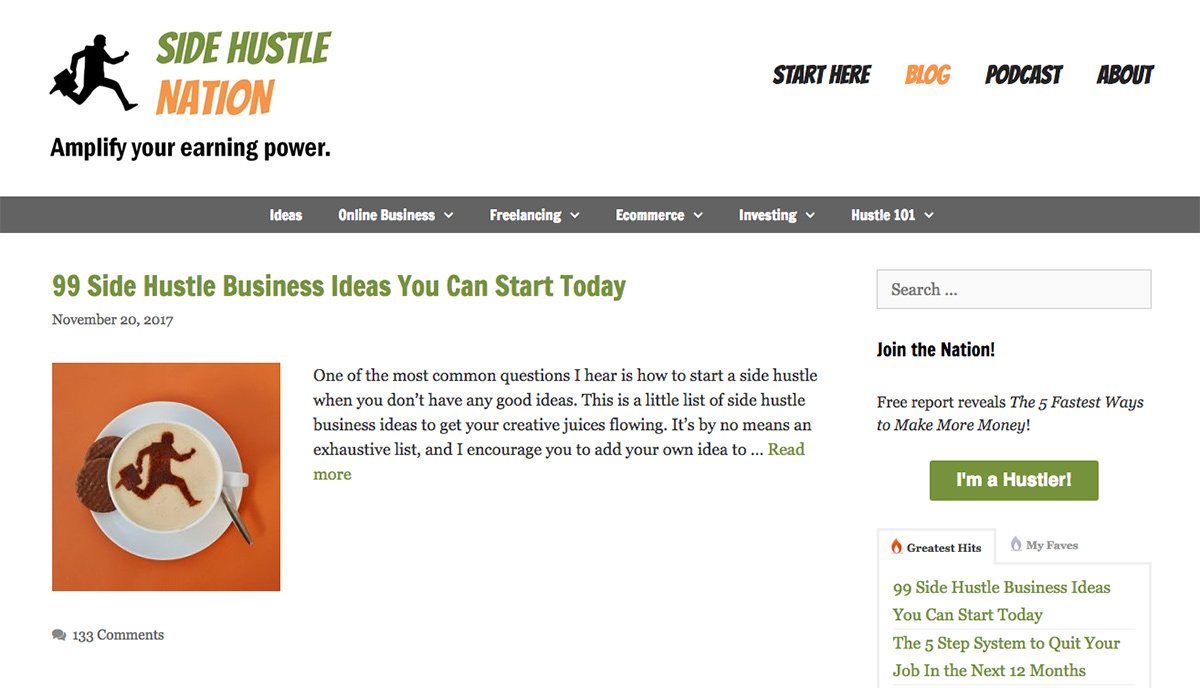 With articles like Reselling Shoes: How I Make $10,000 a Month Flipping Sneakers, entrepreneur Nick Loper's blog is a brilliant accompaniment to his podcast The Side Hustle Show, which offers insights into how to successfully work a side hustle while doing your day job. Killer for brain candy and inspiration before strategy sessions.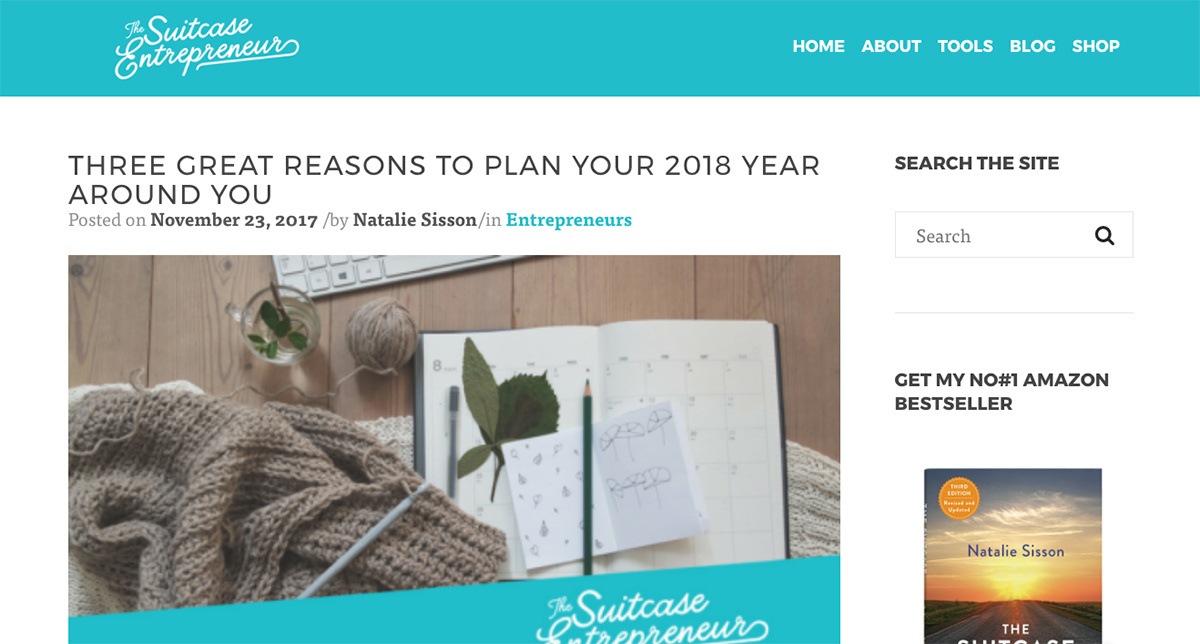 Since 2010, Natalie Sisson has been living out of her suitcase while traveling the world and running an online business that earns her a six-figure income. On her blog, she shares practical advice about topics like How to Do What You Love and Outsource the Rest.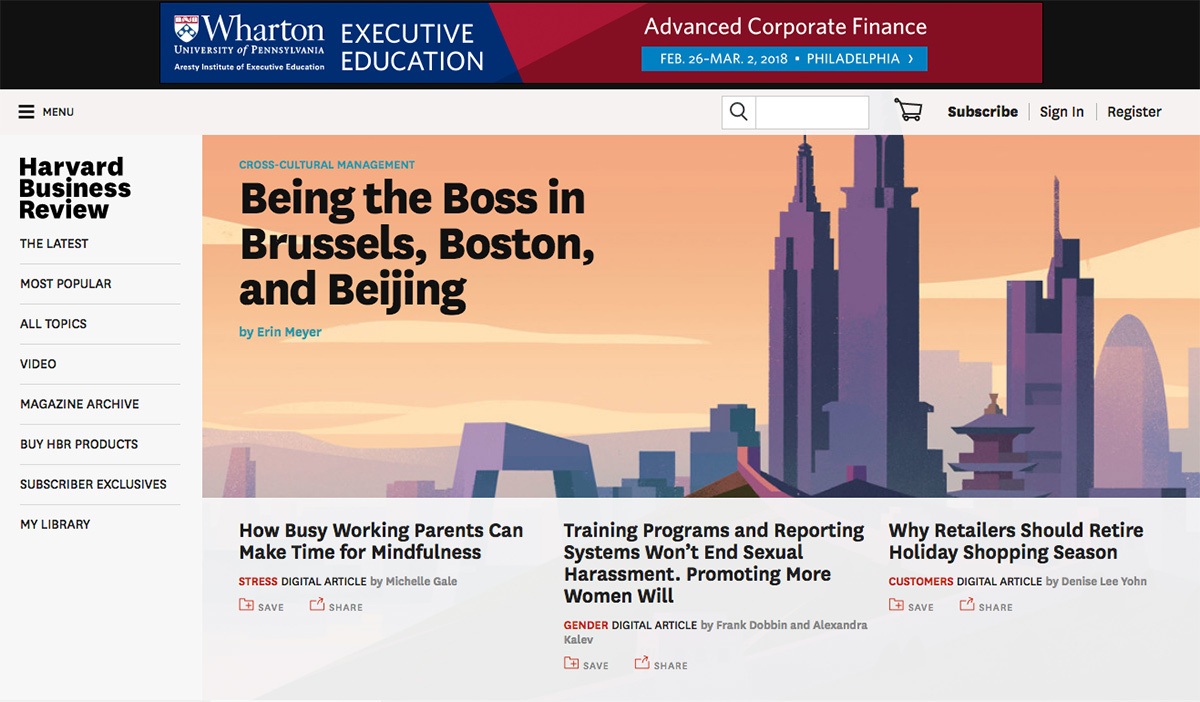 The Harvard Business Review publishes articles written by industry leaders about a range of business topics, including strategy, innovation and leadership. Recent articles include What to Do When a Personal Crisis Is Hurting Your Professional Life and We Interviewed 57 Female CEOs to Find Out How More Women Can Get to the Top.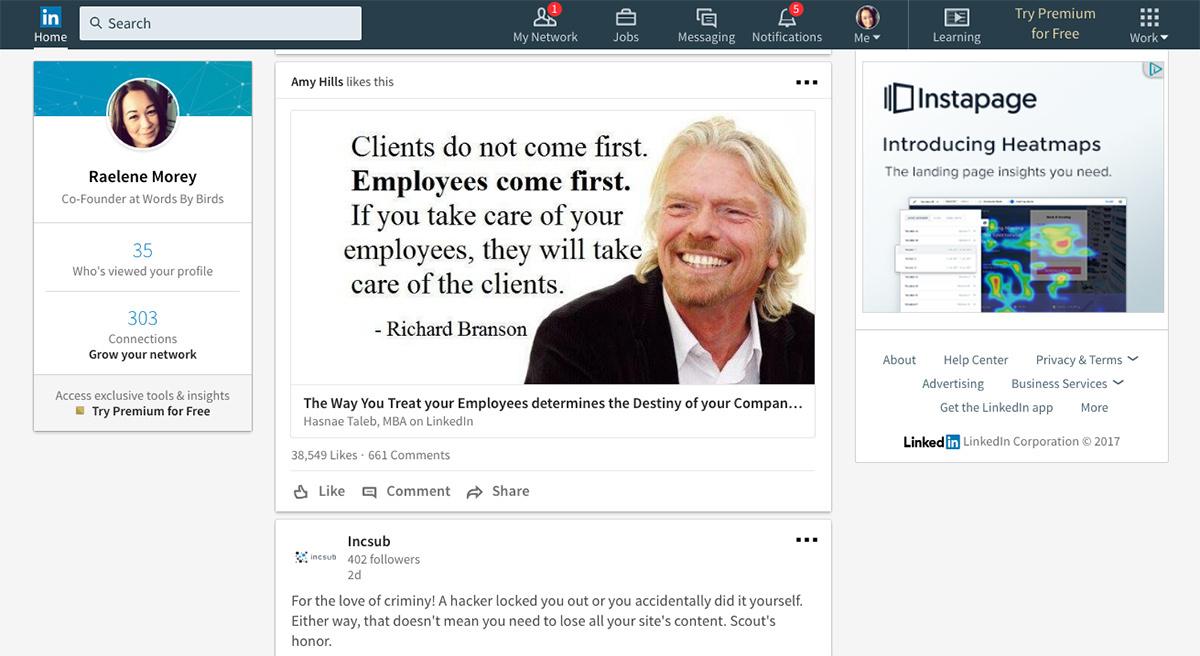 LinkedIn isn't just a networking tool — it's a solid source of information about the business world. LinkedIn Today feature the day's top news, tailored to you based on what your connections and industry peers are reading and sharing.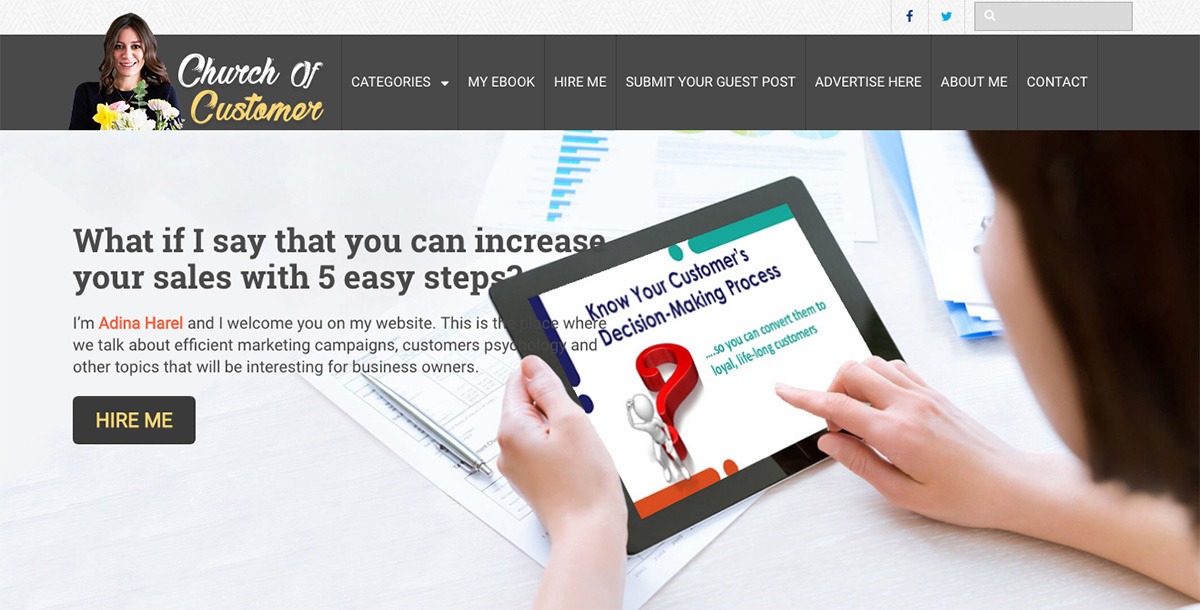 Psychologist Adina Harel, who has always been fascinated by "how companies interact, how staff collaborates, and how businesses present themselves to their customers" writes about customer psychology, strategy, efficient marketing and other topics on the Church of the Customer blog.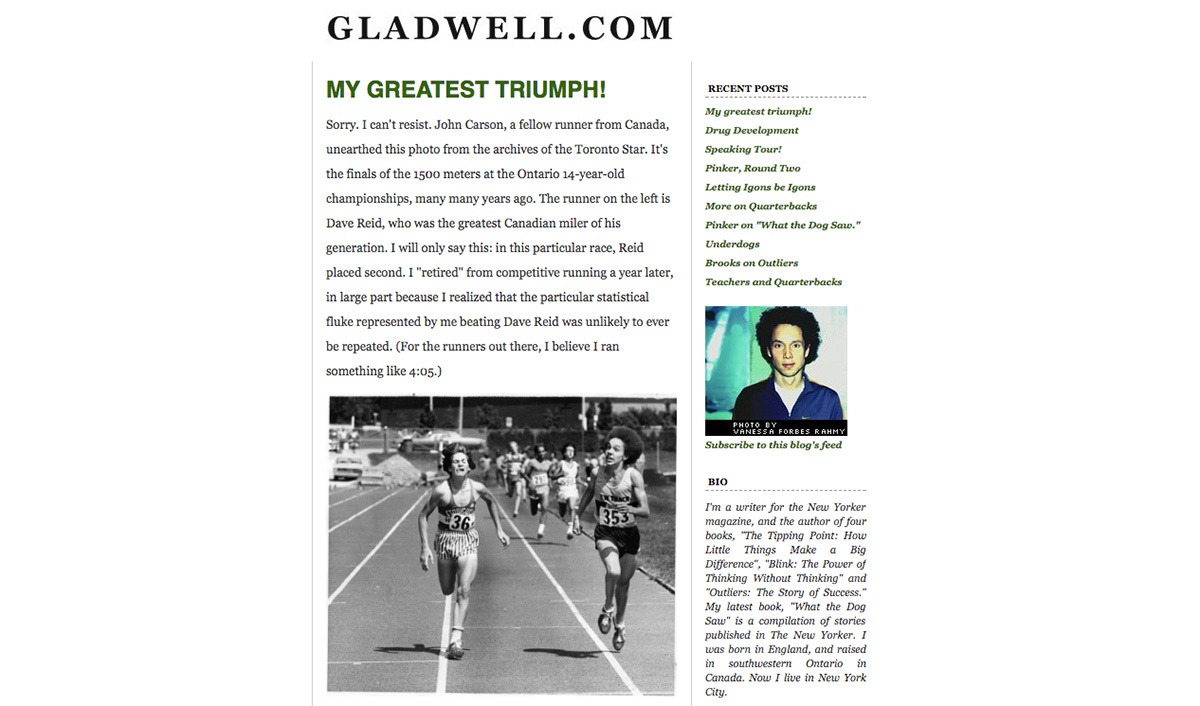 In his book Outliers, best-selling author and New Yorker writers Malcolm Gladwell examines the factors that make high-achievers different: why the majority of Canadian ice hockey players are born in the first few months of the calendar year, how Microsoft co-founder Bill Gates achieved his extreme wealth, and how The Beatles became one of the most successful musical acts in human history. His fascinating blog further explores the topics covered in Outliers.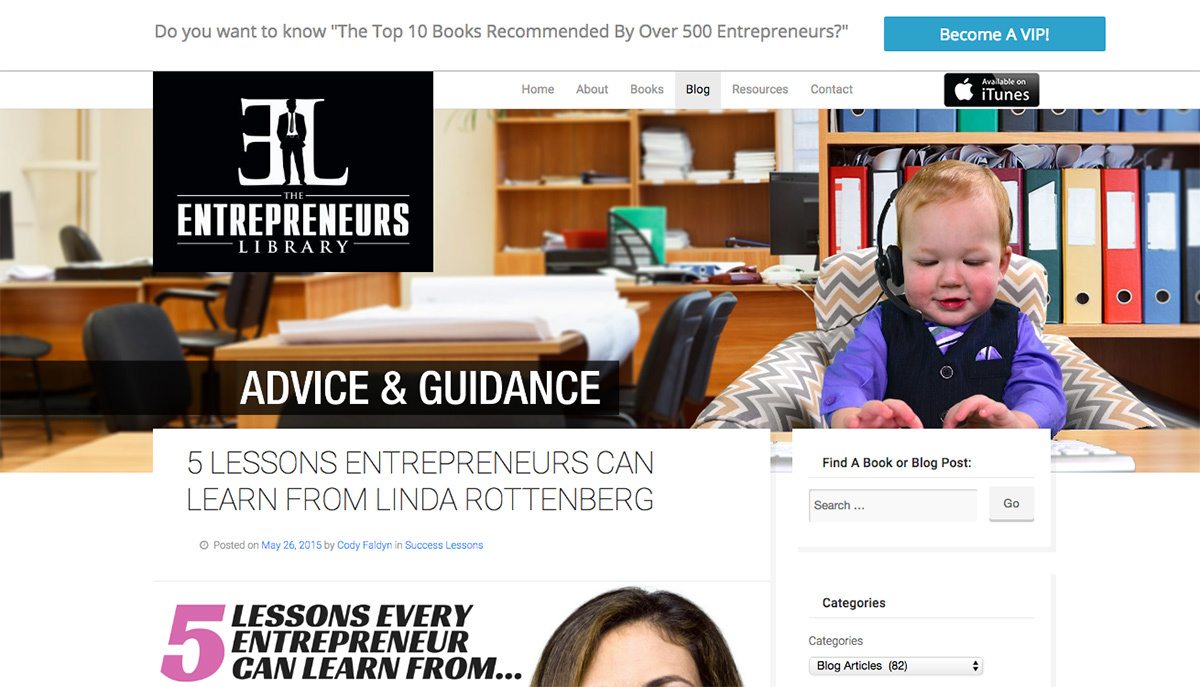 The Entrepreneurs Library is a blog, podcast and community for entrepreneurs, "wantrepreneurs," and small business owners who loves reading books. While the blog provides a resources to discovering the best books about business, the podcast features authors who share their inspirations, main takeaways and favorite books.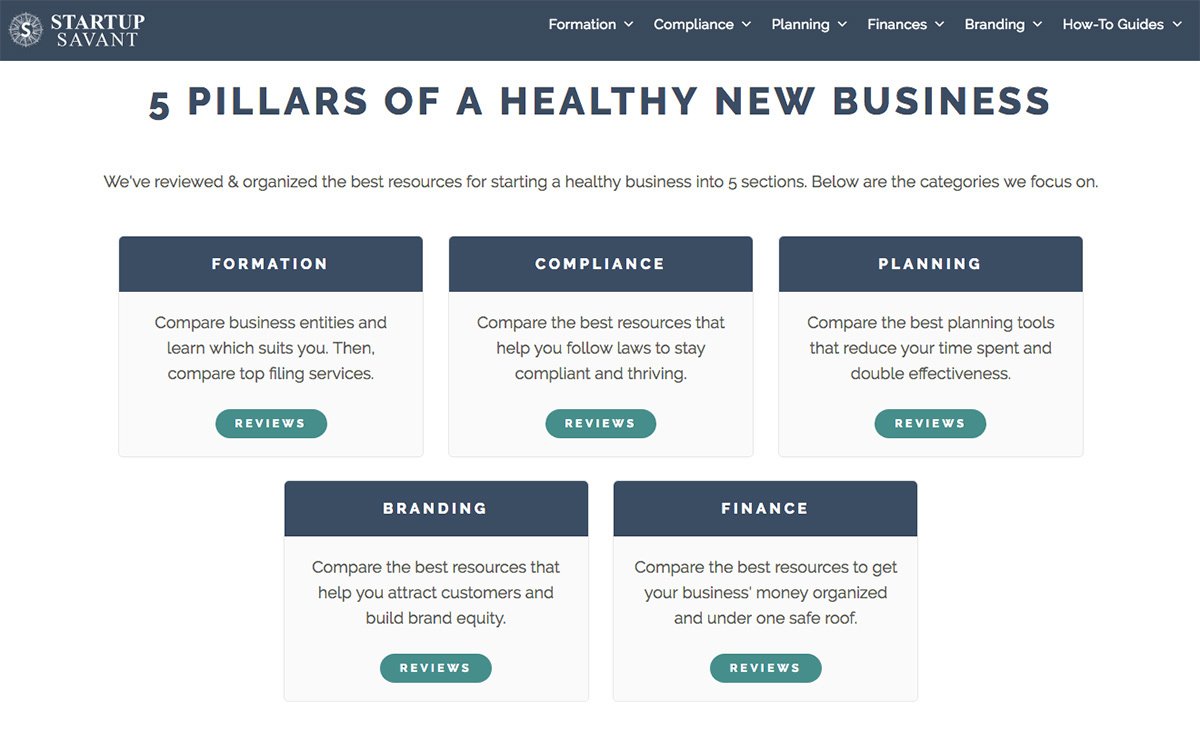 With articles like Which is the Best Business Structure and 23 Best Resources for Starting a Business, Startup Savant features a nice mix of down to earth business information and advice that covers five key areas: formation, compliance, planning, finances and branding.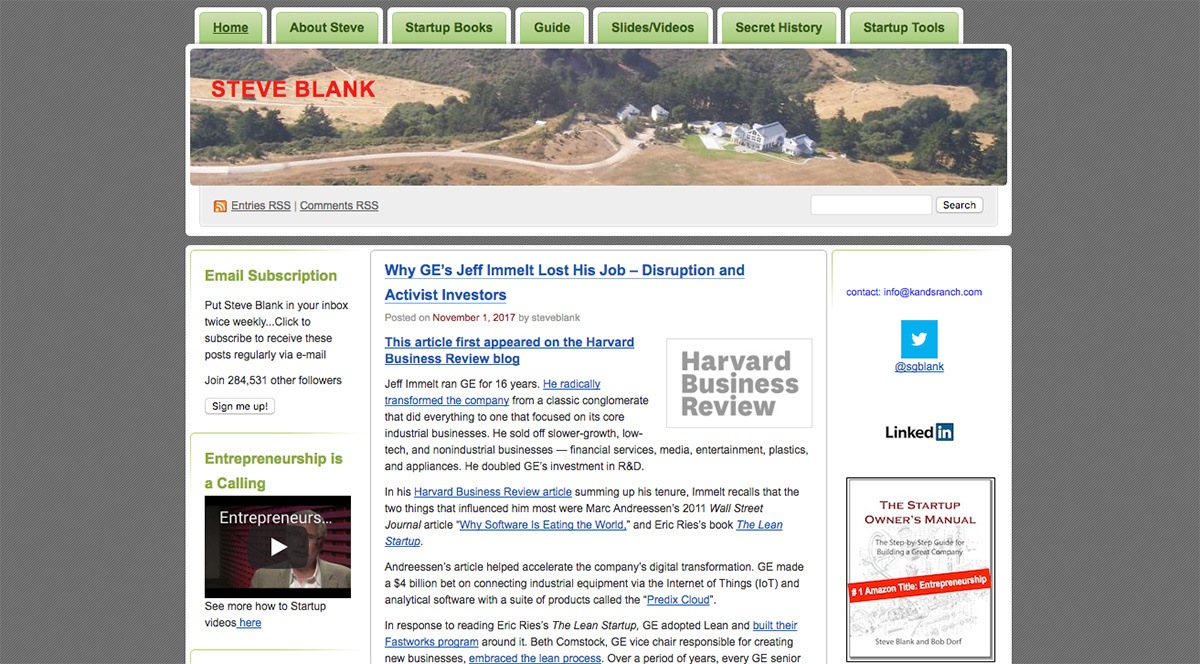 Don't be fooled by the Geocities-eque design of Steve Blank's blog. After 21 years working in 8 high technology companies, Blank retired in 1999 and wrote about building early stage companies in his book Four Steps to the Epiphany, which has been credited with launching the Lean Startup movement. His blog features deep insights into innovation in the business world.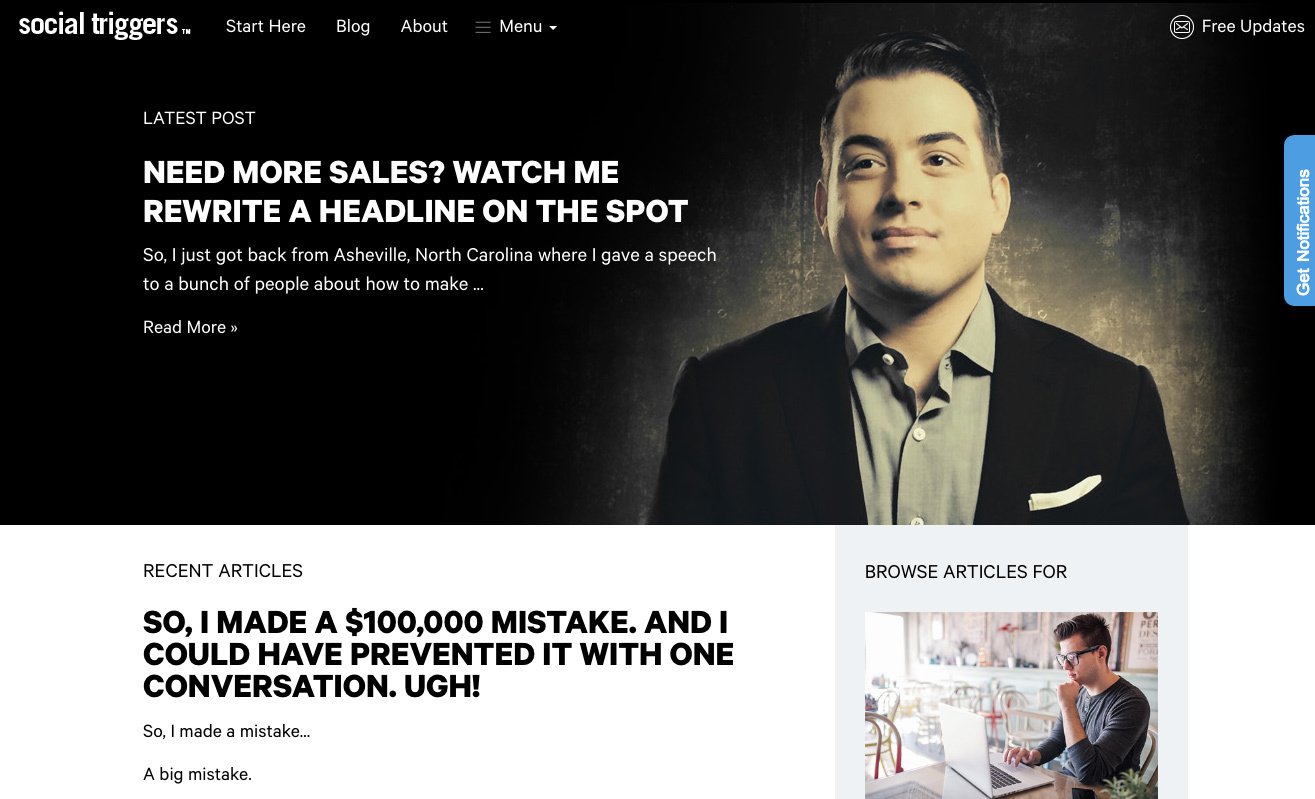 Marketer Derek Halpern believes smart executives and who want to win in today's overcrowded marketplace must become master marketers, persuaders and salespeople. He uses his blog to educate and inform, with recent articles likes So, I Made a $100.000 Mistakes. And I Could Have Prevented It With One Conversation. Ugh! and Want to Meet New People? Use These 3 Words to Introduce Yourself to Anyone.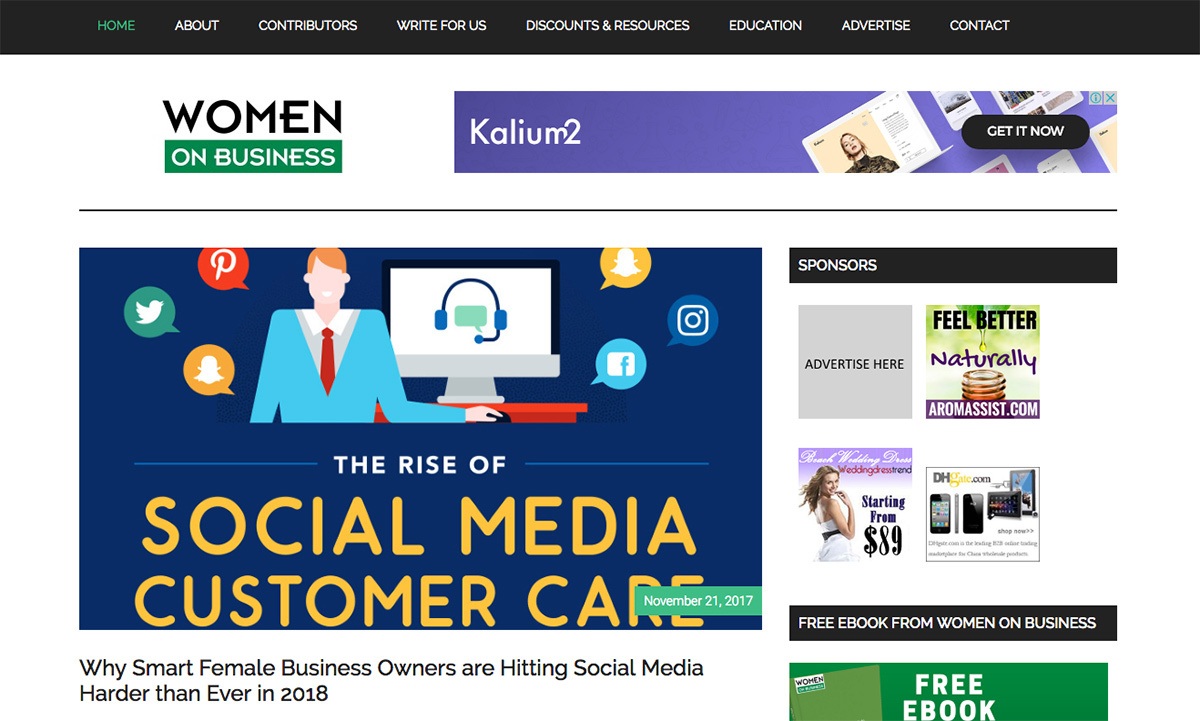 Founded by author, speaker and President and CEO of Keysplash Creative, Susan Gunelius, Women on Business is a fantastic resource for news and information for women who want to be successful in business.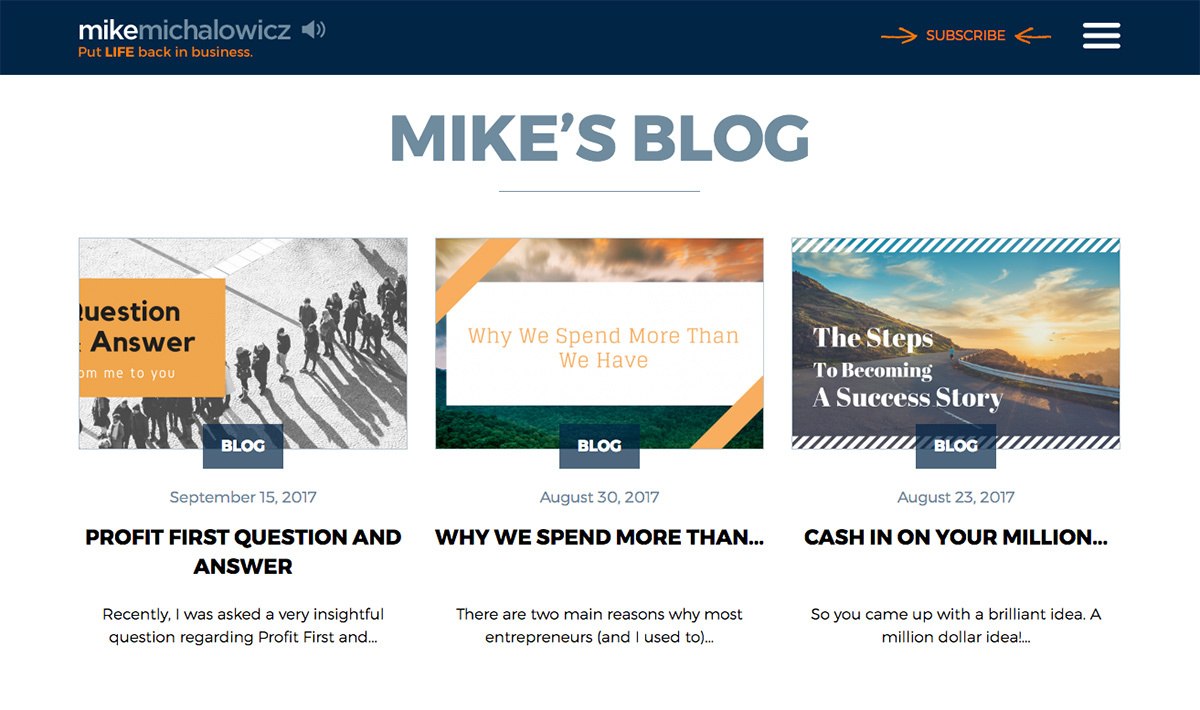 By his 35th birthday, Mike Michalowicz had founded and sold 2 multi-million dollar business… and then lost his entire fortune. So he started all over again and is now running his third million dollar venture. On this blog, he shares practical business advice and tips, with articles like A Lesson in Recurring Revenue.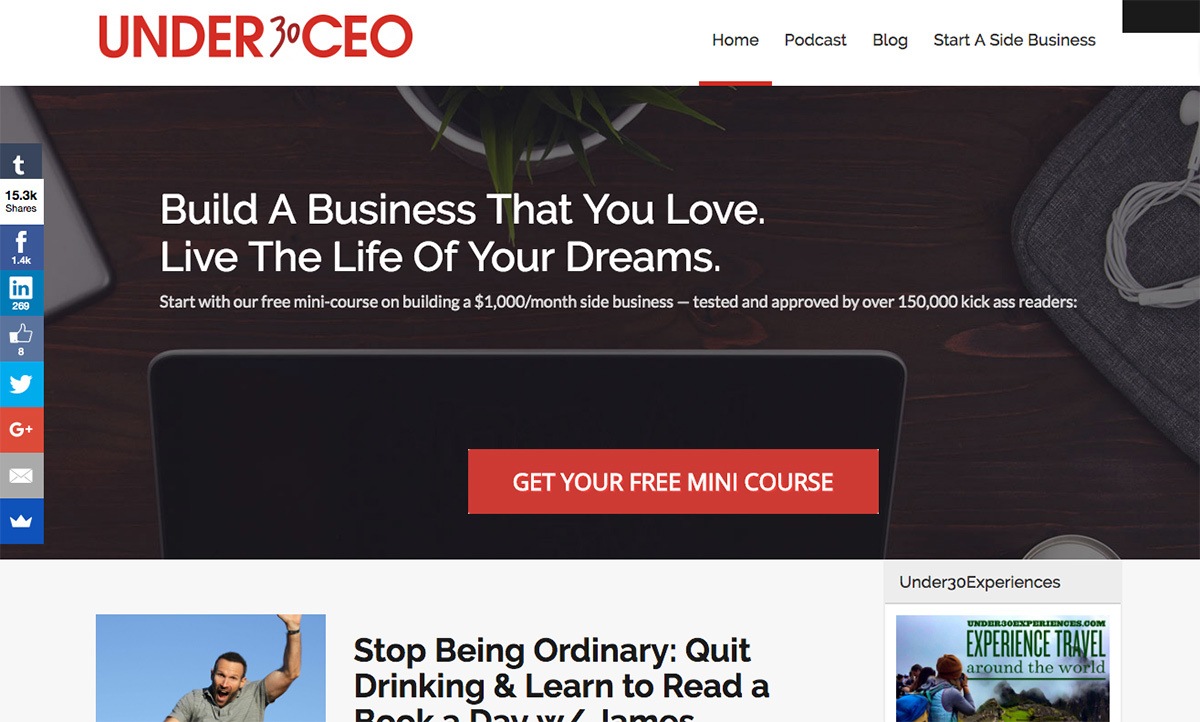 As the name suggests, this blog is aimed at the younger crowd, but business owners of any age will find the articles on this blog useful and information. One of my recent favorites is Stop Nitpicking. Start Starting.
If you're interested in personal brand entrepreneurship, then Chris Ducker's blog is the place to start. After suffering "horrific" burnout working 14-hour days, six days a week, Ducker put a 1-year goal in place to become a virtual CEO and started his blog to document his journey. He achieved his goal in November 2010 — and now works 6-hour days, four days a week.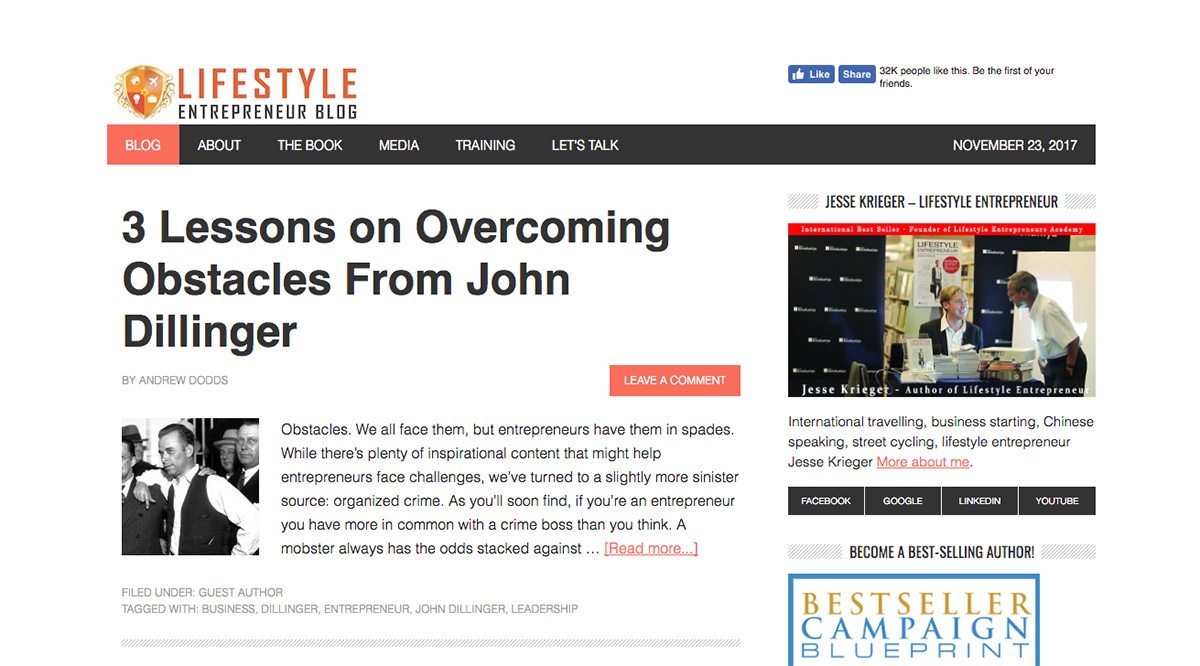 Author Jesse Krieger started his blog to "inspire and instruct the next generation of lifestyle entrepreneurs." He writes about online business and shares inspirational stories and strategies with articles like Case Study: How A Probation Officer Used A Book To Start A Highly Profitable Coaching Business.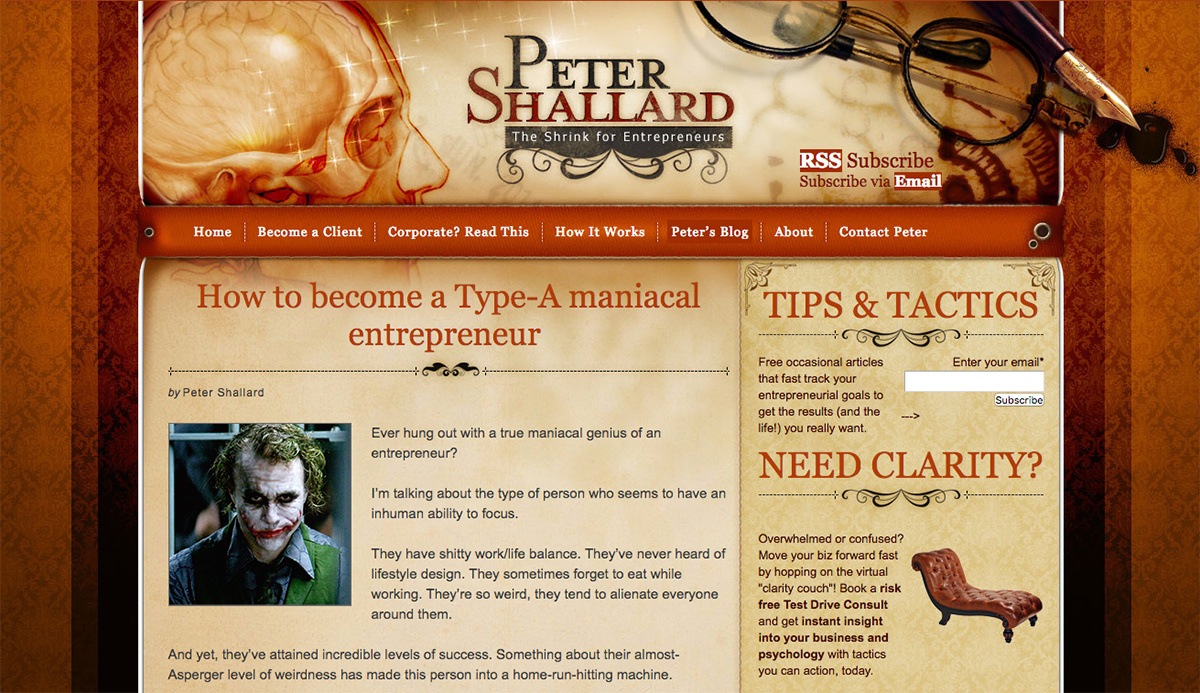 A self-described "shrink for entrepreneurs," Peter Shallard's approach focuses on actionable psychological insight that creates practical and measurable results for entrepreneurs who want to tear down roadblocks and "make big things happen quickly". Recent articles include How to Become a Type-A Maniacal Entrepreneur and How Ultra-Achiever Entrepreneurs Use the Holidays to Win.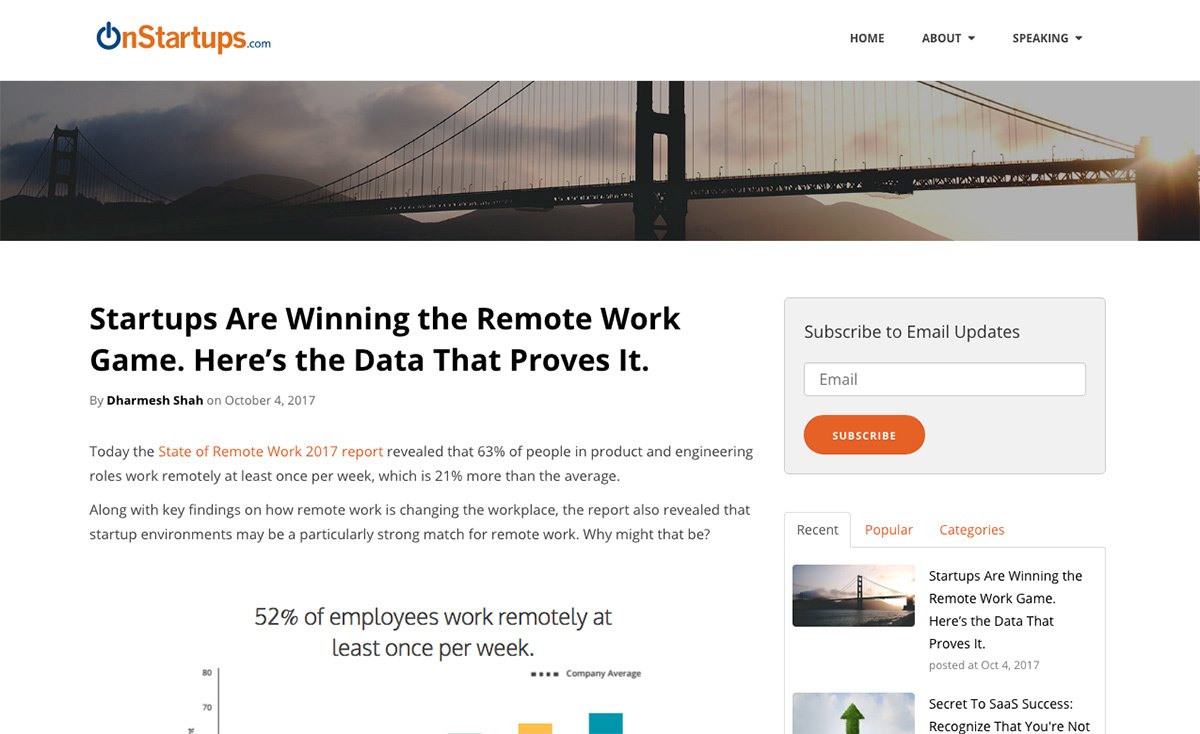 While Dharmesh Shah humble brags about founding a million dollar company on the "About" page on his blog, what he fails to mention is that business is, in fact, HubSpot, the hugely popular inbound marketing SaaS company. On his blog, Dharmesh writes about software startups, SaaS, chatbots and onboarding.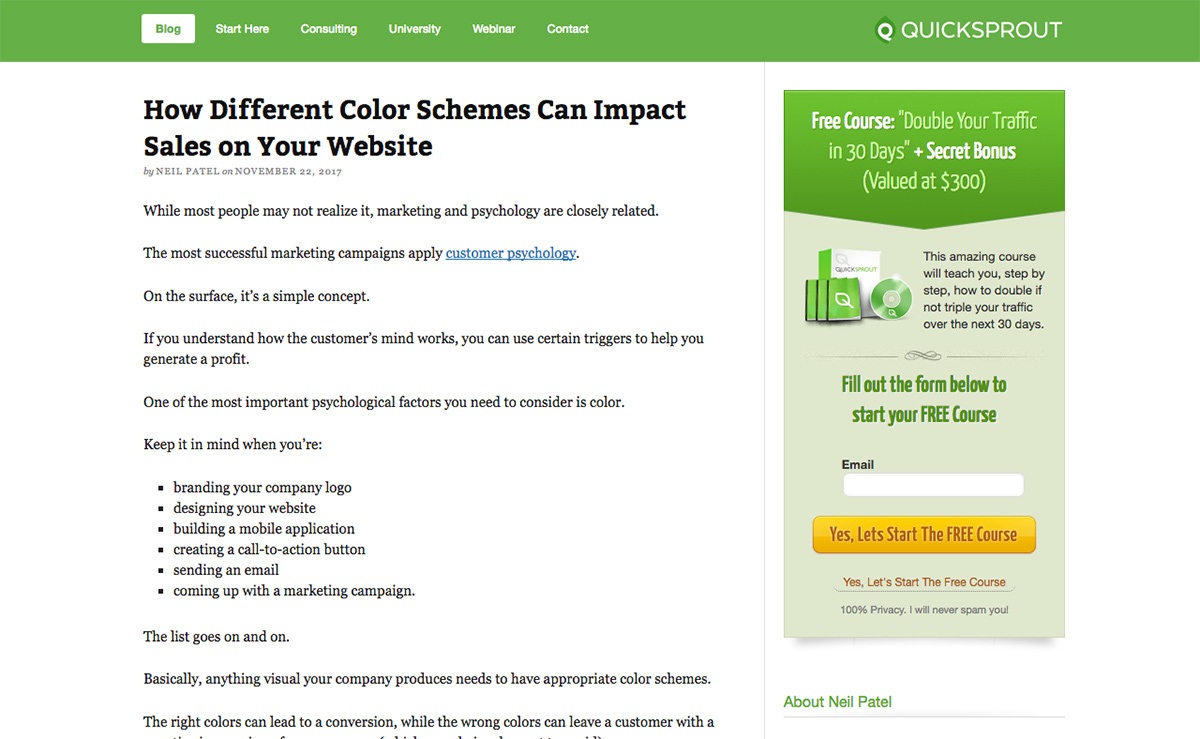 Online marketing guru Neil Patel shares marketing, social media and lead generation tactics on the Quick Sprout blog. Patel is a trusted name in online marketing and business, having founded KISSmetrics and Crazy Egg. Articles on the blog include How to Increase Revenue Without Acquiring New Customers and How to Create a Highly Effective Value Proposition.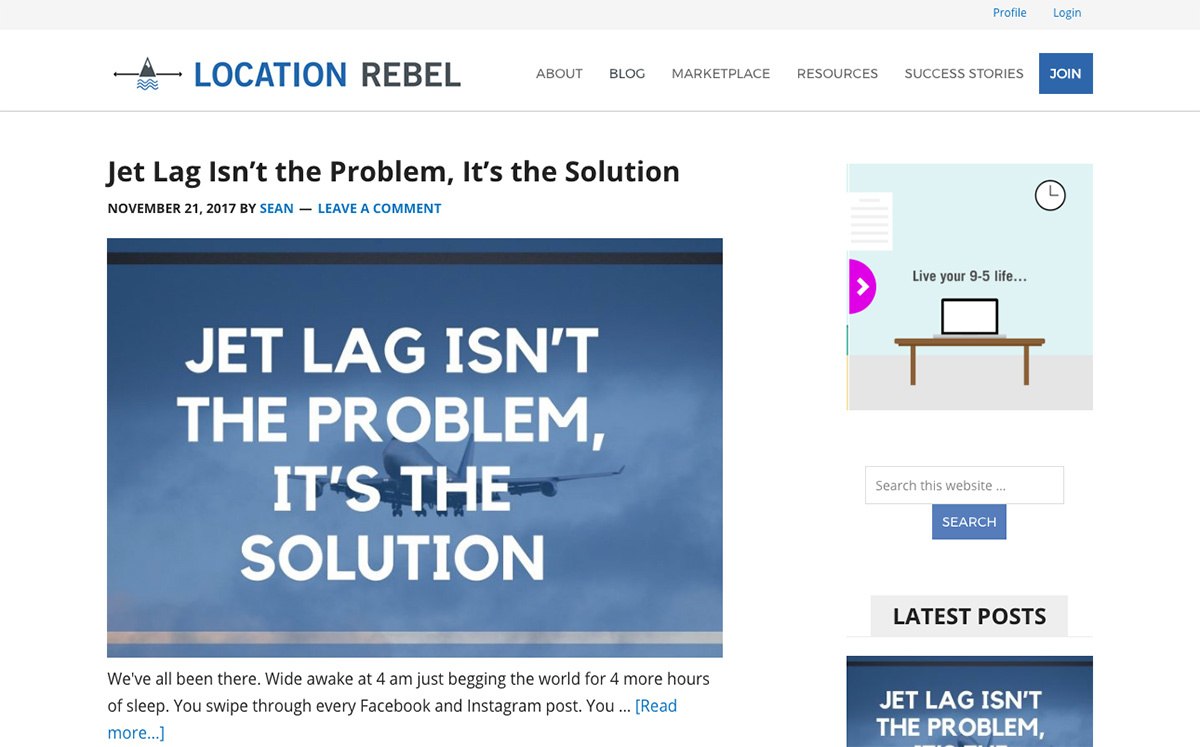 With articles like 24 Things I Learned from Taking a Two Month Global Sabbatical and How to Make $3,000 in Two Months with SEO Writing, Sean Ogle shares posts about how to make money from blogging and passive income. The former financial analyst started the blog so he could escape his job and freelance while traveling.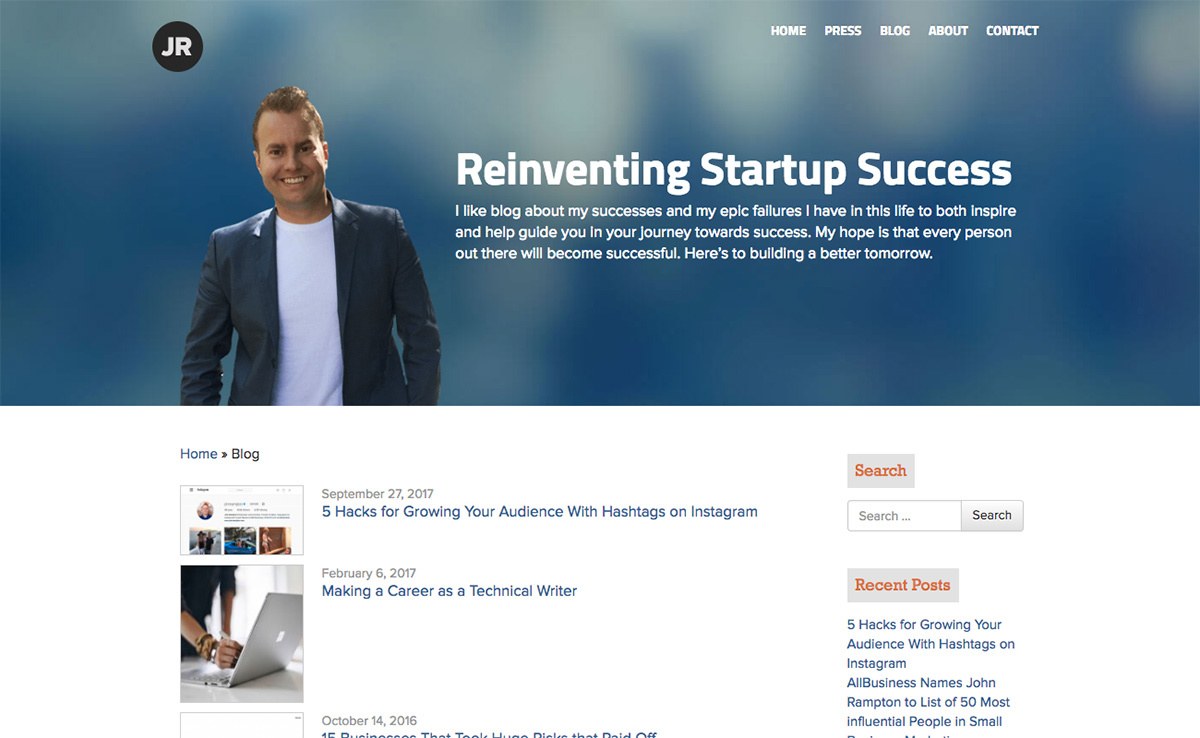 After snapping his leg in half during a work accident on a construction site, John Rampton spent 16-20 hours a day learning about marketing while he was bed-ridden. Now able to walk again, he has bought, started, grown and sold several companies online, with his latest company quadrupling a seven figure revenue stream in just 6 months. On his blog he shares his successes and failures to help guide others in business.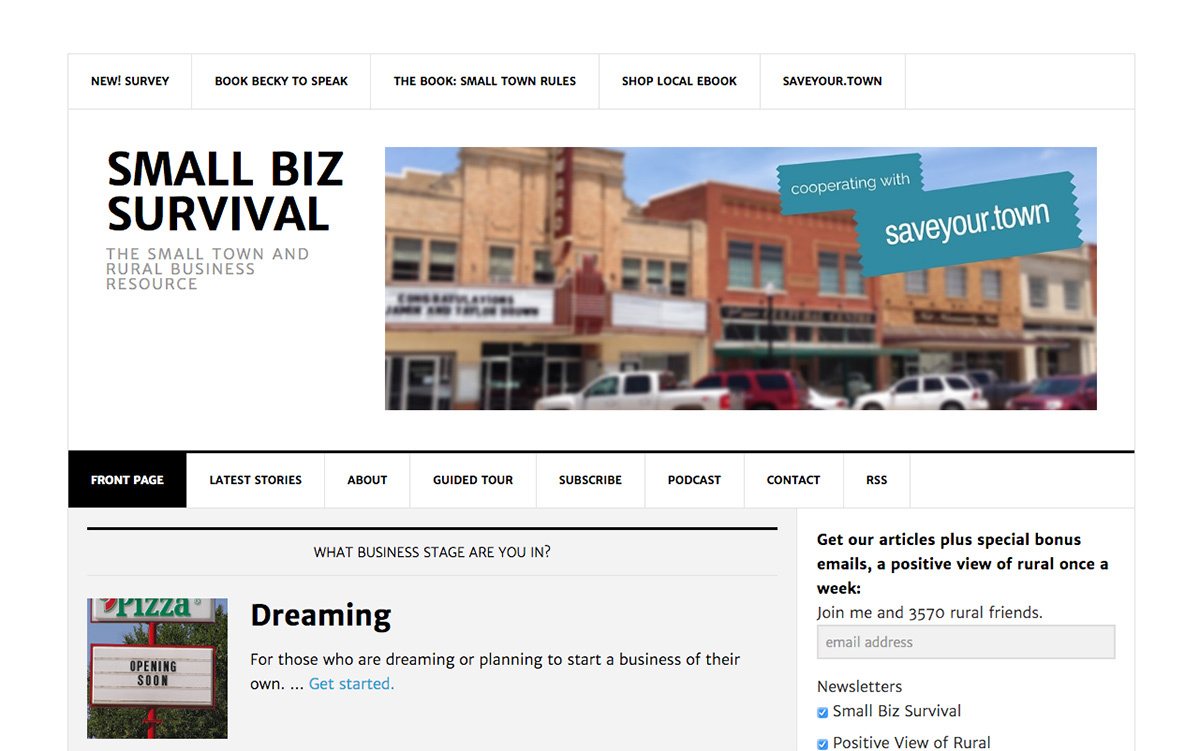 This blog is a fantastic resource for business owners who live in rural areas. It's split into 3 different areas: "Dreaming," "Doing and Growing" and "Leveling Up" with practical information and resources for each stage of your business growth. Articles include What to Consider Before You Make Your First Hire and Delegating Without Freaking Out Your Clients.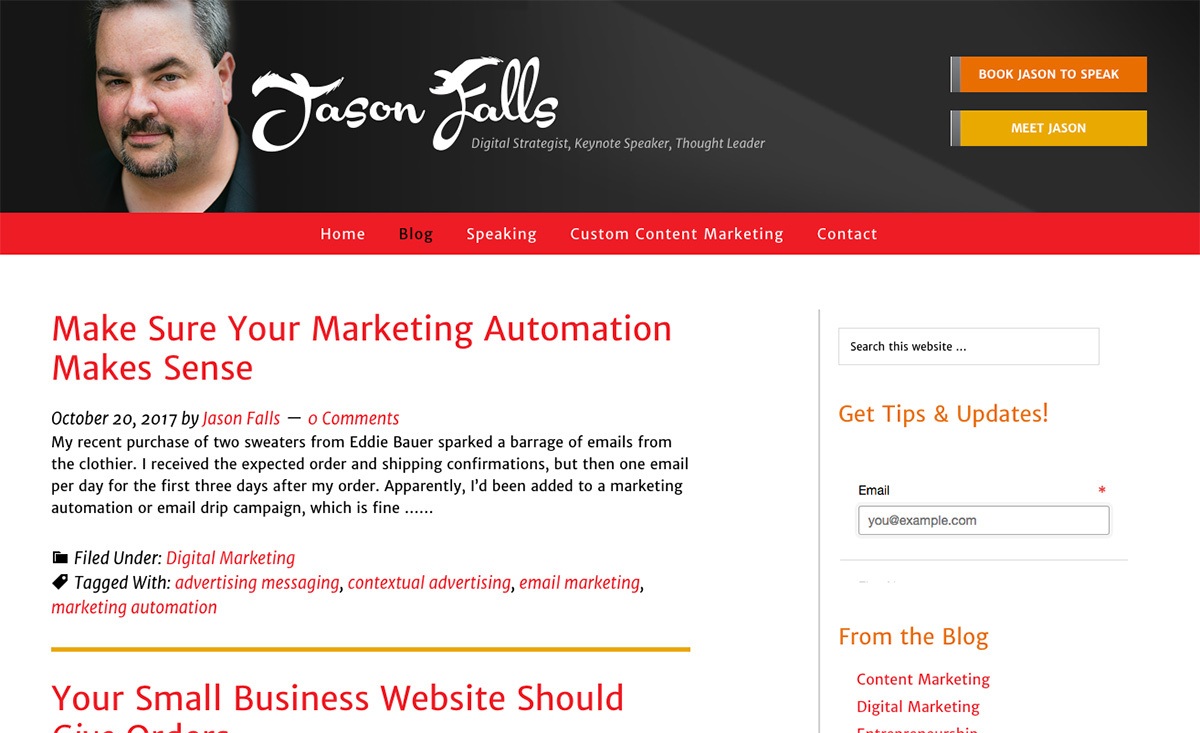 Having founded Social Media Explorer, Jason Falls knows his stuff when it comes to social media and digital marketing. While he mostly blogs about marketing, he explores other business and freelancing topics in articles like How The Gig Economy Can Help Small Businesses.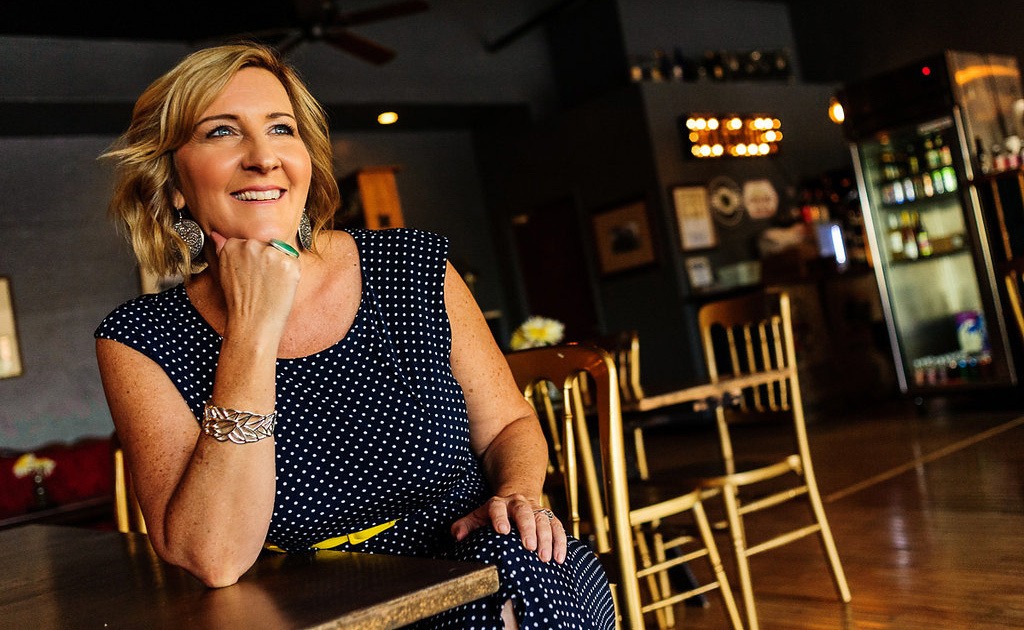 Escape from Cubicle Nation is written by Pamela Slim. Slim is a veteran coach and writer who has helped hundreds of frustrated employees quit their corporate jobs and start their own business. On her blog she shares her insights and practical advice.
Wrapping Up
So there you have it. Forty blogs for you to check out, add to your RSS feed and inspire you as you grow your business.
While this list is my go-to collection of entrepreneurial blogs, it's just a starting point. There are many business leaders, investors, CEOs and startups sharing how they built their companies. On their blogs they write about what's worked, what hasn't, and their key takeaways for others. Hopefully, you'll learn some valuable information from the blogs on this list. I encourage you to add on this collection so you can stay on top of what's changing in the business world.
Plus, follow posts from Pagely's fearless leader Joshua Strebel on the Pagely Blog.
What are some of your favorite business and entrepreneurial blogs? Share your links in the comments below.