This title is intentionally clickbait, however let me share how we did take our annual company-wide downtime for Christmas and New Years' (and 4 days for Thanksgiving).
In the web hosting industry, where 24/7/365 always-on is table stakes, we make it a point to all but lock the doors and power down the lights every year to relax and refresh.
Allow me to provide a little context. Seasonal businesses like water parks or ski resorts are of course, seasonal. Most other companies have normal 'business hours'. These types of companies have structured, repeatable time off, shared by everyone. However, modern consumers expect online businesses to provide service at all times which means multiple shifts around the clock.
This holds true for a company like Pagely due to our responsibility as a backbone hosting provider to thousands of popular online businesses. Many of these online businesses also earn the bulk of their revenue around the holiday season.
So how in the world do we manage to have light days and fully close around the holidays without causing disruption for our customers and mayhem to our bottom line?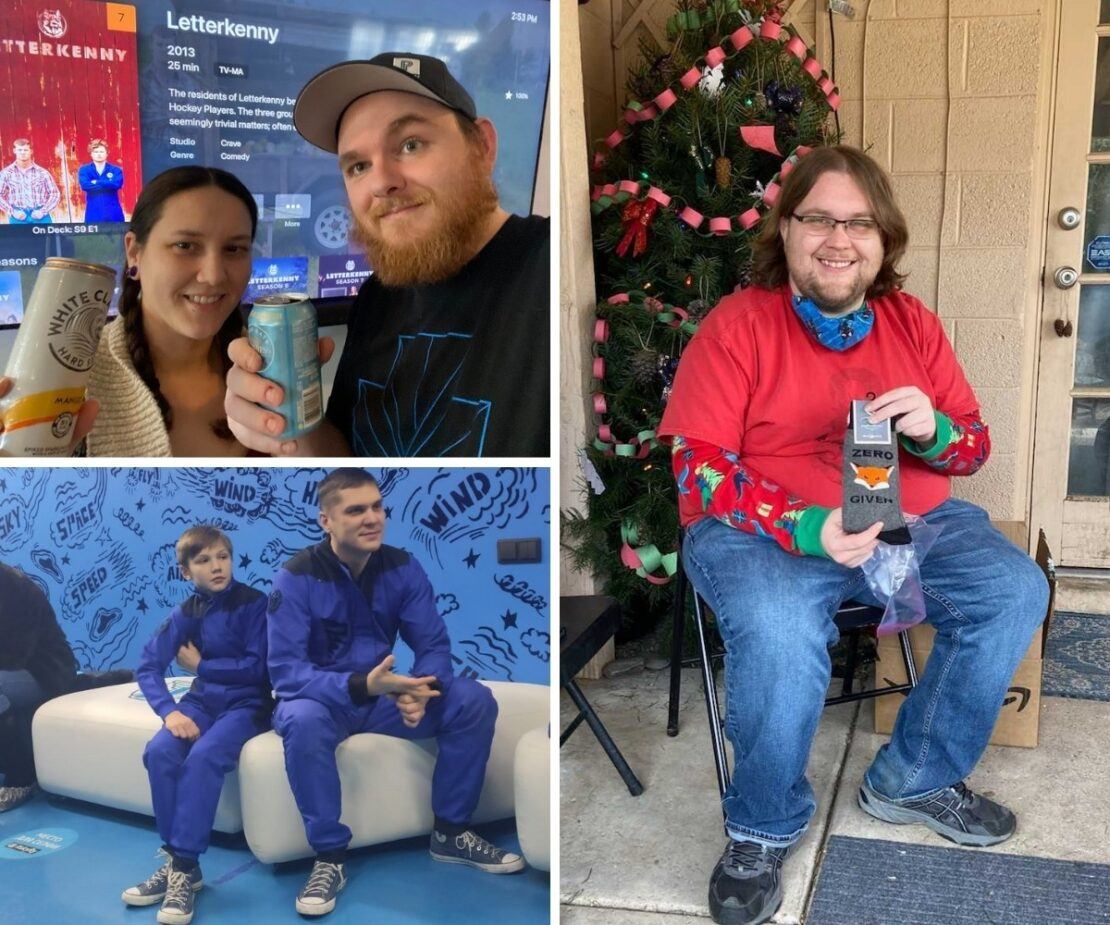 Stick to your priorities
Sally and I have been in business together for nearly 18 years and fully embraced the "people matter" concept long ago. The people we work with/hire in our company remain the most important stakeholders. A highly successful and healthy company originates from a relaxed, happy, and engaged team.
Traditionally the winter holidays provide a time for friends and families to come together. In our fast-paced society gathering together with friends and families becomes more and more difficult as the demands of commerce may allow for only a brief pause for activity. Ultimately, though, not a lot of critical business occurs between Mid-December and Early-January.
When teams boast that they're never taking a break and always on, we're wary of this. Beware the #hustleporn. It seems ethically wrong for companies to take pride in having their employees wear a sacrifice badge for their health and family's happiness.
To live our values it is a priority of ours that our team can enjoy the holidays with their families and friends. We are unwavering in this.
So then we have to account for the tradeoff. If the company is effectively closed for 2 weeks, who is responding and looking after the needs of the customers? Well, we are, of course, with ample planning and communication.
Consider a science-backed approach
In any growth business, there's never a good time to power down the machine. But, science proves that taking time off increases productivity and improves physical and mental well-being.
Overworking with no time off (especially in those important times, like the holidays) leads to stress. That stress then increases the production of our "stress hormone," cortisol, which can lead to anxiety and depression when increased for prolonged periods of time.
Taking time off literally renews and re-channels the brain for greater focus, happier home life, and a decrease in burnout.
At Pagely we have generous individual PTO and actively encourage our team to use it – it's more fun when everyone gets more PTO at the same time 😉
Fun fact- Did you know that LinkedIn closes the week of July 4th? While it's not the classic winter holiday timing, they utilize another popular holiday to give their team some time to recharge.
Communicate early and often
Many parts of the world also celebrate some form of winter holiday and therefore we share a common context with most of our customers. This makes it easier to communicate our plans, and communication is the most important thing you can do.
Let's face it, it could be a bit rattling for your customer to hear you won't be available when they may need you – unless there has been a dialog and planning beforehand.
We start communicating with our customer base in October about our upcoming holiday hours and offer assistance to prepare – encouraging customers to engage with us now to prepare for later.
We feature our closure dates on our newsletter and pretty much all other announcements up until the time we're out.
What's more, is we take this to heart when it comes to our employees as well. We're always over-communicating our plans, our schedule, our expectations.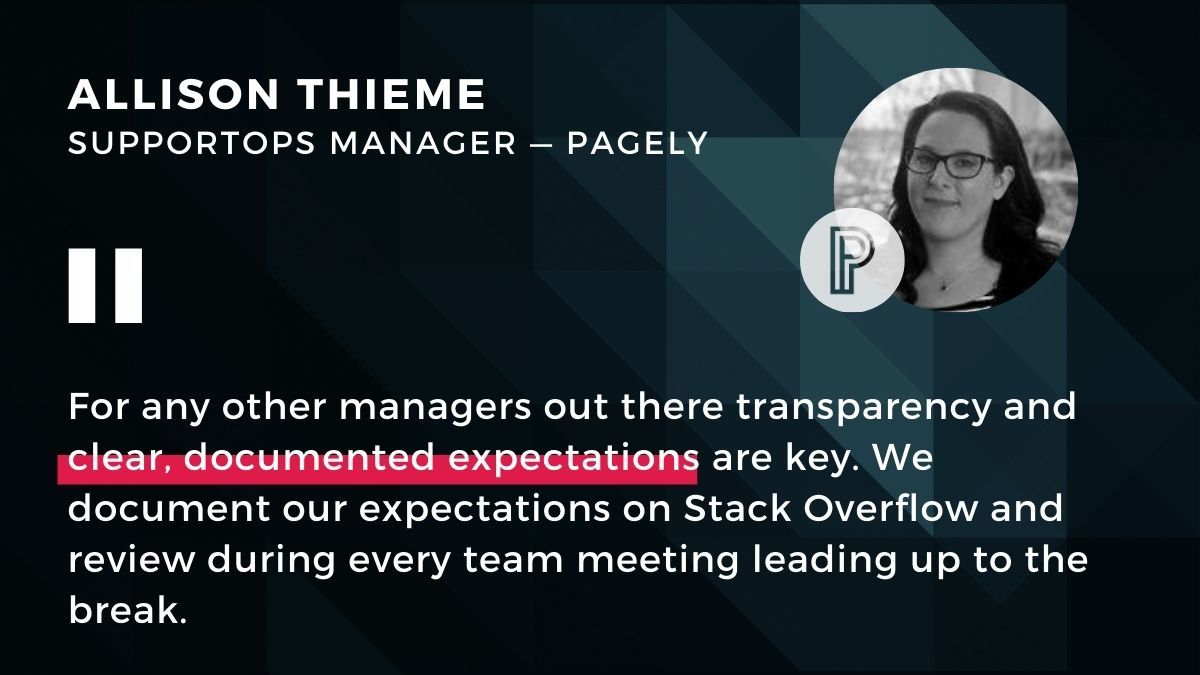 Make sure your customers are still covered
Of course, lots of products and services are essential to business, but few more so than your website. What that means for most customers at Pagely is that they absolutely must know that their site stays up at all times.
While on the surface we are completely closed for 2 weeks – let's be real though – we do of course maintain team on-call rotations and full monitoring of all services. I would be remiss not to mention that we plan for this. Did I mention that we plan for this?
You might be thinking "but this doesn't give your employees the full time off that you suggested above, they still have to work, Josh!" and while you're sort of right, this is far from a gotcha moment.
We've done this enough to know that support load will decrease – so we can also significantly reduce shift coverage – leaving just a minimally staffed on-call rotation needed. Our SupportOps (Support and DevOps) team is in complete control of what the on-call schedule looks like during our break, and how they want to handle and assign shift coverage. That means well before the holiday break is even approaching, we've worked together to put together a reduced schedule that we're all happy with.
We try to reduce the number of on-call shifts over the break to ~3 per employee, and ultimately they can select the shifts that work best for them. We're never asking anyone to sit around and wait for tickets to come in during this time, but instead, just make sure their laptop is close by if an alert or page comes in.
Our customers' sites remain ready for traffic fluctuations due to intelligent planning, testing, and our team's expertise. We thoughtfully prepare for our time off by evaluating client needs and reducing any potential for service disruption.
The Proof is in the pudding
So how does it work in practice? Here is the data. We cut actual SupportOps hours worked by 75% for 2 weeks and still responsibly addressed all our customer support obligations. Support load was down by approx 59% during this time as clearly we were not the only ones on vacation.
| | Dec 11th-22nd (Full Ops) | Dec 23rd – Jan 03 (Holiday Break) |
| --- | --- | --- |
| # Tickets | x | 41% of x |
| Resolved in one-touch | 38.4% | 35.6% |
| Reopened tickets | 19.6% | 22.7% |
| AVG First Reply time | 13mins | 6mins |
| AVG First Resolution time | 36mins | 42mins |
| AVG Full Resolution time | 6h30m | 7h24m |
| Internal SLA achievement | 95.1% | 92% |
That is not a typo – our First Reply time actually got better while on break.
Our customer effort scores also tell the story, and we're happy to boast them here.

You see those numbers unwavering from the 75-100 range? That's real data, taken from our recent holiday break. It's a thing of beauty if you ask me. The ability to reduce human resources over the winter holidays while maintaining or increasing CES and NPS scores provides a testament to living by company values rather than just saying them.
We honor a work-life balance. Our team approves.
Be remote-first, so you can hire around the world
From a customer perspective, this checks the box on 24/7 support, but it also makes it easier for us to make sure we're able to fill our on call schedule during holiday breaks. If we all worked in one place, who would want to cover that shift during Christmas dinner?
Like most things we do at Pagely, even this blog post was touched by many employees, across many time zones. We're all contributing when we can, which makes the whole engine run smoothly.
The remote-first approach allows our global workforce flexibility to take advantage of local holidays or banking days, knowing that we all value and respect teamwork. We encourage our teammates outside of the US to take time off for their national holidays with the confidence that we'll cover for each other. Thanksgiving? Those dates are different in Canada and the U.S., folks!
Be decent and look out for one another
Perhaps the most important point is this. Be decent to people. Remember that each person on the team has family, friends, and deserves downtime away from work. We're lucky at Pagely in this regard as our culture and size foster a close knit and caring atmosphere built on respect and trust.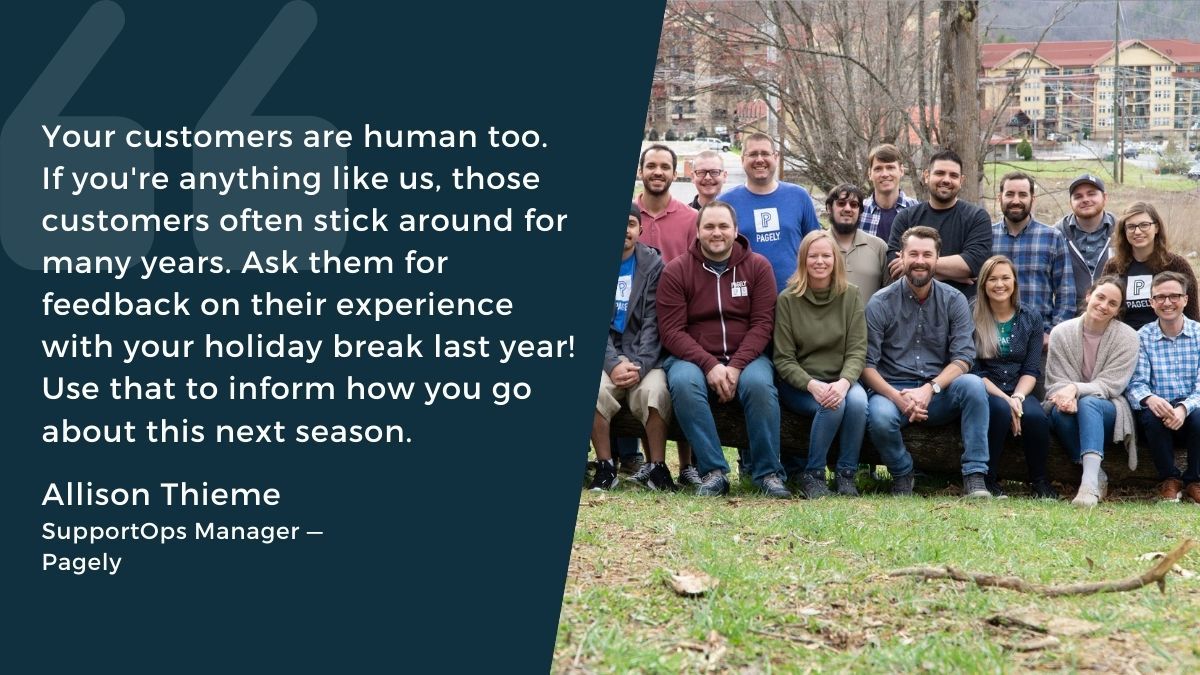 Take this one step further to say that we also understand our customers are human. They deserve to watch their kids rip open presents without another care in the world, especially not wondering if their site is still being looked after by a hosting provider.
To us, it's one of the greatest holiday gifts around to be able to have the best of both; vacation and happy customers.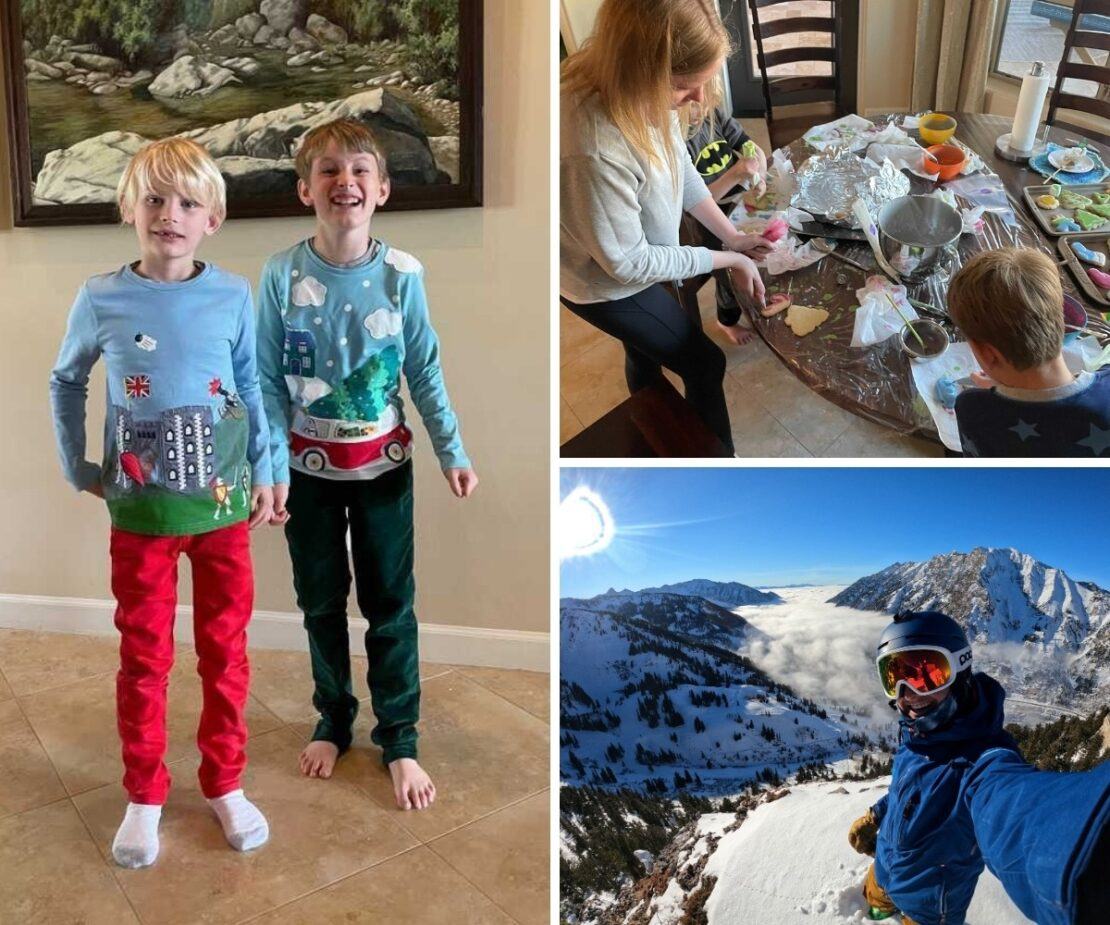 Whether it was to share updates from the Annual Pagely Christmas Hammening (another blog post is needed to explain that one), a coveted delivery from Santa, or to share a recipe for a New Year's Eve cocktail the team was still connecting over the holiday break. It speaks to the culture we've created here at Pagely. Not a culture of overworked anxiety, but a culture where respect and friendship reign at the end of the day. As a founder, I'll take it.
The time off lets us recharge, reflect, and reconnect with our families and friends. 2021 came roaring in delivering one of our best sales booking months on record and we're off and running implementing our strategic goals for the year.
Let's go.