Meet the micro-influencer. They are everyday people with a decent following on Instagram, Facebook or Twitter whose posts revolve around a particular passion or niche — tech, travel, beauty, business and everything in between.
Big tech brands like Microsoft and Adobe are increasingly turning to these micro-influencers as part of their marketing campaigns. Why? Because these regular folks publish genuine content about the things they love. They have credible voices and highly engaged fans who trust what they recommend.
In a world where people are tired of advertising and celebrity endorsements, micro-influencers are able to cut through with the kind of authenticity that brands need. The real value, however, comes from the fact that engagement rates can be up to 60% higher with micro-influencers than with their celebrity counterparts.
How Does Micro-Influencing Work?
Grab your phone and try this: Open Twitter, Facebook or Instagram and scroll until you come across a tweet, post or image that features a brand.
It took me just 5 seconds to find a micro-influencer on Instagram — a family friend's daughter, Rebecca, who I used to babysit when I was a teenager. These days, she's a fitness model. While many of her photos feature her gym workouts and prep for competitions, she also shares gym gear she loves.
Micro-influencers already "influence" their followers on social media, whether they are getting paid or not. Pretty much everything they post features some brand; it could be breakfast at a new cafe that's just opened or the latest iPhone.
In today's Instagram photo, Rebecca is wearing new shoes, no doubt sent to her for free — she recently announced that one of her favorite workout brands had started sponsoring her, i.e. sending her free gear in return for promoting their products to her Instagram followers.
Brands used to fall over themselves for a celebrity endorsement. But today, all people want is a recommendation they can trust. No BS, just a real, unbiased opinion.
So when micro-influencers like Rebecca publish sponsored posts, it doesn't feel like an ad, just a friend sharing something they really like and were lucky to get for free.
Micro-influencers: By the numbers
It might seem counterintuitive to work with a someone on social media who has a smaller following to promote your brand. But the numbers speak for themselves:
Say you're planning your next marketing campaign and you want to use an influencer. You could go for a celebrity with 500,000+ followers and get 1 post that performs really well.
Or, you could go for 10-20 influencers for the same price and reach, but with higher engagement rates across a variety of different audiences.
If that's not bang for your buck, I don't know what is.
Tech Brands That Are Successfully Using Micro-Influencers
Big names in tech are leveraging the genuine content that micro-influencers produce and share with their followers.
While some brands work directly with micro-influencers, others are using influencer marketing platforms like Markerly, Mavrck and Hello Society to connect with users who are already interested in their brand.
1. Spotify
When Spotify wanted to promote its Discover Weekly feature, it recruited micro-influencers to post images "in a style and context suitable to your usual Instagram look/feel."
Thirteen users joined the campaign, posting funny, hyperlocal photos of their Discover Weekly playlists. The campaign was a hit, achieving 29,540 likes and comments, 2.37% engagement, and just 20 cents per engagement.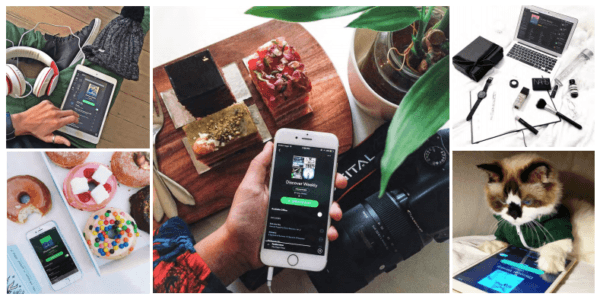 2. Adobe
While many brands are new to working with micro-influencers, Adobe has been doing it for years.
In 2012-13, the software company sponsored lifestyle bloggers to promote its photo editing software Photoshop Elements. Over several months, these ambassadors blogged about how to use the software and shared the photos they edited to social media.
As one blogger, Tieka Ellis, wrote on her blog, "All of the photos on my blog hold so many amazing memories from my life, so I strive to make them perfect and something I'm truly proud of and excited to look back on. I'm looking forward to seeing how Elements will make them even better."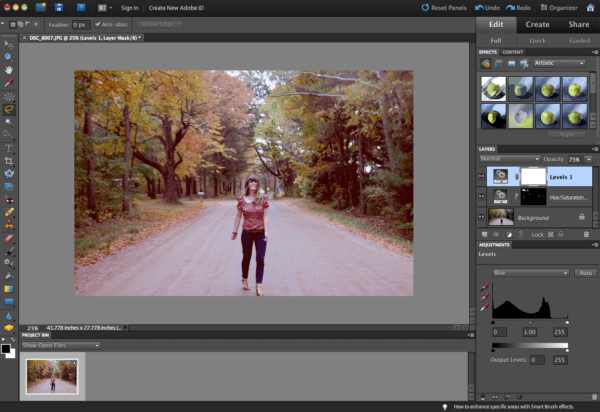 It's this authenticity and emotion that brands find difficult to achieve without coming off as fake, but micro-influencers can achieve with little effort.
In recent years, Adobe has partnered with micro-influence marketing platform Mavrck to "harness word-of-mouth marketing at scale" and target its existing customers with social influence.
3. Bumble
Dating app Bumble ran a micro-influencer campaign earlier this year to tap into the young, hip vibe at Coachella. The company invited a number of micro influencers to a branded party where they were encouraged to post photos to Instagram with the hashtag #winterbumbleland.
Followers who saw these photos no doubt saw what you'd expect from a festival like Coachella: sunshine, fun times and beautiful people — exactly the kinds of things Bumble wants to be associated with.
4. GoPro
How many dogs do you know who have 1.6 million followers? Okay, so Loki the Wolfdog has more followers than what constitutes a micro-influencer, but I'm throwing this one in the mix because it's a clear example of a strong social influencer campaign.
GoPro teamed up with Loki to promote an Instagram meet up and prizes, allowing the action camera company to reach an audience it may not have otherwise been able to reach through posts on its own profile. Getting 89,799 likes on a single post is certainly not to be sneezed at.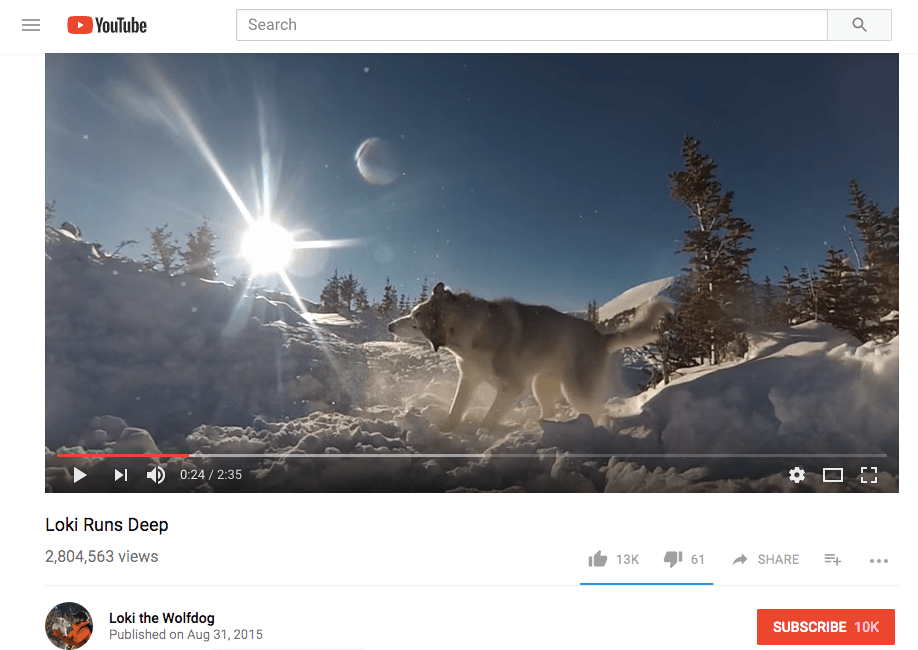 5. IBM
IBM has leveraged its own army of micro-influencers: it's employees.
Many companies already encourage their employees to share work-related content to social channels. But not quite like IBM does. The company has created an online hub that allows its staff to easily share promotions on Twitter, LinkedIn and Facebook. Internally, employees can privately share information to help with IBM's marketing and sales.
More than 1,000 employees have participated in the program, which gives them about 6 pieces of content every day that they can choose to share (or not) with their followers.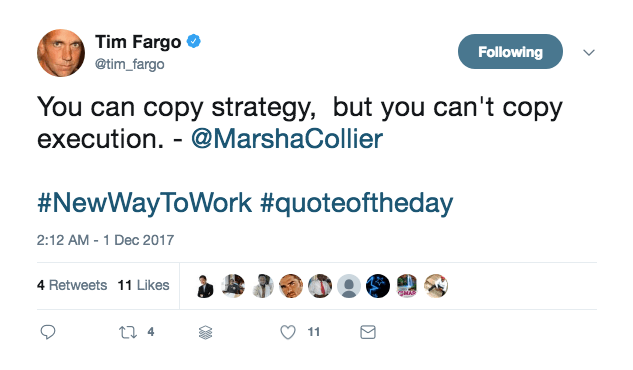 The result? IBM's #NewWayToWork business-to-business campaign achieved 120 million digital impressions and drove 141,000 clicks to campaign content, thanks to employees sharing the content.
6. National Geographic and Microsoft
For International Women's Day 2016, National Geographic partnered with Microsoft for "Make What's Next", a campaign designed to encourage girls' interest and involvement in science, technology, engineering and math (STEM).
As part of the campaign, 30 photos taken by several adventure photographers were shared on 5 of National Geographic's Instagram accounts. Each photo was captioned with the story of a prominent female scientist or adventurer and the details of free workshops at Microsoft stores.
The campaign was a success, achieving over 3.5 million total likes on the 30 photos (over 115K likes per post) and potential reach of 91 million people.
By leveraging the talents of popular photographers along with real-life stories, National Geographic and Microsoft were able to deliver an authentic and emotionally inspiring campaign that corporate giants often find difficult to achieve.
Why Micro-Influencers Are So Valuable to Brands
Social media sure has well and truly disrupted advertising. One of the biggest shifts has been in the way people have become more reliant on online reviews.
71% of people say they make buying decisions based on recommendations they find on social media.
31% are using social media channels to browse for new items to purchase.
84% of millennials say user-generated content from strangers has at least some influence on what they buy.
There are several reasons why micro-influence is so effective:
1. Micro-Influencers have better engagement rates
Influencer marketing agency Markerly discovered a surprising trend after analyzing more than 800,000 Instagram account. It found that as an influencer's numbers of followers increases, the rate of engagement (likes and comments) with followers decreased.
Users with fewer than 1,000 followers got likes 8% of the time
Users with 10 million+ followers only got likes 1.6% of the time
Users with less than 1,000 followers generated comments about 0.5% of the time, compared to 0.04% for those with 10+ million followers — a difference of nearly 13x.
There was a clear downward correlation between follower sizes and post likes:

Markerly recommends that brands work with micro-influencers who have 10,000-100,000 followers for the best combination of engagement and broad reach.
2. Micro-Influencers Have Targeted Audiences
Micro-influencers share products that reflect their passion — like Rebecca (in my example above) posting about her workout gear. Celebrities, on the other hand, endorse all kinds of products, from Coca Cola to cars. Basically, anyone who will pay them to push a product.
So when a celebrity spruiks a new brand of lipstick on Facebook, they might have a huge following but only a small segment of those people might be interested in the lipstick. Meanwhile, when a micro-influencer with an interest in beauty products shares their favorite new lipstick, most of their followers will be engaged, allowing the micro-influencer to connect in a more meaningful and targeted way.
Markerly CEO Sarah Ware told Digiday that when the platform partnered with the Kardashians to promote a weight-loss tea on Instagram, it led to a huge number of conversions. But when they worked with 3-40 micro-influencers, they achieved an even higher conversion rate.
3. Micro-Influencers Are More Affordable
Micro-influencers are much more affordable than celebrities. According to Captiv8, a company that connects brands to influencers:
Someone with 3 million to 7 million followers can charge, on average, $187,500 for a post on YouTube, $75,000 for a post on Instagram or Snapchat and $30,000 for a post on Twitter
For influencers with 50,000 to 500,000 followers, the average is $2,500 for YouTube, $1,000 for Instagram or Snapchat and $400 for Twitter.
In contrast, WeRSM data on how much micro-influencers charge reveals:
On Instagram, 84% of micro-influencers charge less than $250 per branded post while 97% of them charge less than $500 for a branded post
On Facebook, 90% of micro-influencers charge less than $250 per branded Facebook post and 97% charge less than $100 per branded post
On Twitter, most micro-influencers charge less than $150 per tweet and 96% charge less than $100
While many micro-influencers received payments for their posts, some are just as happy with getting free products in return for promoting a brand.
4. Micro-Influencers Are Credible and Authentic
Micro-influencers are real people and so is their account. Since they only have a small following, they tend to post their own content and reply to comments — they don't need a social media intern to take care of their account.
They're relatable, genuine and trustworthy — three things that are pretty useful when it comes to marketing. When a micro-influencer posts about a product, their word-of-mouth marketing is powerful.
5. Micro-Influencers Aren't Affected by Ad-Blocking
According to the Interactive Advertising Bureau, 26% of desktop users and 15% of mobile users use adblocking software, which is a massive hit on the investment that brands have traditionally put into display ads.
Conclusion
When it comes to social influence, bigger isn't always better. As micro-influencers have proven authentic voices are credible and trustworthy in an age where people are bombarded with advertising and want real recommendations.
Big brands that are working with micro-influencers are achieving stellar results, leveraging the genuine content that small-time social media stars are already sharing with their followers.
While working with and managing 20-30 micro-influencers on a marketing campaign might be a lot of work for any company, the payoff is worth it for engaging content that achieves wide reach. And for brands that don't want to spend time looking for micro-influencers to partner with, platforms like Markerly, Mavrck and Hello Society make it easy to connect companies with users who are already interested in their brand.