If your digital publishing model relies on banner advertising, consider this: when was the last time you actually clicked a display ad? "Banner blindness" and ignoring ads is a learned behavior, with many internet users training themselves to just skip right over those first Google results marked as ads.
It's a frustrating reality for publishers who are already struggling to make a buck in a climate where people don't want to pay for content. Then there's the rise of ad-blockers and last year's release of Google's ad-blocking version of Chrome.
The digital revolution — and changing consumer behaviors — have issued a live-or-die challenge to publishers that rely on traditional revenue models and don't move quickly to keep up with the changing online environment.
Multiple factors come into play, but one of the most crucial is the way digital publishers approach relationships with partners and advertisers.
The Rise of Native Advertising
The internet and social media have broken down the barriers that once existed between companies and consumers, who are now increasingly demanding of brands. For consumers who watch Netflix while also scrolling their social feeds, simple advertising isn't enough. They expect engagement and interactivity.
The need for advertising hasn't disappeared, it's just evolving. Native advertising, which isn't a new concept, but timely in its re-emergence, is now providing advertisers with a much more direct and "meaningful" way to connect with consumers.
It's estimated that native ads will be responsible for 74% of all ad revenue by 2021, and it's already poised to reach $21 billion this year. It's a growing concept backed by thousands of marketers and publishers, and a trajectory of exponential growth.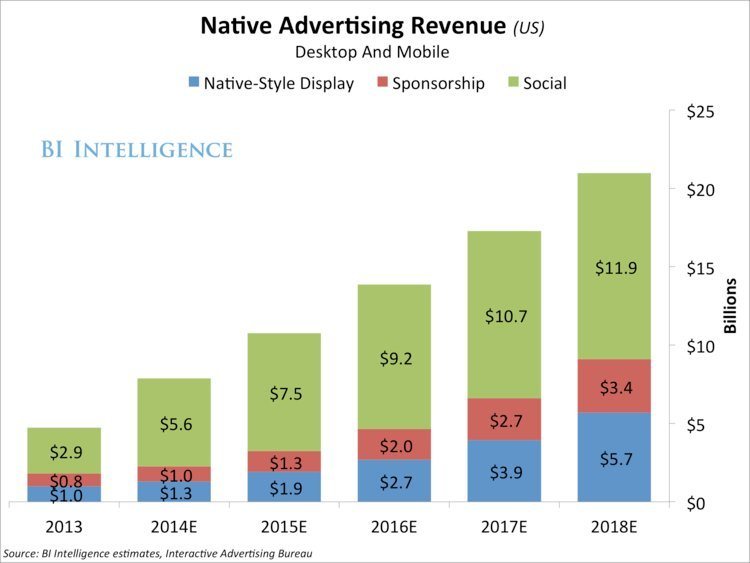 There are arguments that people don't want to read native content, but I would argue that people don't want to read boring advertorials that feel forced and provide no value. Similarly, they don't want to read an article only to reach the bottom and find they were being sold to all along.
In fact, according to many publishers, engagement levels for native advertising are comparable with editorial content.
Felix Krueger from Brand Discover, the native advertising product arm for Fairfax Media in Australia, says the average recall from native advertising is 35%.
"… People know what native advertising is and people still enjoy content that offers value to them, as long as the content is informative and entertaining," Krueger says.
What Exactly is Native Advertising?
Native advertising, not be confused with advertorials, content marketing or intent marketing, is editorial in style and content. It's also designed to blend into its surroundings.
Native advertising blurs the lines between advertising and content. But, according to Copyblogger, it's paid content that matches a publication's editorial standards while meeting the audience's expectations.
Tony Hallet, Managing Director of content marketing agency Collective Content, says when a publication such as BuzzFeed works with a brand like Virgin Mobile it isn't just to create great native content that its loyal readers see; it is with a view to it going viral and being seen all over the web.
"Display advertising could never do that," Hallet says.
The Interactive Advertising Bureau (IAB) has defined six different types of native advertising units: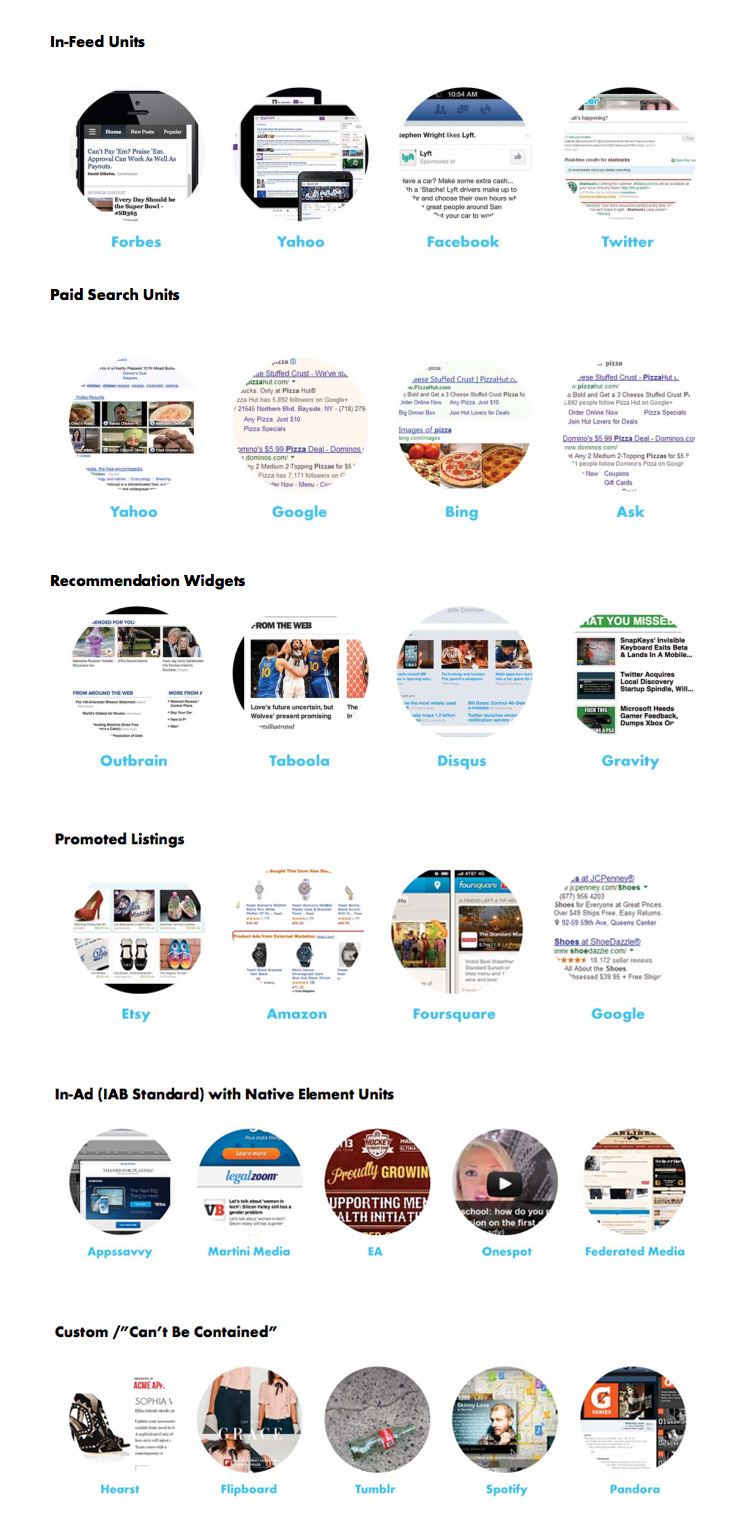 In its 2017 forecast for native advertising, the IAB predicted the emergence of new native formats, including virtual reality and in-messaging apps as well as the ongoing expansion of native video formats for vertical video, 360 videos, out-stream, and mobile-first video.
10 Creative (and Award-Winning) Examples of Native Advertising
The most successful native advertising is creative and engaging — and designed to be shared. Let's take a look at some exciting campaigns.
1. Netflix and Spotify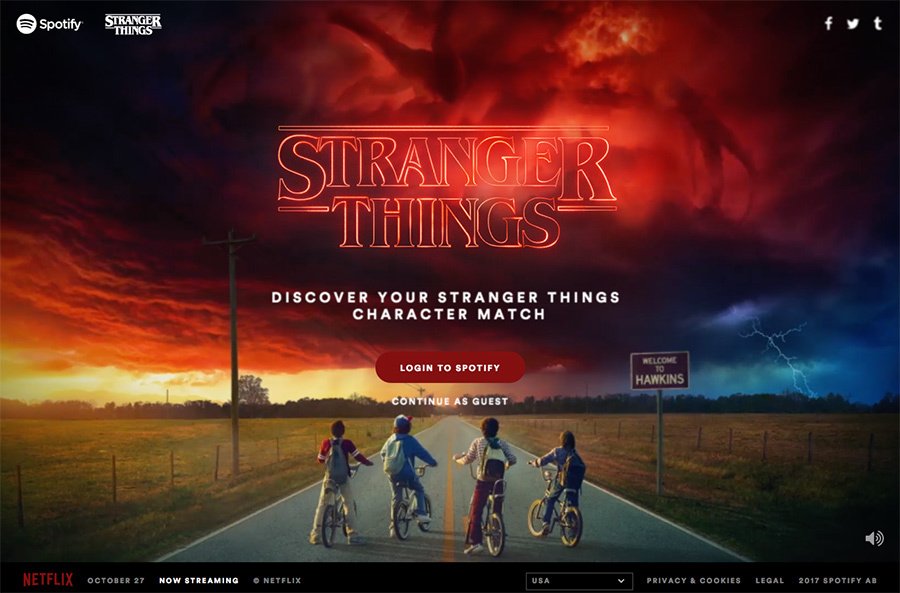 Which Stranger Things character do you have the most in common with?
That's the premise of an interactive experience Spotify created for fans of the hit show in partnership with Netflix.
This clever example of native advertising matches the listening habits of fans with the imagined musical profiles of 13 of the lead characters from the show. When you log in to your Spotify account, you're matched with a Stranger Things character and can start listening to their playlist. The screen even flashes and moves like you're in The Upside Down.
Takeaway: Native advertising can be interactive, immersive and fun — it doesn't have to be articles and text.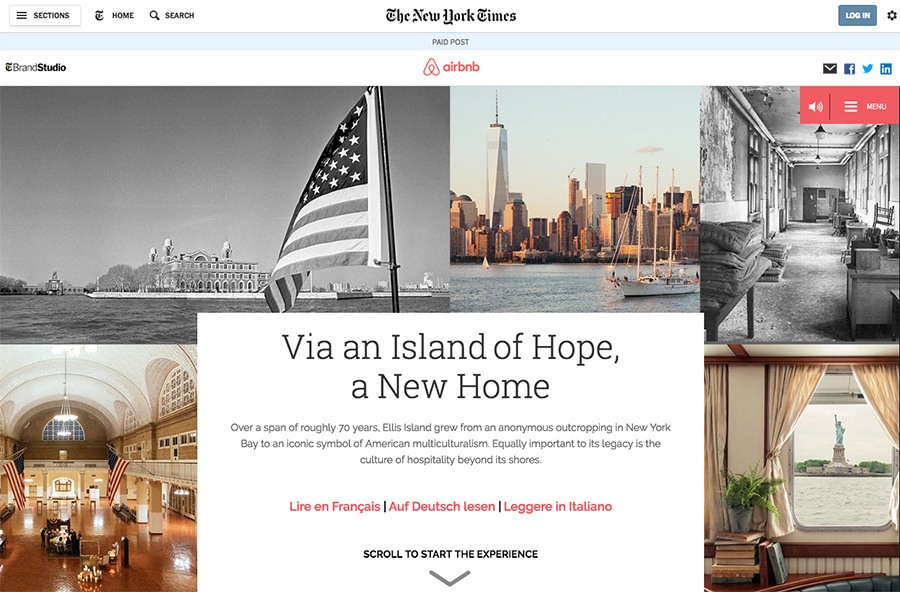 Airbnb partnered with The New York Times' T Brand Studio to tell the story of Ellis Island, immigration in New York, and American multiculturalism. The interactive story is told in four chapters and shares the heart-warming and personal stories of Airbnb hosts through archival photos, historical facts, and audio interviews.
Takeaway: The underlying theme of this piece of native advertising is hospitality, which is on-brand for Airbnb, whose company mission is "Belong Anywhere." While this might not be an obvious and direct piece of advertising for Airbnb, it's a brand-building exercise that promotes the company's standing as the world's largest community-driven hospitality company.
https://twitter.com/Waaaffffles/status/743413329905983488
Silicon Valley fans were amused and delighted when promoted tweets began showing up in their feeds that matched Pied Piper's marketing efforts in season 3 of the popular show. HBO collaborated with Twitter to take advantage of the beta advertising product, which was new at the time.
The Twitter ads were created for five in-story websites central to the third season's plot, using copy and imagery straight from the show. This simple yet creative piece of advertising kept promotion entirely within the world of Silicon Valley.
Takeaway: HBO was the first entertainment brand to work with Twitter on promoted ads, surprising and impressing fans in the process. Native advertising is constantly changing — how it's defined today won't necessarily be how it's defined next year.
Today only: turn yourself into a taco using our @Snapchat lens. Because Cinco de Mayo. pic.twitter.com/P4KwLdFNFZ

— Taco Bell (@tacobell) May 5, 2016
Who would've thought turning people's faces into giants taco would break records? Taco Bell sponsored Snapchat's lens for Cinco De Mayo in 2016, resulting in 224 million views in just one day.
Snapchat's sponsored lens turns selfies into branded content. According to Ryan Rimsnider, Senior Manager of Social Strategy for Taco Bell, his team spent six weeks working with Snapchat to create the lens. It wouldn't have been a cheap exercise — Adweek reported that the ad format costs $750,000 for holidays and big events like the Super Bowl, and $450,000 on regular days.
Takeaway: Taco Bell was also one of the very first marketers to buy into Snapchat's on-demand geo-filter program. By experimenting with new and fun advertising formats, you can get ahead of the competition.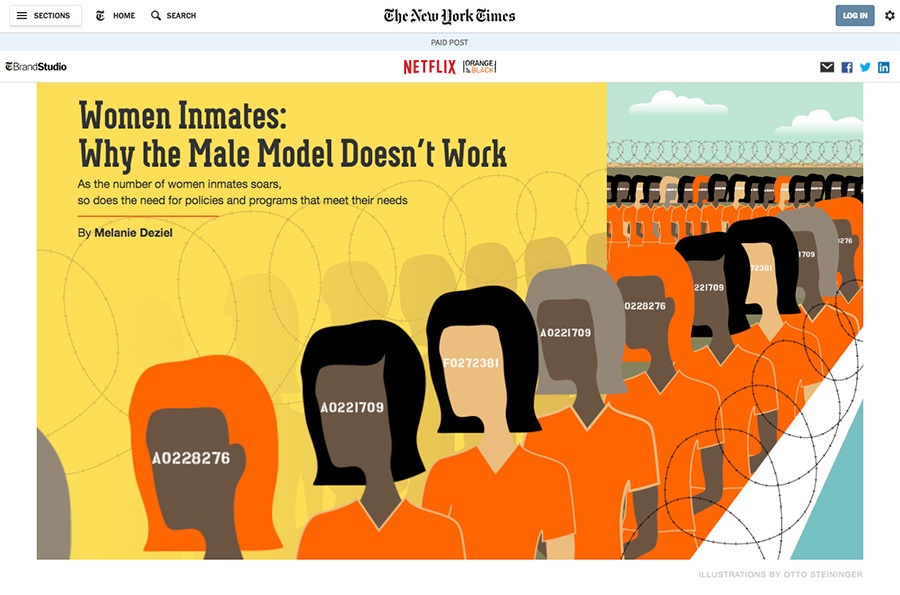 Ahead of the second season of Orange is the New Black, Netflix collaborated with The New York Times' T Brand Studio to produce Women Inmates: Why the Male Model Doesn't Work.
This serious piece of journalism isn't unlike what you would read in The New York Times. Through video and audio interviews with women in prison, federal research and statistics, and some fantastic writing, it explores the female prison experience and what happens when they're released.
Takeaway: What's great about this thoughtful piece of native advertising is that it shows Netflix isn't just out to entertain its viewers, but also educate them. This article does more than scratch the surface of what it's like to be a woman in prison. It shares personal stories and even offers recommendations on how the prison system could be reformed to better serve women.
"Despite being huge and having the ability to open canned goods, humans are frail in both body and mind and we must care for them."
So begins Buzzfeed's "A Cat's Guide To Taking Care Of Your Human," a cute and relatable video produced in partnership with Purina. The two-minute video, told from a cat's point of view, has garnered more than 11 million views.
Takeaway: BuzzFeed's primary business model is native advertising through sponsored content and knows how to hit the sweet spot between being entertaining and promotional. This video is funny and on-brand for Purina. A quick scroll through the video's comments reveals the clip was a hit, with one commenter saying, "I didn't even realize I was watching a commercial until the very end!"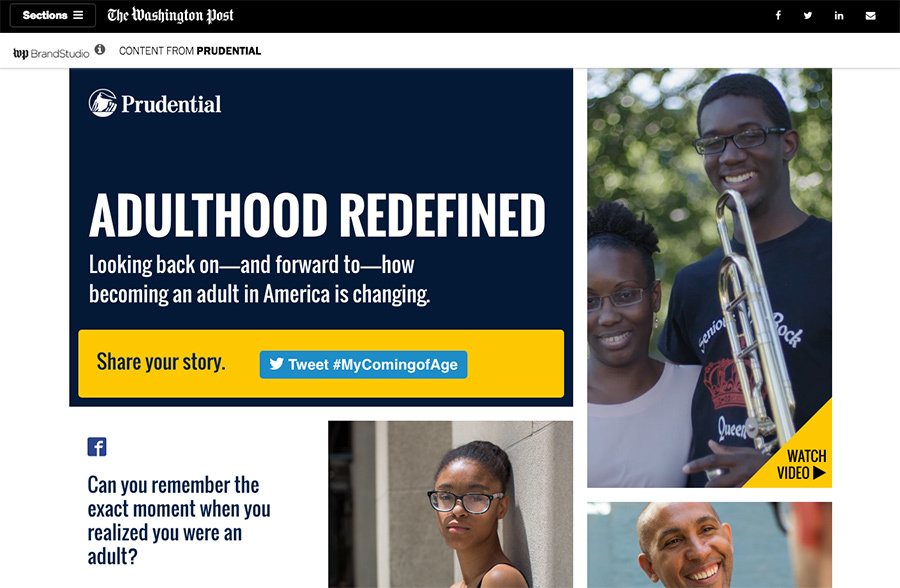 Adulthood Redefined is a multimedia piece by The Washington Posts' WP BrandStudio that explores how becoming an adult in America is changing. Aimed at young people, this ad uses text and video interviews to tell the stories of a variety of different adults and what growing up means to them.
The piece makes full use of social media, with social buttons sprinkled throughout along with a branded hashtag, #MyComingofAge.
Takeaway: What's clever about this particular piece is that it doesn't ram insurance down the throats of young people who are usually more focused on the present than the future. Instead, through stories told by entirely relatable people, it subtly spurs the reader to think about their own adulthood and future planning.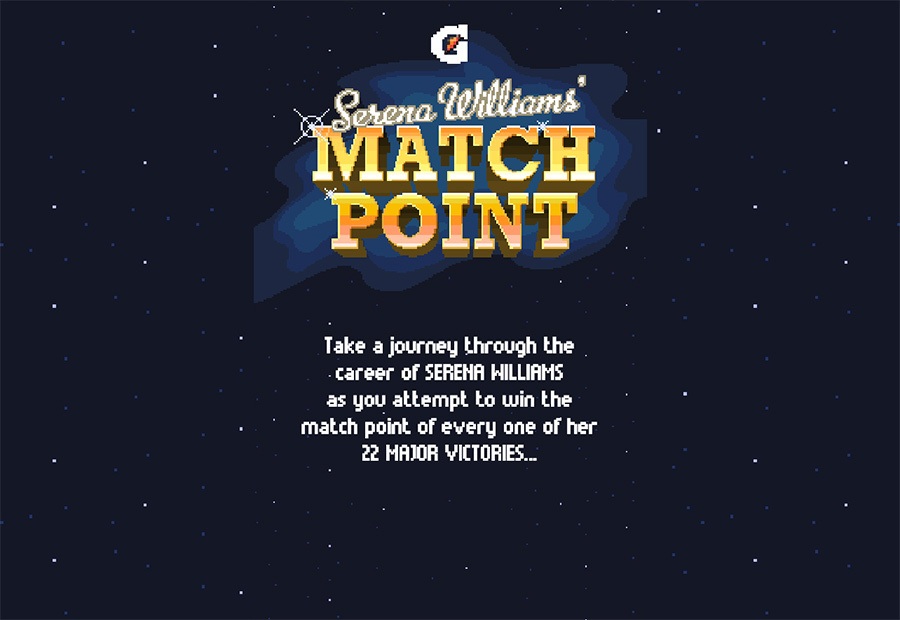 Gatorade pushed the boundaries of native advertising when it launched its video game Serena Williams' Match Point on Snapchat ahead of the 2016 U.S. Open. The old-school game features 22 levels, each representing one of Williams' Grand Slam wins.
The game sat inside ESPN's Discover channel on Snapchat as an ad. When users swiped up, they were directed to an in-app game experience. Gatorade also used Facebook, Instagram and Twitter to drive users to the game on mobile and desktop.
The marketing campaign, designed to celebrate Williams as she competed for a record-breaking 23rd Grand Slam title (unfortunately, she didn't make it to the final), achieved around 160 million impressions on Snapchat.
Takeaway: The PepsiCo-owned brand could've easily put together a television commercial, but instead put its sponsorship of Williams to good use while at the same time exploring the edges of Snapchat's capabilities. This native ad won two Webby Awards for Best Mobile Advertising and Best Use of Native Advertising (Advertising, Media & PR).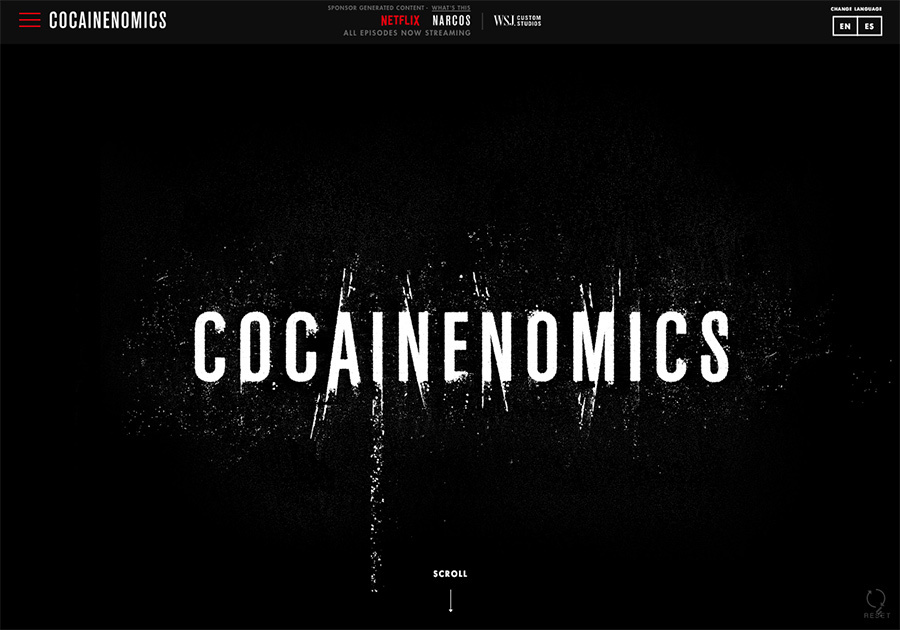 Netflix — clearly no stranger to partnering with publishers for native advertising — collaborated with The Wall Street Journal's Custom Studios to create Cocainenomics, a multimedia piece exploring the drug trade in Medellín, Colombia.
In six parts, the ad features interactive maps, videos, and timelines that explain how cocaine traffickers characterized in Netflix's show Narcos transformed the multibillion-dollar global drug trade. There's even a quiz at the end to test your knowledge.
Takeaway: The big difference between a crude ad and a content-based one that delivers value to readers is the storytelling dimension, which this Netflix ad has in spades. Every company has great stories to tell — maybe even more so for Netflix — and this piece of native advertising educates Narcos fans about the brutal reality that underpinned the show's plot.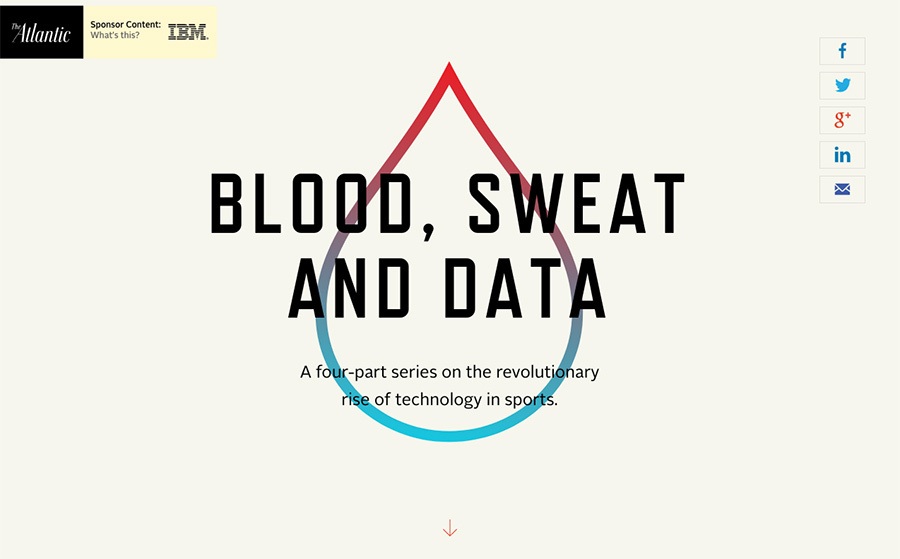 The Atlantic partnered with IBM for this engaging and informative piece about the power of big data in sports. The four-part multimedia story explores how technology is revolutionizing sports, with — of course — lots of statistics born from data, photo galleries, interviews and data-filled visuals that bring the story to life.
Takeaways: If you have data, use it. What makes this piece so engaging are the statistics littered throughout, which help reinforce the narrative and provide quick bites of information for social sharing.
Conclusion
Native advertising is here to stay and there are plenty of inspiring examples, such as the examples above, that are raising the bar — and securing display advertising's fate as "old news."
For many publishers, the idea of partnering with a company to create what is essentially advertising might make your skin crawl, especially if you adhere to traditional principles around the separation between editorial and advertising. In print newspaper building, this separation is often physical, with editorial and advertising departments on completely different floors of a building.
But just because it's advertising doesn't mean you have to relinquish editorial standards. Interactive long-form content can be just as well-researched and written as investigative journalism.
Native advertising offers enormous potential for publishers and brands to collaborate on creating quality content that is powerful, informative and creative — and is more likely to generate clicks than a boring banner ad.
If you're also concerned about increasing your readership, check out 9 Powerful Ways Digital Publishers Can Increase Readership.