Pagely Acquires Competing Managed WordPress Hosting Company BlogDroid.com
Phoenix AZ – The first to market and leading provider in Managed WordPress hosting, Pagely, has reached an agreement to acquire competing service BlogDroid in an all cash deal. Financial details were not disclosed.
As a result of the sale, customers will move from the existing BlogDroid infrastructure to the Pagely Managed WordPress hosting platform. Pagely will manage the BlogDroid domain name and the BlogDroid team will provide assistance during the transition process. Additionally, BlogDroid sales staff will refer future hosting clients to the Pagely WordPress hosting platform.
"BlogDroid is a great acquisition to swell our ranks of happy customers. They will find a good home on our expanding service." said Joshua Strebel, co-founder and CEO of Pagely while remarking on the deal. "Managed WordPress is what we do, we have future plans for the blogdroid.com domain in that regard."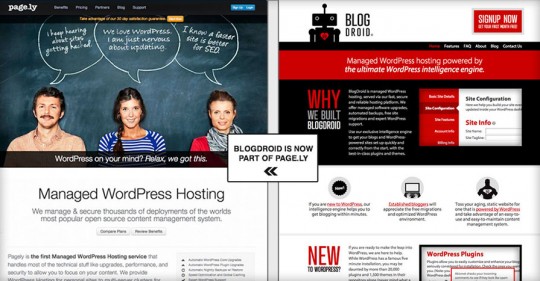 Pagely's goal when acquiring BlogDroid was to diversify their customer profile and to help more people experience their special brand of web hosting; without the needless upsells, long term contracts, and bait & switch pricing common with other providers. With the BlogDroid team's ongoing referrals, Pagely will serve even more people with quality managed WordPress services.
BlogDroid was an attractive acquisition for Pagely due to their impressive growth in a short period of time, a more polished brand than most competitors, and the "customer-first" approach made by Karen Jackie, co-founder of BlogDroid. She had the following to say about the acquisition:
"We are extremely excited to see our valued WordPress customers move to such a mature and well respected service like Pagely. We want to make sure the transition is as easy as possible and will be assisting the Pagely team in making sure every customer has a seamless moving experience."
New BlogDroid clients can expect a step up to the enterprise grade security that Pagely offers called PressARMOR™.
"PressARMOR™ offers best-in-class WordPress security, it's system wide and not just an add on or plugin to an otherwise insecure and stock platform. We have refined it over the years, protecting all our many thousands of customers," said Joshua Strebel.
New BlogDroid clients can also expect managed WordPress service from the people who invented the space, trusted automatic upgrades, expert support from people with years of experience in WordPress, extremely fast load speeds, and more WordPress-focused features coming soon.
Read the blogdroid post.
About BlogDroid
Based out of East Berlin, Connecticut, BlogDroid launched in 2012 as one of a growing number of WordPress hosting services to follow Pagely's lead in providing tailored hosting solutions for the popular open source software, WordPress.
About Pagely
Founded by husband and wife team Joshua and Sally Strebel in 2009, Pagely serves the SMB and Enterprise market with secure & scalable cloud-based WordPress hosting. The unique service was the first of its kind and provides a level of speed, scalability, and security to users of the WordPress platform that is unavailable at traditional web hosting companies.
---
Pagely Sally Strebel
w: https://pagely.com/
t: @pagely
260 S Arizona Ave Chandler AZ 85338
BlogDroid Karen Jackie
w: http://blogdroid.com
t: @blogdroid
92 Cottage Street East Berlin CT 06023
---