As we come to the end of another year, it is common to take a look back in review. What worked? What didn't? Did we hit our goals and how does that inform our mission planning for 2017?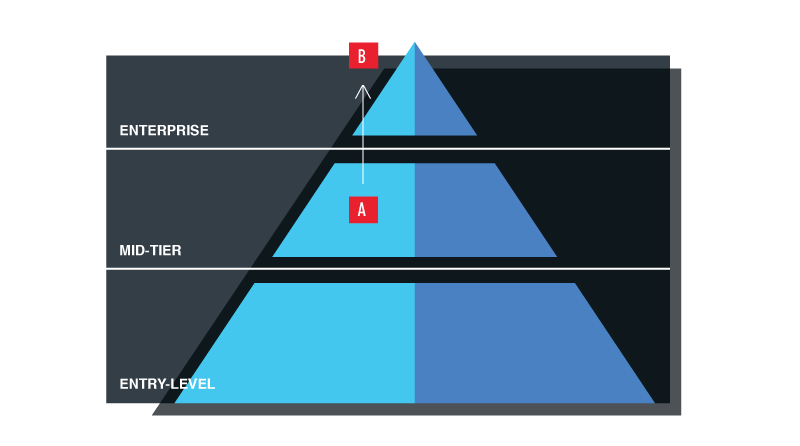 Let's set the stage: 2016 was a transition year for us. Beginning in late 2015 we made the decision to go from position A in the mid-tier of the market to position B at the top [image above]. We made the deliberate decision to stop offering plans to the B2C market and focus on the upper echelon of the B2B Managed WordPress Hosting market. Throughout 2016, we overhauled our positioning, improved our service offerings and increased prices to reflect, and doubled down on our customer-centric approach. It was a high-risk/high-reward gamble that could have seen us stall out and possibly even sink.
Thankfully we beat the Vegas odds and are diving into 2017 with momentum at our back. Below I'll share some commentary on the last year at Pagely and some insight into our YoY growth. We've never disclosed hard numbers… but we'll talk in percentages.
Features
Most of 2016 saw us working behind the scenes to scale out our Amazon Web Services stack and reinforce our uptime goals. To that end, it was successful as we had zero major outage events across our stack – with only 2 minor events that were isolated to a handful of customers in our shared pool. HTTP/2 and PHP7 were made default configurations for all new customers and existing customers were upgraded (a few remain to be uplifted).
However, towards the end of the year, we did push out 2 important items that our customers were asking for: Self Serve SSH key management and an all-new Collaborator based account system that focuses on teams vs single account owners.
2017 will see a ground-up rebuild of all of our customer-facing stack which Gordon will document as we go from the tech side – all in an effort to continue our focus on WordPress hosting options, not mandates.
Employees
The thing I like most about being a business owner is the opportunity to work with smart and talented people. Sally and I have our family, but we also have our work family – these amazing people that have put their faith in us as we have placed our trust in them. Pagely is nothing without its people and we know that when we invest in our team they, in turn, invest in the success of our customers.
We expanded our DevOps and Support departments with key hires in the US and internationally – helping us close the timezone gap to now provide true 24/7 support. After 7 years of Pagely, we made our very first Marketing hire (and allocated a budget) this October – better late than never as they say. We also split off a dedicated Engineering team from within DevOps to focus exclusively on platform improvements you will see live in 2017.
Headcount
Goal: 2x the number of employees
Result: Slightly more than doubled headcount at 2.2x or +120% – Nailed it.
HR Benefits
Goal: Roll out company-wide medical and 401k plan.
Result: The health plans actually went into effect in Dec 2015, and the 401k program will begin in Jan 2017.
W-2 Compensation
Gross compensation per employee increased +10.5% YoY. Everyone saw pay increases and new employees were hired at competitive wages. My salary was unchanged and still only ranks 3rd.
Customers
In 2015 we began to focus on the Enterprise hosting market exclusively, and that was solidified all through 2016 as we made changes to our hosting plans and service model to really address the needs of the Enterprise WordPress customer.
As we shifted away from the lower and mid-tier of the WordPress Hosting market, those customers continued to follow their natural churn pattern – while new Enterprise customers took their place. As a general rule, churn is bad (great churn explainer post here) and we knew a shift from the low-end of the category to the top was going to really slow our new customer uptake pace. We traded volumes of low-priced B2C accounts [risk] for fewer high-value B2B accounts, so our overall number of customer account growth was not impressive. However, our VPS/Enterprise customer count increased by +69% YoY in 2016 [reward].
Major universities, large media companies, and successful e-commerce stores all found a home at Pagely in 2016. One of the most recent site launches is the new WAMU 88.5 site whom we referred to our friends at 10up for development. WAMU is a long time customer of Pagely and came to us for help:
Hi Pagely!

We love hosting with you, so we're reaching out to see if you have advice for us as we plan for the rebuild of wamu.org. […] Can you recommend any teams that have experience with headless WP and single-page apps? We're looking for a long-term partner.
Take a look at that new site 10up put together using the WP REST API and react.js – it's beautiful and scary-fast. We were privileged to earn WAMU's continued trust and their expansion business.
Other notable customers we launched this year:
RED.org
NGINX.com
UNICEF
Virgin Atlantic
Marriott Hotels
AARP
Electronic Arts
Forbes
Crate & Barrel
Revenues
Our hypothesis was that:
IF our company future was at the top end of Enterprise WordPress Hosting
AND IF our strategies were well executed
AND IF our team was on point with delivering a great product and service
THEN it should all be reflected on our balance sheet.
We primarily track Monthly Recurring Revenue (MRR) and it's predictive friend Annual Run Rate (ARR) to measure our progress.
ARR Goal: +100% YoY
ARR Result: +90% YoY
+90% is across our entire customer base.
For historical reference:
2014 – Total ARR +192% YoY
2015 – Total ARR +114% YoY
2016 – Total ARR +90% YoY
Which begs the question: Are we slowing down? Only the rarest of companies can sustain +100% YoY for multiple years – most mature companies would be ecstatic with +10%. Simple Math example: a 100% increase on $5000 is only +$5000 and a 100% increase on $50M is +$50M in new ARR in a single year – I suppose Uber can add $50M a year… We'll keep trying.
When we only look at the VPS/Enterprise segment we saw a very strong +141% ARR in 2016 which shows our strategy is working. The net gain in # of VPS/Enterprise customers was +69% but the revenue generated by these new higher-value customers still drove our ARR for this segment upwards +141%. We consider our switch from B2C to B2B a success and the strategy is working, but not yet complete.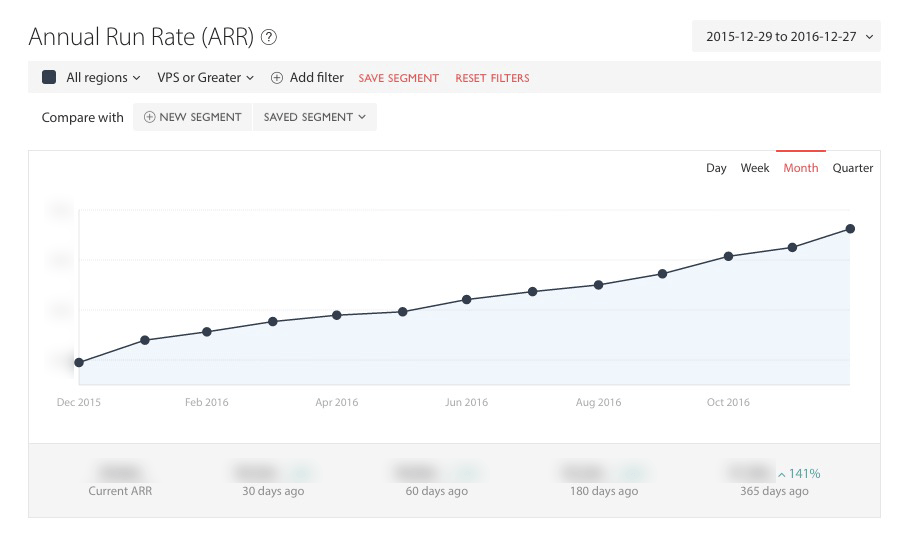 VPS/Enterprise ARR+141% YoY
Average Revenue Per Account (ARPA)
Goal: We did not set a hard goal besides: "increase it".
Result: +84% YoY
In a nutshell, we roadblocked and turned away thousands of < $50/mo customers to open a valet lane for hundreds of > $1000/mo customers. Risky as hell.. but it worked.
Culture
I measure this like our 43rd president measured truthiness – in my gut. I just know when it is right, and feel when it may need a slight adjustment. Everyone here is on the same page about delivering the best customer experience we can, and balancing work and life. The only real shift in the culture I saw this year was a positive one – in that the company as a whole started to see ourselves as a bit more mature – a bit more businesslike vs. a startup. I even cut my hair.
PressNomics 4, our annual business focused WordPress event, was a smashing success. Nearly 300 attendees made the trip out Phoenix to join us. PressNomics 5 is on the schedule for April 6-8 2017.
An old business coach of mine gave me advice we fall back on often – "invest in your people and they will carry your company to success". By all accounts, Pagely continues to be an amazing place to work where employees are empowered to make the decisions that shape our outcomes.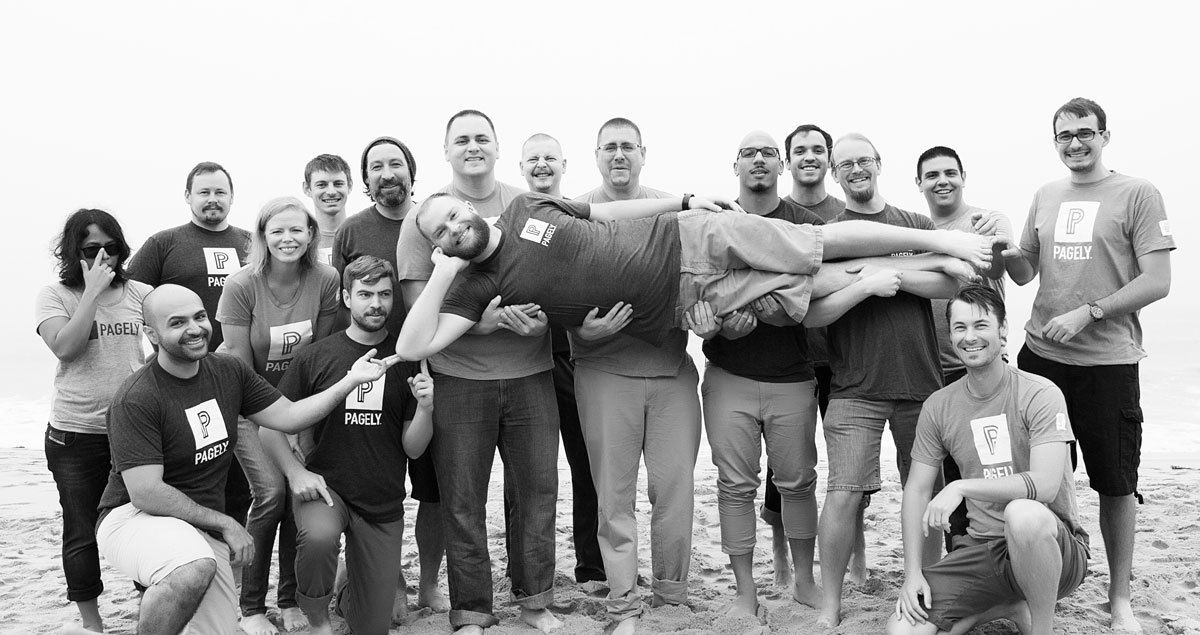 Some of our team at our summer retreat
2017
The coming year is interesting. All the signals point us towards another break out year. We have key hires starting on Jan 2 and a well-stocked sales pipeline for Q1. We have key marketing initiatives in the final stages of planning, and a queue of qualified candidates to expand our team with. New features and an all-new customer dashboard are in the works as well. The only thing that gives me pause in the coming year is the uncertainty as to how the wider economy may fair under the next administration.
Focusing on what we are good at.
2017 we will see Pagely completing our turn to focus exclusively on the upper end of the market. We've found that the style of company we want and the service we wish to provide aligns most closely with that specific customer type. People come to us with complex scaling, deployment, and security challenges which were deemed unsolvable at other providers – our niche is providing real workable solutions. As one of our favorite customers put it best: "Your people just solve problems that others struggle to even diagnose."
In 2017 we will complete our market ascension. We may still keep a toe in the mid-market, however all our forthcoming tooling and service improvements are aimed at the Enterprise WordPress market.
View our Enterprise WordPress Hosting Options
The biggest change in 2017 customers should notice is the overhaul of our UX and UI – which we have graded internally as 'Burn it all down and start fresh'. Removing friction and reducing the need to contact support for simple things are top on our list of improvements to make.
Big ambitions lead to big plans – which beget big wins. Let's go.