For B2B companies, the holiday season can have a major impact on your revenue. In fact, research shows that the last quarter of the year is considered a slow period for B2B sales. Prospects are less likely to commit to a purchase and focus time on, say, their fully managed WordPress hosting.
When you see your monthly recurring revenue dropping, it's easy to feel as deflated as a blow-up Santa on Boxing Day.
So how do you reinforce a "business as usual" approach in your workplace ?
If you want to conquer the holiday slump, stave off a drop in MRR and finish the year with a bang, here are some tips.
Create Seasonal Content
Inbox zero might be the dream for many, but the truth is that people love great content, especially when it's related to things that are going on in the here and now.
Think about it: when you're searching for the perfect gift for a techy friend, isn't it helpful when you get an email from a brand you like that features an article about this year's top tech gifts?
Christmas and New Years can provide major opportunities to cash in on content that people are already searching for. Content marketing creates organic traffic, which hopefully translates into brand recognition and sales. While you might anticipate your traffic or revenue going down, you shouldn't let your content slip.
An Outbrain study revealed that people not only spend more money during the holidays, but also consume more digital content. So much content, in fact, that the demand is greater than the supply.
So think about what your customers need and what they're likely to be searching for online. For example, for B2B now's the time of year to be posting "10 Changes That Will Transform Your B2B in the New Year" or "8 Effective Ways to Stay Ahead of the Holiday Season B2B Sales Slump." Clever, right?
Splash's "Holiday Ode" video card is a memorable example of a quirky holiday campaign. In an effort to spread appreciation for event planners everywhere, the company created a holiday-themed video card based on "Twas the Night Before Christmas".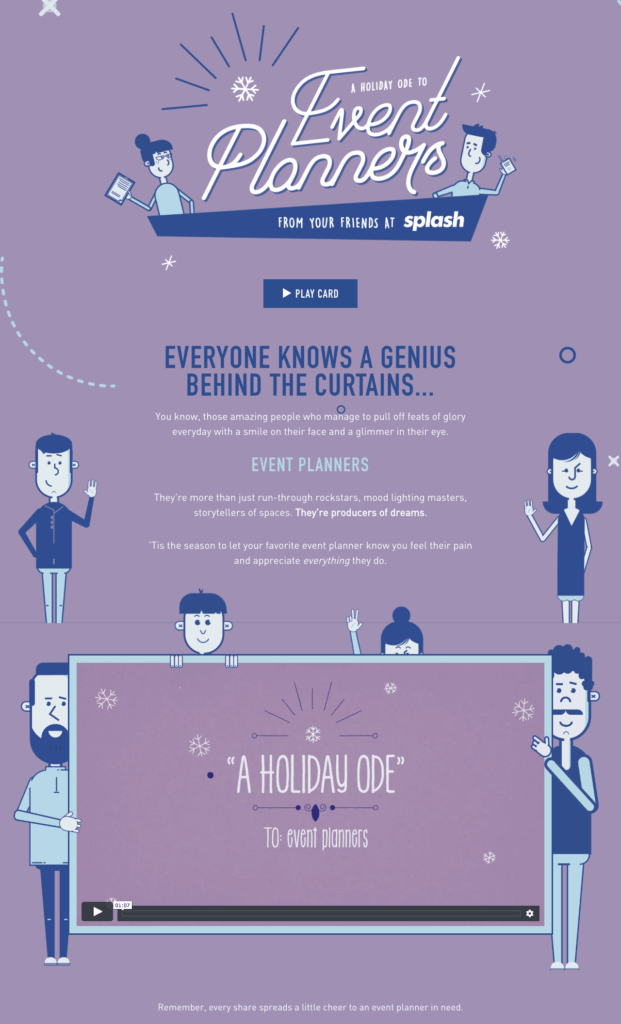 The Splash team sent out personalized emails to drive traffic to the video's landing page. People were encouraged to spread the cheer with the hashtag #odetoplanners. A fun and well-executed campaign!
Don't forget to A/B test your content to figure out what works and doesn't work with your audience. If your dancing Santa gifs fall flat on Facebook, next year you'll be able to make a better educated guess about what your audience will respond to.
Create Positive PR
If you're anything like me, you spend every waking hour trying to please your customers, which is a good business practice. But it's often to the detriment of your own marketing. There's no time like a sales slump to toot your own horn and light a fire under your marketing efforts.
If you have positive customer testimonials and case studies, share them. If you've recently won an award or been featured in an industry article, share your good news. Promoting your brand and showing off your success is important to how customers and prospects perceive your business and can help influence their buying decisions.

Steve Cody, Co-Founder of digital communications agency Peppercomm, suggests speaking to four or five key customers, prospects and experts in your niche, and then writing an 800-word year-end summary of what happened in your industry. Did your company fare particularly well? If so, why? If not, what were the market forces and what could you have done better?
When you've finished the piece, send it to an industry trade publication or blog. During the holidays when everyone is winding down, these websites will be on the lookout for content so they might happily publish your year-in-review industry summary.
Upsell to Your Existing Customers
Upselling to your existing customers is good business practice throughout the year, but can be especially useful for upping your MRR when you're going through a slump.
In fact, data shows that, on average, loyal customers are worth 10 times their initial transaction, and they're 65% easier to sell to than first-timers. Studies also show that just a 5% increase in customer retention can boost a business's profits by 25% to 95%. That's huge.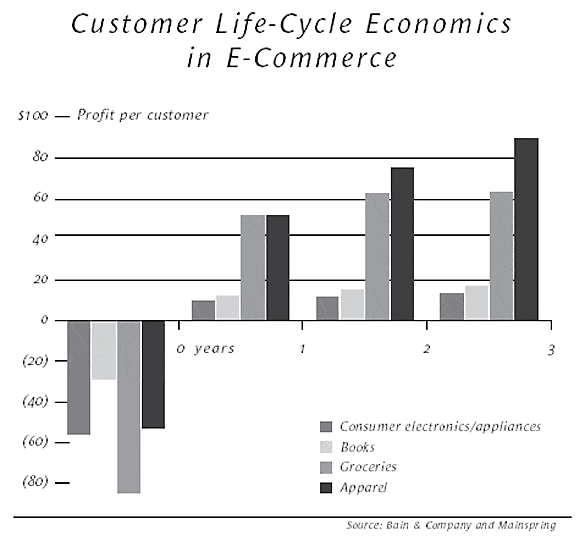 It's also much more expensive trying to win new business. Depending on which study you believe and what industry you're in, acquiring a new client is anywhere from 5 to 25 times more expensive than retaining an existing one.
If you're new to upselling, start small. The more options you provide, the more likely you'll confuse customers. Start with one or two upgrades or try bundling products or services. This will make your offering more enticing, especially if customers see they're getting a discount for buying more.
Follow Up, and Keep Following Up
Followup should be a routine sales practice all year around, but it's a tactic many businesses neglect. There's no time like the end of the year to reach out to prospective customers you've talked to during the year, see how they fared in 2017, and find out if the timing is right to work together in 2018 — or even now.
When your customers and prospects are back at work in January and ready to kick off the New Year with a fresh start, you want your business to be front and center in their minds. Provide them with the resources they need in December to help steer them in your direction.
Calling out of the blue might feel awkward, so lead the conversation with something of value, such as how you helped a similar business during the year (don't forget to email them the case study after your chat).
Other resources you could provide include whitepapers, checklists and ebooks. It's all about education.
Send Cards and Gifts to Show You Care
The holiday season is the perfect time to show gratitude to your customers and business contacts. So if you want to close 2017 on a positive note — and position your business well for 2018 — consider sending cards and gifts to your top customers and promising prospects. This will ensure you stay fresh on their minds in the New Year, and may even allow you to close one last sale before the end of the year.
At the end of 2015, help desk software company Help Scout sent handwritten notes to some of its top customers: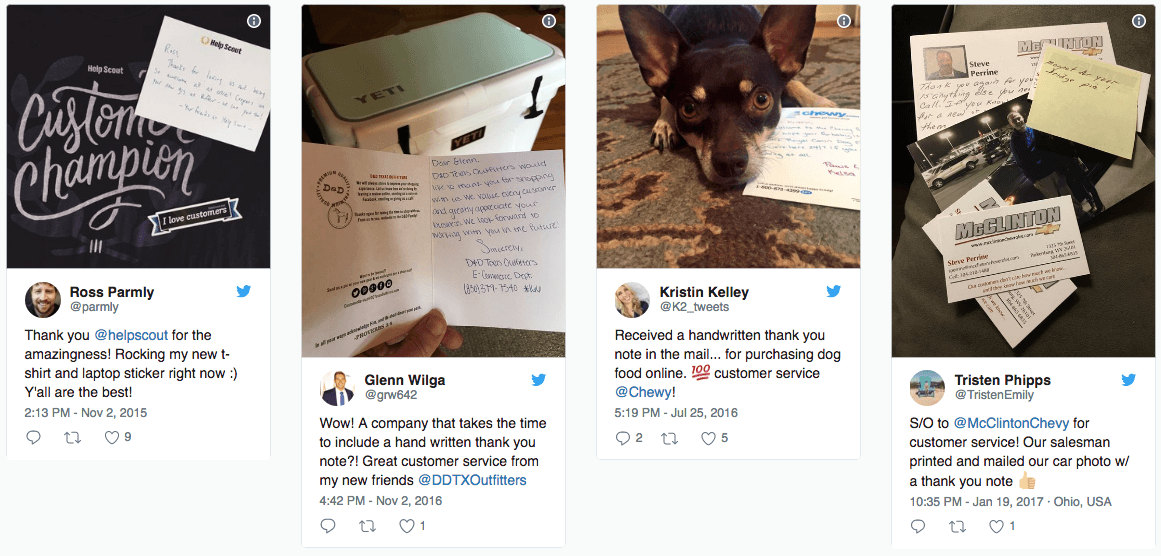 As Help Scout points out in 25 Ways to Thank Your Customers, "while 'thanks' has a nice ring to it, words just don't carry the gravity of actions."
They suggest that B2B businesses should make every effort to say thanks by sending business to their customers, and keep a look out for opportunities to refer them to other clients or link them into your network. You could also thank them with web traffic; link to their business on your website, including enthusiastic comments and your own testimonial.
Going out of your way to acknowledge a customer and thank them will not only humanize your brand, but also make them more likely to renew with you next year.
Ramp Up Referral Discounts
While you're in a giving mood and sales are low, it's a good time of year to rethink your referral program. When you're sending out holiday greetings, thank your customers for their loyalty and commitment to your business and offer them a bigger referral discount than usual to drum up extra business.
With a referral program, all you need is for each of your customers to bring one of their contacts to your business, and you've doubled your client base.
By bringing in more new clients, and having your current customers more actively engaged in your business through a referral program, you can increase your revenue numbers before 2017 ends — and get a head start on your 2018 goals.
Save Your Ad Spend — and Anticipate the Next Slump
Q4 is traditionally when retailers are pumping money into their advertising, so rather than compete with the B2C holiday noise, take a break and save your ad spend for when it will be more effective.
Instead, save your advertising dollars for late summer and early fall next year — ahead of the holiday season — so you can hit hard and score sales before the December slump hits. When your competitors are struggling to keep up during the holidays, you'll have made extra sales in the months leading up to help you ride out the wave until after the New Year.
During the holiday slump, it's a good time to start planning ahead for seasonal campaigns, including next year's summer sales and holiday promotions. Start by loosely plotting out your advertising calendar that describes the holidays and different events you want to target and what kinds of promotions you want to push — it doesn't take a lot of time and effort to throw around ideas, plus it'll save you some stress later on.
Make the Most of the New Year's Mindset
Humans are strange creatures. All throughout December, people eat, drink and spend money with wild abandon. It's the holidays! Being good can wait until next year!
Come New Year's Day, something funny happens. Everyone is suddenly on their best behavior because January 1 is the magical date when people become resolutely determined to work harder, be better, exercise more, and hit targets faster.
People start the New Year with good intentions and for businesses this provides a once in year marketing opportunity to help your customers keep their resolutions. No matter what you sell, if your'e savvy enough you can win new customers by catering to their sense of self-betterment with solutions that can help them cut excess resource waste, trim fat in the office, become more efficient and improve their productivity.
The 2018 Future is Bright
When used constructively, this time of year can actually be really useful for B2B companies. It provides opportunities to get in touch with your customers and thank them for sticking with you throughout the year (and reward them for it), plan ahead for next year and review your marketing and ad spend.
Plus, it's the perfect time to give prospective customers a nudge with gentle reminders that you can help them start 2018 on the right foot and help them get ahead with their business, while also helping your own.