Gone are the days when higher education marketing could rely on glossy brochures and academic reputation to attract new students. Millennials have learned from college dropouts like Oprah Winfrey and Mark Zuckerberg that a degree isn't your only path towards success or landing a well-paid job in modern industries where relevant skills and experience trump a college degree. However, the value of a college education is still undeniable and today millennials have access to expansive information on every university option out there.
So, what's a school to do in a world where the nature of student recruitment has changed so dramatically over the past couple decades? A world where students are more conscious of debt and are shopping around for their education? And the way students get information about potential schools has evolved in line with technological and social media advancements?
The fact is, higher education marketing really is no different to any other sector. Schools need to stand out from the crowd, and those that do get the jump on the competition and get their brand in front of students faster.
With the right mix of market research and strategy, you can set your school up for recruitment success. So in this post, I'll offer some food for thought to help set a foundation for your marketing efforts, and then cover the channels you should be focusing on.
And one quick tip before we jump in: make sure that you have a reliable hosting solution for your college or university's WordPress sites. Up-time and page speed are critical components to address before tackling any marketing initiative.
What's Your School's Story?
If you want to convince students to choose your school over others, you need to identify your value proposition. Put simply, your school's story.
When US News asked graduates why they chose their schools, it wasn't just academic reputation that swayed their decision — many chose based on how the school made them feel. For one law student it was the close-knit community of students and faculty, and for another nursing student it was the teaching program — and the opportunity to "sit poolside in Arizona soaking up some vitamin D while learning from the online program."
So what's your school's story? Why should students choose your school over others? What makes your school unique? Does it have a community feel? Does it have long standing traditions? Does it have famous alumni? Or even a beautiful location and great weather?
Check out Georgetown University's Georgetown Stories campaign. It's a documentary series following the lives of a group of undergraduate students throughout the academic year — classes, events, parties, lectures, hanging out with friends and everyday life, all told through videos, photos and social media.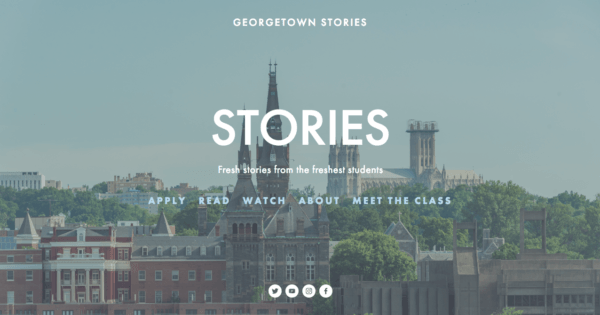 This campaign shows a "real" side to the school — actual students going about their everyday lives — giving prospective students a glimpse into what their own life could be like if they choose Georgetown. Storytelling in this way is hugely powerful, bringing the college experience to life and pushing all the right buttons that tap into the emotions of prospective students.
So think about your own school's story and what it has that other schools don't. Then start building your content marketing strategy from there.
Craft Compelling Content
Once you've got your story straight, you need to create your content.
Now, stock images and boring corporate language isn't going to cut it — your content needs to resonate with prospective students so you need to talk their language. It's important to connect on a personal level, so don't be afraid to use humor and a lot of creativity.
Be Desirable
You want prospective students to want to go to your school so you need to build desire. After all, choosing a university is a huge decision for students who are making a big investment in time and money — choosing a school is a big life decision.
You need to show students the benefits of choosing your school over others while putting any doubts they may have to rest.
Take Wellesley College, for example. With alumni including Hillary Clinton, Diane Sawyer and Madeleine Albright, the school sure has some heavyweight testimonials. Wellesley's This Is the Place campaign film leverages its alumni's success, using interviews interspersed with beautiful campus visuals, setting the scene for the opportunities the college provides.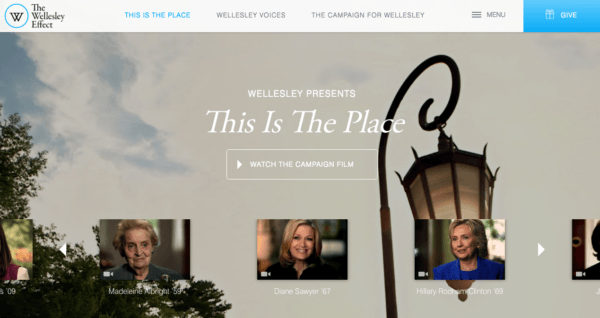 The campaign is hugely persuasive, especially for aspiring female leaders, because it tells prospective students, "if you study here, you will be successful just like these women."
Another great example of how a school has leveraged its alumnus success is Babson College. Its campaign The Entrepreneurs speaks directly to business students and aspiring entrepreneurs, capturing their attention with a slick Hollywood-style design.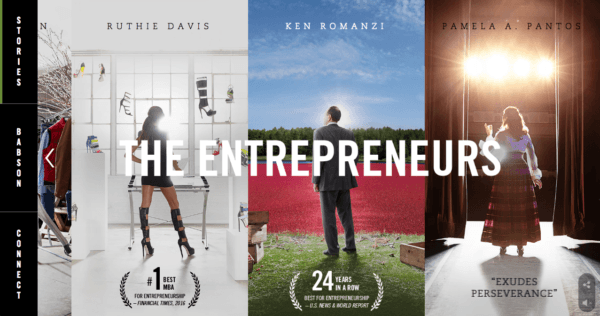 What does this campaign say to prospective students? "Study here and we'll put on you on a path to greatness."
Build Trust and Show Authenticity.
Creating content isn't just about telling stories. In a world where millennials value social responsibility, you need to build trust and show authenticity — your content needs to be genuine because young people will see straight through it if it's not.
The University of Roehampton did this exceptionally well with its #WeAreUR community engagement campaign. Students were encouraged to post their "best and most exciting" images on Instagram and Twitter with the hashtag #WeAreUR. The images that scored the most votes on social media won their photographer a University of Roehampton scarf.
What was great about this particular campaign is that it displayed an overwhelmingly strong sense of school pride. When you click through to the hashtag, there are plenty of photos of smiling students playing sports, taking part in lectures and winning prizes — really, just a lot of students winning because University of Roehampon students are winners, if their social accounts are an indication.
Georgetown University also wins (again!) with its Instagram account, which features stunning photos of its campus as well as brief interviews with its students. Lots of photos have obviously been submitted by students, which again shows school pride, but where the school really shines is the many photos and videos of its official mascot, Jack the Bulldog.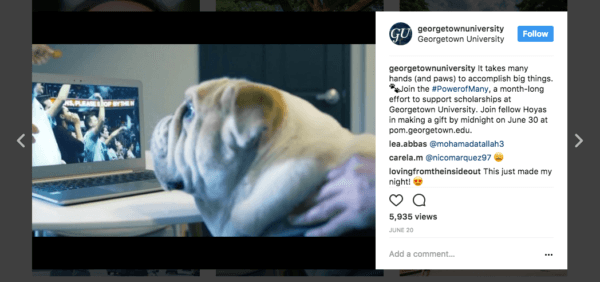 It's also worth mentioning the University of Cambridge and its excellent use of social media, in particular YouTube. The prestigious college puts its historical reputation as one of the world's oldest universities front and center in A Winter Waltz In Cambridge, a time-lapse video of a day in the life of Cambridge, which features views of the city and university.
The university also has a well-developed list of YouTube playlists that draw on the institution's rich history and academic research, further demonstrating its value for prospective students while sharing invaluable information about the university's discoveries.
Higher Education Marketing to Millennials
These days, you're spoilt for choice when it comes to marketing channels for your content. And one thing's for certain — if you're not online, you're missing out on a big chunk of prospective students.
Consider these stats:
Nine out of 10 students use the internet to research college and course options.
Four out of 10 students search for education options on their mobile phones.
Six out of 10 students use social media to research their colleges.
Obviously, the internet plays a massive role in helping students search for information about schools, so forget focusing your efforts on polished brochures. Your website needs to be on par with other colleges, but also needs to be responsive for mobile. And then you've got social media to keep in mind too. Your online efforts will continue to pay off throughout the lifetime of a student's studies, as Northwestern University can attest to.
WordPress has quickly become an important solution in the marketing and teaching tool-set of public and private universities. Here are a few of the colleges and universities running WordPress.
So let's take a look at the online channels you should be using and some more examples of schools that have nailed their digital marketing.
Social Media
Facebook, Instagram, Twitter, Snapchat — these are the platforms that young people are using everyday, at least right now. Facebook continues to dominate social media use among teens with 71% using the site, while half of teens use Instagram and four-in-ten use Snapchat, according to the Pew Research Center.
Many schools have taken to sharing on social media channels exceptionally well, and it's not exactly hard to do when you can make the most of photos students are already taking on campus. When sharing on social media, it's important to share meaningful content that tells positive and inspirational stories about your school.
An excellent example of a school that has really mastered Instagram is West Virginia University. Not only is the school's account jam-packed with gorgeous photos of the campus and sites nearby the school, but the college's branding is everywhere, from donuts celebrating International Donut Day to underwater shots and even a student submitted photo taken on Mt Kilimanjaro. I also really like how there is a lot of seasonal content, celebrating occasions like Valentine's Day and Halloween. The main take away when scrolling through West Virginia's Instagram photos, however, is that every photo screams school pride.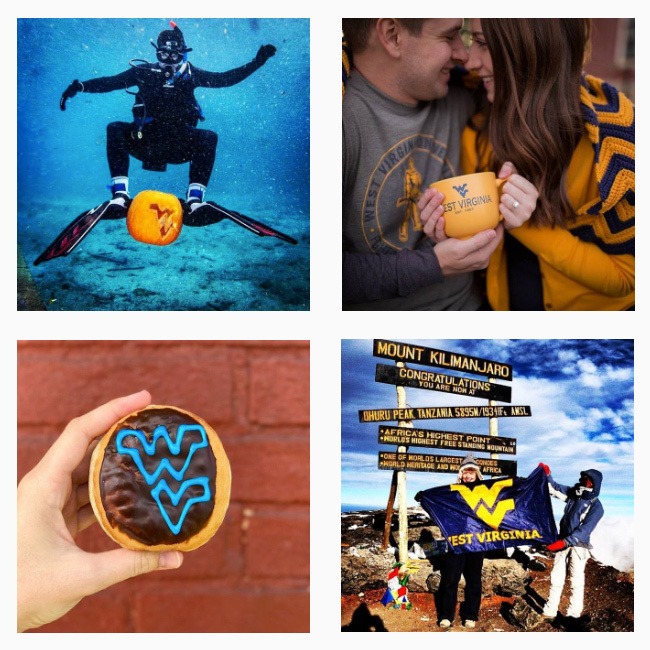 Dedicating time to your Instagram account can benefit you in more ways than just a brand presence on the platform itself. Consider adding your Instagram feed, full of curated images you want your prospective students to see, right onto your website. If you have a WordPress site, it's easier than you might think. Here's a complete guide to displaying your Instagram feed right on your website.
Blogs
Blogging is a powerful way to share stories — the Georgetown Stories example above is a perfect example. But the problem with blogs is that it's easy to start out with good intentions, publish some fantastic content early on, but after the initial excitement wears off, fall off the bandwagon and then abandon the blog altogether.
Blogging is a time investment because it involves a lot more than simply sharing an image. Lawrence University's Admissions @ Lawrence blog is a great example of a simple blog that is updated only when necessary and does what it promises to do — pulls back the curtain on the "shrouded in mystery" admissions process, providing lots of helpful information with a healthy dash of humor.
Yes, it's a simple blog with a very simple (WordPress!) design and yes, posts are published infrequently. But the content is well-written, informative, packed with handy tips, and also works to reassure students who are confused about admissions. Want to make blogging easier? Here's 9 reasons you should use WordPress.
Mobile Content
Twenty four percent of millennials spend "nearly all" of their online time on their smartphones, while 27 percent spend "most" of their online time on their phones. And those figures are unlikely to drop as mobile phone use, and in particular accessing internet pages online, continues to grow.
Last year, Google announced it was experimenting with making its index mobile-first, which means creating and ranking its search listings based on the mobile version of a website rather than the desktop version. While this SEO change hasn't been rolled out properly yet, it's a strong indication from Google that websites need to be mobile-friendly.
So if your school doesn't have a responsive website, you'd better get onto that right away.
Apps
If you've got the budget, creating an interactive app that provides important information like campus timetables and admissions information can be an effective way to communicate with prospective students.
Leeds Beckett University, for example, provides new students with valuable tips and reassuring messages as part of its 100 Days To Go Freshers Countdown. Not only is the initiative helpful for students, it also promotes the college's platforms and services.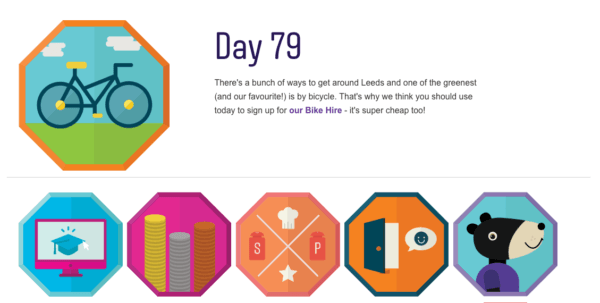 Another rather ambitious app example is the University of Salford's Tinder-inspired Match Made in Salford, which enables prospective students to swipe left or right while deciding on a potential course. The courses in the app are all personalized recommendations based on the student's grades, course and career goal.
Conclusion
Higher education marketing is certainly in a completely different place today to where it was 10 or 20 years ago. For marketers, millennials are an ever-moving target, switching from one social media platform to the next. But if you push your content to the right social channels, personalize what you publish and ensure it's meaningful, you're on the right track.
Hopefully, after checking out all the examples in this article you're feeling inspired — and ready to share your school's story with future students.