WooCommerce vs. Shopify: which should you choose for your ecommerce business?
Unlike in years past when you had to hire a developer to build an online store for you, there are now a number of services that allow you to build an ecommerce store with little to no knowledge of coding.
When it comes to building your ecommerce store, there are two that really stand heads and tails above the rest: Shopify and WooCommerce. These are the two most popular ecommerce platforms for a reason.
But which is the best ecommerce platform? If you read the reviews, both seem pretty good. They both have glowing reviews. They both have people recommending them. How can you know which is right for you?
That's where we come in. We're going to break down everything you need to know about Shopify and WooCommerce, and give you some recommendations on which is more appropriate for specific situations. This can help you a lot if you're trying to zero in on what makes one solution better or different than the other.
We'll break this down in detail below, but long story short, here's what you need to know:
Shopify vs. WooCommerce:
Both platforms are outstanding ecommerce options that offer similar features and functionality.
Your choice will probably depend on differences in pricing models between WooCommerce and Shopify.
Shopify is fantastic for those new to ecommerce or those who want a turnkey solution.
WooCommerce is perfect for those who want full control over their ecommerce store and also want the power of WordPress.
But let's go a little deeper. By the end, you'll be ready to start building your own ecommerce store.
WHAT IS SHOPIFY?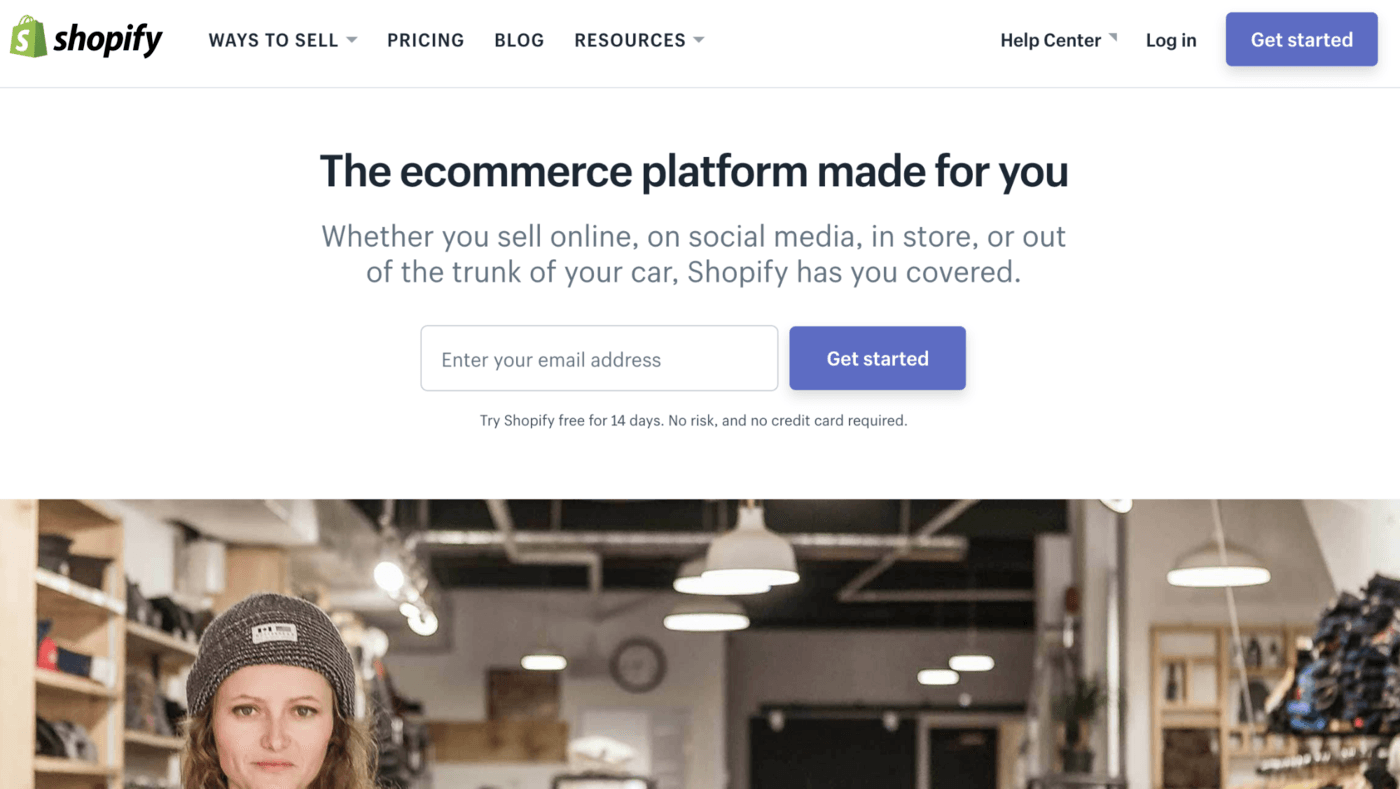 First things first: what is Shopify?
Essentially, it's an online tool that enables you to build an ecommerce store without doing any coding.
You don't need to hire a developer, and if you get stuck on any of the steps, Shopify will guide you by the hand. And, there's a huge community of Shopify users and experts out there willing to help if that's not enough.
With Shopify you can sell all sorts of products, including physical items, digital downloads, drop shipped products, and even services. If you have a brick-and-mortar store, you can integrate it with your Shopify store thanks to their Point-Of-Sale devices.
If you're new to ecommerce or simply want a simple, turnkey solution, Shopify is certainly a solid option. It allows you to get up and running really quickly.
WHAT IS WOOCOMMERCE?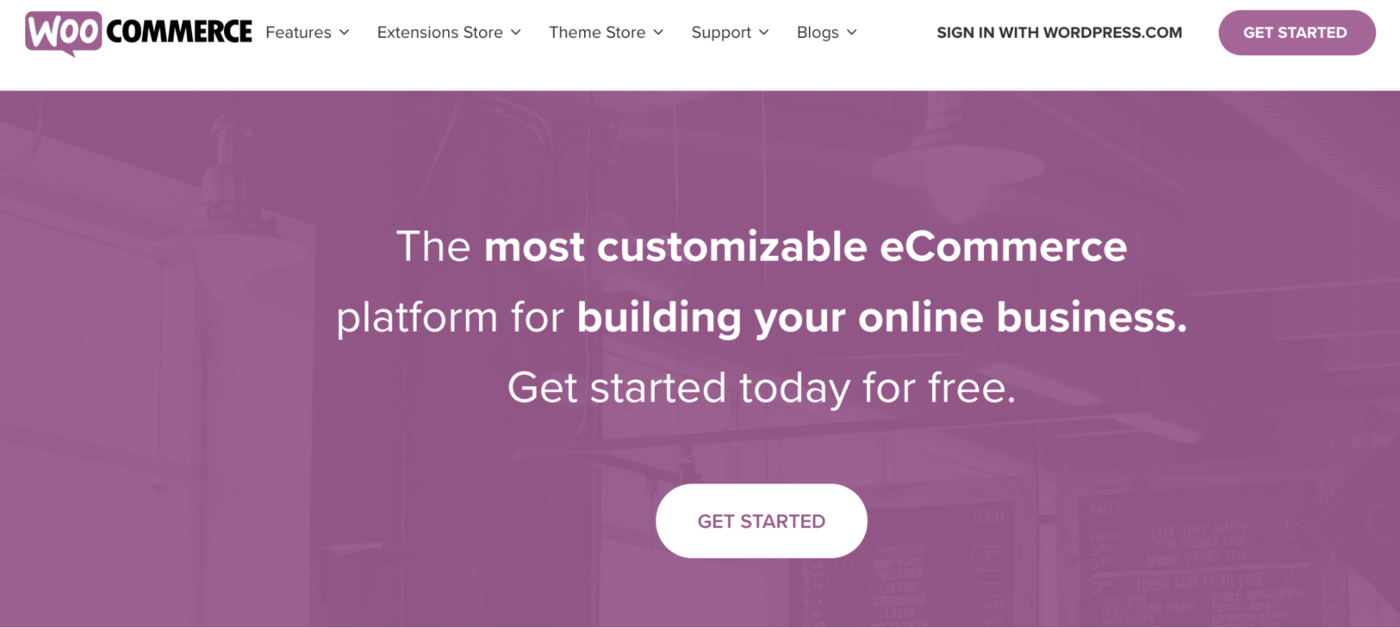 In order to understand WooCommerce, you need to understand WordPress. WordPress is a massively popular, open-source website building platform. It's so popular that it's estimated that WordPress runs 28.9% of the internet, including some of the biggest sites out there. You can be sure that if more than ¼ of the internet uses WordPress, it's got some things going for it.
However, WordPress wasn't built specifically with ecommerce in mind. Rather, it's designed to be an all-in-one solution for creating and managing content with a dynamic website. Part of the reason WordPress is such a popular CMS is because it has an extensive ecosystem of add-ons called plugins. These plugins extend WordPress's functionality in new and exciting ways allowing it to do much more than just publish blog posts.
That's where WooCommerce comes in. WooCommerce is a WordPress plugin that adds a host of ecommerce features to any WordPress site, including things like a shopping cart, product pages, inventory management, etc.
WooCommerce stores are free to create because both WordPress and the WooCommerce plugin are free. Yes, you will need to spend a bit of money on things like WordPress web hosting, but you have that expense anyway if you already have a WordPress website. If you're not already using WordPress, then the cost of web hosting becomes a bigger factor in your decision. That's an additional expense you do not have to worry about with Shopify.
EVERYTHING YOU NEED TO KNOW ABOUT SHOPIFY
Now that you know a little bit about both services, let's explore Shopify to give you a good feel for the service.
DESIGN OPTIONS
If your site doesn't look good, people won't want to buy from you. Your site can't look like it was designed during the Geocities era or by someone who really loved MySpace. It needs to look professional, clean, and be easy to navigate.
Without these elements, you can be pretty sure you won't succeed in ecommerce.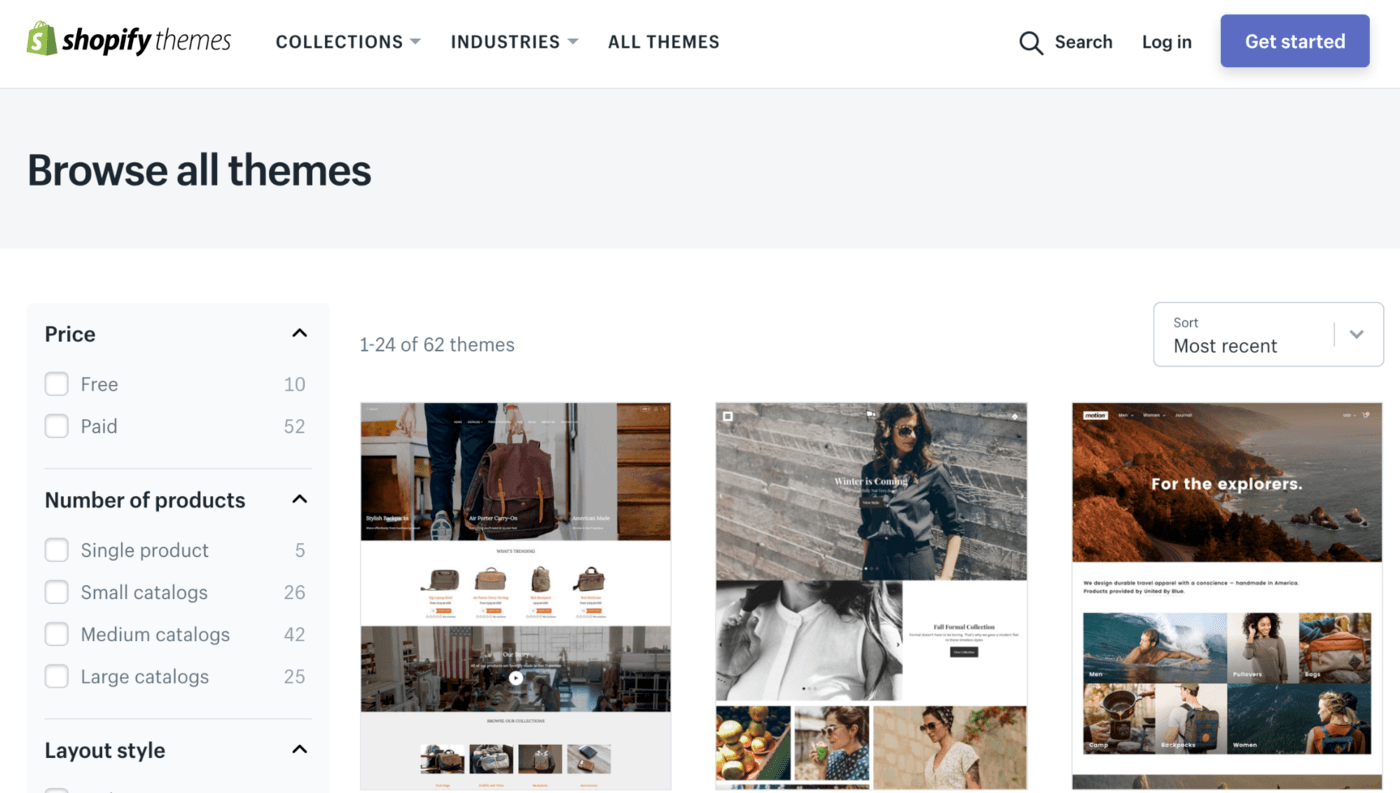 Shopify offers more than 50 different, professionally designed store themes. Ten of these themes are free, with the rest usually costing between $140-$200. The themes are professionally designed and allow you to easily customize the look and feel of your shop.
Shopify outsources all theme design to professional developers who ensure that the themes stay appropriately updated. This is both an advantage and a disadvantage. The advantage is that the theme always stays fresh, but the disadvantage is that they can cost quite a bit.
Shopify makes it pretty simple to change most of the design options on your site, like colors and styles. You can also easily update your site with new items and even change your theme completely. If you're preparing for a new product launch, you can edit sections of your store without taking it offline.
If you're an advanced developer, you can use Shopify's specialized 'Liquid' language to make more significant changes. This isn't necessary; only if you want to really go deep into your site.
PRICING OPTIONS
Shopify is Software As A Service (SaaS) so they offer several pricing tiers that give increasingly more features as the monthly price goes up. The tier you choose determines which options are available to you.
The most popular pricing package for Shopify will cost you $29/month, and they also have a number of other options:
Lite ($9 per month)
Basic Shopify ($29 per month)
Shopify ($79 per month)
Advanced Shopify ($299 per month).
On top of these monthly fees, you will also pay transaction fees every time you sell something. Shopify takes a cut of every transaction, and if you're using a payment gateway like PayPal or Stripe, there will be additional transaction fees from them.
Because transaction fees vary and change depending on the payment gateway you choose, you'll want to look into all the details to determine how you want to handle that aspect.
SHOPIFY FEATURES
Shopify offers a robust set of features right out of the box, including:
Unlimited products
Unlimited file storage
Automatic fraud analysis
Embedded Oberlo integration
Credit card payments
Multiple languages
Adjustable shipping rates and taxes
Customer profiles
Drop shipping capabilities
Manual order creation
Discount codes
Blog module
Free SSL certificate
Mobile commerce optimization
Editable HTML and CSS
Daily backups
Site stats and product reports
Fully featured mobile app
Product importing via CSV files
Different product variations
Print orders
SEO-ready site structure
Individual product reviews
Facebook selling module
Social media integration
Physical and digital products in the store
Unlimited traffic to your store
Again, Shopify's goal is to be a turnkey product that allows you to quickly and easily build an ecommerce store. Including all these features ensures that you have everything you need to build your store.
With Shopify, you can extend its base features using plugins called Shopify Apps. With Shopify become such a popular ecommerce solution, there's a large ecosystem of third-party apps available to create advanced functionality like sophisticated email marketing, advanced financial and inventory analysis, and much more. If there's a need, chances are there are already several apps that solve that problem.
Shopify also offers an Enterprise-grade solution called Shopify Plus. You probably won't need the power and features of Shopify Plus right out of the gate but it's nice to know that they can continue to support your store as it grows.
EASE OF USE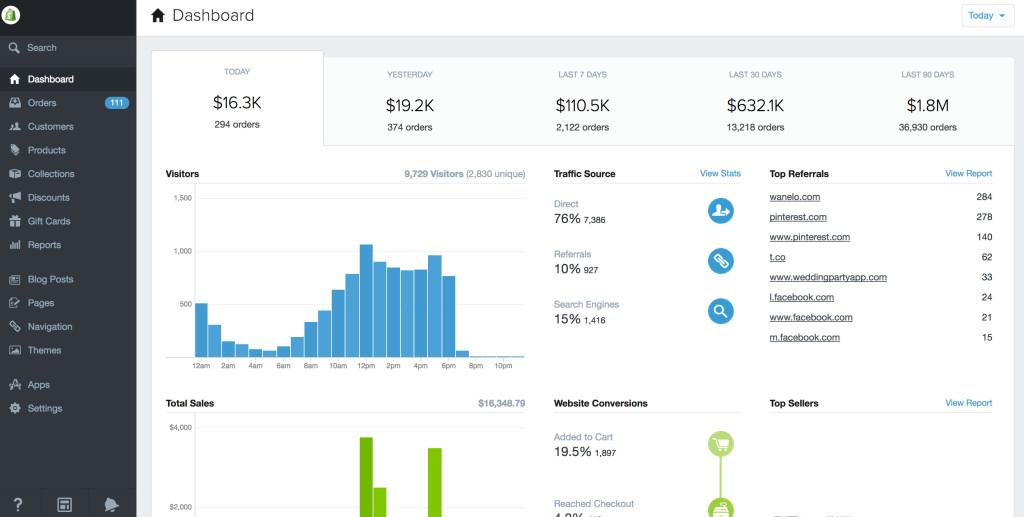 One of Shopify's greatest strengths is ease of use. It's intentionally designed to make things quick and easy. All you need to do to get started is go to Shopify.com, go through the signup wizard process, and you're done.
After that, you can take your store live and begin selling. It's really that simple.
The Shopify dashboard makes it easy to get a feel for your store performance, as well as any issues you need to be aware of. It's also easy to adjust settings like shipping, taxes, handling new orders, giving refunds, and more.
For example, when you're adding a product to your Shopify store, every option is available on a single panel so you don't have to visit multiple spots on your dashboard when adding new products. This means you don't have to hunt in multiple places for all the things that need to be included (description, specs, shipping, etc.) when you bring new products to market.
If technology is intimidating to you, Shopify does everything they can to make things easy.
CUSTOMER SUPPORT
Because Shopify wants to be an all-in-one solution, they make great efforts to offer first class customer care. You can reach a customer care specialist at any time, 24/7 via phone, email, or live chat.
They also has an extensive knowledge base that contains solutions to many of the most common problems.
If you're worried about getting stuck or running into a problem, Shopify wants to set your mind at ease.
SHOPIFY SEO
Basic SEO practices like meta data and site copy are no problem with Shopify. Assuming you're adding sufficient descriptions for products, home page copy, and other SEO-related items, you should be fine.
And when it comes to design, Shopify themes have a reputation for clean code and natural linking structures, both of which are important for search rankings.
Because Shopify stores are hosted on their massive infrastructure, pages load fast, which is another important element for SEO.
The only downside is that if you want to add a blog, it needs to be hosted on a third-party like WordPress.
EVERYTHING YOU NEED TO KNOW ABOUT WOOCOMMERCE
Now that you have a solid feel for Shopify, let's explore WooCommerce. WooCommerce offers the same functions as Shopify with one key advantage: control.
Because Shopify stores are built on the Shopify platform, you are limited in what you can do. You're limited to their themes and their selling options. With WooCommerce, on the other hand, your options are almost unlimited because you're building on the WordPress platform, which has thousands of themes and plugins, all of which can enhance your store.
With Shopify, you don't own your site. You get your own URL, and you're spared the fee of hosting, but you're restricted only to what Shopify allows you to do. This straightforward approach works well for eCommerce beginners (and lazy entrepreneurs), but not for those that prefer a hands-on approach.
By contrast, WordPress and its WooCommerce plugin are tools to facilitate building your own site. You have much more options, vast libraries of plugins to customize your site, and more control in general — especially when it comes to site design, which we'll discuss below.
Think of it like this: You're building a house and you have to choose between two construction crews. One lets you design the plans however you want, but the other comes with a rigid architect who tells you what you can and can't do.
DESIGN OPTIONS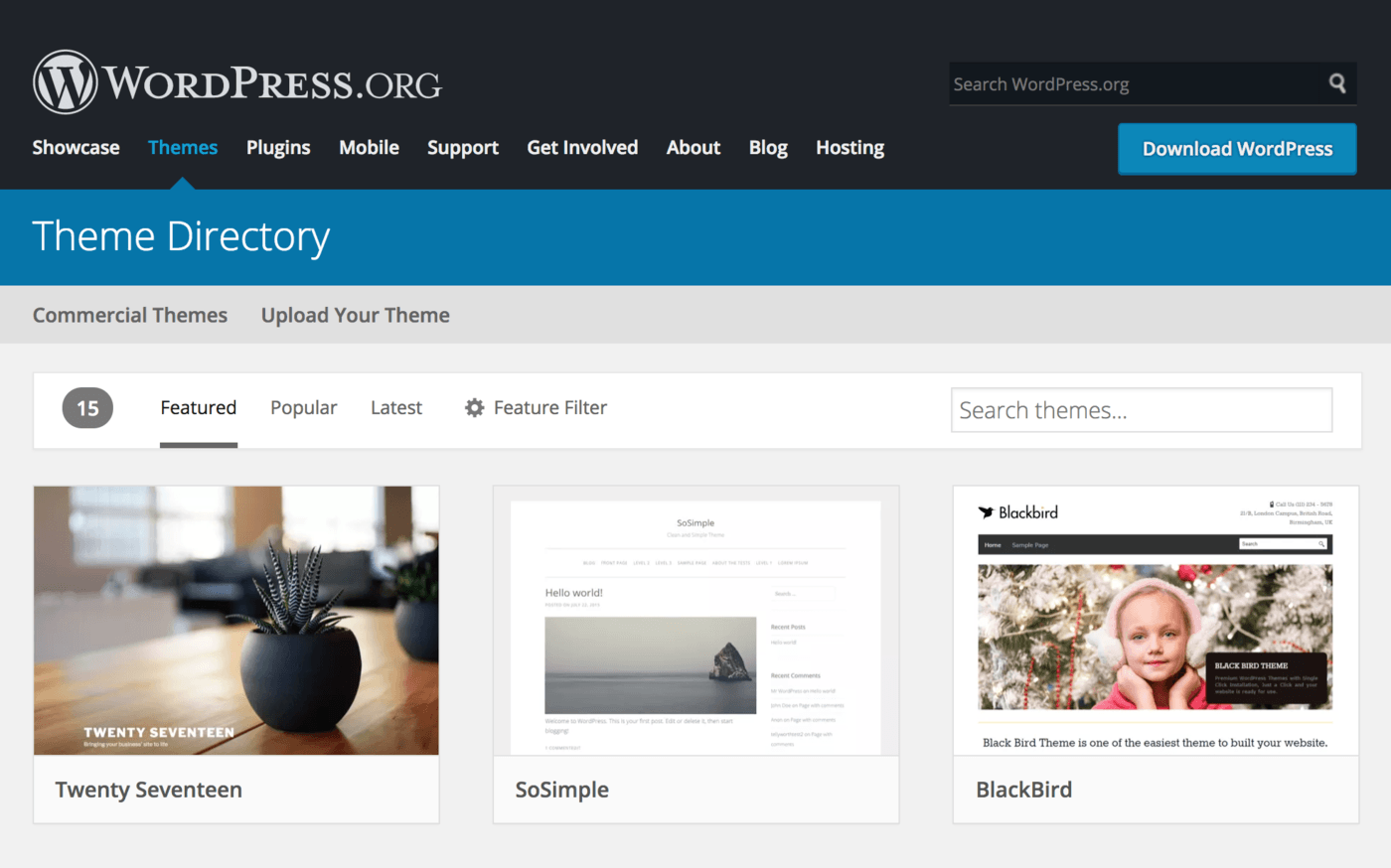 WooCommerce has been designed to work with the majority of WordPress themes, which means that your design options are essentially endless. There are many free themes available and thousands of top-quality premium themes to choose from. If you already have a WordPress site and a theme you like, WooCommerce can probably work with it. If you're just getting started, you should pick a theme that advertises WooCommerce compatibility to ensure all its ecommerce features display correctly.
There are themes that have been built specifically for WooCommerce, so if you're having trouble selecting a theme, these are always a solid option. The Storefront Theme is the official WooCommerce theme and is a fine choice for your ecommerce store.
While Shopify has an impressive range of themes, WooCommerce can be incorporated into any WordPress theme, in addition to its own library. That gives it far more variety, not just in template design, but in site features.
Think about it. With WooCommerce, you can integrate any WordPress plugin into your eCommerce site. This creates a nearly infinite selection of possibilities.
Of course, this means you have to put more time into designing your site, and not all plugins are free. Most of the Shopify themes are well designed, and if you have no desire to mess with design, then Shopify might be a better option.
PRICING OPTIONS
Both WooCommerce and WordPress are free. However, you will need to purchase a few things like web hosting, a domain name, a theme (if you choose a premium one), and any premium plugins you might use.
Additionally, you'll need to factor in the transaction fees from your payment gateway. Thankfully, these will only come into effect when you make a sale.
When it comes to price, WooCommerce is at least initially, the cheaper alternative. However, if you start purchasing premium themes and plugins, your costs will go up. Depending on the Shopify plan, you could end up paying about the same amount.
FEATURES
WooCommerce can do anything that Shopify can do, and then some. While it doesn't necessarily have all the features Shopify has right out of the box, you can be sure that someone has developed a plugin for whatever feature you need and there will probably be several different options to choose from. You'll find plugins for everything from abandoned cart functionality to inventory management. You can fine-tune your checkout page and add in sophisticated marketing automation features. If there's a need, there's a plugin. In the event you need some very specific functionality and a plugin doesn't exist, you'll find that there's an ocean of experienced WordPress developers that would be happy to create that plugin for you.
Whether you want to sell on Facebook, implement email marketing, or study your customer's behavior, WooCommerce can do it.
Here's what you'll get with WooCommerce:
Hundreds of plugins
Runs off of your WordPress theme
Payments via PayPal and Stripe built-in
Adjustable shipping rates and taxes
Complete control over your website and its data
Facebook ad and Facebook stores extensions
Unlimited products and categories
Inventory control
Mobile-friendly structure
WooCommerce does a lot right out of the box and it's free. It's free core features are very similar to Shopify's paid plans. This might make it seem like a much more affordable option, and it very well may be, but you should be mindful of the fact that in order to get advanced ecommerce features you may need to buy paid plugins.
EASE OF USE
Once you get through the initial steps of setting up a WordPress site, working with WooCommerce is just as easy as working with Shopify.
The initial setup isn't difficult, but it does take a bit longer and involve a few small technical details. If you're uncomfortable when it comes to technology, you could have trouble at this step, but it's really not difficult.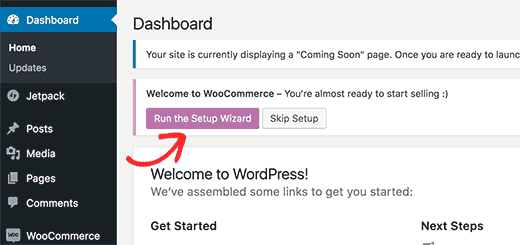 To get started with WooCommerce, you need to:
Buy your domain name.
Purchase web hosting.
Install WordPress.
Install the WooCommerce plugin.
Install any additional plugins needed.
If this intimidates you, there are hosting companies that specialize in WordPress that will take care of everything for you. Some companies even have 1-click WordPress and WooCommerce installation options, meaning you can get your store up and running with minimal technical work.
Once your site and WooCommerce are up and running, you'll be taken through a setup wizard. It will help you set up things like currency settings, shipping options, payment gateways, and more.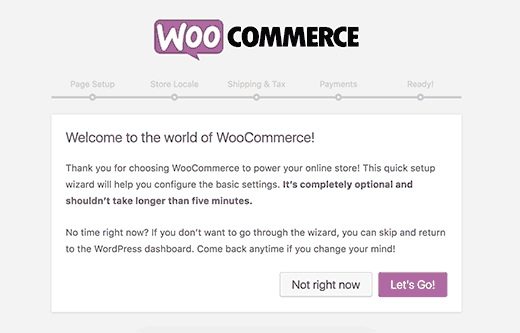 And like Shopify, WooCommerce makes it very easy to add new products. It usually can be done with a few clicks, meaning you don't have to spend hours trying to get new products into your ecommerce store.
SUPPORT
One downside of WooCommerce is that, unlike Shopify, WooCommerce doesn't have a central customer support staff. However, this doesn't mean you can't find solutions to your problems.
Because WooCommerce is a WordPress plugin, you can get support on their forums or by creating a free account at WooCommerce.com.
Additionally, Because WordPress and WooCommerce are open source, the developers who create the themes and plugins are available for support if you run into any issues.
WOOCOMMERCE SEO
This is one way that WooCommerce significantly outperforms Shopify. Hands down, WordPress is the best platform for blogging, which gives it a significant advantage for SEO. In fact, it's not uncommon for Shopify sites to host their blogs externally on WordPress. Using a WooCommerce site on WordPress means consolidating these two crucial segments of the same brand.
WordPress's blogging capabilities encapsulate both a comprehensive CMS for content management and specific SEO concerns like meta data. Again, good SEO requires effort, but with WooCommerce on WordPress, the option is there for those that don't mind the legwork.
If you write outstanding blog content for the right keywords, you have a good shot at showing up on the first page of Google for particular searches, which can drive a massive amount of ecommerce sales.
SO WHICH SHOULD YOU CHOOSE?
Ultimately, the choice between Shopify and WordPress comes down to what you want out of your ecommerce store.
Let's break it down like this:
CHOOSE SHOPIFY IF…
Shopify distinguishes itself by being a really simple ecommerce solution for everyone. Anybody with the most basic computer and internet skills can create a Shopify store relatively quickly. It's a simple, powerful turnkey solution that works right away.
If the primary thing you're after is simplicity and ease of use, Shopify can provide that. The setup is quick and easy and have a single dashboard that presents you with all the information.
You should use Shopify…
If you don't have a website and you want to get an ecommerce store up and running as fast as possible with minimal effort.
If you don't mind paying a fee for all the features, even if you might not need them all.
If you don't care about the technological side of your ecommerce platform and just want it to work well and look good.
If you are uncomfortable working setting up WordPress and don't want to pay anybody to setup your store for you.
If you want a turnkey approach where all you need to do is sign up and follow a few simple instructions.
If you think you'll depend heavily on customer support.
CHOOSE WOOCOMMERCE IF…
WooCommerce takes advantage of the hugely popular and powerful WordPress platform. Because of this, you get access to thousands of themes and plugins that can really make your ecommerce store shine.
In terms of ecommerce, WooCommerce can do everything Shopify can, including coupons, shipping, taxes, and a lot more. You also have significantly more SEO options at your disposal with WooCommerce.
An important concern to consider with WooCommerce, that you don't have to worry about with Shopify, is choosing the right hosting provider for your website. Shopify handles this for you but you'll want to be sure you find an experienced WordPress host that's familiar with the unique technical, security, and maintenance needs of WordPress sites. In the world of web hosting, you generallly get what you pay for so don't bargain shop on something as important as ecommerce hosting.
You should use WooCommerce…
If you want full control of your eCommerce store.
If you to enhance your store with thousands of site designs and plugins.
If you can handle the technical work required upfront to get your site up and running.
If you're one of those people who likes to do everything on their own.
If you have a smaller budget.
If you already have a WordPress site and want to build your store on top of it.
If you already have a WordPress site and don't want to add the additional cost of Shopify.
If you can survive without 24/7 customer support.
CONCLUSION
Honestly, WooCommerce and Shopify are both outstanding options for building your ecommerce store. If you're already familiar with WordPress, you might find the learning curve on WooCommerce more palatable than having to learn the ins and outs of a completely new CMS.
Whichever you choose, the end result will still be a fully functional ecommerce store that can accept payments and process orders.
So the real question is, "What are you waiting for?"
The world needs another Amazon. Go create one!