These three steps will help you determine the best WordPress business themes for your website. In this article I'll dive deep into each step so you know exactly how to go about evaluating and understanding your needs and options.
Evaluate your WordPress Business Site's Needs
Understand the Risks of Using WordPress Business Themes
Evaluate the Quality of WordPress Business Themes
The Lowdown on WordPress Business Themes
I used to think that using free WordPress themes from the repository was the smart way to go. There's no cost to use them, you can try out as many as you'd like, and they're all vetted by WordPress experts. What could go wrong?
However, let's say you find a free WordPress business theme that seems fine enough for now. Then you realize it won't allow you to add high-resolution featured images to your blog posts or that it's not compatible with a WordPress plugin you need to use. So, you either dig in your heels and try to customize the theme with some CSS coding or you go back to the repository and start the process over again.
But all that takes time. And time equals money in business.
So, you think, "I'll buy a premium WordPress theme from a marketplace." Those are guaranteed to be well-made and feature-packed, right? Well, that may be the case, but there's also the chance that the builder tool within it sucks or that support is non-existent, and then you're stuck with a cool-looking theme that's difficult to use.
No matter which way you go, finding, installing, and implementing WordPress business themes on your website could require a hefty investment from you. Do you really want to gamble with something as costly as that? Probably not.
So, let's talk today about how to thoroughly evaluate a WordPress business theme for your site. Specifically, I'm going to look at:
What you need from a business theme.
Why you need to understand the risks of using a WordPress theme.
How to evaluate a WordPress business theme using the information you're given.
Step 1: Evaluate Your WordPress Business Site's Needs
First and foremost, we need to talk about you or, rather, your WordPress site. If you don't have a solid understanding of what your website needs in order to be successful, then the process of searching for a WordPress business theme–let alone evaluating one–will be a struggle.
Use the following questionnaire to document what your site (and business) needs. You can use these questions as a process of elimination as you sift through the WordPress business themes in the next steps.
How much do you want to pay?
Funds are tight. I'd like to get this for free!
I can probably swing $100 a year.
Money is no object.
What sort of website are you building?
This is for a personal business.
This is for an enterprise or agency.
This is a news site.
This is for a retailer.
This is for a business in hospitality.
This is for an educational institution.
This is for a healthcare-related business.
This is for a digital solutions or software provider.
This is for a multi-chain operator, which means I need multiple websites from this theme.
This is for a non-profit.
Other.
How do you want to maintain your theme and website?
What kinds of content do you plan to host on your WordPress site?
A few images on every page to promote my services.
Digital content like whitepapers and e-books for download.
A gallery of images for every product sold in the store.
Images and video for every blog post published.
Animation, video backgrounds, streaming podcast audio, the works!
How important is SEO to you?
This is a private site so it doesn't matter.
SEO is somewhat important to me.
SEO is very important to me.
What types of conversions will you need?
Contact forms
File and other content downloads
Blog subscriptions
Services purchased
Products purchased
None
Are there any third-party integrations that you require?
I want to connect my CRM to collect leads.
I need my contact forms to link to my email marketing software.
I'm going to use a payment gateway to process all transactions.
I want users to be able to schedule appointments or reservations.
My online store needs to use top-of-the-line marketing tools like pop-ups and abandoned cart reminders.
I just want to be able to use standard WordPress plugins for security, performance, and SEO.
Are there any other features you need your WordPress theme to include?
Accessibility
Multi-language support
Advanced marketing (including affiliate and paid marketing)
Blog or news support
Membership signups
Other
Step 2: Understand the Risks of Using WordPress Business Themes
There's a lot that can go wrong when you choose the wrong WordPress business theme for your website.
Performance – As page abandonment rates increase with each additional second visitors are made to wait, a poorly-coded or feature-packed WordPress theme could have a negative impact on your site's speed.
Features – Then again, if a WordPress theme doesn't come with enough built-in features for your needs, you may have to supplement with plugins and potentially compromise performance that way.
User-Friendliness – Want to custom code with CSS? Or would you prefer a theme that's ready out of the box? Suffice to say, not every WordPress theme is designed to be intuitive for all users.
Design – WordPress themes can start looking dated only a year or so after release, which is an unfortunate side effect of the rapidly changing web design landscape–and means more work for you if the theme developer doesn't keep it updated.
Security – Based on trends detected in the WP Scan Vulnerability database, WordPress themes are responsible for 14.3% of vulnerabilities in WordPress websites.
Responsiveness – With Google announcing a new initiative to index web pages based on the mobile experience, responsive design really shouldn't be optional for WordPress themes anymore… but that's not always the case.
Conflicts – WordPress themes are no different than other kinds of web applications and software, which means they can conflict with other tools used on your site. Like plugins or web hosting tools like SSL certificates. (Check with your web hosting provider if you run into any issues.)
This is why it's important to not only find a WordPress business theme that looks and works great for your site, but one that won't cause you the extra headache of dealing with these problems. There are a number of ways in which you can spot these common theme issues before pulling the trigger, which is what we're going to cover next.
Step 3: Evaluate the Quality of a WordPress Business Theme
This final step is all about evaluating the quality of a WordPress theme from all angles–and not just taking a theme developer at his or her word. This is not to imply that new or unrated themes aren't worth trying. However, you have to think about this like any other smart business investment. If this theme is meant to represent a business–or at least serve as the online face of the brand–then you can't afford to roll the dice on this.
How to Evaluate a WordPress Business Theme
When it comes to finding a WordPress theme, there are generally three locations in which you can do so: the WordPress theme repository, a premium marketplace, or from a third-party developer's site.
Reviewing the quality of a theme from the repository or marketplace is fairly straightforward as great pains are taken to provide users with all the details they need to make a decision. Getting one from a developer's website is a little trickier. For now, let's focus on how to use the explicit information provided to evaluate and choose the right WordPress business theme for your site.
This is the WordPress theme repository. It's home to WordPress-vetted and free themes: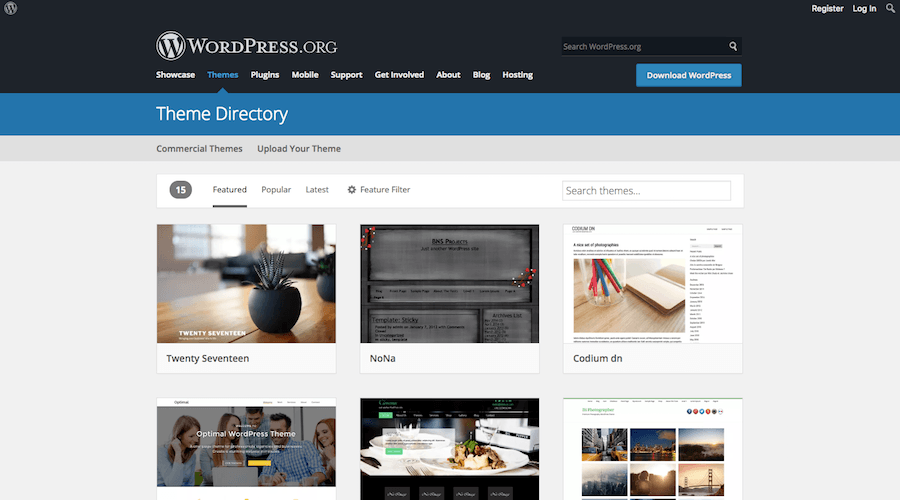 When searching in the repository, be sure to use the Feature Filters function. This will help you conduct a more granular search to start: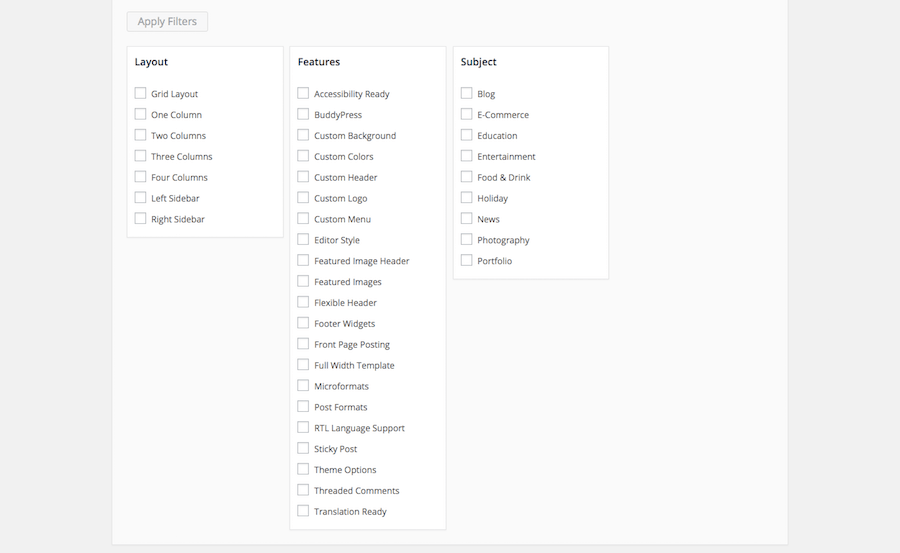 The ThemeForest Envato Market is an example of a theme marketplace you can peruse: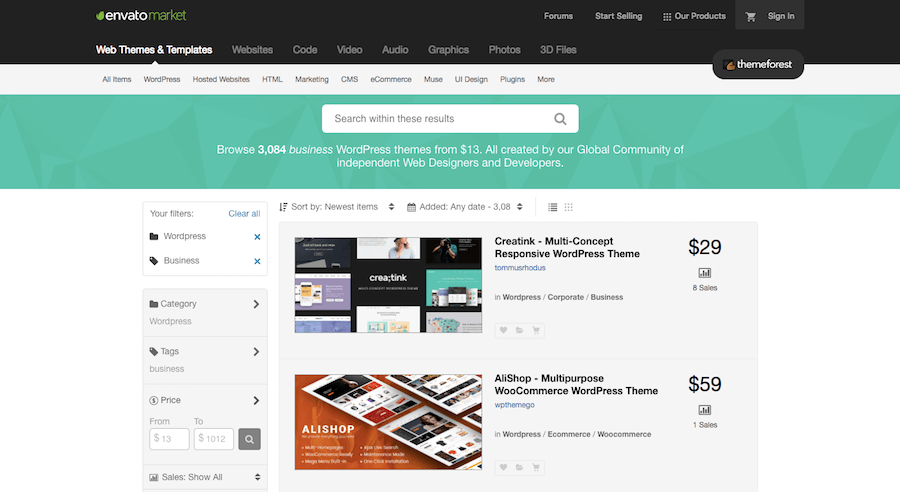 Once you've sifted through the options and found a WordPress business theme you're interested in, then it's time to start evaluating. Here is what you need to look at:
Developer Reputation
The first thing to look at is the theme developer.
In the repository, click on their name and take a quick glance over their previous themes.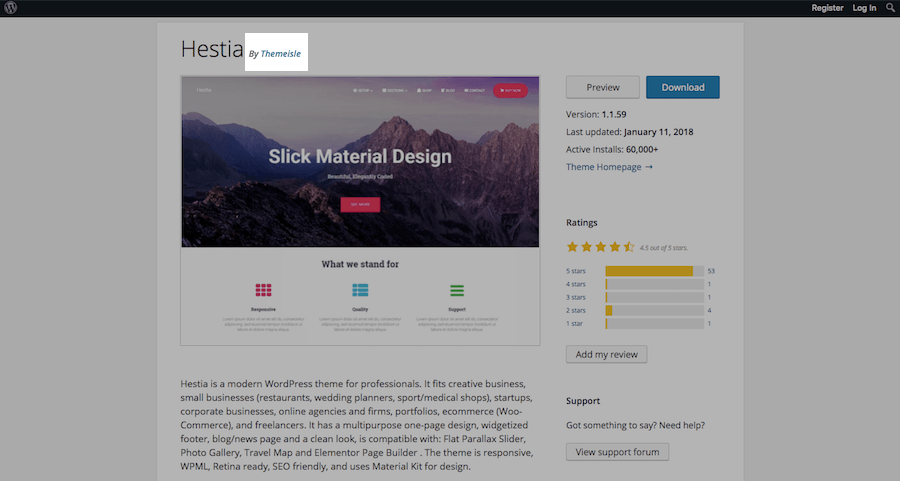 In the marketplace, first check to see if they have any special accolades (like this "Power Elite" author status). Then check their portfolio.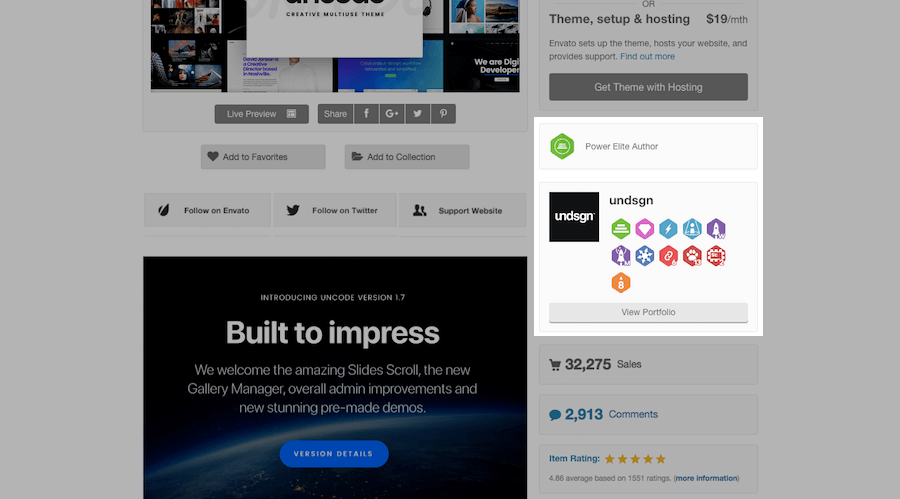 Do the other themes look just as impressive and modernly designed as the one you've chosen? You should also do a quick search for the developer's website. You can tell a lot about the WordPress theme by how nice the developer's own site has been designed.
Active Installs
While you don't necessarily want to use a WordPress business theme that everyone else uses (for the sake of having a unique web presence), you also don't want to use a theme that hasn't been used or vetted by other WordPress users. This is simply a matter of social proof: if enough users have been satisfied with the theme's performance, then you should be, too. As a simple baseline, you could look for themes that have been installed over 5,000 times.
In the repository, you can find this information under Active Installs.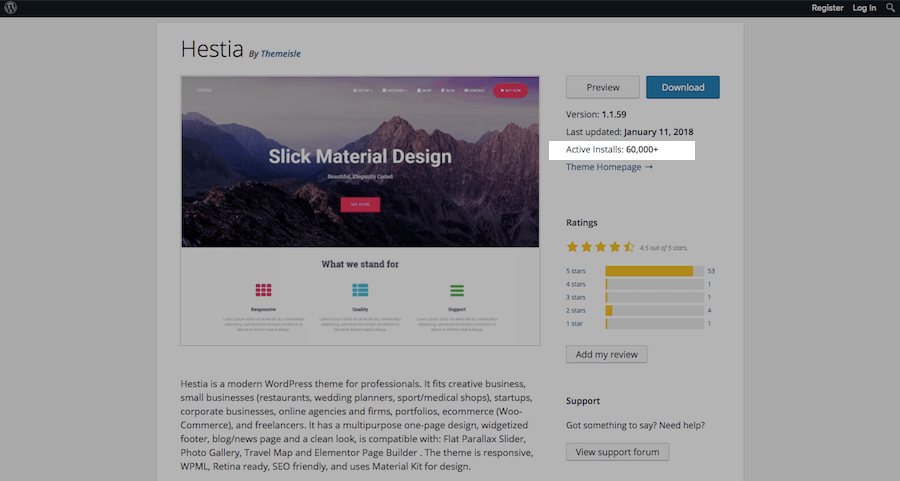 In the marketplace, they'll likely just call it Sales.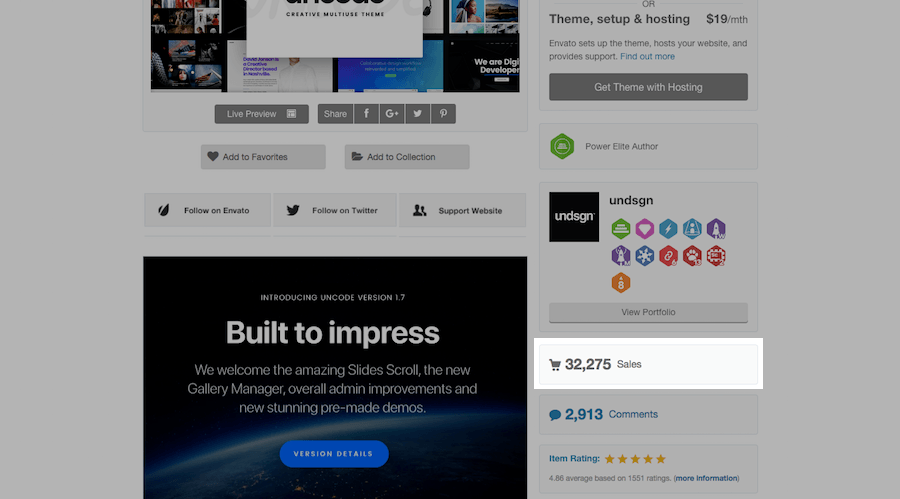 Last Updated
Remember how I said earlier that WordPress themes are responsible for over 14% of security breaches in WordPress? That can happen for a number of reasons, though one of the most common ones is when a WordPress theme is not maintained or updated regularly. Just as WordPress sites are targeted by hackers, so too can the themes and plugins we hook into them.
To play it safe, use a WordPress theme that's been updated within the last three months.
In the repository, you'll find that information here: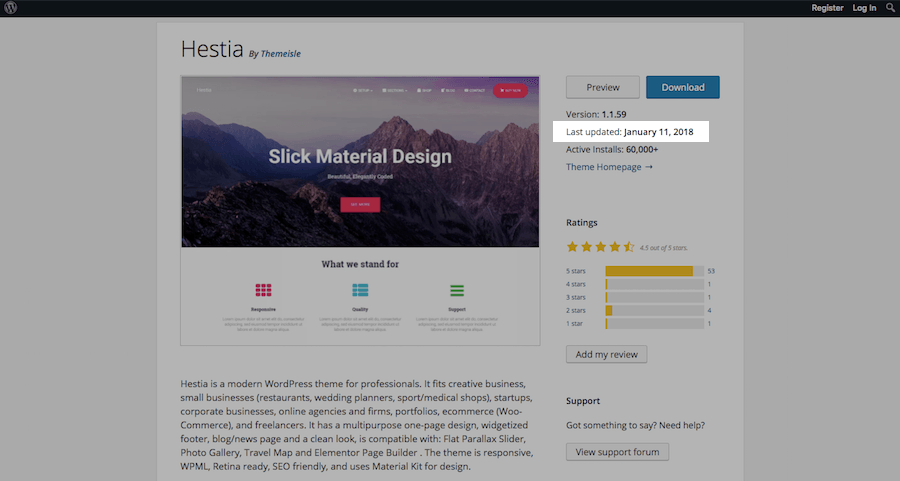 In the marketplace, however, you'll have to look at the supported WordPress versions and ensure that the theme works with the latest one (which you can find here).
Rating and Reviews
One of the major tell-tale signs that a theme's number of installs isn't accurate is by the number of ratings left on it. WordPress users tend to be very good about vocalizing their opinions on the quality of themes or plugins, so if you find this to be devoid of insights, save for maybe a dozen or so positive reviews, be skeptical.
Also, take some time to dig through the comments–both good and bad. You'll get a sense for what the most common opinions are about the theme:
Are users continually surprised by how well it works?
Is there one feature over all others that users tout as being life-saving/game-changing when building websites?
Are there known bugs?
Has the developer disappeared when support is needed?
Have there been any security or performance issues noted (a major red flag if you encounter this)?
Get a sense for how others feel to put your expectations on the right track.
Ratings and reviews are here in the repository: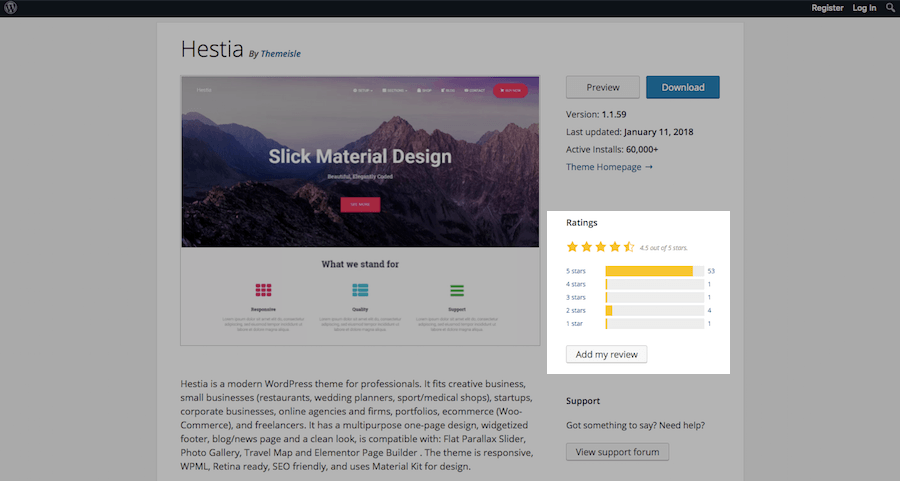 You can check them out under Comments and Ratings in the marketplace: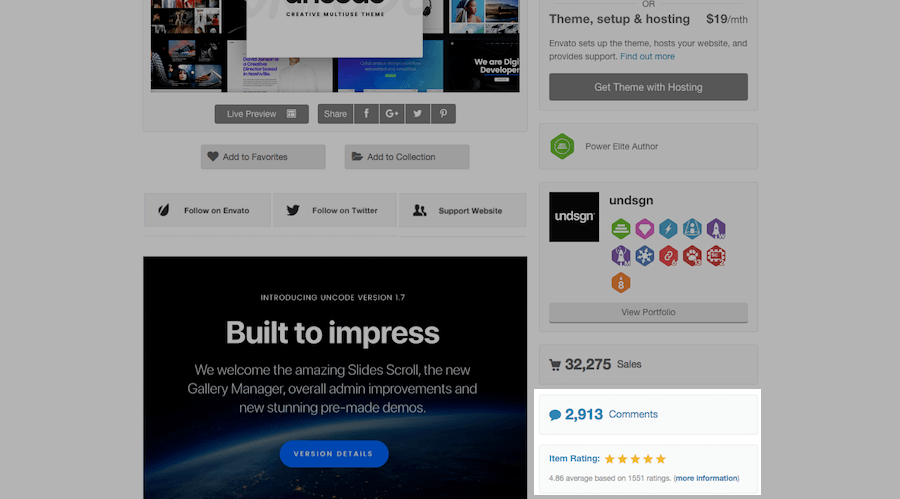 Support
On a related note, you should look into the support forum to see what level of support the developer actually offers. Granted, if it's a free WordPress theme, they're not technically obligated to offer it, but take note if they don't.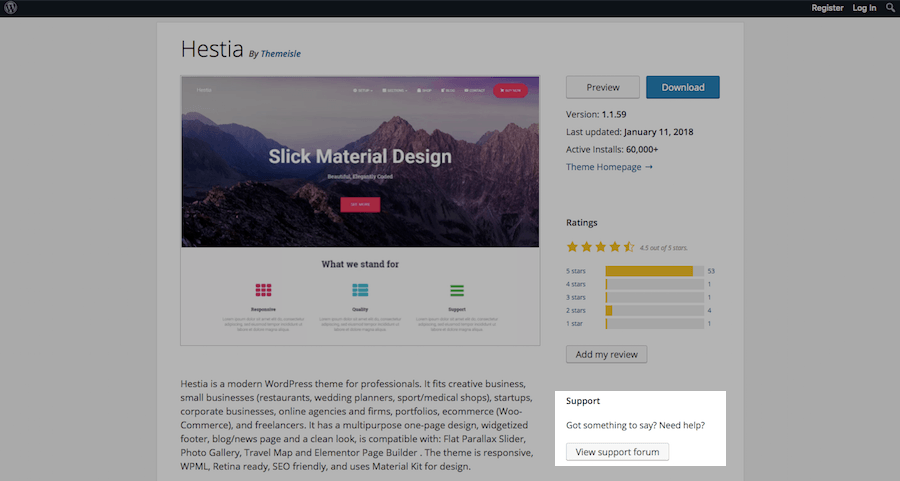 For a premium theme, you'll need to check two things: first, that the developer offers support (see the right of this photo) and, second, that they're actively supporting the theme (in the Support tab):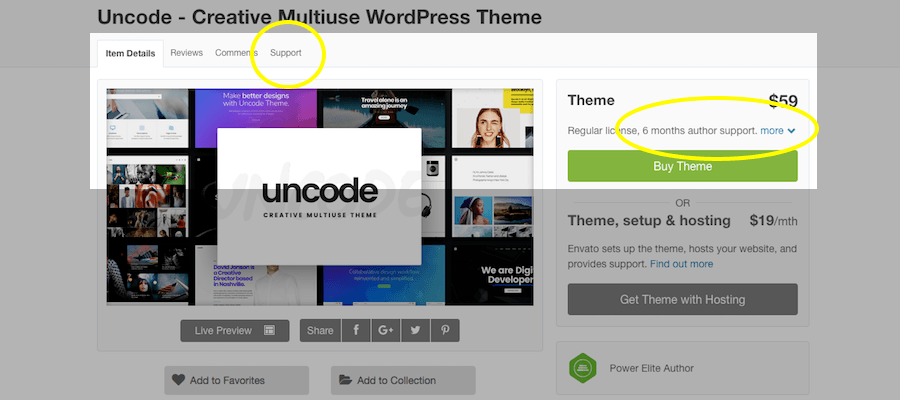 Read through the comments to see if there are common issues noted with the theme. Also, be sure to review how the developer responds. If he or she is defensive, rude, or unhelpful, you might want to pass on it, no matter how attractive it is.
Design
Of course, you should also look at the overall design of the WordPress theme. You can do this by clicking on the Preview button to the right of the main image in the repository.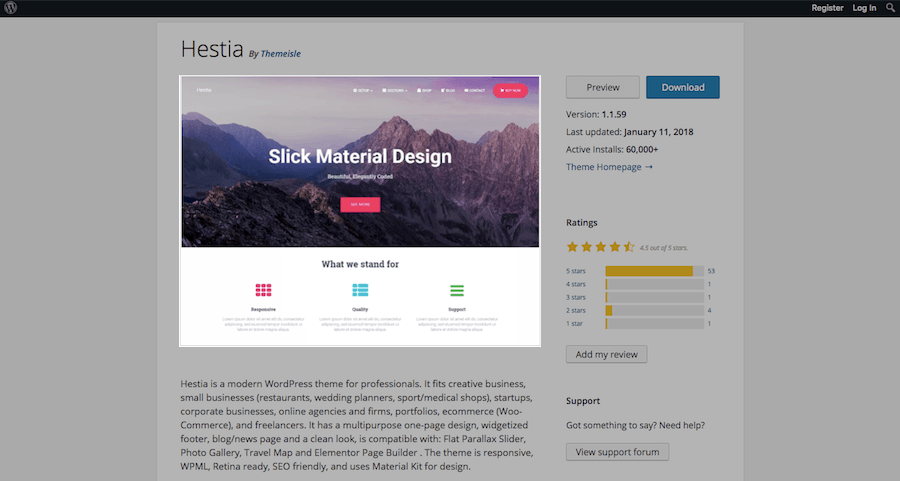 Collapse the descriptive sidebar that appears on the left (there's a button for it at the bottom). Then scroll through the website as if you were visiting it as a customer or user. Click on links, look at the images, read the content. How do you feel about the out-of-the-box experience of the theme? Is it what you were hoping for? Are the features you'd need for your business type all present within this preview?
The nice thing about buying a WordPress business theme from a marketplace is that you get many more details about how the theme works, what features are included, and what your options are for customization. First, be sure to read through the information the developer has provided–this is usually in an infographic-style image that highlights all the great things it does. Then, click on Live Preview at the top so you can dive deeper into everything the theme includes.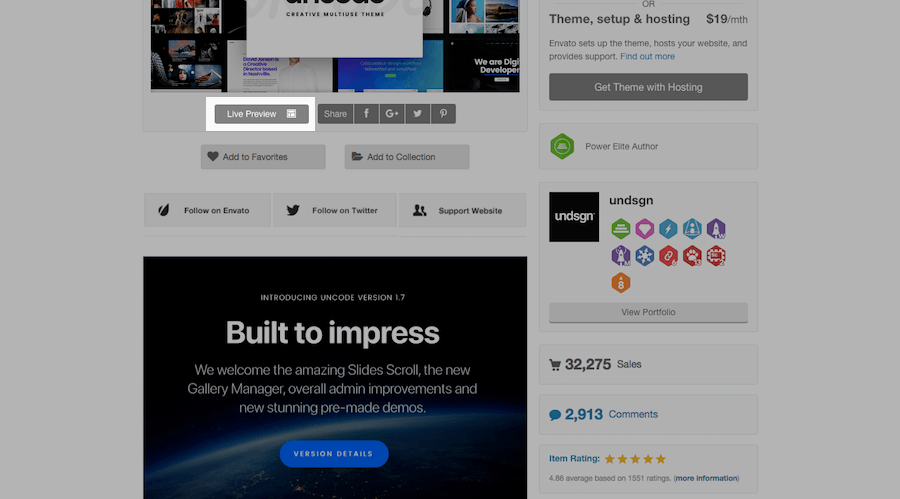 Responsiveness
Free themes aren't all that easy to test for responsiveness, so, unfortunately, you'll have to install (not activate) the theme in order to test this.
With the theme installed, click on Live Preview.

See the left sidebar panel? At the very bottom, there are three icons: one for desktop, tablet, and smartphone. Click on the tablet and smartphone icons to test how this theme will look on smaller screens. Granted, it won't look all that great unless you customize it with content, but the placeholder information should suffice for now.
With premium themes, you can pull up the demo/live preview site on your phone and test it from there before purchasing.
Ease of Use
When checking a free WordPress theme for ease of use, leave the Live Preview open. The customization panel will give you a good idea of what you can do with it.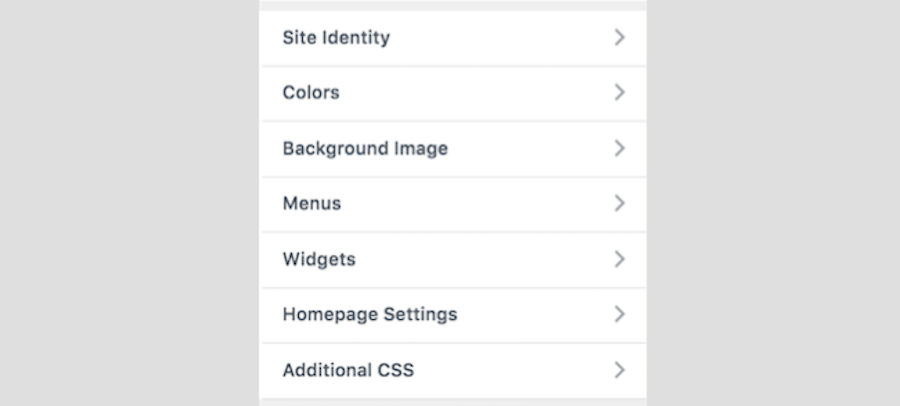 I've found that with many of these free WordPress themes, you have only the bare bones options available for customization. You can update the footer content, change the primary and secondary colors, and maybe use a new font. However, if you need more than that–especially if you want to add custom CSS styling to the site–then this is an important place to check before activating a theme.
For a premium WordPress theme, unless the developer lets you demo the site builder tool (if there's one available), you'll have to take their word on how much is available for customization.
Performance
This is the only one you won't be able to test without activating a free WordPress theme on your website. However, it's a quick one to do. Once your new theme is activated, place your site's URL into the Pingdom website speed test tool.

This test will tell you how quickly your site loads on desktop and mobile in its purest state. That means no plugins, no other third-party integrations, and no heavy server traffic.
For premium themes in a marketplace, you can use the demo/preview page in your test. There's no need to wait until this one is purchased.
A Note About Third-Party Themes
When it comes to testing a third-party developer's theme that's sold from their own website, this is not going to be easy. So, what you need to do is this:
Google the developer's name. If there are any bad reviews, scam warnings, or anything else unsettling within the first page of results, remove that theme from consideration.
Google the theme's name plus the word "Review". You may encounter individual reviews of the theme as well as large roundups that include it. Check those out and see if you can get an honest sense for what to expect from it.
Check out WordPress's list of commercial themes they recommend. If the developer is on there, then you should feel more at ease with your choice.
Wrapping Up
Not all WordPress business themes are made equal, which is why it's important to take your time in finding one for your business. This means digging into the developer's and theme's reputation, listening to what others have to say about it, and determining if the overall quality and features are everything you need to effectively run your business online.