Silver Beacon — a marketing case study
Discover how Pagely helped Silver Beacon Marketing streamline their hosting migration and improve website speed and performance.
---
About Silver Beacon Marketing
Silver Beacon Marketing is a Google Ads agency and SEO company that helps their clients increase revenue and build brand awareness through organic traffic. They support companies by developing marketing strategies, facilitating content marketing, and managing channels like PPC and social media.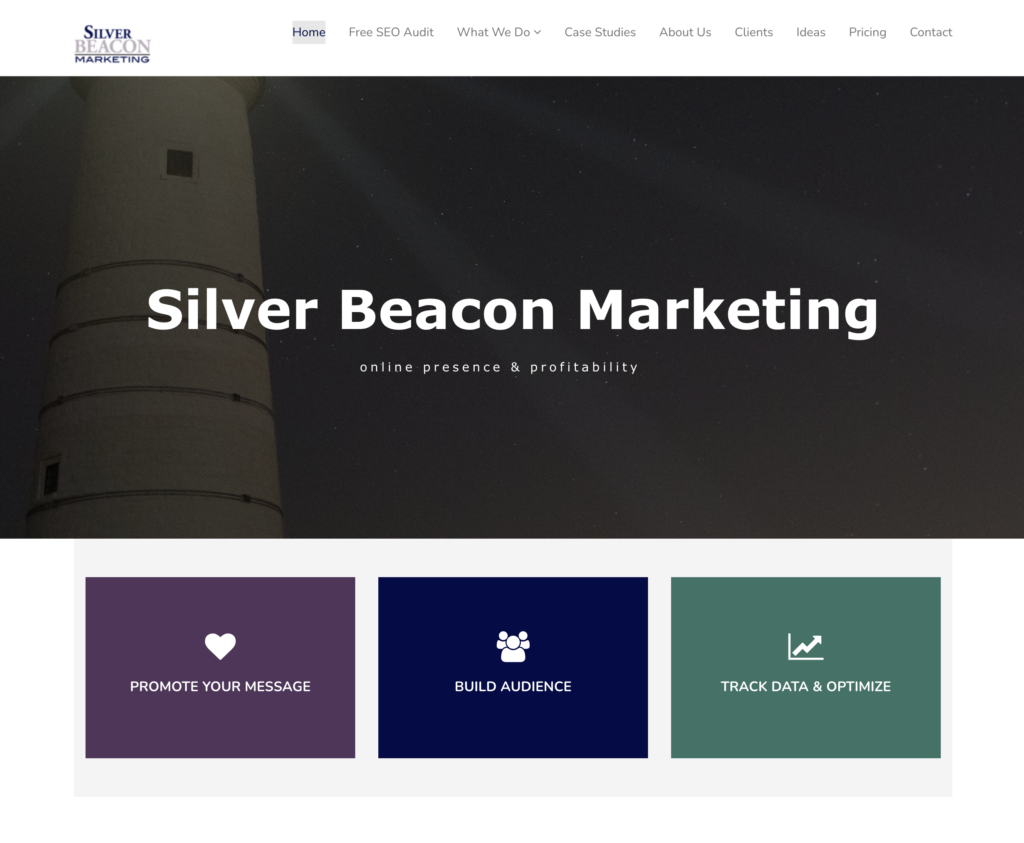 The team at Silver Beacon believes that businesses of all sizes can be competitive online, and they specialize in supporting small businesses and nonprofit organizations.
George Bounacos is the company's COO. He has extensive experience driving online revenue generation and boasts several Google certifications, including Advanced Search Advertising and Display Advertising.
He uses online marketing, SEO, and content marketing strategies to help his clients unlock new revenue sources.
The Small Business Hosting Compromise
Before working with Pagely, George's experience running Silver Beacon's website was full of frustrations. He felt forced to choose between affordable options that offered little to no customer service or expensive enterprise-level hosting packages that weren't a fit for a small business.
"Many hosting companies were busy slashing prices, jamming servers with websites, and in a constant state of upselling because they were offering unsustainable entry-level pricing. The other end of the spectrum was populated by options that were too high-end for most small businesses."
In particular, George struggled with frequent bandwidth issues, technical limitations, and customer service call centers that treated every business the same.
George was looking for an affordable hosting solution that could handle his website's bandwidth needs and provide high-quality customer service. At that point, many of Silver Beacon's clients were working with WordPress, so George's team wanted a hosting provider that would support the CMS.
Finding a Strategic WordPress Hosting Partner that Supports Small Business Growth
Over the course of three years, Silver Beacon had to switch hosting providers several times and were still unable to find the right balance of affordability, performance, and service.
Learning how to resolve frequent hosting issues was using up valuable time that George and his team could have been spending on their customers. But when they would call customer service to resolve an issue, George and his team were not treated well.
"We are marketers, not developers. We wanted a better service experience than we had from hosting companies."
In addition to the lack of helpful support, George was frustrated with the technical limitations of the hosting providers available in his price range.
"We constantly ran up against bandwidth limits. The accounts were governed in ways that limited options, and the entire process was frustrating."
Hosting companies were adding more problems instead of taking the hosting tasks off George's plate. When it came to providing for small business clients, other providers seemed more focused on pushing upsell opportunities instead of delivering quality performance and customer care.
After these experiences, he wanted to find a hosting solution that functioned as a strategic partner that he could trust to handle the technical aspects of keeping the website running and delivering a fast user experience.
In 2014, George discovered Pagely through Moz forums. In addition to providing affordable Managed WordPress Hosting, George liked that other Pagely customers spoke highly about the company's customer service.
George explains, "It was clear to us by then that WordPress had won the CMS wars, and Pagely's focus as a managed WP host was intriguing."
The High-Performance Hosting Partner that Goes Above and Beyond in Customer Care
George was immediately impressed with Pagely's "concierge consultancy-level" service, which went above and beyond what was asked.
"I had some questions about migrating sites, and Pagely immediately offered to migrate sites from multiple companies at no charge."
With Pagely, Silver Beacon Marketing doesn't have to compromise performance and service just to find an affordable option. Pagely's customer service team puts George and his company's needs first. They focus on solving client issues instead of upselling products.
Along with providing top-tier customer service, Pagely also gave Silver Marketing access to better performance. George's team no longer felt like one of many small businesses crowded onto one server and pushed to the back-burner.
Once the website was moved, George states that "the sites zoomed on the new platform. Our clients and their customers noticed too and were very happy."
"The sites zoomed on the new platform. Our clients and their customers noticed too and were very happy."
With Pagely, George and his team have the support they need to run high-speed WordPress websites. When they want to expand their offerings with integrations and plugins, Pagely's industry-leading customer service team has the WordPress expertise to make solutions work, even when George's questions aren't solely related to hosting.
In one example, George describes a first attempt at trying to make an integration work with a WordPress website. When his team struggled, they received little help from the plugin's customer service. Fortunately, he was able to forward the issue to Pagely's team, who resolved it quickly.
"Having that kind of backup in our corner was invaluable and helped us deal with both organizations."
Even though the issue wasn't with his website's hosting, George knew he could reach out to Pagely's team and have access to their technical expertise. Instead of telling him that their hosting wasn't the problem, they identified the issue with the plugin and helped him fix it right away so he could expand the website's functionality.
Pagely's service has even become a gold standard for George's team.
"Pagely isn't just the best hosting provider I've worked with — they're one of the top vendors overall. We use the term 'Pagely service' internally to describe when we want to provide service that goes above and beyond."
To learn more about WordPress hosting solutions that enable your business to grow, explore Pagely's Managed WordPress Hosting Solutions for Agencies.