In this post I'll walk you through the most useful types of popups, which popup plugins to use on WordPress and all the reasons why you should get a popup on your site (despite the bad rap they sometimes get). Popups, when done poorly, are annoying, interfere with user experience and can leave visitors with a bad taste in their mouth. Yet, when presented in a helpful way, they have been proven to work time and time again.
Not convinced? Let the numbers do the talking:
70% of Americans say they get annoyed by irrelevant popup ads, and
annoying ads is the number one reason why people would block a site.
However, as the Conversion Conference Blog points out, popups "are a lot like Justin Bieber: You either love 'em, or hate 'em, but lately you see 'em everywhere — because they still pull in big crowds." For example:
WP Beginner increased its email opt-ins by a staggering 600% when it implemented a popup with exit intent, and
Visual Web Optimizer had a 50% boost in signups when it switched from just having a call-to-action button on its homepage to having a popup free trial offer.
Now that I've piqued your curiosity, let's explore the different types of popups, the research into their effectiveness, tips on how to use them well, and WordPress plugins to help you implement them on your site.
Types of Popups
A popup is a form of online advertising generally used to capture email addresses.
There are four popular types of popups:
Overlay modals: Center screen popups that appear over the page content
Welcome mats: Fullscreen popups that slide above the page content
Slide-ins: Small boxes that slide in from a bottom-corner of the page
Banners: Small banners that display at the very top or very bottom of the page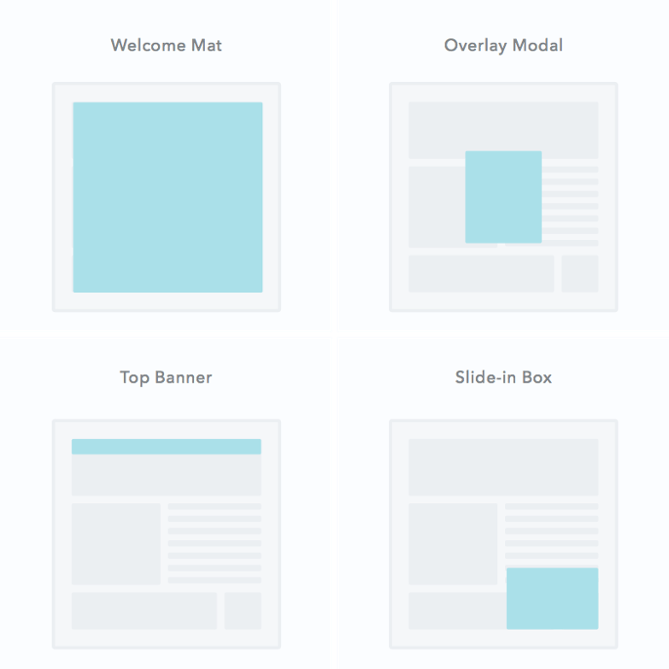 There are also four popular types of triggers, i.e. user actions that prompt a popup to display:
Page entrance: popup appears when a visitor lands on a page
Page scroll: popup appears when a visitor scrolls to a certain point on a page
Time on page: popup appears when a visitor has been on a page for a certain amount of time
Exit intent: popup appears when a visitor moves their mouse pointer to the edge of the page
Why Use Popups?
While popups are a popular tool for collecting email address, they can also be used for other means, such as:
Encouraging visitors to download a lead magnet, such as an eBook, i.e. "Free eBook: The Ultimate Guide to Facebook Marketing."
Highlighting information to visitors, i.e. "Free shipping for 24 hours! Shop now!"
Showcasing new products, i.e. "Check out our new 2017 winter collection!"
Asking visitors a question to gather insights, i.e. "Should we add this new service? Help us decide. Vote now!"
While these uses make a lot of sense when it comes to marketing, we all know that most sites use popups to collect email addresses. Basically, we want another go at trying to woo visitors back and convert them to becoming a customer through email marketing campaigns.
According to Shopify, email converts better than any other channel. In fact, email has an ROI of around 4,300%, according to the Direct Marketing Association. Why? Because a customer's inbox is personal and getting permission to advertise to them there gives you a level of distraction-free attention for your message that you just don't get with other advertising channels.
Why Popups Are So Effective: The Research
Okay, now let's look at the research. We've established that popups work, but just how well do they work?
After analyzing 2 billion popup examples, Sumo found the top 10% highest performing popups average a 9.28% conversion rate, i.e 1 in 9 people who saw the popup took action. Sumo also found that the average conversion rate for all popups was 3.09%.
After launching a new site design, blogger and author Chris Penn removed the popup on his site and embedded it on the page instead. The result? Well, the popup is back. His subscriptions "fell off a cliff." "As a marketing professional, this is your worst case scenario, where your metrics indicate that something has gone horribly wrong," Chris says.
Social media scientist Dan Zarella studied the bounce rate on his site with and without a popup. He found that the only significant difference was the number of email subscribers — which doubled with the popup.
Blogger Nikki McGonigal tested the effectiveness of a popup compared to a static sidebar widget opt-in form. While the sidebar widget brought in 643 subscribers out of 178,282 visitors (0.4% conversion rate), the popup brought in 7,473 subscribers out of 135,821 visitors (5.5% conversion rate). The popup converted 1,375% better than the sidebar widget.
Tips for Using Popups Effectively
The research above provides some impressive stats, but before you rush out and start adding popups to your site left, right and center, it's important to remember: popups can still be annoying (remember, 70% of Americans get annoyed by irrelevant popup ads!). So as a site owner, what do you do?
The trick is to use popups in the right place at the right time and use a display a message that appeals to your visitors and even solves a problem they may have.
Track your popups with cookies so you don't show them popups repeatedly. There's nothing more annoying than seeing a popup appear again and again on a site you're trying to browse.
Use popups in moderation. Don't bombard your visitors with demands for their email or information they may not be interested in.
Don't guilt trip visitors into handing over their email. You know, the popups that make you click a link that says something like, "No thanks, I don't care about improving my health," so you can close the modal.
Use "smart" triggers. Some popup plugins for WordPress include smart triggers that allow you to control who sees your popups. For example, you could set up a trigger to display a popup containing information about the Cookie Law only to visitors located in EU countries.
Test them for effectiveness. A/B testing is a great way to determine how well your popup is performing. If your popup is time-based, you might want to test the timing of your popup.
It's also important to keep in mind that Google has started penalizing websites with obtrusive mobile popups, specifically "pages where content is not easily accessible to a user on the transition from the mobile search results."
It's worth noting that this new-ish signal (it was introduced on January 17, 2017) is just one of hundreds of signals used in Google ranking, so a page may still rank highly if it has great, relevant content. Still, I recommend you check out Google's guidelines for using popups and interstitials.
Popup Plugins for WordPress
There are many, many popups plugins available for WordPress, but I'm going to stick with the most popular options here. While there are some great free tools in the WordPress Plugin Directory, generally the premium options offer better features (obviously!) including more triggers, popup designs and analytics (which is very useful!).
As I mentioned earlier in this post, WP Beginner increased its email opt-ins by a staggering 600%. The plugin they used to do this? OptinMonster.
OptinMonster offers a drag and drop builder, which makes it really easy to design and create opt-in forms. One of this premium plugin's most popular features is its exit-intent technology, but there are also triggers options based on time on page, location on the website, manual clicks on images and links, as well as referrer source, such as search engine, social, and favorite website.
You can also A/B test different designs, headings and content to see what drives greater conversions. There's also page level targeting, which enables you to show targeted messages on specific pages or categories on your site. And my favorite feature: analytics. See how well your popup (or popups) is performing.
Bloom is a premium plugin by Elegant Themes. It offers an impressive collection of 115 pre-made opt-in templates designed to quickly get you up and running if you use as-is and start collecting email address right away. These templates are also fully customizable so you can edit the designs to match your site and branding.
Bloom comes with a stack of features, including all the usual suspects: different display types (overlay modal, slide-in, inline with content, below content, widget, and opt-in to unlock), different triggers (timed delay, bottom of post, after scrolling, after commenting, after purchasing, after inactivity), and a comprehensive list of email marketing integrations (AWeber, MailChimp, Campaign Monitor, etc).
There's also a useful statistics dashboard that provides a real-time overview the conversion rates of your popups. Like OptinMonster, you can also set up split testing experiments. Unlike OptinMonster, Bloom doesn't offer exit intent.
Sumo offers a free suite of tools to automate your site growth, aptly called Free Tools to Automate Your Site Growth. Among the free tools in this plugin are List Builder and Scroll Box, the former a slide-in email opt-in form, and the latter a mobile responsive overlay modal popup.
You can easily customize the look and feel of your popups with these tools, integrate your popups with a big list of email marketing services, and even set exit intent. The only downside, at least with this free plugin, is that it displays advertising on your site. You need to upgrade to the premium version to remove this, but you get access to advanced features like A/B testing, drag and drop creation, more display controls, and templates.
Another premium option, Thrive Leads offers 10 different types of opt-in forms, including a ribbon type form that shows at the top of the screen and remains "sticky" as the visitor scrolls down the page, and a multiple choice form.
Other features include exit intent, animations, precise targeting, and detailed reporting.
What I really like about Thrive Leads is its advanced A/B split testing, which enables you to compare designs, different form types, different triggers and different offers. The plugin can also automatically monitor the performance of each test and once a statistically proven winner has been found, the losing variations will be hidden. This means you can "set and forget" your tests, allowing your conversion rate to automatically increase over time.
I've only recently discovered Hustle since it replaced the super popular WordPress PopUps plugin in the WordPress Plugin Directory, but man, it packs a punch for a free plugin.
With Hustle, it's easy to quickly style your popups, including colors, animations, layouts, drop shadows and display conditions with Hustle's easy to use design settings.
As far as triggers go, you can target visitors using time on page, on-click, scroll, location, position, page, post, login, category, tag, referral link, and event device type. It integrates with all the popular email marketing services, including MailChimp, AWeber and Campaign Monitor. Hustle also offers exit intent and another feature I hadn't seen before: it can stop adblockers from trying to block your popups.
There are also useful metrics so you can see how well your popups are performing, including stats on how many times popups are displayed, how many times visitors submit their information, and how many times your popups convert visitors.
We've recently done a review of Holler Box, a new popup solution that handles chat, email collection, surveying, and much more really well. Read the review here.
Conclusion
As bad a rap as popups get, they are nevertheless a powerful tool that can help you capture those all-important emails and get another go at marketing to visitors who land on your site.
As I mentioned above, it's important to only display relevant content to your visitors and make use of triggers. It's also crucial that you test the performance of your popups. It's only through testing that you will be able to gauge the effectiveness of your popups. Which designs work, which ones don't, and which offers result in the greatest number of conversions.
What are your thoughts on popups? Do you use them? Have they made a difference to your marketing? Or do you refuse to use them? Share your thoughts in the comments.