Despite the fact that WordPress powers 30% of the Internet, the myth of it being "just a blogging platform" still exists. WordPress is perfectly suited for managing large-scale business enterprise content, delivering secure, robust, and flexible website solutions for virtually any industry. However, these benefits can only be reaped when WordPress is combined with the appropriate hosting platform and plan.
The good news is that there is a viable enterprise WordPress hosting solution available to meet your needs. This will ideally deliver outstanding support and security, a broad remit for scalability, dependable data retention, and other crucial features.
In this article, we'll take a closer look at what exactly enterprise managed WordPress hosting is. Then, we'll examine the crucial advantages of a good enterprise hosting solution, as well as how Pagely delivers each in spades.
WHAT ENTERPRISE WORDPRESS HOSTING IS (AND WHY YOUR BUSINESS MAY NEED IT)

Pagely's WordPress enterprise hosting plan can keep your site scalable, secure, and better equipped to increase conversions.
As the name suggests, enterprise WordPress hosting optimizes the platform to better cater to the objectives of a large-scale business. Typically, an enterprise hosting plan will ensure that the WordPress site (or Multisite) installation is:
Highly adaptable. This is to ensure there's capacity to deal with sudden changes such as increases in traffic, company updates, the opening of new branches and subdivisions, and more.
Strengthened with heightened security. Security is more paramount for enterprises than smaller businesses, as the wealth of client data will pose a much more alluring target for hackers.
Supported by robust and reliable technology. Because an enterprise site will be an integral component in your conversion funnel, and likely garner a large degree of traffic and customer data, your hosting plan will implement technology to maintain uptime, keep loading times down, and recall data in the event of a disaster.
By delivering the necessary support and security on the back end, enterprise WordPress hosting makes it much easier for business owners to concentrate on gearing their online presence towards growth. What's more, administrators will be in a much better position to roll out various enterprise-oriented plugins and set the parameters for improved site development.
In short, enterprise hosting will deliver the infrastructure required to ensure consistent and efficient performance where it matters.
5 MAJOR ADVANTAGES OF ENTERPRISE WORDPRESS HOSTING
Of course, before you invest in enterprise hosting specifically, it's worth considering the benefits it brings to your business. Here are five of the key advantages to consider.
1. EXCELLENT SCALABILITY
Scalability is a vital component for any enterprise, especially those with online elements. This refers to how a business has to adapt productively to sudden changes (such as a sudden traffic spike due to an announcement or seasonal sale). Often, a change in one area will impact another. For example, an increase in customers may require additional human resources to cater to their enquiries, which can in turn effect staffing numbers.
Once your WordPress site gains more traction, additional power will be required to keep things running smoothly, as well as ensure customer data is collected efficiently. A site not equipped to scale fluidly is likely to crash, which could wreak havoc on your business. Choosing the right enterprise hosting plan can help safeguard you against this.
Pagely's enterprise hosting plan, for example, makes it possible to deploy data into any of AWS's data centers, letting your enterprise cope better with increased strain on a global scale. What's more, the plan gives you the ability to geo-replicate site data, enabling you to better avoid costly overloads by distributing data more evenly in different locations. As WordPress doesn't accommodate geo-replication easily by default, dedicated enterprise hosting can prove invaluable for multi-national organizations. With Pagely, you'll have the high-performance hardware to scale up as much as needed. We specialize in hosting some of the largest WordPress websites in the world. Whether you need a simple VPS set up or a highly-customized multi-node High Availability set up, we can handle it all.
2. MISSION-CRITICAL SECURITY
As we touched on earlier, a crucial component of online business (or any other site for that matter) is security. This is particularly the case for enterprises, which often prove to be a more tantalizing target for malicious attacks. Although WordPress does offer a variety of ways to stay protected from brute force and malware attacks, more advanced measures will usually be required in order to set up the proper defenses.
The kind of mission-critical security afforded by WordPress enterprise hosting will extend to server hardware and WordPress applications, as well as the hosting network as a whole. Pagely's enterprise hosting plan, for example, is fortified with PressArmor: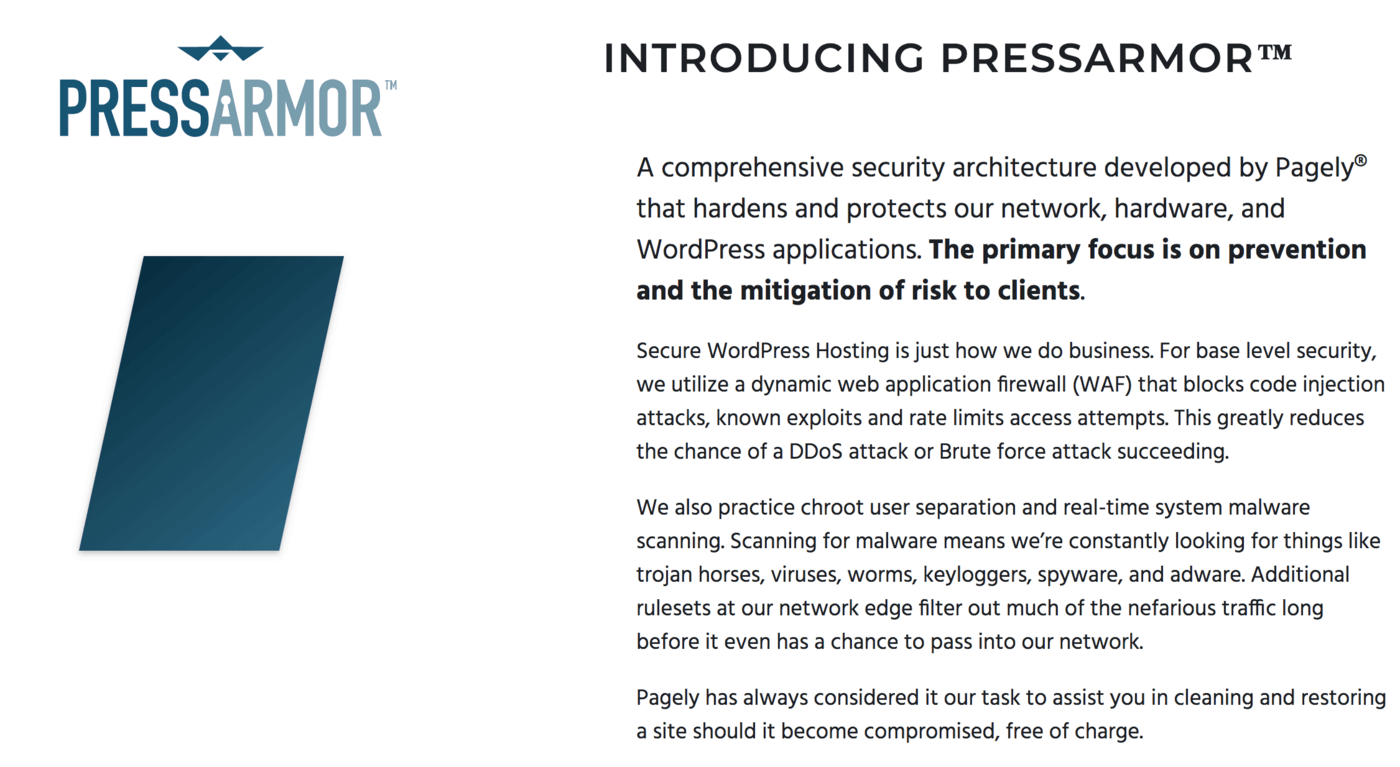 This security architecture safeguards against keyloggers, spyware, adware, viruses, DDOS, trojan horses and other malware, and much more. It also sets up a dynamic Web Application Firewall (WAF) that will deliver protection from a wide range of attacks. In the event of a security incident, response time is crucial. Our security team will respond quickly and help your organization resolve the issue and prevent future attacks.
Aside from protecting your all-important data from hackers, a good enterprise hosting plan will also let you retain it in the long term, and recover it in the event of a catastrophe (such as a system failure or downed server). This brings us neatly to the next advantage.
3. DATA RETENTION AND RECOVERY CAPABILITIES
Maintaining the ability to restore data should be a priority for any business with an online presence. This is especially pertinent, due to General Data Protection Regulation (GDPR) enforcing severe penalties for non-compliance.
Choosing enterprise WordPress hosting means you can better ensure your data is backed up — as well as easily recallable and recoverable — through advanced cloud setups. This is due to the robust technology these hosting plans implement to ensure the data is stored correctly. To once again use Pagely's enterprise hosting plan as an example, clients benefit from nightly data backups, with data sent to a secure Amazon S3 bucket (where it can be recalled as and when required). The plan also gives clients the ability to download data files to a local machine with just one click.
In addition to protecting client data, an enterprise-grade WordPress hosting plan should also ensure that the internal system managing the data is equally secure. In the case of Pagely, a redundancy plan is in place to duplicate system critical components, so that a backup can be called in the event of a failure. This has proved enormously valuable to many enterprises in the past.
4. RAPID GLOBAL LOAD TIMES
Though your site may be scalable, responsive, and well-backed up, slow loading times can undermine all of this. In order to reduce your bounce rate and keep potential customers coming back to your site, you'll need to maintain quick site speeds across the board. Although certain caching and speed optimization plugins can help with this, you may need a more reliable solution relevant to your requirements.
Enterprise hosting can help maintain consistently fast loading times for your WordPress site or Multisite network. This is often achieved through the implementation of advanced caching mechanisms, which drastically speed up requests sent to databases — our PressCache feature is a good, real-world example:

It works by serving content to your site's visitors via the Point of Presence (POP) closest to them. With our POPs located in Asia, Europe, and the United States, the distance that server requests have to travel is shortened for international users (in contrast to if all requests went to one single POP). This, in turn, makes the process of maintaining optimal loading times for a multinational enterprise (a 243 millisecond average in this case) much simpler.
Pagely also makes use of Amazon's powerful global CDN (CloudFlare), to ensure that website assets are always loaded from the data center nearest the visitor, and is built on NGINX, which is widely regarded as the fastest hosting solution available.
5. EXPERT SUPPORT & DEVOPS
Any hosting service worth its salt should come with outstanding support, and this is even more crucial for enterprise hosting. This is naturally because larger-scale operations will bring potentially more frequent and more complex inquiries in need of resolution.
To cater to all queries as efficiently and speedily as possible, enterprise hosting plans typically offer priority responses for tickets lodged by those on the plan. This is typical because a technical issue that cannot be addressed internally will need to be addressed immediately by an expert in order to lessen the impact it has.
Pagely's enterprise hosting plan delivers this priority support via a skilled support team of experienced WordPress experts, who are able to deliver ticket-based support all day long: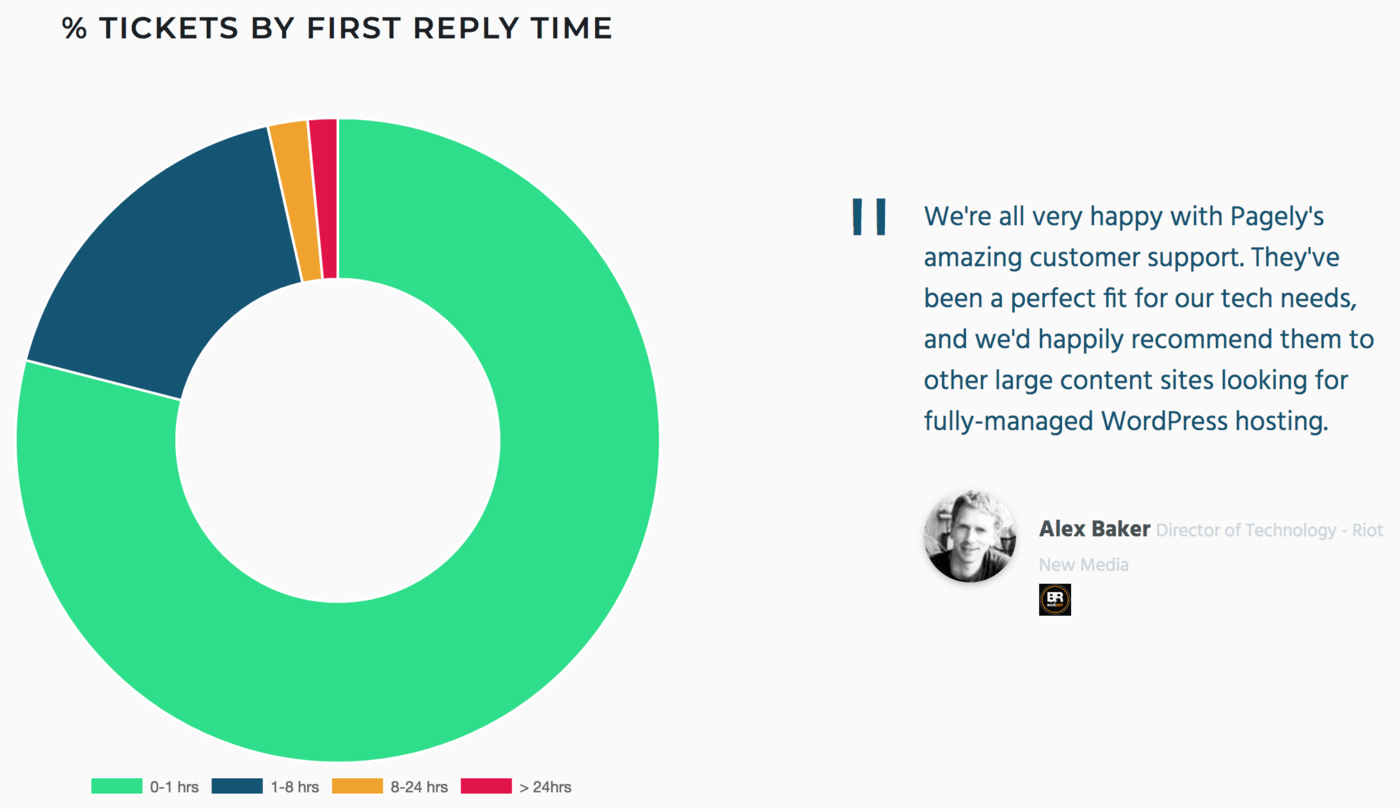 Live chat and phone support options are also offered at designated times to help troubleshoot issues at the optimal speed. In short, whenever you need assistance, we're ready and available to help.
Our DevOps team also often serves as an almost "outsourced DevOps" team for enterprise tech departments. We've got the best engineers in the business and each one of them is worth the price of enterprise hosting alone.
CONCLUSION
In order to run a successful business enterprise, you need to ensure the CMS you roll out is fast, well-supported, and streamlined for easy use across multiple sites. As we have seen, enterprise WordPress hosting from a high-quality hosting provider with experience serving enterprise-level WordPress websites can help you achieve this.
Let's recap the advantages quickly:
Excellent scalability. This lets you accommodate surges in traffic and increase conversions.
Mission-critical security. A vital component that better protects your valuable company data from hackers.
Data retention and recovery capabilities. With this in place, you can back up and retrieve your data easily and helps you with GDPR compliance.
Quick, global loading times. This helps you to lower bounce rates, and retain more potential customers.
Outstanding customer support. Having a safety net in the form of dedicated experts means more complex issues can be resolved quickly.
Do you have any questions about finding the best WordPress hosting for your organization? Contact our sales team now for a no-pressure, needs-based consultation!