A brief update on our dedication to you.
I'm Sally Strebel, the co-founder and COO of the first managed WordPress hosting company: Pagely. I have a lot of passion for this company and for the people I work with every day. That includes teammates and clients.
As a team, we sometimes wonder if we communicate to our clients too much or not enough. It's a balancing act between "if our clients don't hear from us, then they know we are doing our job and they can focus on their business" and "if our clients don't hear from us, will they know the value and work that we are providing everyday?".
We have fallen victim to our good manners. In our attempts to respect everyones time, we have not tooted our own horn enough to let you know how truly badass we are. Today, that changes.
Pagely is not an ordinary hosting company. Ask any of our highly skilled teammates, brand ambassadors, or agency partners and they'll make these points:
We tackle the biggest problems that WordPress faces.
We identify security vulnerabilities in the WordPress stack that we responsibly disclose, assist the code authors with fixes, outright patch.
Since we really do scale WordPress (and not just say we do for marketing purposes), we have broken many common Plugins and themes under load and assisted the authors by providing more performant code. To the direct benefit of our clients we contact, share, patch, and provide solutions for the greater good of all who use WordPress.
We do not merely throw more hardware at a problem site as the first answer (aren't we all tired of upsell-mania?), but work closely with the customer to diagnose the root cause (it's always the code) and then recommend a change or often times, fix it right then.
We attempt to save our clients money if a new technology provides a better outcome.
We want to be your partner not just a hosting company. Think of us as an extension of your team. Let us know if you think your site is running slow. We'll diagnose and give you the information to get tuned up for domination.
Let us know if you're expecting a huge amount of traffic on a particular day. We'll quickly scale you up and scale you back down as needed. You should enjoy your success and not worry if your site can handle it.
If you ever wonder if we are truly awesome let me assure you, we care about your success. When you have a bad day, we hurt too.
It is our goal to think of your up time, and future up time, along with assuring you that you have made an excellent choice in Pagely as a partner.
We are here to serve.
Let me know how I can help. I'm always just an email away at sally@pagely.com.
Features Coming in 2018
Coming Now: An all new Status Page giving up to the minute details on our systems health.
Coming Now: In our mission to offer an even more stellar experience, we are updating our onboarding process for new clients.
It includes:
What to expect during migration documentation
An informative onboarding video
The do's and don'ts of Pagely
An update to our staging platform, and more concise documentation. Flexibility rules!
Our new partnerships with load testing companies to help you uncover bottlenecks prior to launch. (Formal announcement coming soon)
More concise "Go Live" instructions
If you would like this information, let me know. It's great for new admins for existing sites as well. I'm happy to share.
Coming Now: PROJECT: FLYING ORCA (It's a codename, look for formal announcement soon) is our next generation NGINX/Lua based Application Gateway. It's even faster and better performing than commercial versions of popular web servers. Several live sites/clients are helping us with the final testing prior to a system wide roll-out.
Coming Soon: The New Atomic Dashboard will have an all new react.js powered interface in front of an entirely new PHP micro-service backend. Yes, we totally rebuilt the plane while flying it full of passengers and cargo on a trans-pacific route.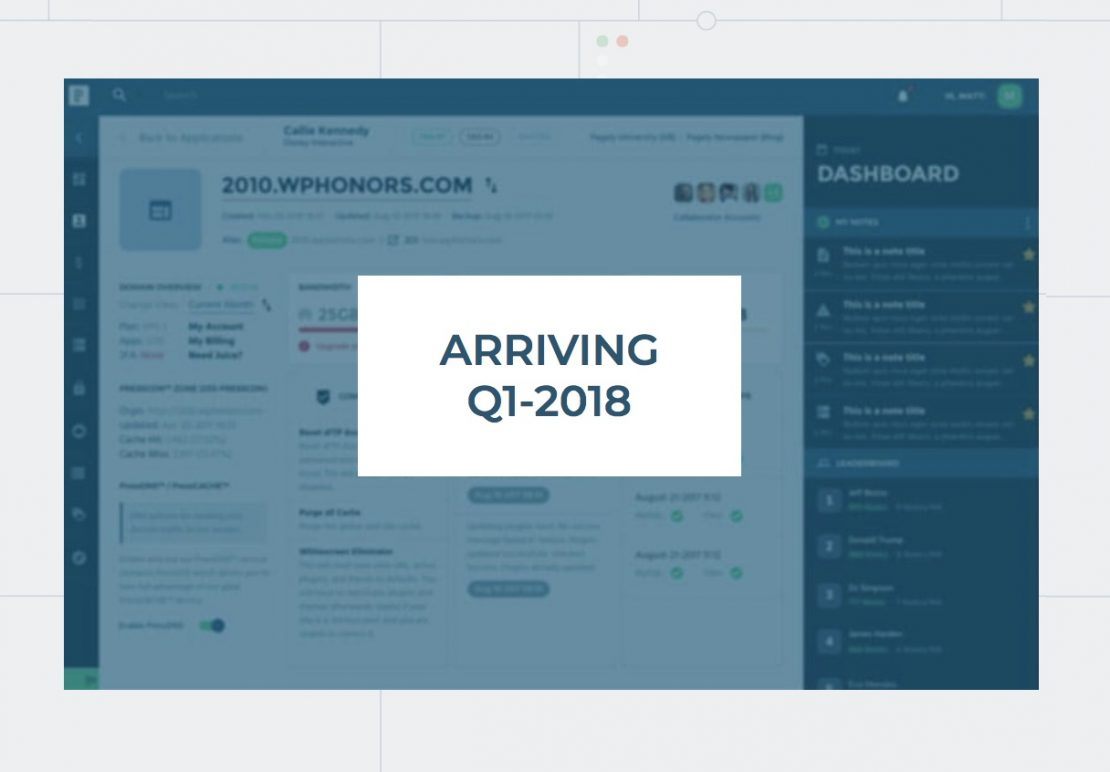 It includes:
Totally automated and self managed SSL with Let's Encrypt Support
A much smoother TEAM collaborator experiance
Integrated PressFORMANCE™ performance and security analytics
Intuitive staging and clone tools
New Atomic will roll out in stages as we bring this up to total parity with the legacy system. We are targeting Feb 1 for launch.
Also coming a bit later under the PressFORMANCE heading: Website Performance Trend Analysis leveraging machine learning/AI that paints a wholistic picture of your sites baseline trend and if that baseline deviates outside of a defined range we'll be alerted and quickly able to identify the change that caused the issue. "Your team solves problems that other hosts struggle to even diagnose" is one of my favorite testimonials that we have received. This trend reporting takes traditional reporting one step farther by speeding up our diagnoses.
Since many of our client's sites see massive traffic, we are finding problems in WordPress stack components that most hosts never have to deal with. With increased alerting speed comes faster fixes. We can determine if problems are caused by a recent code deployment, a change in plugin/theme, abnormal traffic patterns, etc.
This will also allow us to provide monthly stats with recommendations for improvement. These recommendations will come with an uptime urgency indicator. In other words, things that need to be addressed now for uptime, and things that my affect your uptime in the future.
Interesting: ServerLess WordPress. Our deep partnership with AWS is driving a few interesting projects in our laboratory.
Our Holiday Hours
Our Pagely team is like having a second family. One of our important company values is to live a balanced life and have something going on outside of work. That is why we have light work days during the holidays.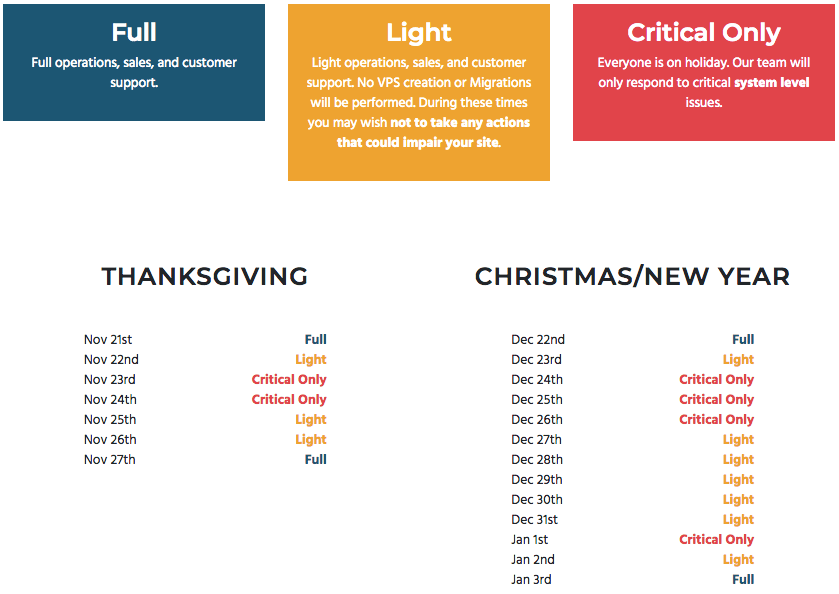 Please let us know of major changes to your sites such as launches, deployments, etc… as soon as possible, before the holidays, so we can properly assist you.
Our hope is that our light work days will help you have some light work days too so you can spend time with your loved ones with less stress.
Once holidays are over, we'll be back to 110%, fully rested, and ready to help you reach your goals. For more info on our hours go here.
What Our Clients are Saying

Read the Zenefits case study.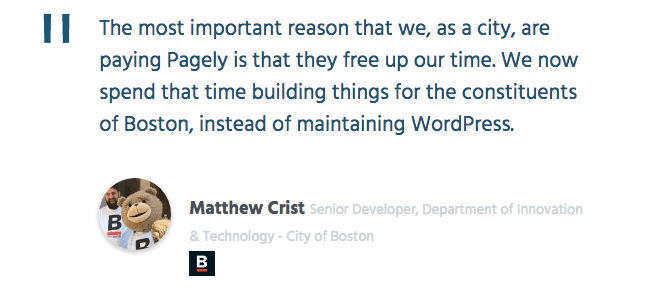 Read the City of Boston case study.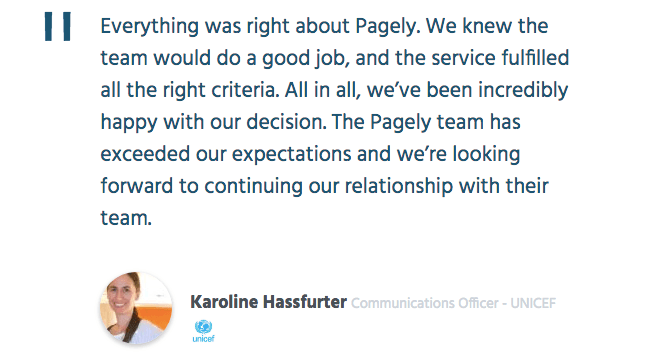 Read the UNICEF case study.