Hello, Sally Strebel here.
I'm the COO and Co-founder of the first managed WordPress hosting company, Pagely. I'd like to share with you our outstanding accomplishments from the year and our grand plans for 2019. As a client, employee, or window shopper, you'll remember why you chose Pagely.
What We Accomplished in 2018
ARES
This year we rolled out ARES, Pagely's application gateway which provides high-level, secure network system communication. It handles routing, intelligent caching/acceleration, security, and configuration flexibility. For our customers, it means we're able to create a completely custom hosting environment for them with more flexible configurations and stronger security posture – something other companies can't manage.
GDPR – Privacy
Pagely is walking the walk better than an average US organization by joining the EU/US Privacy Shield (and Swiss Privacy Shield). We value and respect our customers' privacy and our customers' customers' privacy which is why we worked so hard in 2018 to meet our obligations under the new GDPR legal framework and addressed the data privacy and GDRP concerns of our clients. We are happy to note we completed our work several weeks for before the deadline.
New Atomic Dashboard
We revamped our Atomic Control Panel giving clients parity with the old Atomic while providing analytics via PressFormance, 2FA, SSL (Let's Encrypt) and SSH management, CDN enhancements, new user sign-up flows, and general UI/UX improvements.
Adaptive Video
Our Director of Sales developed a "choose your own" sales adventure, which we affectionately refer to as Bottled Beard. It's already receiving accolades and some copycats. Here's how he did it.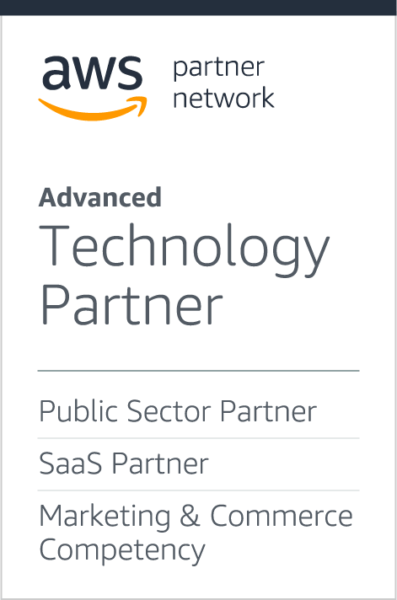 Amazon Web Services Partnership
Our deepening relationship and competency with AWS publicly demonstrates our technological leadership and brings the full capabilities of AWS to our customer base. We're also now live in the AWS Marketplace. Pagely is an Advanced Technology Partner of AWS.
With thousands of EC2 instances under management for our clients we continually preform upgrades to the entire fleet. In 2018, the seamless EC2 upgrades from c4 to c4/c5d meant all clients benefited from faster and more robust hardware with no customer action required.
Our CTO, Joshua Eichorn, was invited to speak at the massive AWS ReInvent conference this November on the topic of Aurora Serverless.
Team Coaching
Although we have directors and C-level execs, we think titles are a bit silly. Our focus in 2018 was to offer coaching level support to all of our employees, spreading as much knowledge to each other as possible.
Scholarships
We value education, continued learning, and building something better. This year we launched our first financial scholarship program to support students doing incredible things.
InfoSec the WordPress
Our security team provides unique coverage for our clients and the WordPress community at large. Although our Pagely clients greatly benefit directly from our efforts, it's hard to see the larger community go unprotected during critical times. This year our Director of Security and Privacy, Robert Rowley, chose to join the the WordPress Core security team to make transparency and collaboration with the greater ecosystem a priority.
PressThumb
PressThumb was on our secret menu for a while but we opened it up to all of our VPS and above clients. On the fly image optimization available for all client sites.
The Pagely Family
I feel blessed every day to be able to work with the Pagely family. In October I was interviewed by Joyce Rosenberg of the Associated Press, about women business owners fighting gender bias, and the article was syndicated by over 1000 publications including NYT, Washington Post, and INC.
One of the questions she asked me was, "Who are my mentors?"
I had to think about this. I've met very successful people with great advice, but what my mind landed on is that my mentors are now my work family. The Pagely team is full of the brightest minds and the hardest working people I know.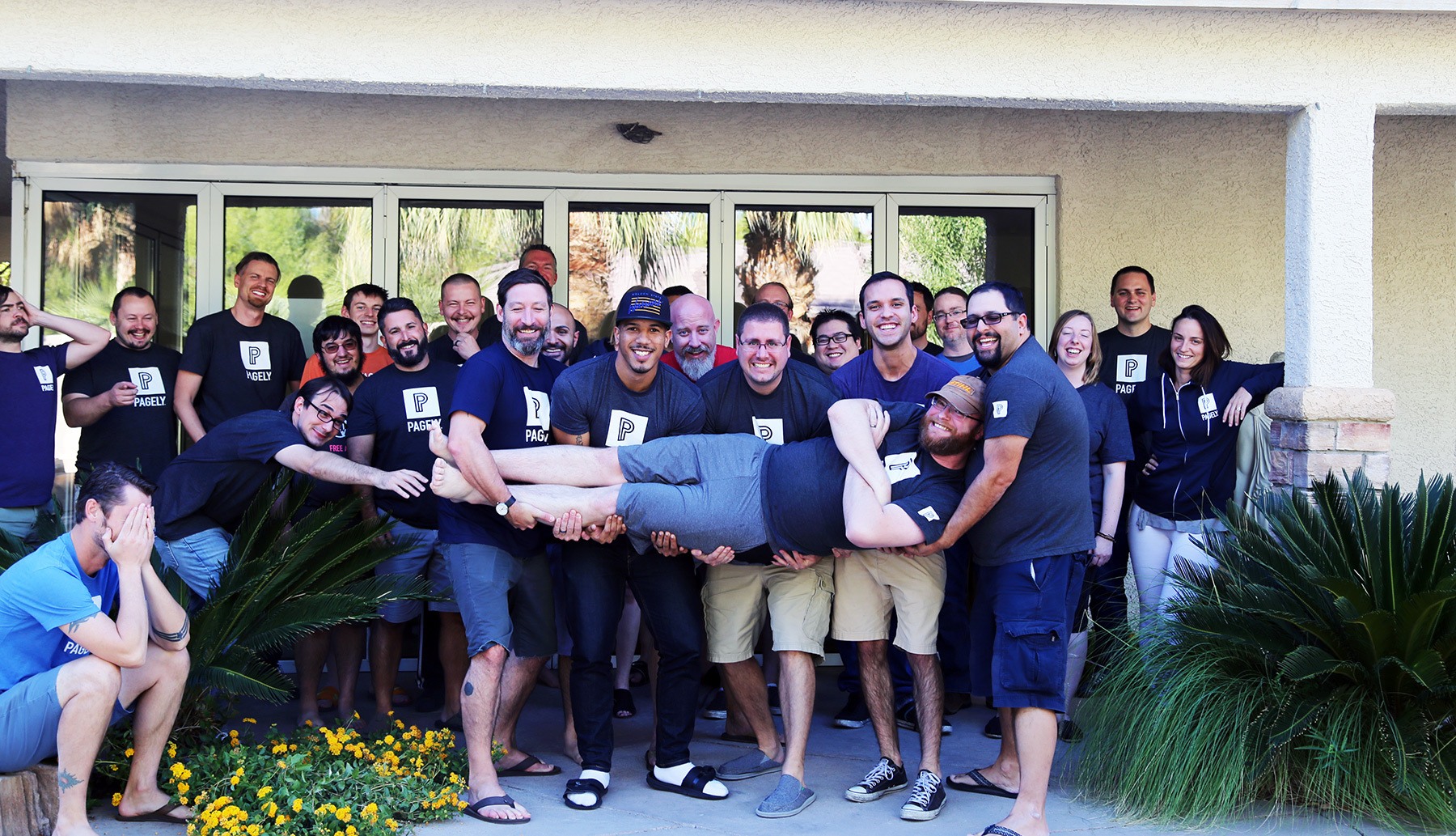 They know their fields better than anyone, they are on the front lines, and their drive for excellence is unparalleled. They take ownership in Pagely and it's not just a workplace to everyone here. It is a commitment to providing and creating the best hosting company in the world.
Since we were the first to understand the need for managed WordPress hosting, we are thrilled to share with you the next revolution in the industry.
Coming Soon in 2019
Advances in Pressformance and Monitoring
Our growing Amazon partnership will allow us to implement and work behind the scenes with AWS to give you first access to the latest and greatest technology as soon as it's available.
NorthStack: Serverless Web Hosting
We started Pagely because the hosting industry wasn't best serving the needs of the market. Remember being locked into long contracts? Calling for help only to receive an upsell? Being told it was a one-click install but they didn't tell you about the other 11 time consuming steps? That was pre-Pagely.
Well, we believe there is still a better way with room to evolve and innovate. Pagely is perfect for clients who need the most resilient and performant hosting platform with white glove service… however we are financially out of reach of many more that could benefit from our expertise.
Enter NorthStack, our technical masterpiece for developers and agencies featuring an economical pay-as-you-go model. NorthStack is an elastic, autoscaling, serverless platform for hosting WordPress, Node, Laravel, and static sites. WordPress users can now build and run dynamic, interactive websites with plugins in a scalable, pay-as-you-go environment.
We're, once again, changing the game and we're thrilled to see where things go in 2019.
Our Holiday Hours
As always, please let us know of major changes to your sites such as launches, deployments, etc., as soon as possible, so we can properly assist you.
We're all taking some time to recharge so we can come back in 2019 better than ever to help you reach your goals for the year. For more info on our hours go here.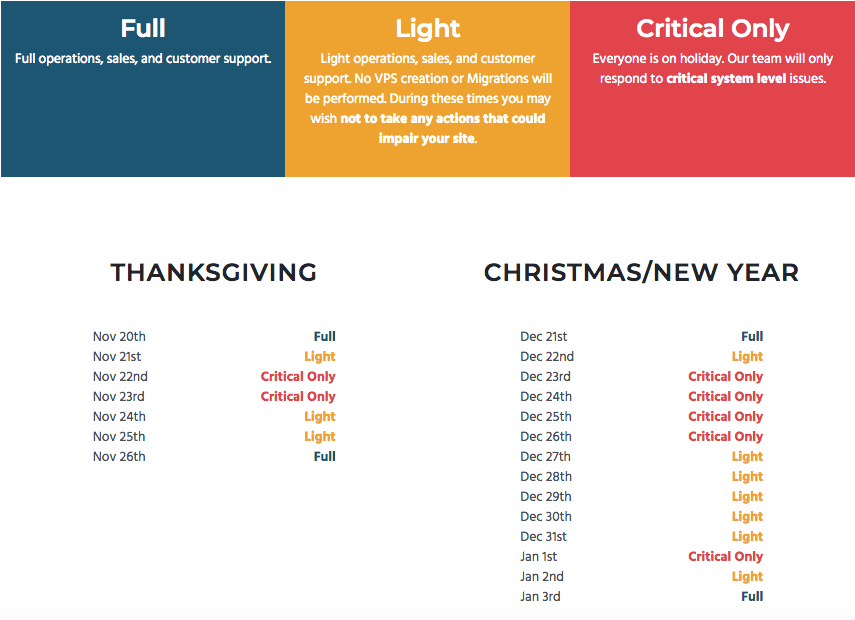 What Our Clients Are Saying
"Knowing that the Pagely team is there for us 24/7 has been invaluable, not to mention the reliability and visibility they provide. These have been extremely important factors in helping us meet our marketing needs for NGINX.com." – Alice Oh Website Manager – NGINX
"Pagely is on a different level: they're VIP concierge treatment. Pagely is the ideal hosting partner because you feel like you know the people you're working with." – Jeff Matson Documentation Lead – Gravity Forms
"Everything was right about Pagely. We knew the team would do a good job, and the service fulfilled all the right criteria. All in all, we've been incredibly happy with our decision. The Pagely team has exceeded our expectations and we're looking forward to continuing our relationship with their team." – Karoline Hassfurter Communications Officer – UNICEF